For nearly 50 years, boxes of Celestial Seasonings herbal tea have been adorned with rich illustrations of the Sleepytime Bear. He is a brown bear wearing a long nightshirt and red nightcap. The roaring fire in the hearth before him warms the room, one scene inside a cottage where other bear family members are settling in for the night. Seated in a cozy chair with a teacup and teapot at his side, the Sleepytime Bear enters a serene slumber that one may only naturally ease into after sipping Celestial Seasonings herbal tea.
Tea has played a unique role in 2020. In an unprecedented year marked by social distancing to flatten the coronavirus curve, people have sought out the simple pleasures found in being at home. Rituals like baking, gardening, and sewing have all garnered renewed interest across generations. The cottagecore aesthetic, a stylized image of a slowed down life, has many pinning cabin hideaways, loaves of bread, and candlelit dinners on their Pinterest boards. Musician Taylor Swift released an album, Folklore, as the official soundtrack for donning a cardigan, curling up in a blanket, and journaling for hours. In an uncertain time, people have been able to turn to hobbies and daily routines — like brewing and drinking tea — that provide gentle comfort to the soul.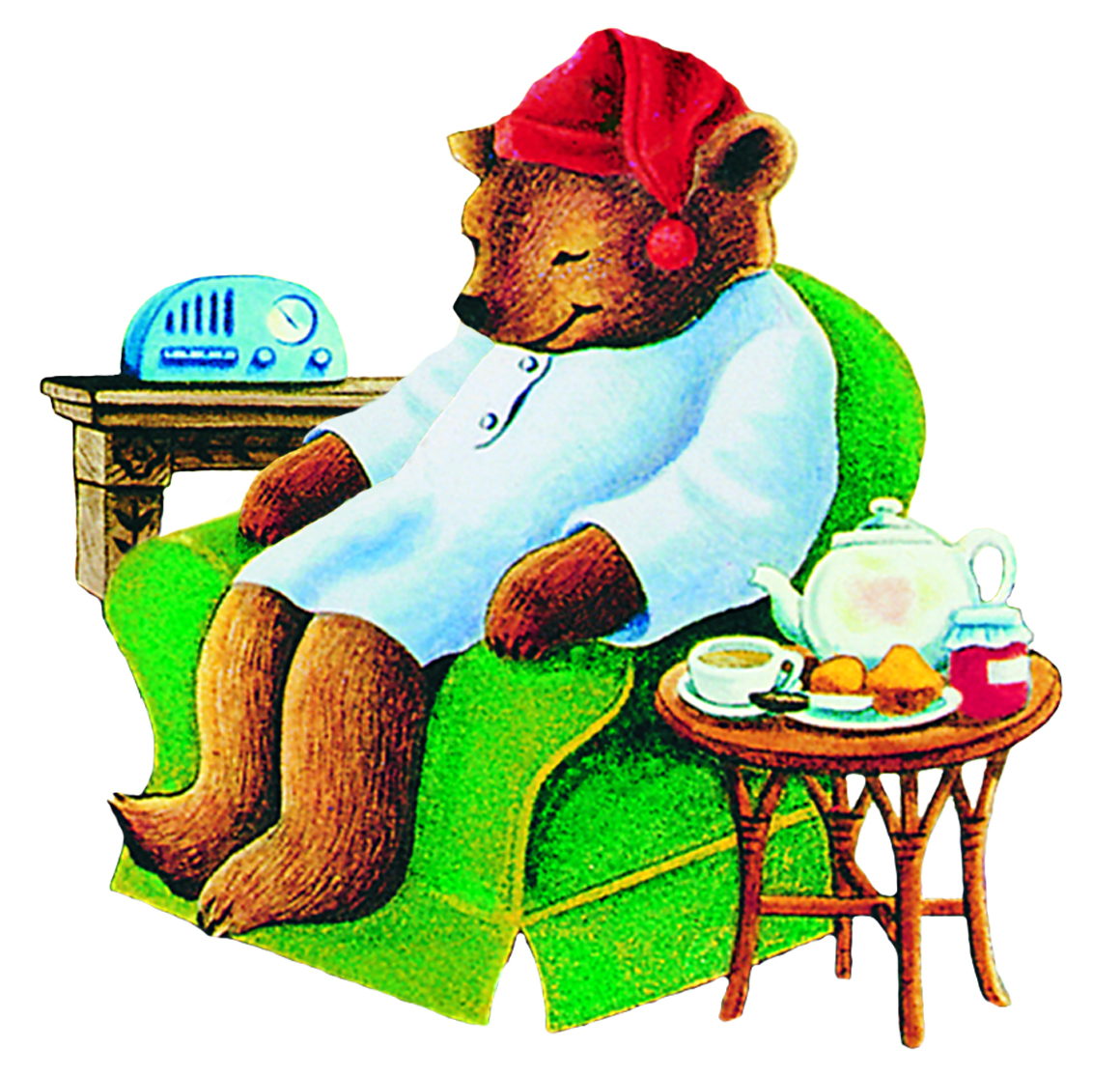 Amid the COVID-19 pandemic, the Sleepytime Bear himself has experienced a resurgence in popularity. Shortly after Daylight Savings Time in November 2020, the Sleepytime Bear became part a viral meme on the popular My Therapist Says Instagram account. The caption "me every day at 5:37 PM" accompanied the iconic bear's image and received over 210k likes. And a community of young men enjoying Sleepytime tea known as the "Sleepytime Bros" have emerged as a new customer segment, according to Tim Collins, General Manager and VP of Marketing at Celestial Seasonings.
What do we know about the Sleepytime Bear? In 1973, artist Beth Underwood was commissioned to draw the character that would illustrate the tea's packaging. There is also a plush bear available to buy from the Celestial Seasonings shop. All other details surrounding the Sleepytime Bear, however, remain a bit mysterious in the brand icon space.
We had the great fortune of being able to speak with Collins at Celestial Seasonings about the Sleepytime Bear's origins, the fascinating stories built into the brand's packaging designs, "Sleepytime Bros," and what makes Celestial Seasonings so beloved with tea lovers in the tea community.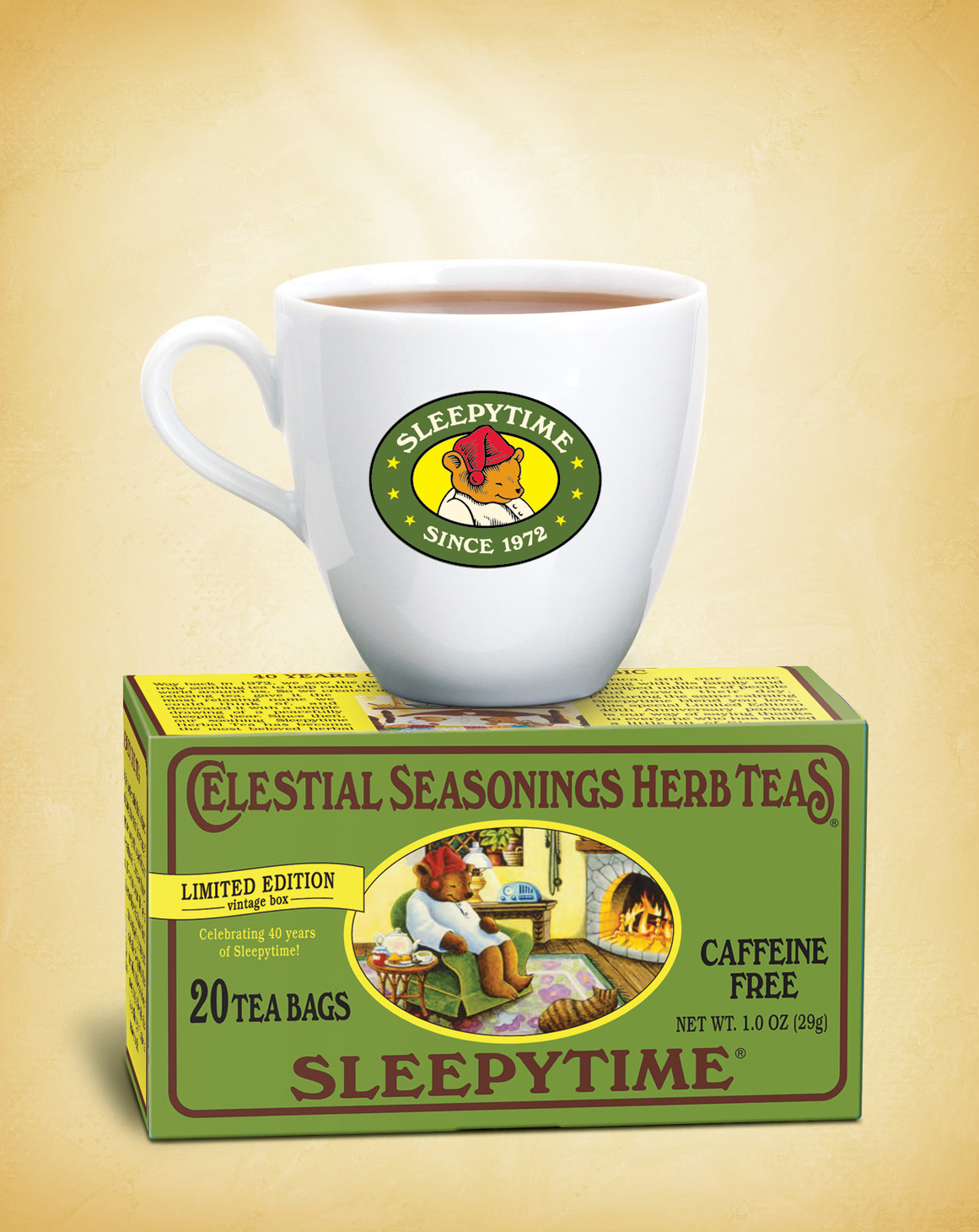 What can you tell us about Celestial Seasonings and the extraordinary role tea plays in the pandemic?
Celestial Seasonings is a pioneer in herbal tea. The company was founded in 1969 in Boulder, Colorado. More than five decades later, we're a trusted brand with a mission to bring balance to our customers' day. We offer relaxing herbal teas, energizing black and green teas, and everything in between. Most importantly, we've always hung our hat on flavor. It's the heritage and heart of our company, and it's why our customers keep coming back.
Hot tea season, which is October through March, is always extraordinary. This year in particular has been especially meaningful as families find new rituals and comforts at home. While we've always had a strong community, we've seen it broaden this year, including the notably larger segment of young men enjoying our Sleepytime line (they call themselves "Sleepytime bros"). People are now actively seeking comfort, a healthier lifestyle, and health-infused products. It's an honor that more and more people are not only choosing Celestial teas, but also turning to tea in record numbers from other beverages.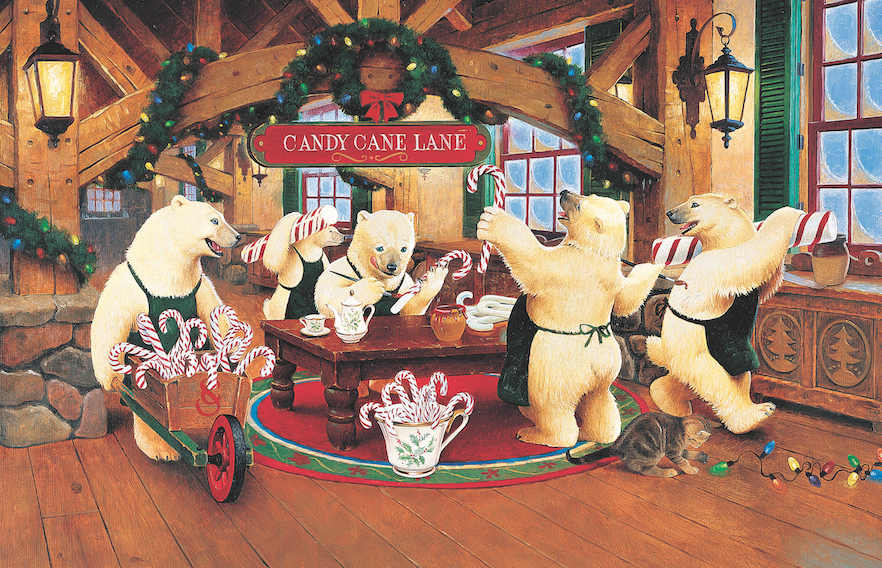 The artwork for Celestial Seasonings packaging is so colorful and comforting, with a design for every season. How did Celestial Seasonings determine its rich brand aesthetic and design?
Celestial packaging is an enduring and endearing ingredient to our success. The stories and emotions conveyed continue to build lasting relationships within our community. Our teas are a multi-sensory experience, and great tasting, while also serving up a dose of thought-provoking quotes and imaginative artwork that's immersive and transformative in a very singular way.
We like to say our teas bring magic to the moment. The Celestial Seasonings packaging is certainly part of that with beautiful, whimsical, nostalgic images and inspiring messages for every mood and moment.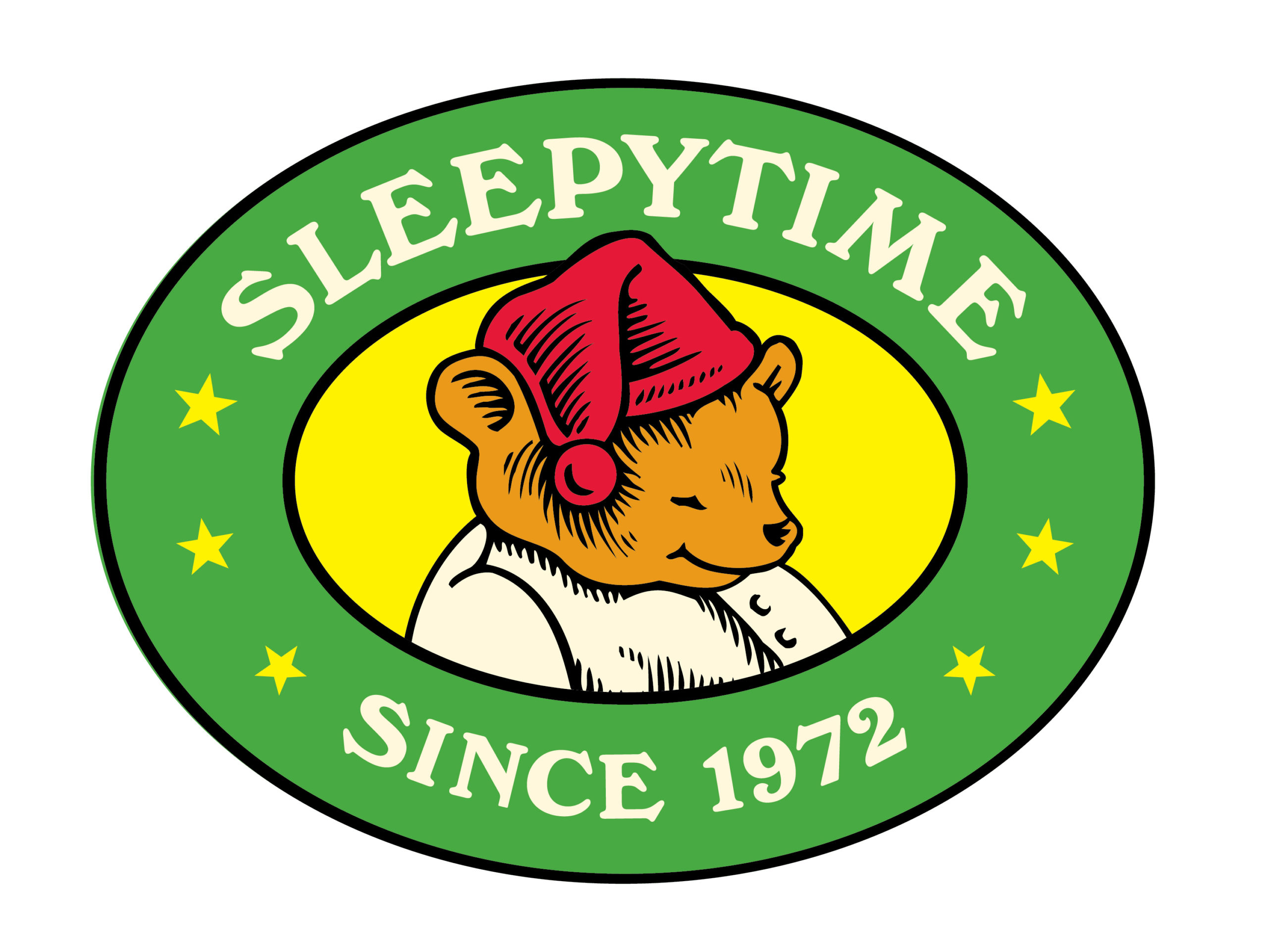 Can you share with us the backstory for where the idea to come up with a bear as the icon for an herbal tea came from?
Sleepytime is the original bedtime tea, and for nearly 50 years, our beloved Sleepytime Bear has served as the warm and welcoming illustration. Sleepytime is our perennial best-selling tea. Beyond the classic Sleepytime and Sleepytime Extra lines, there are twelve flavors that have featured our iconic Sleepytime Bear.
The inspiration for our bear can be traced back to the original influences of Disney and the idea of a realistic fantasy. That notion has been a strong guiding principle for us, which also conveys the tenets of love, care, and protection.
Who is Beth Underwood, the artist that drew the Sleepytime Bear?
Beth Underwood is the sister of one of the co-founders, John Hay, and one of our first employees. Sleepytime is one of our two flagship brands, established in 1972. Beth first illustrated the bear one year later. That original illustration can be found framed at our headquarters to be enjoyed by both our employees and the nearly 130,000 visitors we average in any given year who tour our facility.

How would you describe the Sleepytime Bear?
The Sleepytime Bear is a timeless symbol of peace, calm, nostalgia, and even a little self-care. I think people are pleased to know the bear has a wife and family, and a cozy cottage where they live with a cat curled up by the fire! It's a warm scene that our customers continue to be drawn to, and what a beautiful image to couple with unparalleled flavor.
He's been a bringer of cheer and wellbeing for years, encouraging participants at our annual charity events, and naturally he's a beloved part of our holiday parties.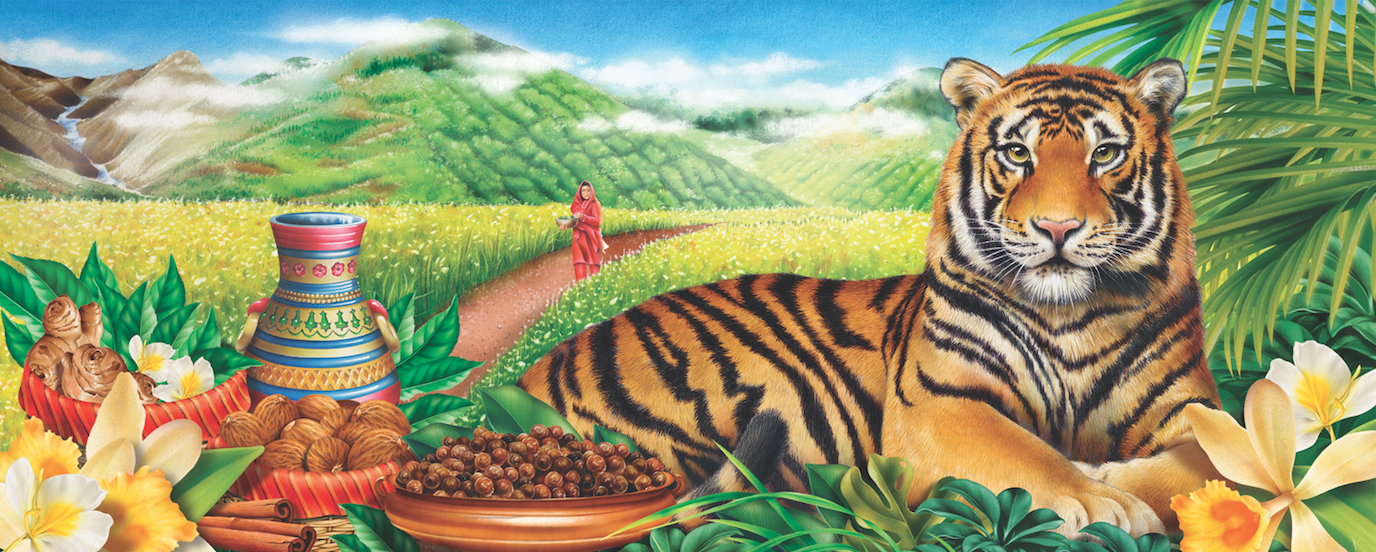 Celestial Seasonings has several iconic characters for its teas including the Bengal Spice tiger, the Candy Cane polar bears, and the Red Zinger hummingbird. How do you determine the unique icons for tea packaging?
We always start with the tea first, and then ask what is the emotion and experience we want to evoke. There's significant time spent on the mood and feeling. Then we propose various stories and vignettes that we want our customers to feel while drinking the tea. Usually, we just know when it's right for Celestial. That's one of the benefits of a wholesome, legacy brand. We just feel it.
Over the past year, we introduced bold new innovation in the green and black tea segments, adding new benefits like an Energy tea with as much caffeine as a cup of coffee. We also introduced probiotics and other wellness benefits in our TeaWell line, which include Gut Health, Sleep with Melatonin, and more. Sleepytime blends are available in herbal, decaf green and wellness teas, so you can always find the perfect cup for any bedtime or daytime routine.
What has the consumer response been to the Sleepytime Bear over the decades?
The connection is so heartfelt that in 2016, we recreated the Sleepytime Cottage at our headquarters. This is complete with the armchair and fireplace where visitors love to insert themselves into the scene. Our Sleepytime Bear stuffed animals are the best-selling item in our gift shop. We also donate the bears to the local police department in the event officers meet children in distress. Working within our community in this way has always been important to Celestial.
The Sleepytime Bear also receives a good deal of fan mail throughout the year, filled with wishes of peace and thanking him for the warmth he's brought into their homes.