The last time PopIcon caught up with McGruff the Crime Dog, the 43-year-old icon for the National Crime Prevention Council (NCPC), the year was 2019. McGruff was the star of a series of animated shorts which emphasized the importance of gun safety and educated kids and parents alike on gun safety and protection.

In 2023, McGruff continues to put his savvy towards bringing awareness across a wide range of emerging and ongoing criminal issues. With less than a week to go until Crime Prevention Month kicks off in October, we caught up with the NCPC to see where McGruff has been actively working to "Take A Bite Out of Crime."
McGruff Launches The Lives Project
Acting as a call to action to stop the senseless loss of life and providing a living memorial to victims of Fentanyl deaths, the NCPC and McGruff launched The Lives Project (LivesProject.org) in May 2023.
Visitors to The Lives Project website will find a digital remembrance quilt and the stories of hundreds of individuals from all walks of lives and ages who have been lost to Fentanyl submitted to the site by their loved ones. The Lives Project helps bring awareness and take action against the continued rise of Fentanyl deaths. As long as this crisis continues, this quilt, and the stories shared, will continue to grow.
Taking a Bite Out of Fake Products
The sale of counterfeit products, including fake sneakers, fake designer handbags and clothes, and fake luxury beauty and skin care products, is a $3 trillion industry.
As eCommerce continues to rise in popularity and more people are tricked by fraudsters into buying fake "dupes" via social media, McGruff smells big crime. Even if you think you're saving money, these sales put money into the hands of criminals. The icon has created a series of YouTube videos urging teenagers to "think again" and steer clear of purchasing fake products online.
You can watch every video in McGruff's "Think Again" series by visiting the NCPC YouTube page.
McGruff Teams Up With NASCAR Driver Joey Gase
McGruff also smells big crime when it comes to fake automotive parts. In 2022, he teamed up with NASCAR driver Joey Gase to spotlight the harms of counterfeit auto parts. Their message to Americans was "You're Smart. Buy Smart." This partnership encouraged consumers and fans to buy smart and buy real to keep drivers, kids, and loved ones safe.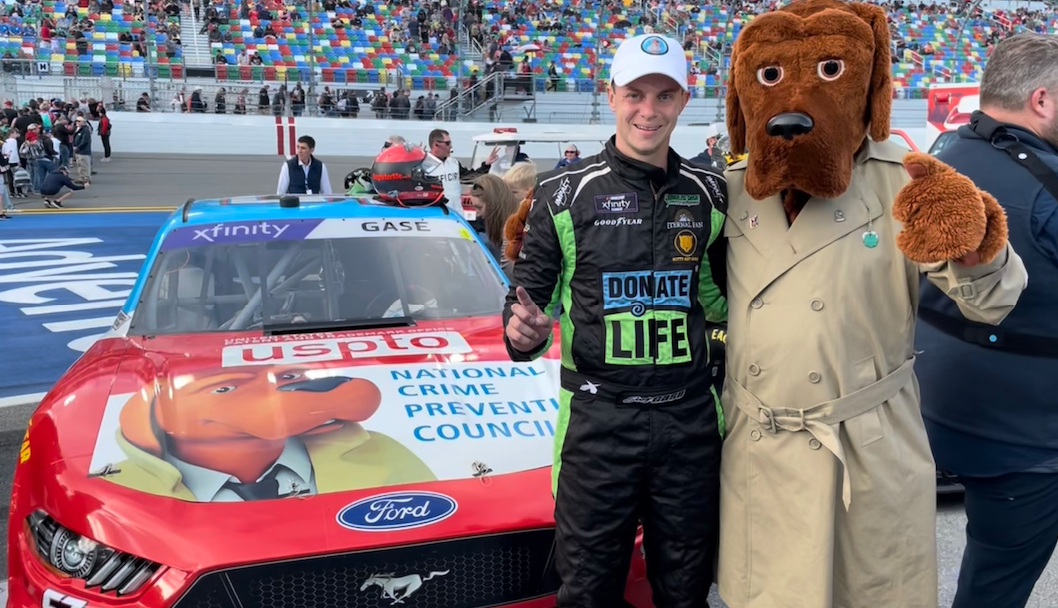 In 2023, Gase teamed up with McGruff again as a newly elected board member for the NCPC. Together, McGruff and Gase partnered with Alitheon, a company known for using optical AI to help identify and protect against counterfeit parts. Counterfeit and gray market parts impact major automotive companies like Mercedes-Benz. They also serve as an immense public safety risk in the world of EV manufacturing where a fake battery can be very dangerous.
McGruff In 2023 And Beyond
What will be McGruff be doing in the rest of 2023?
As mentioned earlier, the icon will be playing a pivotal role during Crime Prevention Month. McGruff will be tackling violent crime across communities and bringing continued awareness with parents and advocates on the Fentanyl crisis.
He'll also be launching a new public service announcement which exposes the criminal acts behind counterfeit pills and other products. Watch out for this PSA coming soon and follow McGruff on social including Facebook, Twitter, Instagram, and YouTube.
Want to be McGruff's sidekick? Kids can join McGruff in helping Take A Bite Out Of Crime at McGruff.org. Launched in February 2023, this new educational website offers kids, tweens, and teens plenty of engaging games to play focused on anti-counterfeiting, bullying, home safety, and more. Parents and teachers are also welcome to stop by this one-stop site and learn more about crime prevention efforts to keep communities safe.