They're back! Wait, who's back? Apple, Leaf, Green Grape, and Purple Grape, AKA Fruit of the Loom's iconic mascots the "Fruit People."
In the 1970s, apparel brand Fruit of the Loom began airing commercials starring their signature mascots the Fruit Guys. The commercials ran until the early 2000s and the Fruit Guys became widely popular across generations thanks to their entertaining ads and ensembles which made for popular group Halloween costumes.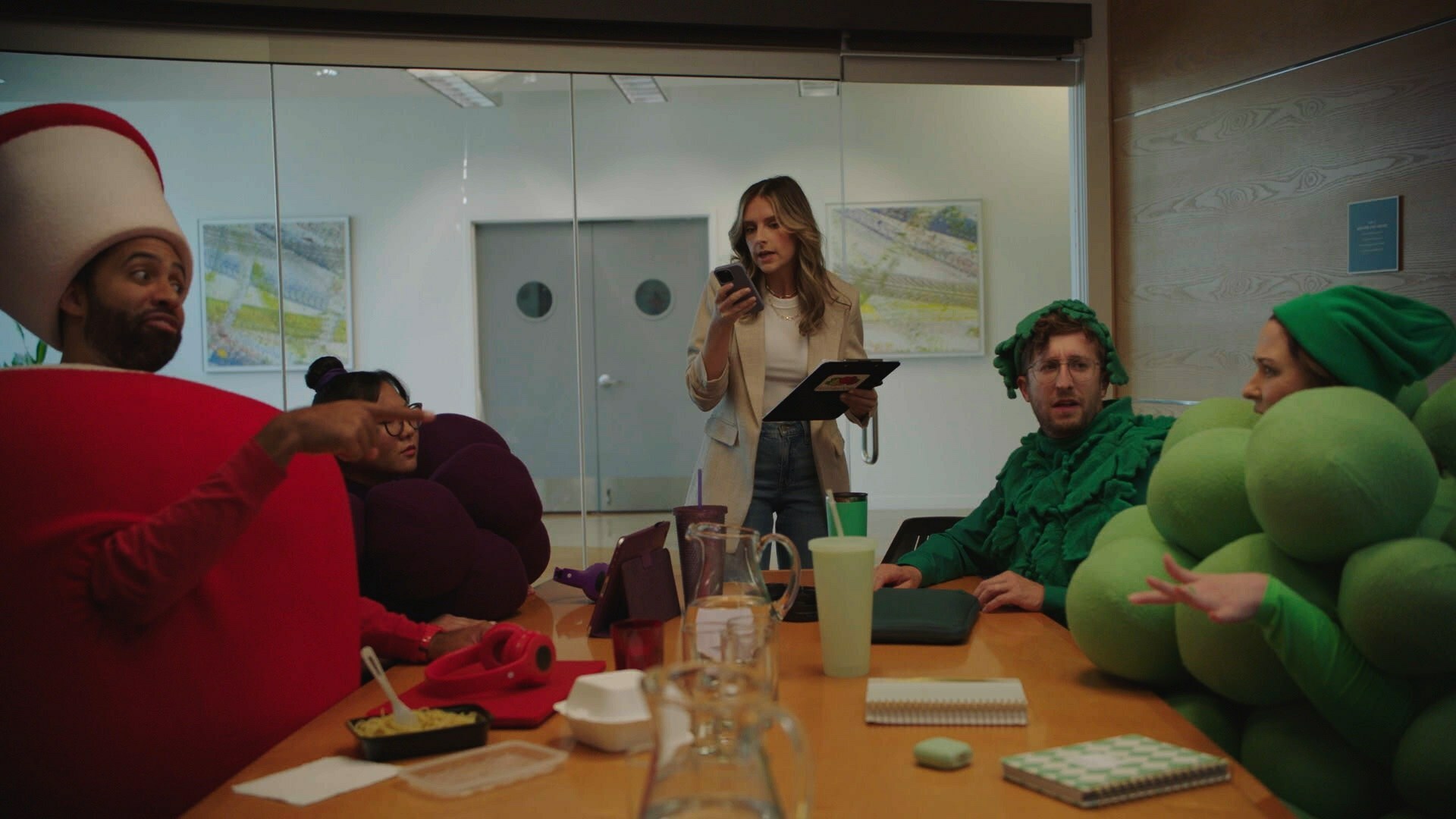 What else does the return of the Fruit People in 2023 mean beyond the characters expressing a desire to go viral on TikTok? PopIcon spoke to Bryse Yonts, Director, Brand Communications, at Fruit of the Loom, to learn more about this TikTok specific comeback. And oh yes, there's even a reference to the infamous Fruit of the Loom cornucopia character.
When did Fruit of the Loom first debut its mascots? Which fruits made up the mascots and how did they represent the brand while connecting with audiences?
The Fruit People, formerly known as the Fruit Guys, debuted in the 1975 and were our first mascot spokespeople.
The characters represent items from our logo, including an apple, leaf, green grape, and purple grape. They were—and still are—a memorable and wildly popular way for our brand to reach consumers with humor that connects with pop culture.
How did you reach the decision to bring back the mascots and update them as the Fruit People?
We are always looking for meaningful ways to connect with our consumers and fans who know and love Fruit of the Loom's quality, value, and brand heritage. By taking the best parts of our past and reshaping them for today, we have the opportunity to more deeply engage the next generation.
The content was produced by full-service advertising agency GSD&M in conjunction with Hungry Man and directed by LJ Johnson.
What factors went into play when deciding on TikTok as the platform where the Fruit People would make the biggest splash?
We launched our TikTok profile in 2022, using a cornucopia character that is not in our logo but everyone thinks was (the Mandela effect is real). We have been pleased with the growth and engagement on the platform. The Fruit People are a natural extension of what we've started there, allowing us to engage in current trends and to start a new chapter for the Fruit People.
How would you describe the personalities of the Fruit People, including Apple, Green Grape, Purple Grape, and Leaf?
We thoughtfully reimagined their personas, preserving what makes them memorable but creating something current and more relatable.
Leaf is the loveable nerdy one.
Apple has a big personality.
Purple Grape is dry and witty.
Green Grape always brings their upbeat energy.
When will we get a commercial starring the Fruit People?
They'll be larger than life in the next month. Keep an eye an out for it!