Duo, the cheerful owl mascot for the language-learning website and app Duolingo, has an unusual origin story than most brand mascots.
Originally, Duo started off as a logo. He didn't have an expression on his face. When he finally did receive an expression, it wasn't cute. It was described as… creepy.

Duo wasn't supposed to be green either. That's a bit of an inside joke between the company's co-founders Luis von Ahn and Severin Hacker.
Oh yes, and then there was the challenge in overcoming some negative folklore and superstitions associated with owls. As Duolingo quickly became the most popular way to learn a language online, the brand had to figure out if their mascot was universal enough for a global brand.
Today, Duolingo is on a mission to develop the best education in the world and make it universally available for all. With more than 500 million total downloads worldwide, people can learn from 103 total language courses for 40 distinct languages just by using Duolingo.
The story of their brand mascot, Duo, is less well-known than its app. Today we speak with Greg Hartman, Head of Art, Zaria Parvez, Social Media Manager, and Sam Dalsimer, Global Head of Communications, at Duolingo to discover the world of Duo.
Can you share more information about Duolingo, when the company was founded, and how the app works?
Duolingo was founded in 2011 and launched the Duolingo app in 2012. The company is based in Pittsburgh and currently employs around 500 people.
Today Duolingo is the most popular language-learning platform and the most downloaded education app worldwide. The app makes learning new languages fun with bite-sized lessons that feel like playing a game. The company's mission is to develop the best education in the world and make it universally available. Duolingo offers over 100 total courses across 40 distinct languages, from Spanish, French, German and Japanese to Navajo and Yiddish.
Where did the idea for creating this character come from? Was it out of a love for owls or is there a deeper backstory?
Greg Hartman: Luis and Severin knew they wanted a mascot to represent Duolingo from the beginning. I don't believe there was anything special about selecting an owl as our mascot other than the fact that owls are wise, and we were an education app.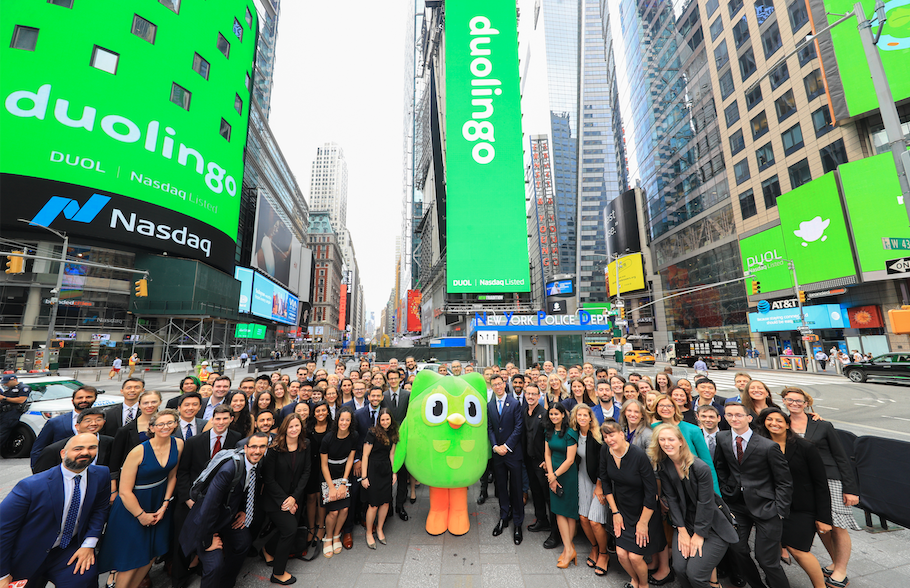 Legend has it that our cofounder, Severin, had very strong feelings about not using green in Duolingo's branding. Luis thought it would be hilarious to do exactly that – and thus our green owl was born.
How would you describe the character's personality?
Greg: Duo is a coach. He wants you to succeed and achieve your language goals, that's what he lives for.
He cares about your daily language activity so much that he takes it very hard when you forget to do your lesson. This usually results in tears, but sometimes it results in more extreme actions (or so they say).
On the flip side, if you spend a little time with him he'll do backflips for you and give you nice things. His mood is almost entirely tied to your learning habits.
Who designs Duo? What are some of the challenges in illustrating this character?
Greg: Duo's designer is our Head of Art, Greg Hartman (me!). I have seen Duo through multiple redesigns and am credited with the character design we see today.

Duo is constructed very simply, he's basically a chicken nugget with a face. The few shapes that make up Duo's body make him easy to pose and his big eyes make his expressions clear. But the biggest challenge in illustrating Duo comes less from how he looks and more about who he is.
Some of Duo's popularity originated from memes: this knife wielding owl who kidnaps your family if you don't complete your daily Spanish lesson. So, while Duo has never committed a felony (that we know of) memes are part of Duo's creation story and we tend to honor that. Then juxtapose this with our mission of developing the best education in the world and making it universally available, and you get this tug of war between two very different personalities: the meme and the mission.
The huge benefit to having a character with a wide range of personality is there is a lot of gray area to explore. While many people at Duolingo work on defining Duo, it's the artists who get the opportunity to make the final call. They have the unique ability to thread the needle between the meme and the mission to make something truly on brand. Whether it's Duo combusting into flames to celebrate your long learning streak or a giant Duo chasing characters who didn't complete their daily lesson, our team gets license to make Duo their very own – which is exactly what Duo was designed to be in the first place.
What did Duo initially look like?
Greg: Duo's character design has changed drastically over the last 10 years. Originally, Duo was just a logo, a flat graphic with no expression with the letters D-U-O making up his face.
We started adding Duo to more places within the product, so the need arose to make Duo more expressive. It was with this design that we first illustrated Duo crying, using it after a user failed a lesson. But this character design wasn't something you'd want to snuggle, and his eyes felt like they glared creepily into your soul.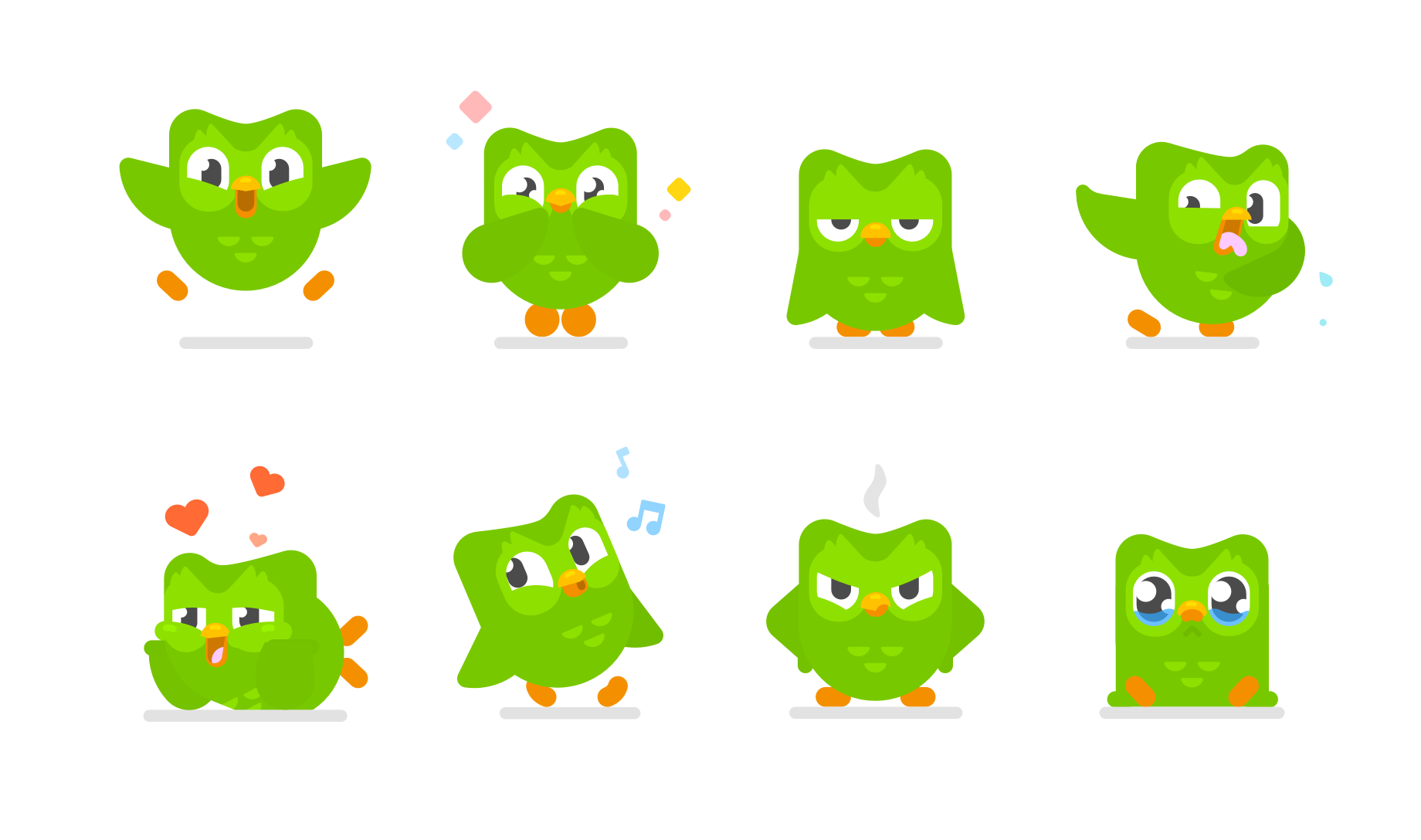 My aim with the next design was to give Duo a softer side and a more unique silhouette. While I can't say I can look back on that version of Duo and still see good design, the choices I made started laying the groundwork for his final form.
In 2019 we redesigned our entire app and I saw an opportunity to give Duo a facelift. I was more intentional with all his shapes while also upping his cute factor. I began to think of Duo more as a character and less as a logo. With this redesign I made sure to try out all kinds of expressions and poses to make sure we were landing on a design that we could stick with for another 10 years or more.
What about having an owl for a brand mascot do you think resonates with audiences?
Greg: Honestly, I don't think there is anything about the owl that resonates with audiences, it's kind of hard to tell that Duo is an owl.
I think the fact that some people see Duo as passive aggressive makes him relatable. Lots of characters have quirky personalities, but Duo often talks directly to our users, making that relationship more interesting. Whether it's a push notification or in-lesson encouragement, Duo is very personable. I think that feels good when you're trying to learn a new skill.
Sam Dalsimer: Learning a new language is a very hard thing to do, and Duolingo's task is even harder; we must get people to choose to go through the difficult process of learning a new language. There is no teacher or parent around to disappoint, and there are an infinite array of easier entertainment options available on the same devices we're trying to use to teach. So, I think there is something about Duo being your accountability partner, being there to encourage you to keep going, and not wanting to disappoint Duo, that helps our learners find the motivation they need to keep doing a difficult task.
The character is a bit different on every social media platform, but it's on TikTok where we can really see Duo shine. What has the experience been like in bringing Duolingo to TikTok?
Zaria Parvez: The Duo mascot has lived in our office for quite some time now and has always had a funny omnipresent vibe whenever you'd see it. When it came to TikTok, we knew the almost sweet lovable owl costume that could also be passive aggressive and fiercely loyal was an interesting tension point to showcase. Since we found it funny, we knew there was potential for everyone to see just how funny this costume really was.
We partnered what you see in a TikTok video with the responses Duo would give to fans, the captions of the videos and how we'd respond on other videos. We did have a set plan on bringing Duo to life with the brand persona and tone we took on across all touchpoints on TikTok.
What is a bit of narrative about the Duolingo brand mascot you think might surprise fans? 
The reason the Duolingo owl is green is because green is Severin's least favorite color. The other co-founder, Luis, decided to make the mascot green just to mess with his co-founder. Yes, they are still friends today.
At one point, Duolingo learned that the owl is a symbol or omen of death among some cultures. We had to seriously reconsider whether the owl as a mascot could work universally for us as a global brand.
There is some incredible fan art created for this character. Can you link to some of your favorite creations?
Zaria: Sure! @maximkuzlin on TikTok created this amazing filter for anyone to use!
We also are a huge fan of the artwork we share every Friday as part of our Duo Fan Art Friday series. Here's my personal favorite of Duo from the series!
What is next for the Duolingo brand and Duo in 2022 and beyond?
Greg and Sam: One thing we're focused on is continuing to build out the world of characters around Duo. We have 10 other distinct characters we've developed in the Duolingo World, and learners are already starting to see them and Duo show up in more places in the Duolingo app, like in our regular lessons and our Duolingo Stories. We recently hired Linda Simensky as our Head of Animation so it's no secret that we have ambitious plans to add more animation and delight throughout the Duolingo experience, to help bring our characters and their stories to life.
We're also hard at work on developing Duolingo ABC, our app designed to teach kids ages 3-8 how to read. In Duolingo ABC you'll start to see younger kid versions of all the Duolingo characters, including Duo!
Duolingo is available to download on Android, iOS, and the Web.