Elsie the Cow has been the iconic face of Borden Dairy since 1936. In recent decades, however, fans haven't seen much of this bright-eyed bovine. Where's Elsie?
Borden fans are about to be over the moon with excitement. Tony Sarsam, CEO at Borden, promises that a preview of Elsie's new look is coming later in Q1 (by the end of March 2019).
While we wait for Elsie's modern debut, let's take a look back at her udderly unique dairy history.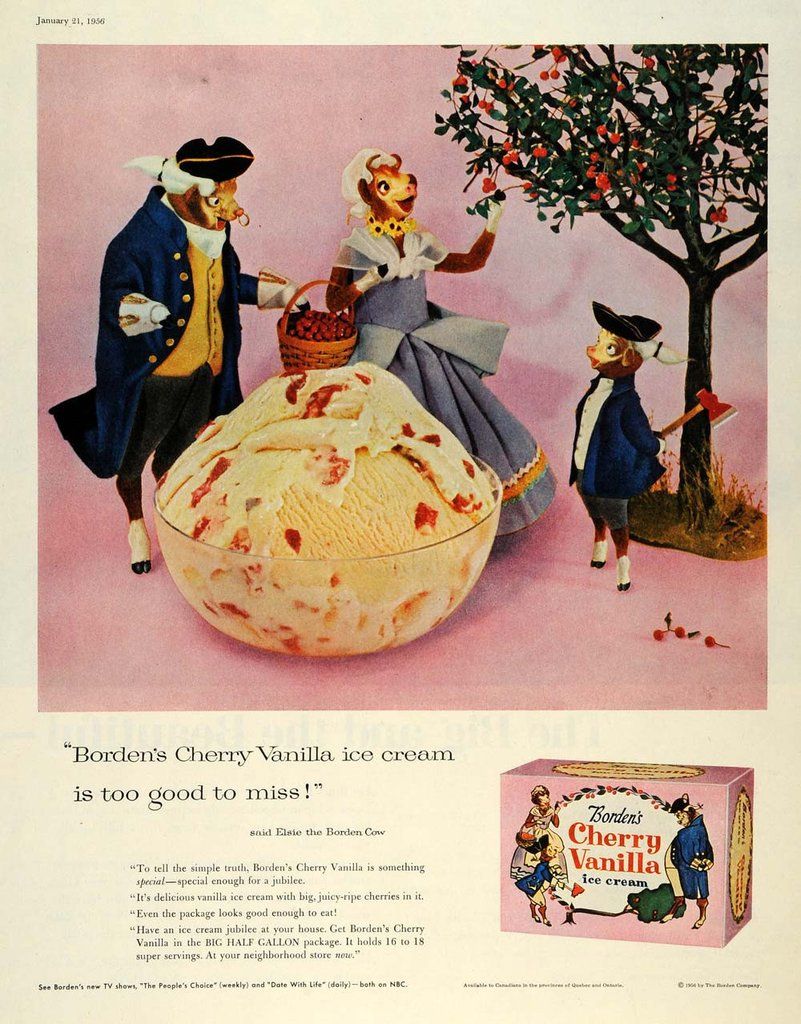 Elsie's Creation In 1936
What product did Borden Dairy initially offer the public? Condensed milk. Founder Gail Borden patented his condensed milk in 1856. This was after three years of product refinement and five years after a fateful voyage where Borden witnessed children drinking contaminated milk and perishing on a ship.
Borden passed away in 1874, decades before Elsie was created. By the 1930s, price wars were raging between farmers and dairy processors. The highly publicized competition portrayed larger dairy companies in an unfavorable light. Borden swiftly took action to create the cartoon Elsie, a friendly cow mom. Elsie added a welcoming face to the Borden brand, making the company approachable to the public.
Elsie's Early Advertising
Borden advertised the earliest Elsie ads in medical journals. Elsie, along with cartoon cow gal pals Mrs. Blossom, Bessie, and Clara, was featured in advertisements with cows and calves speaking in milk barns. Here's a look at the typical cow 'n calf dialogue:
Calf: "Mama, I think I see a germ!"
Cow: "Mercy, child – run quick for the Borden Inspector!"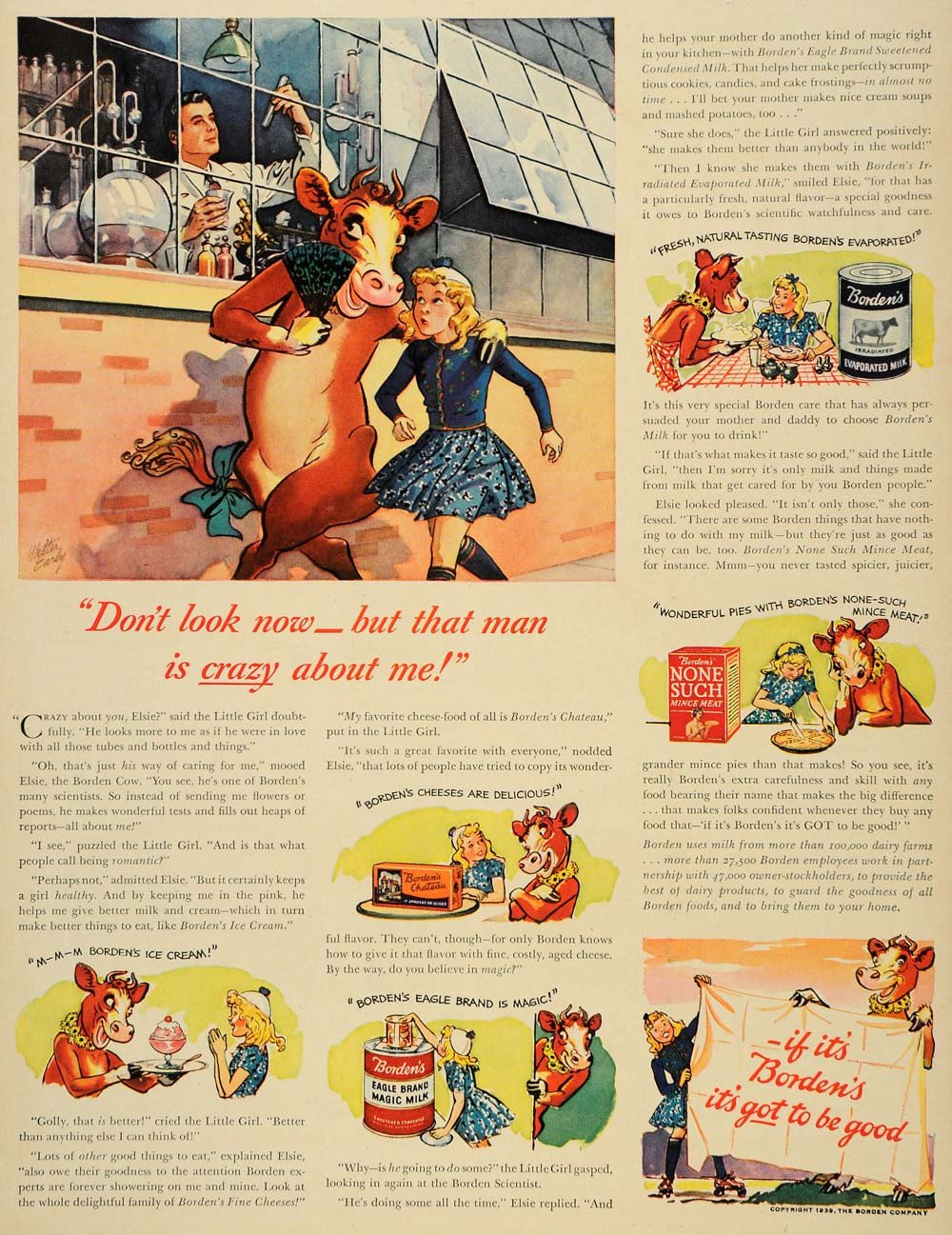 Doctors loved the advertisements. While doctors requested reprints from Borden to hang up in office waiting rooms, Borden tested ads in newspapers throughout New York.
The company also sponsored network news commentator Rush Hughes in 1938. A radio copywriter had been intrigued by the medical journal ads that the copywriter prepared a commercial for Hughes. One line even read as "'Dear Mama: I'm so excited I can hardly chew. We girls are sending our milk to Borden's now! Love, Elsie.'"
The commercial delighted Hughes so much that he read it himself on air. Listeners loved it. They began sending in fan mail, but there was one catch. The mail was addressed to Elsie, not Hughes. Elsie's popularity had taken off. She was officially Borden's spokescow.
Did A Real Cow Inspire Elsie?
A real cow did not inspire Elsie, but a live Elsie was born at the 1939 World's Fair. Borden had planned to host an exhibit, where the company would debut a futuristic rotolactor milking machine. The rotolactor was designed as a merry-go-round milking machine with live cows on its top. Elsie would be part of the exhibit, but she would not be the focal point.
However, Borden realized that it was time to produce a real Elsie to the crowds. 150 cows were sent to the World's Fair from New Jersey to participate in the rotolactor. One cow, a seven-year-old from Massachusetts by the name "You'll Do Lobelia," felt the most like Elsie. She had personality and made eye contact. Millions saw You'll Do Lobelia, as Elsie, dressed in an embroidered green blanket on top of Borden's rotolactor!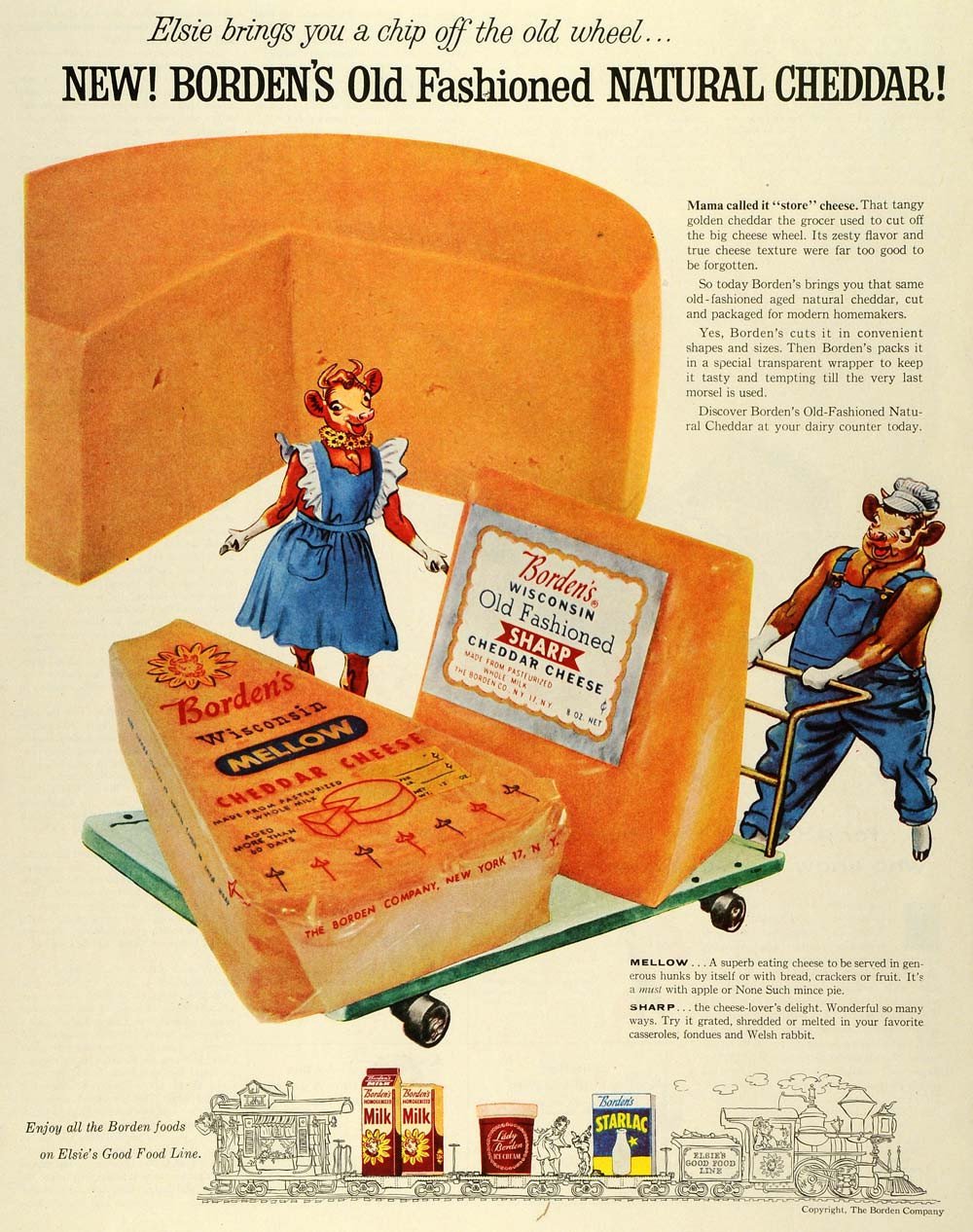 Relationship With Elmer The Bull
Just four years after Elsie debuted, Elmer the Bull was created in 1940. He was lent to Borden's then-chemical division to act as the official spokescow for Elmer's Glue.
Elmer and Elsie maintained a character relationship together throughout the 1940s and 1950s. The pair were positioned as a husband and wife duo with Elmer often appearing in Borden ads with Elsie. Later, they would welcome several calf offspring to the family. These members include Beulah, Beauregard, and twins Larabee and Lobelia.
Will Elmer be joining Elsie in the new ads from Bordan Dairy? Nope. Borden's chemical division has since been sold, along with its trademarks, and isn't part of the existing Borden Dairy Company.
Elise The Cow In 2019
At the height of Elsie's popularity, more people recognized the beloved bovine than they did the current U.S. President. Today, Elsie's recognition is still strong. Consumers associate the Borden brand with Elsie — all the more reason to give her a fresh look!
Borden is working with marketing and design agencies, Curiosity 360 and BrandCory, to test designs and campaigns that will be a perfect fit for Elsie.
Sarsam is only able to offer a brief glimpse into Elsie's new look. "It will be more evolutionary in nature than revolutionary, as we want her to remain familiar and recognizable."