If you've ever been to a Vineyard Vines storefront or browsed the website for the popular apparel and accessory company, chances are you may recognize their grinning, pink whale logo. What you may not know, however, is that there is a rich history behind this whale and the company.

From humble beginnings on Martha's Vineyard to the whale's unique pink color and acting as a symbol of the EDSFTG way of life, let's dive into the history of the Vineyard Vines whale.
Leaving Desk Jobs for Entrepreneurship
In 1998, Shep and Ian Murray were two brothers working tedious desk jobs — and they were completely miserable. They mutually both decided to quit and left their jobs within minutes of each other.
After quitting their jobs, Shep and Ian mused over drinks what their next steps would be in chasing the American Dream. Their conversation kept reflecting to memories of Martha's Vineyard and special times spent there.
The old whaling community holds a special place in the hearts of the two brothers. Growing up, they spent every summer surrounded by family and friends on the island. They thought about what people wore that frequented the community. Breezy, light polo shirts, ties, blazers, and Nantucket Red (a shade of red faded to resemble a salmon coloring) pants and shorts were popular with the locals.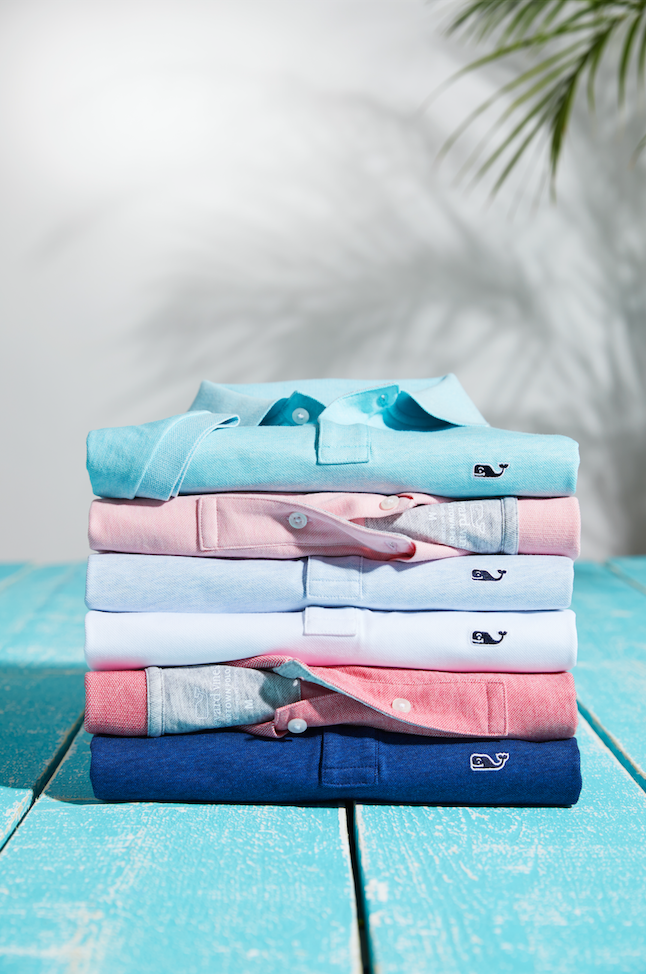 Eureka! Vineyard Vines was born on Martha's Vineyard. Initially, the brothers sold neckties in the summer of 1998. (It's cheekily noted in an interview with Forbes that Shep and Ian started making ties because they didn't want to wear them at their former desk jobs.)
As Shep and Ian began increasing their casual wear offerings and focusing on making preppy polo shirts around 2002, they realized they needed a special logo. The logo should set them apart but remain true to the Murray brothers.
The Wooden Whale Carving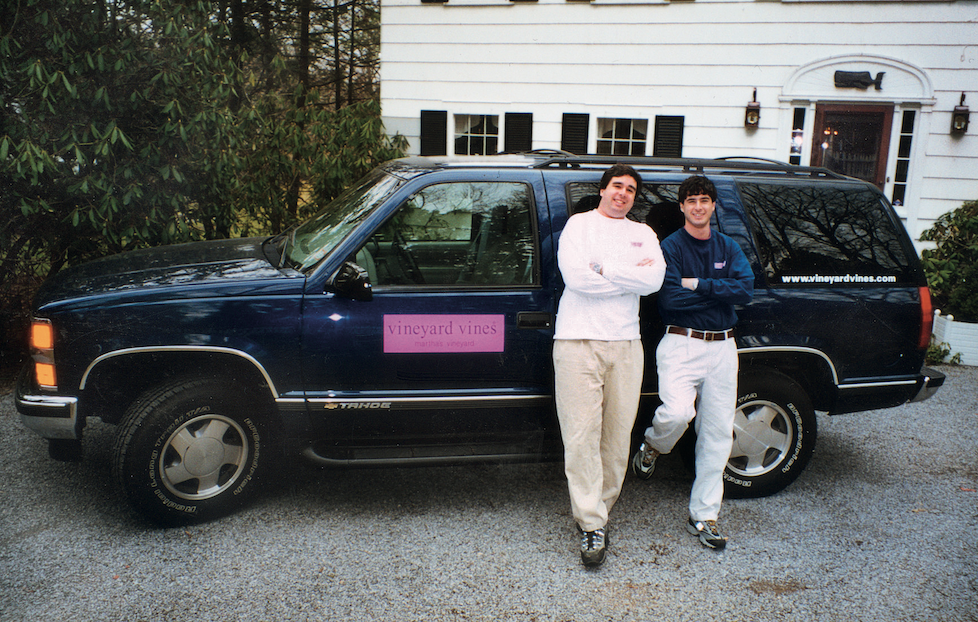 Look closely at the photo of Shep and Ian leaning against their car. Behind them is their family home with a wooden whale carving above the entrance.
The whale, as the brothers share with us, was an easy choice for the Vineyard Vines logo. Whales are a prominent symbol of Martha's Vineyard. It also paid tribute to the Murray patriarch, who hand-carved whales as a hobby for most of his life. A hand-carved whale is hung above the front door of the Murray home in Martha's Vineyard as well as their home in Connecticut.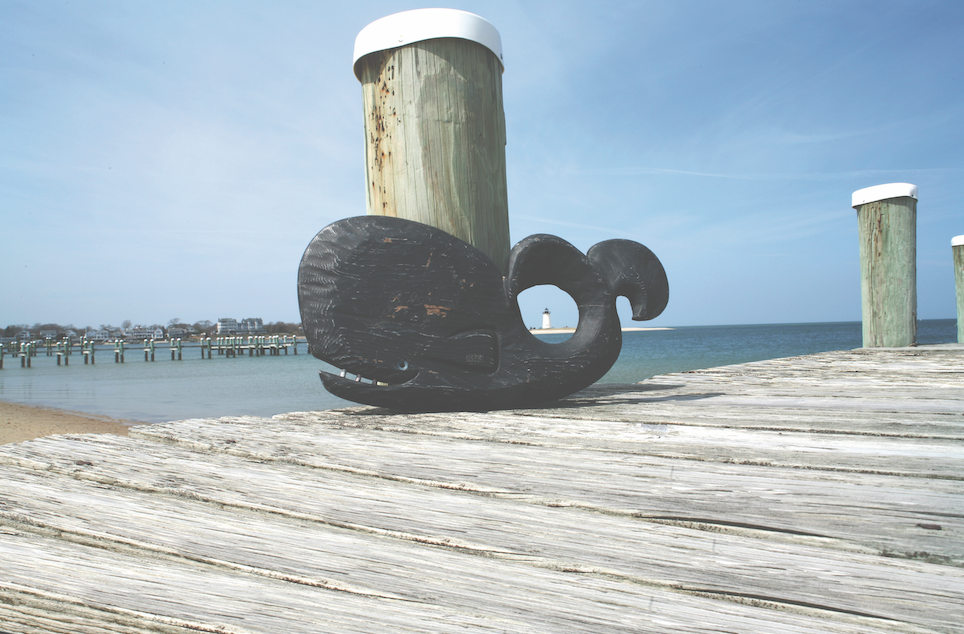 The whale has been part of their lives for as long as they can remember and is emblematic of the siblings and the Vineyard Vines brand.
Who is the Vineyard Vines Whale?
Shep and Ian describe the Vineyard Vines whale as not having a name or a specific gender. It is simply a happy whale that "whalecomes" everyone.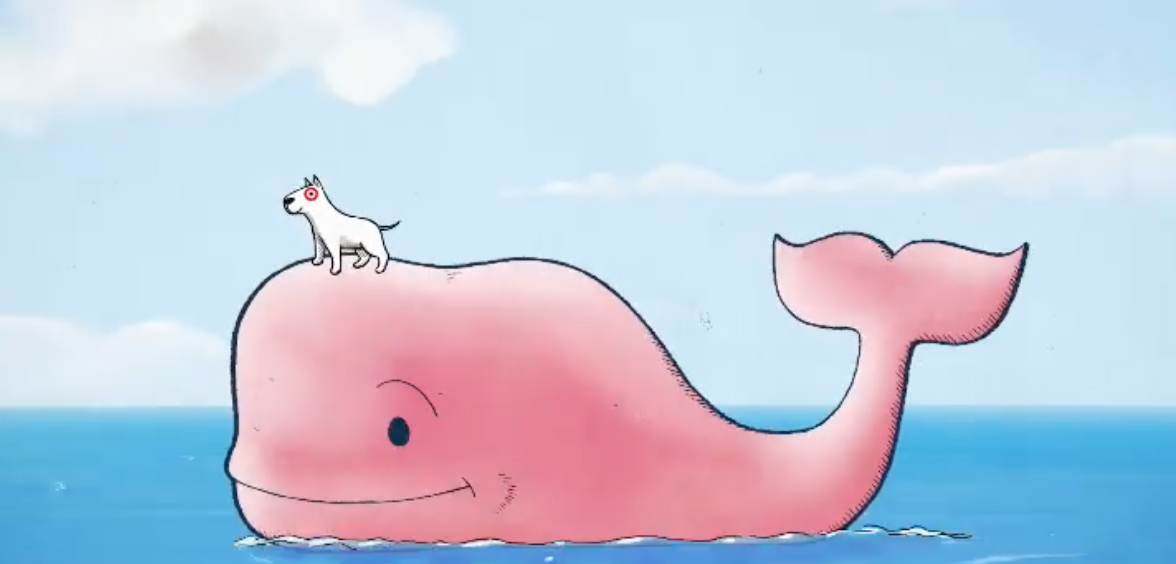 Making the whale pink was "absolutely intentional," according to the Murray brothers. The story is that prior to developing the iconic whale, Shep spoke to a friend who was helping the pair ideate on the logo. Their friend asked Shep to describe Martha's Vineyard.
"It's people dressed in their navy blazers and Nantucket Red pants going to the yacht club, or faded Nantucket Red shorts and old blue polos heading to the bar or to the beach," Shep said.
His friend replied, "Well then, make the colors — pink and navy."
This stuck with the Murray brothers and thus, a pink whale was born.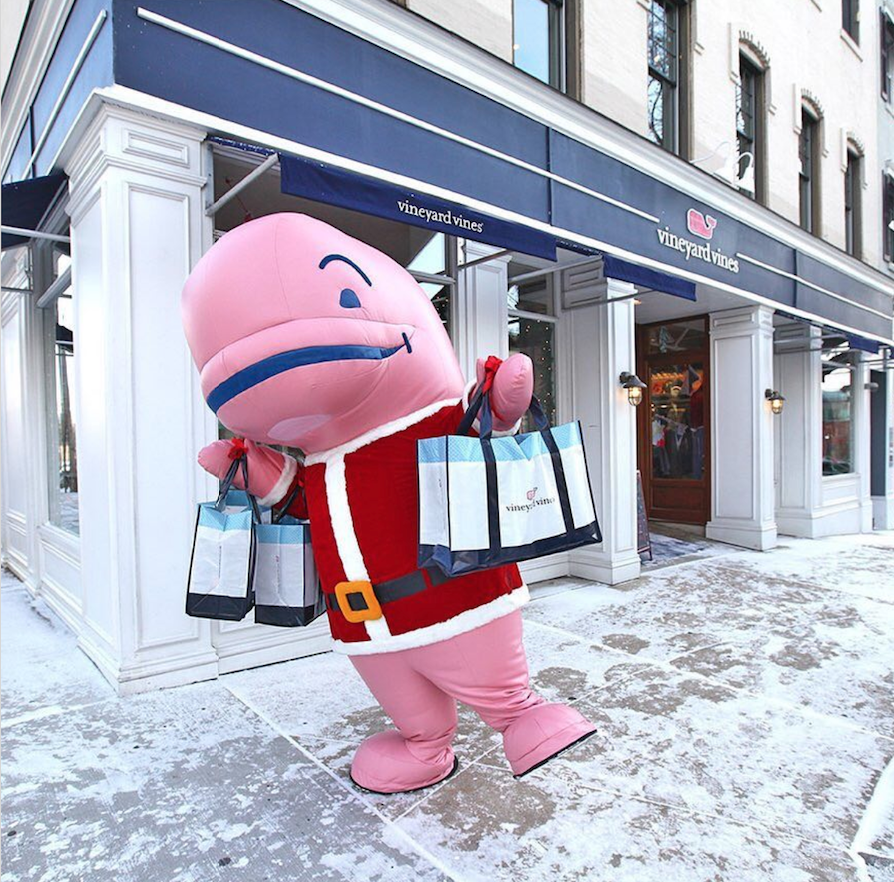 The Vineyard Vines whale made its debut in 2002 with the launch of the polo shirt. Since then, the whale has taken on a life of its own. Whale stickers adorn cars, laptops, water bottles, and even the walls of bars everywhere from the Connecticut to the Caribbean.
Beyond clothing and accessories, there have been plenty of sightings of the brand's life-size inflatable pink whale. This whale frequents store openings and attends turkey and food drives held by the company. Whale, whale, whale — who wouldn't get a kick out of receiving stickers from a waving, grinning whale like this one?
The Vineyard Vines Whale as "Character Whales"
Since its inception, the Vineyard Vines whale has only been slightly refined as a logo design. The mascot has had the rare opportunity, however, to be modified into hundreds of "character whales."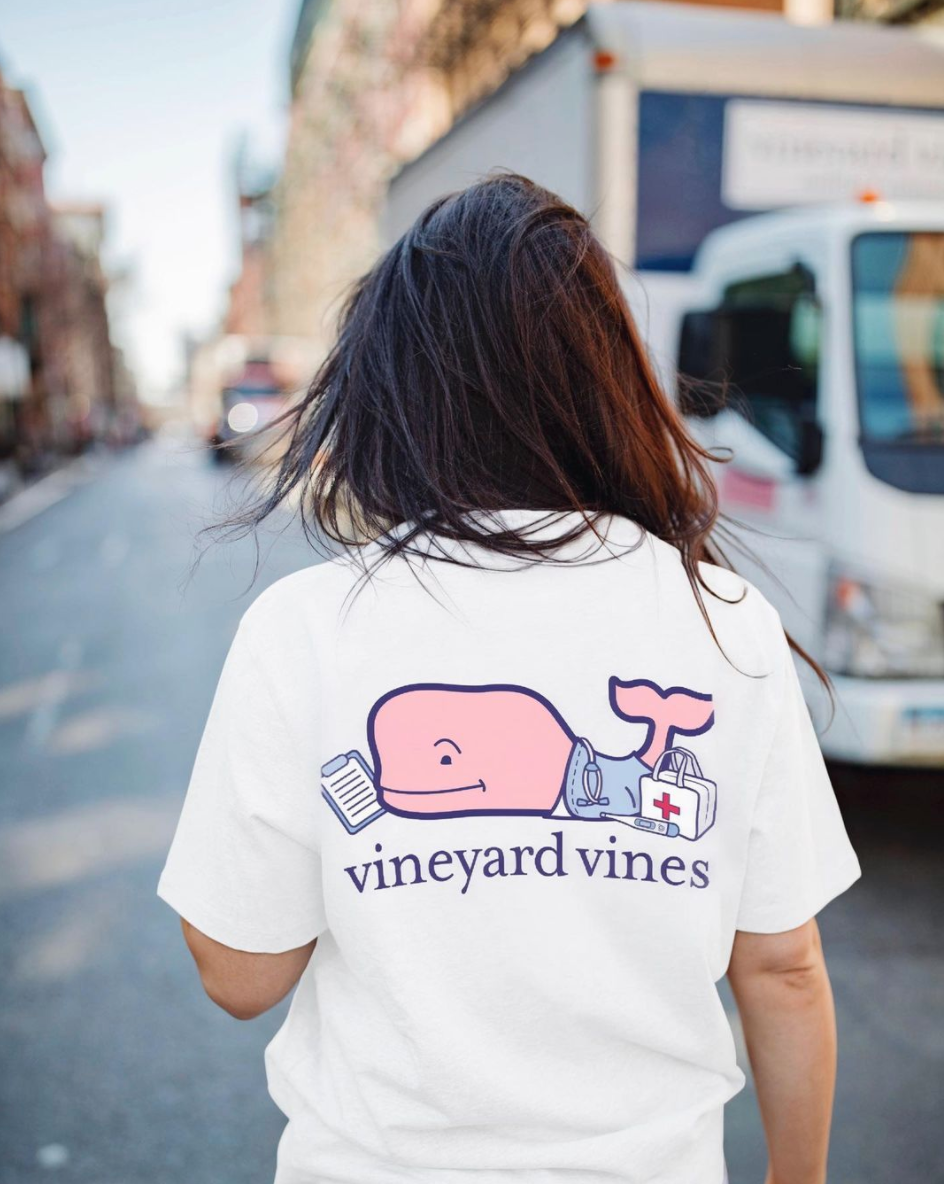 What's a character whale? That's when the Vineyard Vines whale dresses up as another character. To date, the whale has been spotted in professions such as a surfer, football player, first responder, nurse, and teacher. Additional whale character designs include whales with state initials and even whales who look like pets.
Amid the COVID-19 pandemic, Vineyard Vines released downloadable whales for people to print and color at home. They also encouraged submissions to see what customers were doing #whaleathome on Instagram. Winners included fans that baked a Vineyard Vines whale-shaped cake and pups donning neckties to work from home. Shep and Ian describe the response from customers as "terrific" and that they enjoy seeing how creative other people get with the whale.
Symbolizing "Every Day Should Feel This Good" Moments
Shep and Ian believe that people proudly wear the Vineyard Vines brand as a badge. Vineyard Vines, and its iconic whale, is a symbol of their "Every Day Should Feel This Good" (EDSFTG) way of life.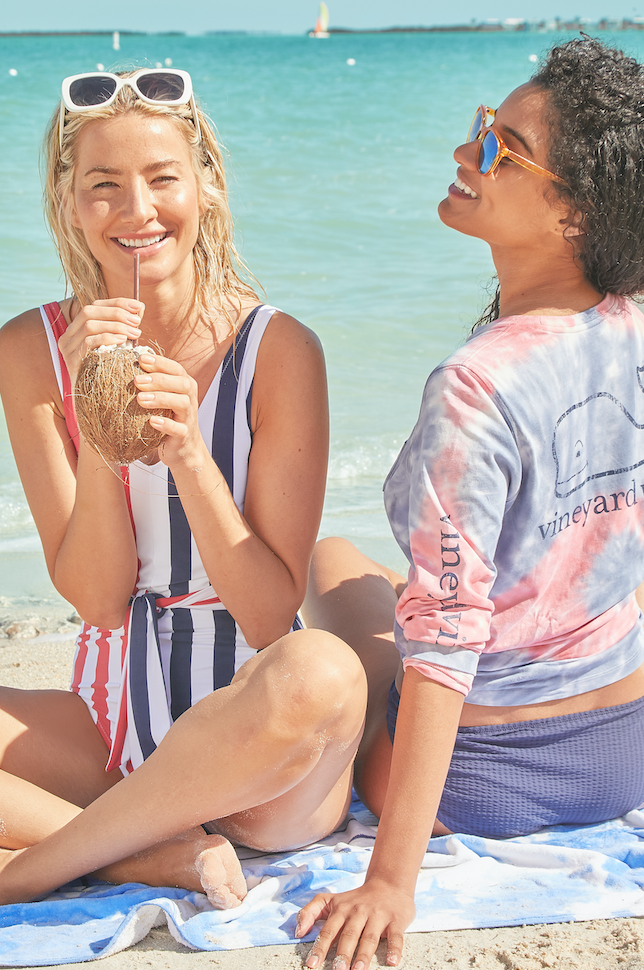 What does it mean to lead an EDSFTG lifestyle? That's simple. The whale symbolizes a state of mind where everyone is invited. You don't need to be on a beach, by the sea, or on vacation to have "Every Day Should Feel This Good" moments. The smiling Vineyard Vines whale can transport you to your happiest moments — no matter where or when those may be!