It may appear, on the surface, that Seymour Schachter went down a paved road to creative success. Schachter has illustrated over 250 cereal box covers, and "too many product labels to count" for brands ranging from M&M'S to Keebler. A three-time gold winner of the prestigious Reggie Award, Schachter is gifted in the ability to adapt to nearly any type of illustration style. It almost seems impossible to imagine a natural-born artist in any other role but a creative one — and that's where so much of Schachter's story begins.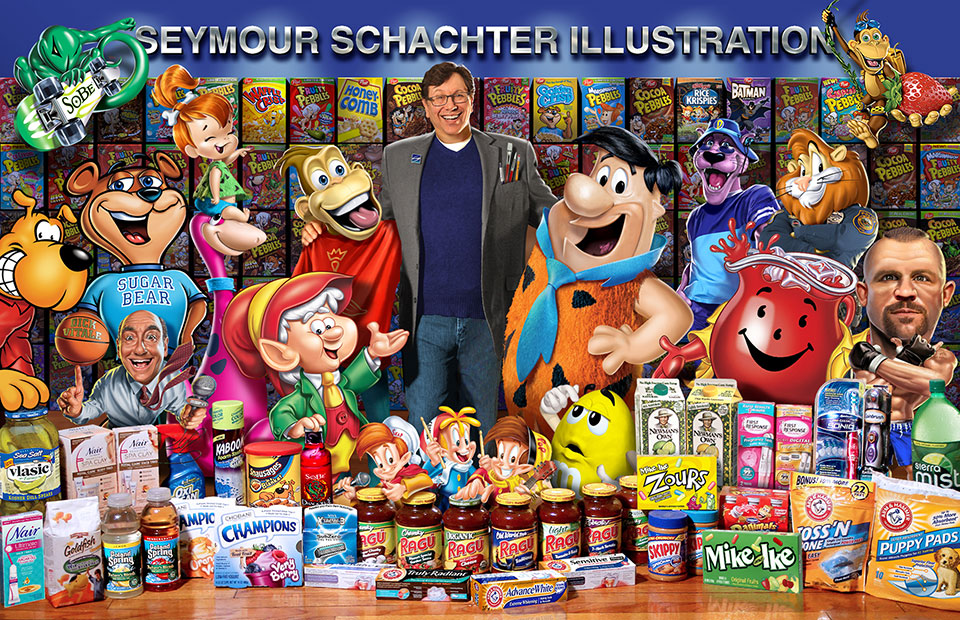 Schachter knew since childhood that he wanted to pursue art. His parents, however, insisted that he go to business school. Schachter attended Boston University where he received a business degree in 1982. Post grad, he travelled the world. He spent two years wearing a three-piece suit and working in the eyeglass business.
To Paint Or Pursue Business?
His watershed moment occurred in France during a business meeting. Schachter had brought an unlikely companion along on his travels: his watercolors. "I was passing through the beautiful French countryside on my way to the meeting. I kept thinking about how I couldn't wait to paint it after the meeting was over."
That meeting, as Schachter remembers, sounded like the adults from the Peanuts cartoon strip. Wah-wah-wah noises abounded while Schachter thought of nothing but the French countryside. Should he stay where he was or leave in pursuit of his dreams?
"I said 'I'm sorry, I can't do this anymore.' After that, I quit my job cold turkey. I walked out and painted." Schachter recalls.
From A Three-Piece Suit To Working At An Art Store
Schachter's bold decision was not without its fair share of "now what?" moments. He knew he wanted to get into art, but how he would break into the industry remained a mystery. Schachter found himself heading to the local mall. He stopped by an art supply store to see if they needed any help during the Christmas holidays. It turned out that they did and Schachter found himself, an adult with a business degree, working in a retail store surrounded by teenagers.
Using what he knew about business and salesmanship, Schachter put his heart and soul into the position. One afternoon, the CEO of the art supply chain came into the store. After introducing himself, he asked Schachter if he was aware that he had doubled the store's sales in less than a month. His next question was if Schachter wanted to sell art supplies to advertising agencies in New York City.
Schachter immediately accepted the offer. "I was back in my three-piece suit again, but the difference was I had a suitcase in one hand and my portfolio in another."
"This Could Be The Start Of Something Big"
Every person who saw Schachter about art supplies also saw his portfolio, which consisted of Polaroid photos of his work. One client referred him to attend a class called — fittingly enough — "This Could Be The Start of Something Big" at the School of Visual Arts (SVA) in New York City. Hazel Specter, the class instructor, saw something special in Schachter. She brought him to her office on the last day of the class and told him she was also the head creative director for an ad agency called SSC&B. Specter asked Schachter if he could draw storyboards. He said yes, but fibbed. The answer was actually no.
Schachter didn't know what storyboards were, so he played it cool and asked to see samples of other artists' work. The evening was spent pouring his heart and soul into the assignment using an old script for Citibank on the blank frames of the paper with the SSC&B logo. The next morning, Schachter went into work groggy and half-asleep as a client asked for the price on the art supplies.
Suddenly, the client cried out, "Stop! What is that?" Schachter's storyboards for Citibank — drawn on the paper with the SSC&B logo — had caught his eye. It turned out that the client worked for the agency that represented Binaca Blast, a liquid breath refresher.
A Life Changing $40 Storyboard
Schachter was immediately asked to work on storyboards for Binaca Blast. It meant another all-nighter and little pay — $40 — but Schachter was hungry for the gig. The script was for a commercial of people at a bar who tried Binaca Blast and turned into wild animals partying together. There were 25 storyboard frames and Schachter filled each one with small details. These details were not asked for by the client either. The women wore animal print before they turned into literal animals. Animal movie posters were on the walls of the bar. When Schachter turned in the storyboards the next day, the agency loved them and began assigning him freelance work.
As for the $40 check? That was actually $40 per frame, not for the entire storyboard, which was a price tag Schachter misunderstood. His invoice soared to $1000.
Schachter was able to quit his art supply job and begin freelancing as a storyboard artist. Two months later, Schachter would spot a square in The New York Times classifieds that simply read "Can you do storyboards?" followed by a phone number. He called the number and was hired to work as one of the head artists for Continuity Studios, an illustration studio run by cartoonist Neal Adams.
Schachter was with Continuity for more than 11 years. Since then, he has created in-store displays and illustrations for print advertisements and products and packaging for some of the world's biggest brands — and their brand mascots. He even admitted to me that he has never been stumped on an illustration style, ever. This is huge when it comes to characters, each of which has their own unique style, along with a tight illustration deadline. Let's take a look as Schachter shares how characters come together.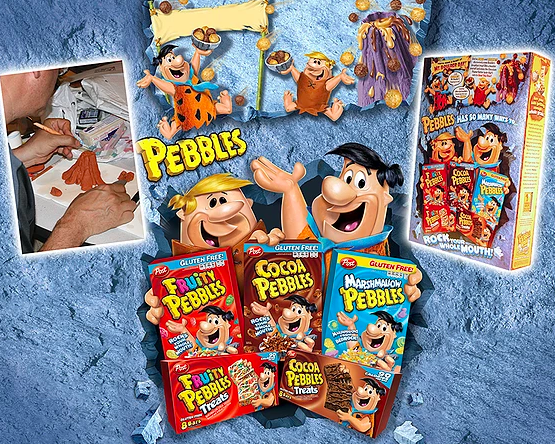 Fred Flintstone and Barney Rubble (Fruity Pebbles and Cocoa Pebbles)
"I had to become a Hanna-Barbera-approved artist to get the Fruity Pebbles and Cocoa Pebbles gig. Their style guide is huge. There are hundreds of pages for all of the characters. There are certain expressions they will and won't do. For instance, each character always has three fingers and a thumb, never four fingers. Hanna-Barbera liked my work so much that they only wanted me to be their artist, according to Joseph Barbera!"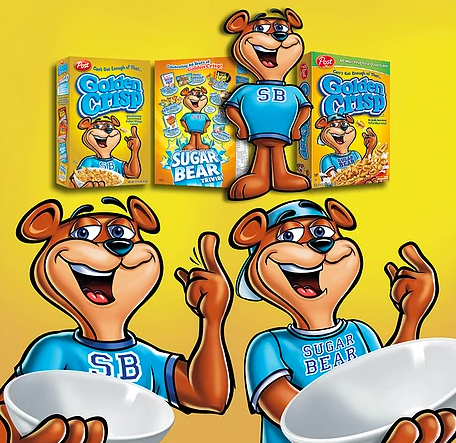 Sugar Bear (Golden Crisp)
"He's iconic. The odd thing about Sugar Bear is that his testing for focus groups has shown that college students go crazy for Golden Crisp. So, he's dressed like a college student. He wears a university t-shirt and hat. The character looks a little more mature and less kiddy for college kids."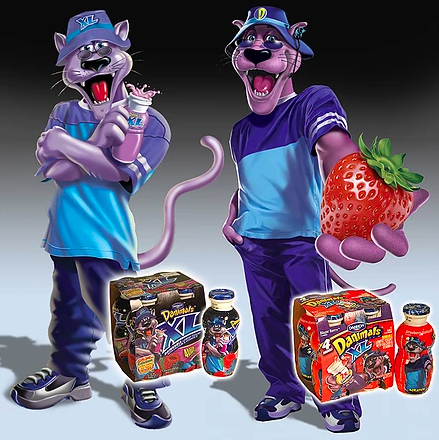 Danimals
"I developed Scratch, the bobcat in the turquoise and dark blue shirt. He's meant to be 'hip hop cool.'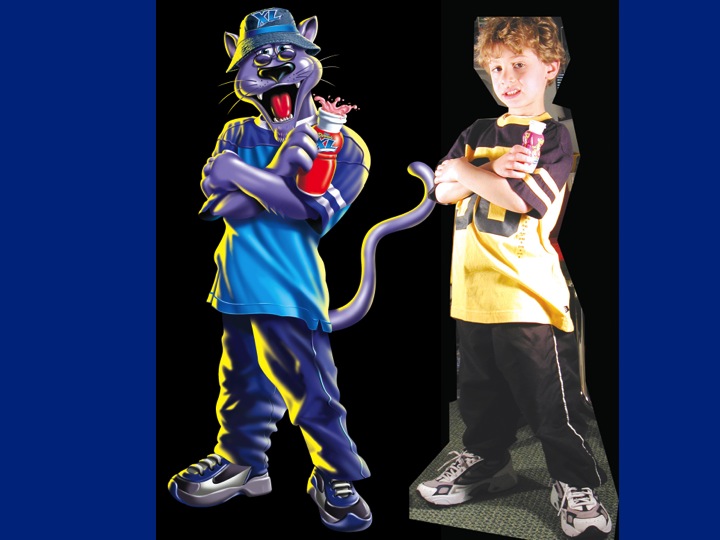 I based my drawing off of my son, who wore similar clothes and did the cool pose with his arms crossed. When I did this drawing in 2002, Danimals was the number one best-selling yogurt. I was hired to draw the characters, including a bear, alligator, monkey, and kangaroo.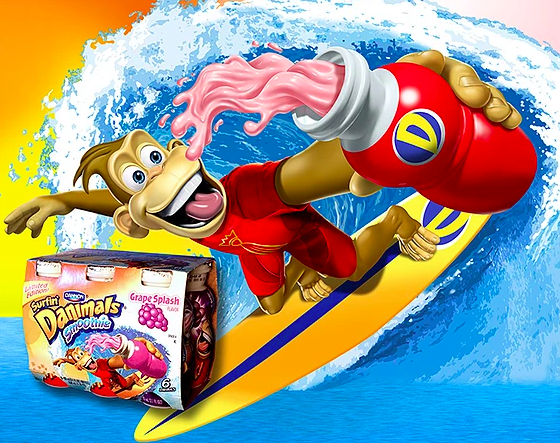 Bongo the Monkey started off with a backpack. As he evolved, he wore a red shirt. I don't take credit for the all of the other characters, but I do take credit for Bongo's development. Bongo wound up outselling all of the products. The other characters were dropped, and everything was made red on the shelves to go with Bongo."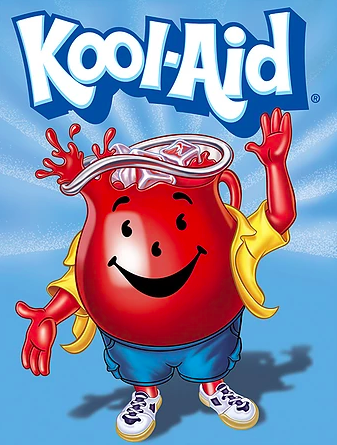 Kool-Aid Man
"I'm a Disney-approved artist and a Hanna-Barbera-approved artist. I'm also a Kool-Aid-approved artist. I had to draw the Kool-Aid Man as a soldier in the 1990s carrying an American flag. It was for the U.S. Armed Forces for products on their bases. Kool-Aid came out with a bunch of ads and products, with the Kool-Aid Man wearing camouflage. I had to recreate this character, but they had to make sure I was a Kool-Aid approved artist first."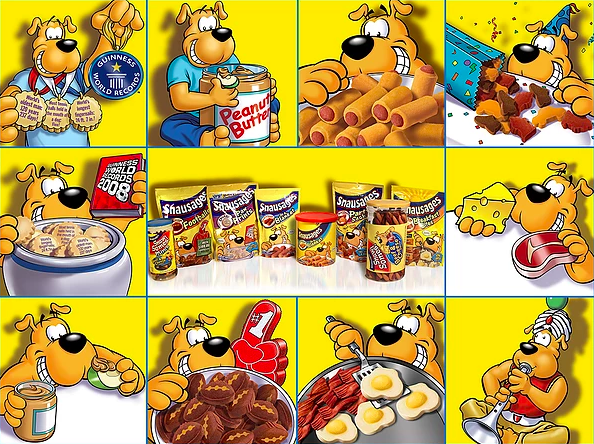 The Snausages Dog
"His name is Snaucrates. He's a really good, happy dog but he's got a mischievous side where he steals the Snausages. He leans over the plate and sneaks the product away. The gimmick is that Snaucrates steals Snausages whenever he can get away with it."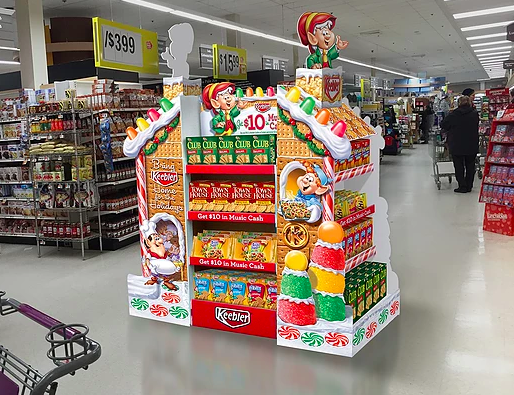 In-Store Displays (Keebler and M&M'S)
"In-store displays are difficult to pull off. You have to be an engineer, almost. For the Keebler Elves, they would give me a flat blueprint and direct me of where each piece needed to fit. But, because the blueprint was flat, you couldn't see a chimney. You only saw four sides.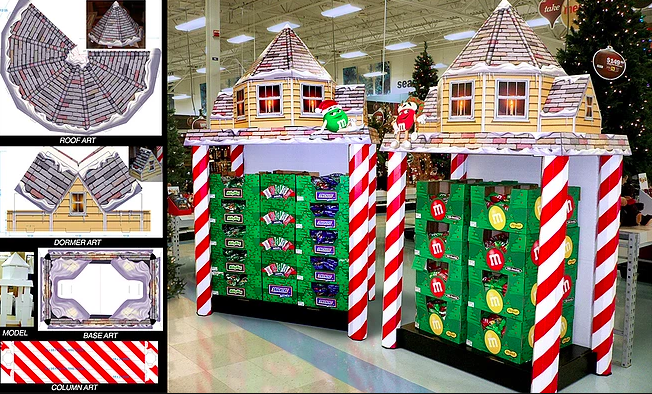 What I do is print out the blueprints at a small size. Then, I start to "build" a display and tape or glue it together on cardboard to see where the artwork falls. When you draw the artwork, you can see where it falls. The snow at the top of the chimney goes around all four sides. All of the sides have to match up. I might not have known that if I didn't physically put it together."
How Do I Land A Career Like Seymour Schachter's?
Schachter is hardly done working on illustrations. He has a host of dream characters he'd like to work on including Kellogg's Tony the Tiger and Toucan Sam. He'd also love to work on Cap'n Crunch, having grown up with the icon.
Schachter's career is one that he describes as "a crooked road where [I] went in through the back door." However, it all circles back to the heart and soul he put into the work from day one.
"Whatever job you do, put your heart and soul into every single thing." Schachter says, "Don't do it just to satisfy the assignment. I go far and beyond what matters to most people when I draw. You are not solely drawing the object. You draw what the thing is, not what it looks like."
Schachter knows that it takes all types to make up the advertising industry, too. If you can't draw, you might have ideas that allow you to become a creative director or writing skills to be a copywriter.
"Regardless of where you go, do the job 150% with every single part of it. Never cut a corner. Put your heart and soul into the little jobs as much as you would the biggest ones and go above and beyond anything you're asked to do."
For more of Seymour Schachter's work, check out his website.