James Wahlberg wants you to know that he's more than The Smurfs.
Wahlberg's animation background is the stuff of creative dreams. His early years were spent as an artist and performer, where his combined talents allowed him to tap into the animation field. "I was initially concerned about what to do for a living," Wahlberg admits, "Animation was perfect. It's a great venue because you can't draw it unless you perform it."
Shortly after college, Wahlberg began working at Hanna-Barbera Productions. From 1983 to 1985, he was the layout artist for 82 episodes of The Smurfs and staged and designed "tons" of other TV shows for the animation company.
One year prior to graduating from college, Wahlberg also founded his own studio company called Celluloid Studios. Specializing in live action and animation projects, Celluloid launched the unaired pilot for another up-and-coming animated series in 2003: South Park.
"Trey Parker was a student at the University of Colorado Boulder when I met him," Wahlberg recalls, "He came to direct at our studio. Trey and Matt [Stone] created the six-minute The Spirit Of Christmas pilot, featuring Santa versus Jesus Christ, that we produced."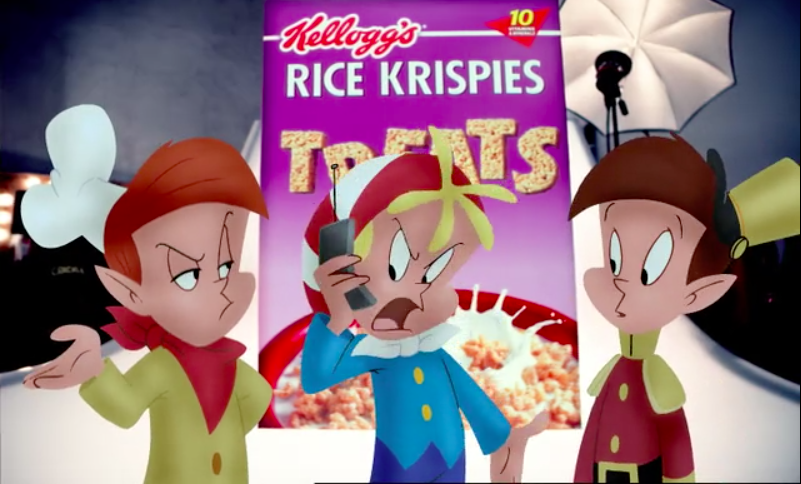 More than the legacy of The Smurfs and South Park, Wahlberg might be best known for directing commercials for the world's biggest advertising icons. He has overseen a photo shoot featuring Rice Krispies' Snap, Crackle, and Pop, gave the Refined and Frosted sides of Frosted Mini-Wheats the daytime TV treatment, and pampered the Travelocity Roaming Gnome with a relaxing mud bath. Animated icons have been one of his biggest hits, giving Wahlberg the chance to bust out and work on every type of cereal character… forever!
What You Need | Kellogg's Frosted Flakes
Cereal… Why did it have to be cereal? In 2008, Kellogg's Frosted Flakes released a promotional tie-in for the movie Indiana Jones and the Kingdom of the Crystal Skull. Featured in the commercial were light-up Indiana Jones-themed spoons available inside specially marked boxes of Kellogg's Frosted Flakes.
A young Indy dashes through a temple to avoid a rolling boulder. Clad in a trench coat and fedora, the adventurous Tony the Tiger swings through the ancient temple. He's on a mission to catch up with young Indy in search of a GR-R-REAT breakfast.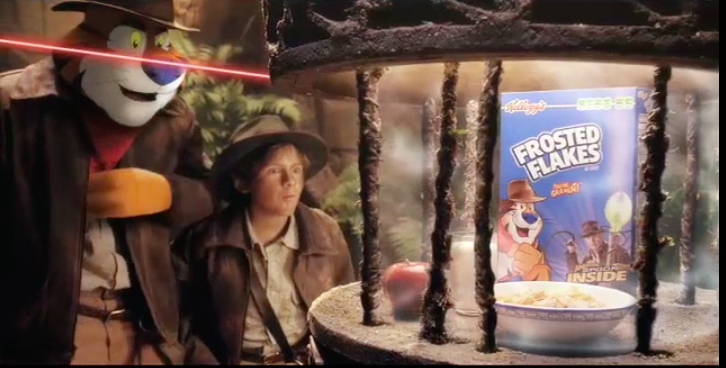 It may not be ancient, but the actors were actually inside an actual temple in the 15-second spot.
"This commercial was shot in Mexico City with Leo Burnett," Wahlberg says, "We constructed an 80-foot Mayan temple for it. I initially thought to lay some green screen down for the pit that Tony swung over. Instead, the production designer just dug a pit, a 16-foot deep pit, in this temple that the actor swung over that we animated Tony the Tiger over. It was really intense!"
Photo Shoot | Rice Krispies
Snap, Crackle, and Pop are ready for their close-up! That is, if the Rice Krispies trio can get it together long enough for the photographer to snap their photos.
This 2001 commercial featured Snap, Crackle, and Pop prepping for a photoshoot. This time, they're covering three cereal boxes: Kellogg's Rice Krispies, Rice Krispies Treats, and Cocoa Rice Krispies.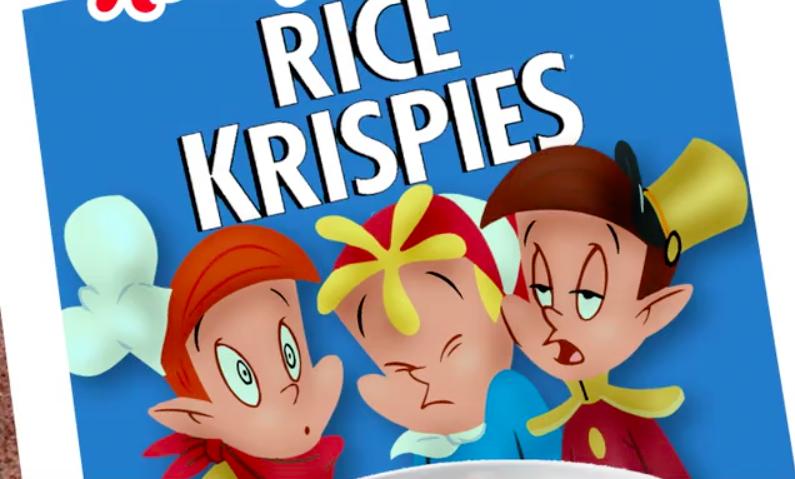 Redhead leader Snap insists everyone needs to look sharp for the photographer. Headshot hijinks ensue; including Crackle holding up the photo shoot by taking a call on his cell phone and Pop literally snapped eating cereal by the handful.
Shot in Los Angeles, this Rice Krispies commercial gives us an early glimpse at how these characters evolved to embrace the present. "Leo Burnett wanted to update the critters into the modern world," Wahlberg explains, "Snap, Crackle, and Pop were animated in early ads, and then they were animated in a live-action world. They wanted work that was as edgy as possible and wanted to break the rules in animation."
Talk Show | Frosted Mini-Wheats
It's the Refined versus the Frosted side of Mini-Wheats! The Martin Dawson Show spoofs daytime talk television, opening with an episode bumper "We Never See Eye To Eye." Frosted argues that the Refined side of him "thinks he's all that but I know he's all flat!"
Refined refuses to comment, stating he's much too sensible to stoop that low. Frosted declares, with the double snap of his fingers, that Refined is simply jealous of his sweet, frosted deliciousness while Refined insists that people want the fiber of Frosted Mini-Wheats.
An audience member gets up and exclaims, "From what I can see here, it's all good!"
Compared to Tony the Tiger's Indiana Jones adventure, Walhberg says "Talk Show" was an easy commercial to shoot. "We used an actor to work up the crowd and get their reactions. The characters were animated into the film later. It's a great concept — literally the same guy is fighting with himself!"
Midnight Snack | Raid
Who would be more uninvited for a midnight snack than the Raid Bugs? Created by illustrator Don Pegler in 1963, the Raid Bugs have long been known for their gross antics and personalities. This commercial features the Raid Bugs picking on a woman cleaning her kitchen. She gets fed up fast and grabs a can of Raid, much to their surprise.
Suddenly, the Raid Bugs back up slowly on the countertops with their arms outstretched in the air. They are more than ready to change their ways. Yeah, right. A spray of Raid slays 'em, adding to the SC Johnson product's long-standing tagline "Raid Kills Bugs Dead."
Wahlberg's enjoyment for how drawing these characters set up a premise where you killed the star was overshadowed by something else. He loved to go to the recording studio and listen to the voiceover artists record the voices of the Raid Bugs. "They would sit on their stools and act out the Raid Bugs and their movements with their hands. A fly would flap his arms while a cockroach would pretend to scurry away. It was edgy and fun enough to direct these commercials, but the real fun was working with the voice actors."
Roaming Gnome | Travelocity
In early 2004, the Travelocity Roaming Gnome took his first steps outside of the garden. He hasn't looked back since that moment. The Roaming Gnome has since spent 15 years traveling the globe, hitting up every destination from Punta Cana to Arizona, and Wahlberg is proud to have been along for the ride.
"The beauty of comedy is you try to create a confined storyline. The gnome is perfect for that because he can't move. You set him down. He physically can't move. He's just there." Wahlberg says.
The Roaming Gnome is true to the height and weight of an actual garden gnome. A series of "stunt gnomes" are on hand in the event that the sculpture's paint chips or if a piece accidentally breaks off.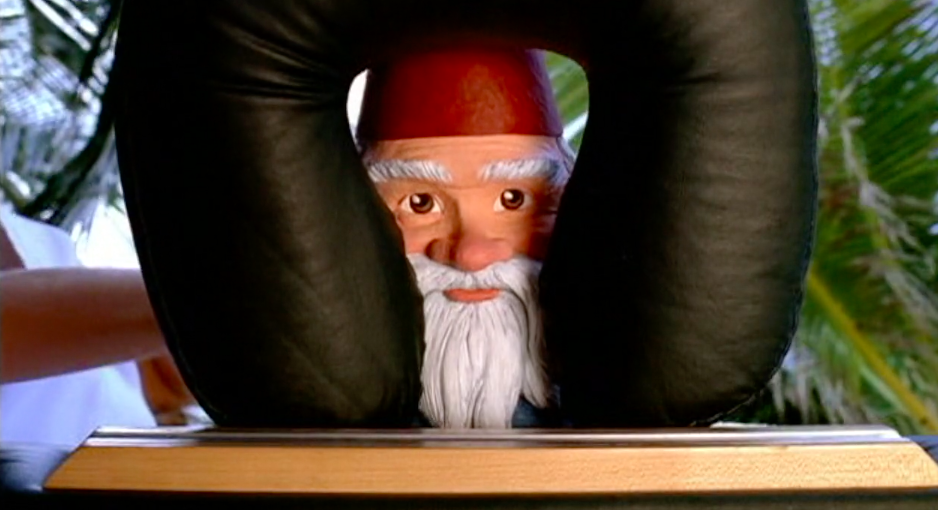 As Wahlberg recalls, there were two gnomes on set for this commercial filmed in Florida. All within the span of 43 seconds, the Roaming Gnome goes on a cruise, hangs out at the beach, and enjoys a bit of spa day pampering with a back massage, mud bath, and steam room visit. The steam room visit is so nice, the Roaming Gnome claims he can feel his cares melting away… Oh my. Sounds like it's time to get him out of there!
The Roaming Gnome might have his limitations, but Wahlberg enjoyed it because it helped push the comedy. It took Wahlberg two weeks of scouting to find beach locations and cruise ships in Florida, but he didn't mind at all. He had the greatest companion — and conversation piece — in the Roaming Gnome.
"We went everywhere with the gnome on us like a football tucked under your arm," Wahlberg remembers, "People would come up to us all the time. The Gnome became the most amazing way to meet new people."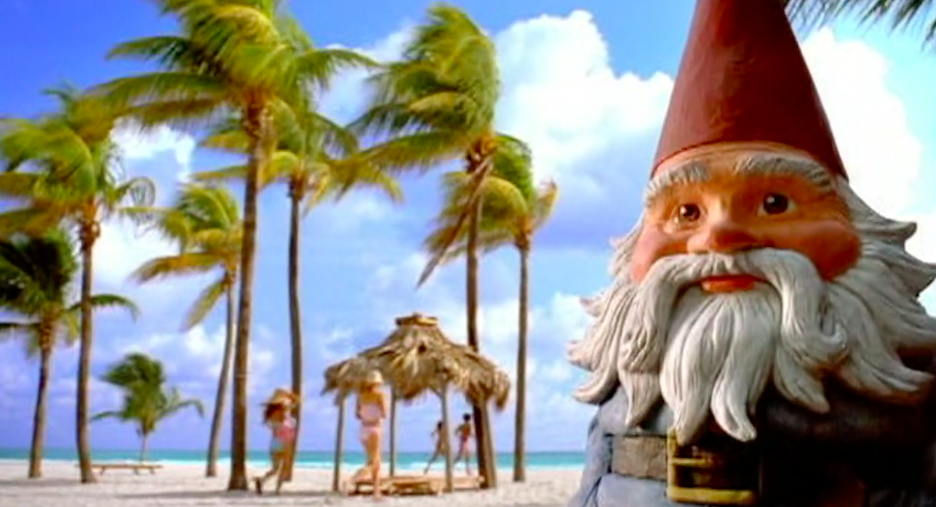 Today, the Roaming Gnome is still a fan favorite with Wahlberg.
"I love to travel and the Roaming Gnome took me out to sea and to beaches. Having the opportunity to work with him was really fun for me."
Discover more about James Wahlberg and his animation at his website.