The 92nd Annual Macy's Thanksgiving Day Parade is almost upon us! Fans will be tuning in to NBC on Thursday November 22nd from 9 AM to noon EST for the festive fun. There, they can catch their favorite balloons, floats, musicians, and Santa Claus making a rare appearance from the North Pole.
Which brand mascots are slated to show up at this year's parade? Let's see which icons will inflate into giant balloons, receive their own Balloonicle, and join the lineup with floats!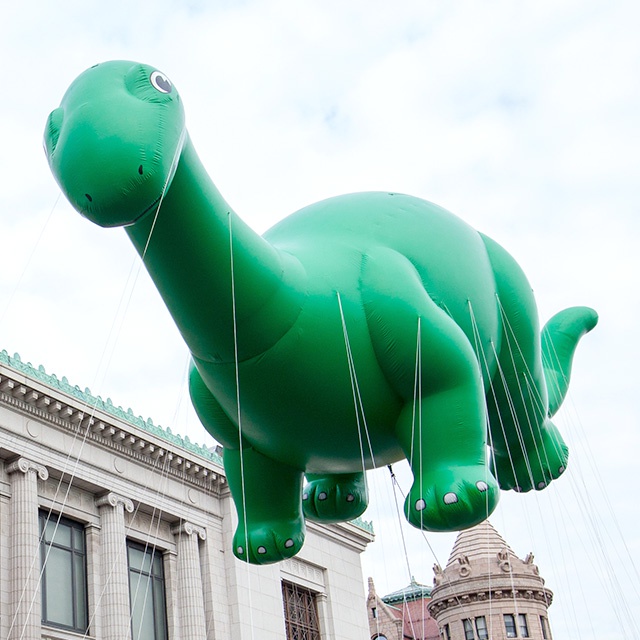 Sinclair's Dino
He is America's most famous Apatosaurus and the face of the Sinclair Oil Corporation. Dino (pronounced DYE-NO) is back in NYC this year with his classic parade balloon! This year's balloon dimensions measure at 72-feet long and 24-feet wide, making him 36-feet tall.
Dino has long been a fixture on the Macy's Thanksgiving Day Parade circuit. The character's balloon debuted in 1963, and retired in 1977. He made a dino-mite comeback in 2015 with a refreshed, 72-foot long balloon and has been floating the friendly skies ever since.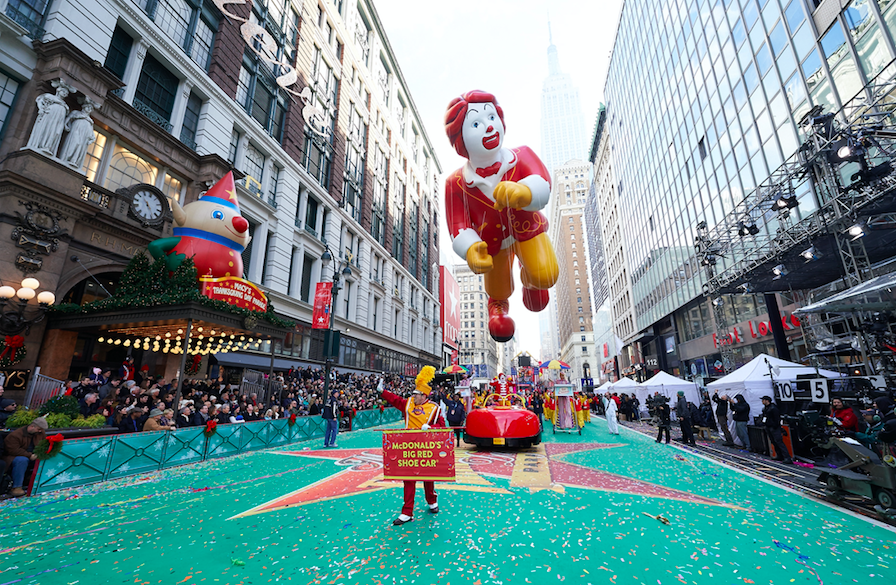 Ronald McDonald
McDonald's Chief Happiness Officer can't wait to help fans celebrate the holiday season! The iconic clown's balloon measures at 61-feet long, 29-feet wide, and 67-feet tall.
This will be Ronald's 17th appearance in the Macy's Thanksgiving Day Parade. Ronald McDonald's Parade balloon debuted in 1966 and has since expanded to new, delightful heights. Accompanying Ronald's balloon will be the McDonald's Big Red Shoe Car. This unique car will feature Ronald McDonald riding down the Parade route with the talented "McKids." Want to guess its size? The Big Red Shoe Car is equal to a men's size 266 show!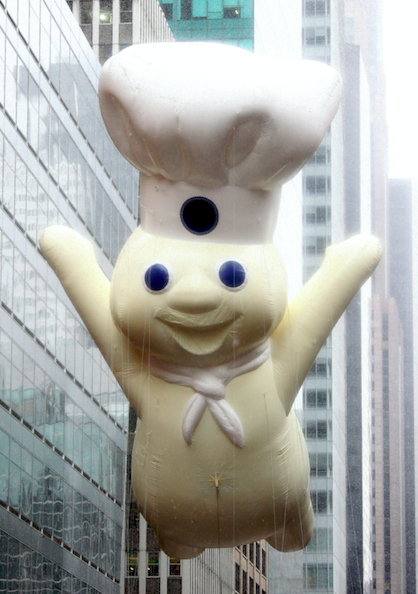 Pillsbury Doughboy
It's a bird, it's a plane, it's an a-dough-able giggle! Poppin' Fresh returns to New York City with his larger-than-life balloon, which officially made its debut in 2009.
The Doughboy's balloon is 54-feet long, 34-feet wide, and stands at 46-feet tall when inflated. 90 handlers help keep Poppin' Fresh grounded on the Parade's route. And, in case you were wondering, more than four million Pillsbury Crescent Rolls would be required to make a "dough-sized" version of this balloon!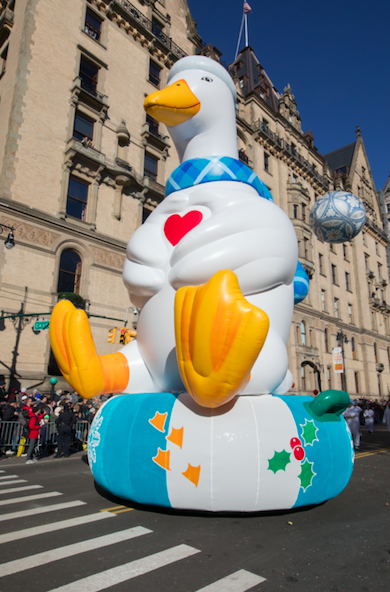 The Aflac Duck
Aflac! The Aflac Duck will be one of the several "Balloonicles" in attendance at this year's Parade. For those unfamiliar with the word, a Balloonicle is a Macy's Parade innovation. It's a hybrid cold air balloon with a self-propelled vehicle.
The Aflac Duck, the world's most famous spokesduck, will be returning for his eighth Parade this year. His Balloonicle dimensions measure at 15-feet wide and 30-feet tall. This spokesduck is arriving back to NYC dressed for the day's chilly temperatures, with a glowing heart encased by heart-shaped wings.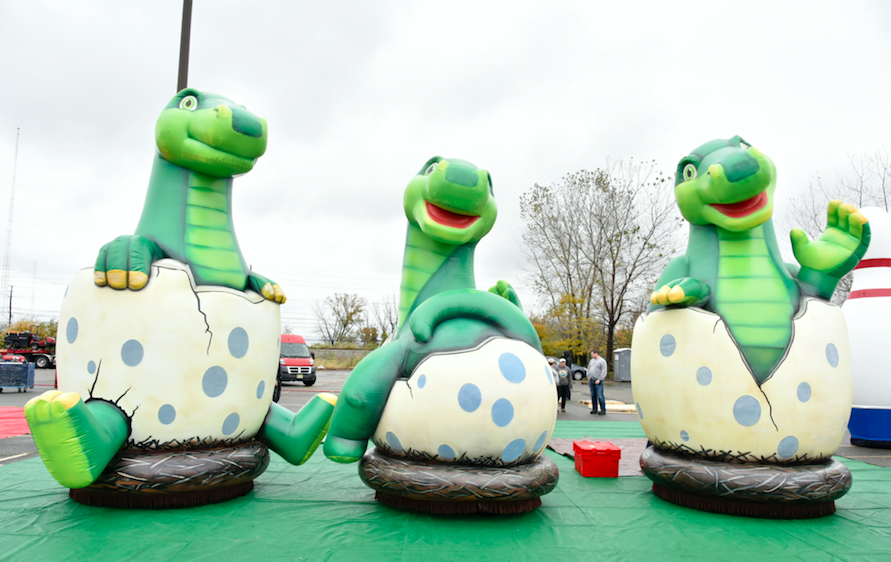 Baby Dinos
They've hatched! Sinclair Oil Corporation has sent three newborn Baby Dinos to join the Parade's lineup, along with Dino's float. The Baby Dinos can be spotted as Ballonicles and are all Apatosaurus dinosaurs. They already have us "raptor" around our fingers from their cuteness!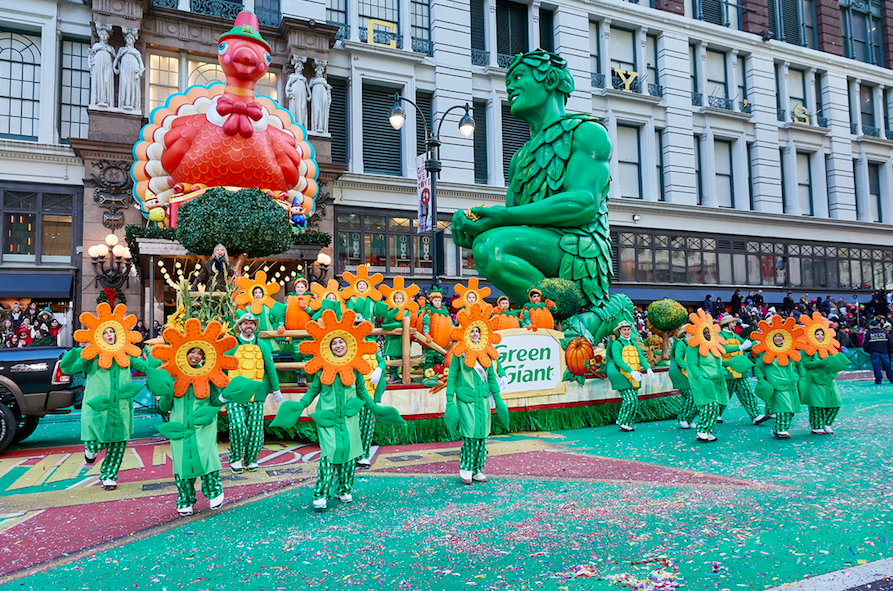 Harvest In The Valley (Green Giant)
For more than 100 years, Green Giant vegetables have been part of Thanksgiving Day meals. The Green Giant is bringing back his Harvest in the Valley float, which debuted in 2017. The float includes a colorful stage featuring corn, green beans, and more vegetables. The Green Giant himself kneels on the stage to harvest a perfect ear of corn. The Giant stands at more than two-stories high, keeping with the rest of the characters and his larger-than-life personality.