Since 1961, the World Wildlife Fund (WWF) has been one of the world's leading conservation organizations. The role WWF plays on planet earth is a vital one, working in nearly 100 countries with more than five million supporters. WWF is helping people and nature thrive, working to combat the climate crisis, and to halt the degradation of the environment.
Many WWF supporters instantly recognize the organization by its logo: a small, gentle black and white panda. Is a real panda the inspiration for their logo or simply a symbol dreamt up by a creative? Let's travel back to 1961, the same year WWF was created, to discover the answer.
A Panda Named Chi-Chi
In 1961, a giant panda arrived at the London Zoo. The panda, a transfer from the Beijing Zoo, was a giant, furry bear with a distinctive black and white coat. Her name was Chi-Chi.
Chi-Chi's arrival was perfectly timed. A group of passionate individuals were hard at work launching a new organization that same year. It was called the World Wildlife Fund.
Founding of the World Wildlife Fund
After reading a series of articles in a UK newspaper written by Sir Julian Huxley about the destruction of habitat and wildlife in East Africa, businessman Victor Stolan immediately reached out to several like-minded individuals for a meeting of the minds. An international organization needed to be established to raise funds for conservation.
Among those Stolan spoke to included Max Nicholson, Director General of British government agency Nature Conservancy. Nicholson, enthusiastically on board, drafted a plan for the basis of WWF's founding in April 1961. The executive board of the International Union for Conservation of Nature (IUCN) endorsed the plan. The document was known as the Morges Manifesto.
Sir Peter Scott, a member of the IUCN's executive board, had signed the Morges Manifesto. Scott, Nicholson, and two dozen other individuals worked together to launch the World Wildlife Fund, with Scott later becoming the WWF's first vice president. WWF's mission was simple and significant. Funding secured through the organization would be used to protect places and species threatened by human development.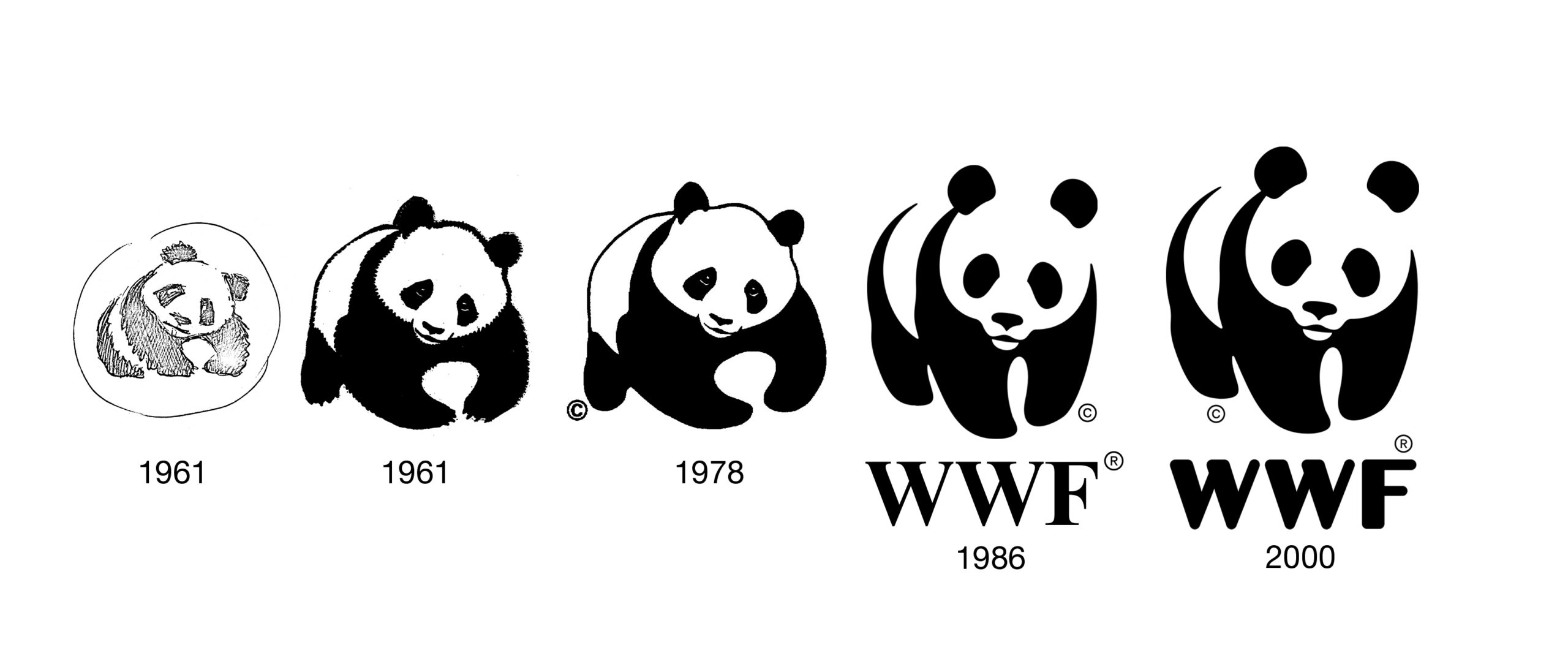 "An Animal That Had An Impact."
As the World Wildlife Fund prepared to launch, a symbol needed to be created for its logo. It needed to be instantly recognizable and a symbol that would overcome all language barriers.
The organizers involved with WWF knew about Chi-Chi's recent arrival to the zoo. Unanimously, they agreed that a symbol of this furry panda, and her black-patched eyes, was an excellent logo for WWF.
British environmentalist and artist Gerald Watterson drew the first sketches of the WWF logo. Sir Peter Scott himself drew the first logo.
A quote attributed to Scott from 1961 describes what the WWF was looking for in this icon. "We wanted an animal that is beautiful, is endangered, and one loved by many people in the world for its appealing qualities."
Scott also noted that they "wanted an animal that had an impact in black and white." This would allow WWF to create a greater visceral impact with the symbol in black and white printing. As the WWF launched in 1961, they introduced their logo to the world that same year.
The WWF Panda as a Conservation Icon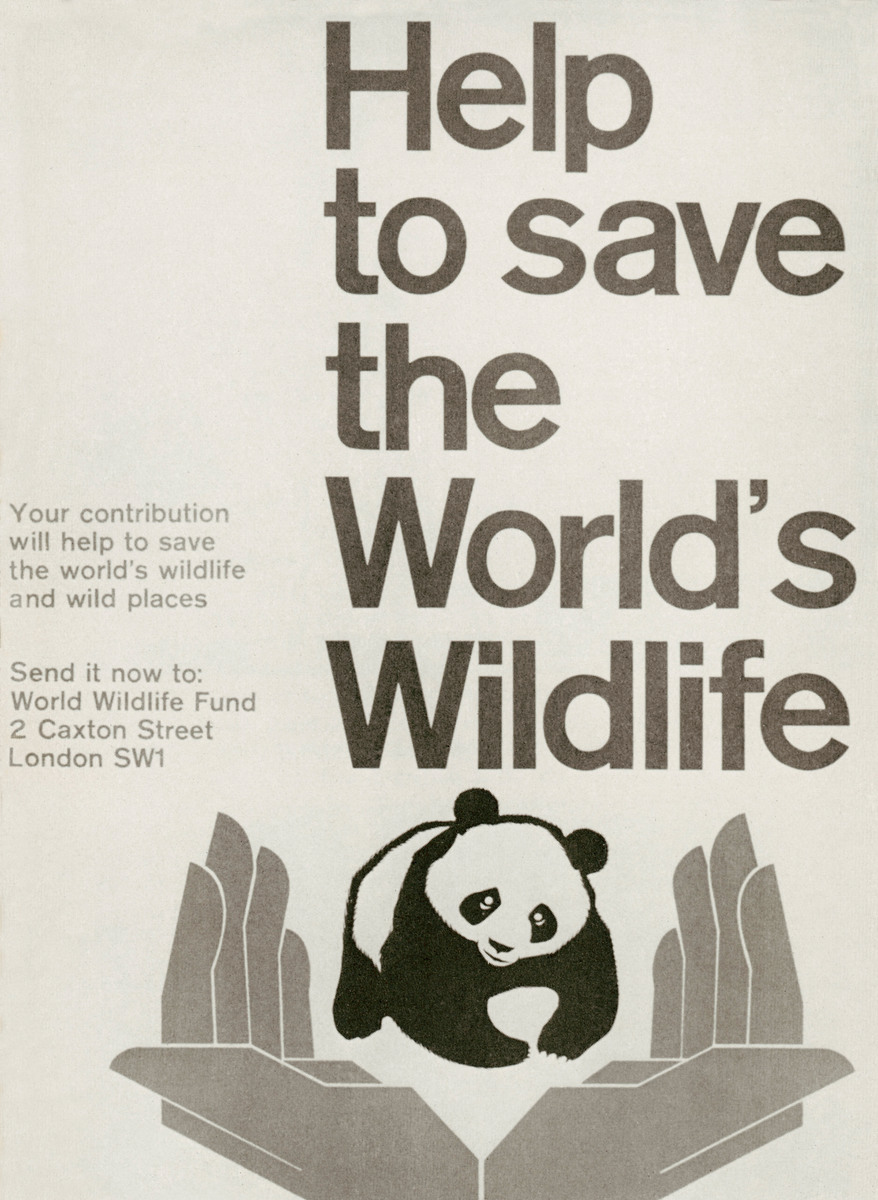 Ad agency Ogilvy & Mather designed and produced the first official WWF poster in 1961. While nobody at the ad agency is credited for creating the logo, David Ogilvy was associated with the founding of WWF. He was also on the early formation of the board of directors for the World Wildlife Fund.
This poster was intentionally designed so that it could be easily produced with wording in any language.
The panda quickly became more than a symbol for the WWF. It was an icon for the conservation movement.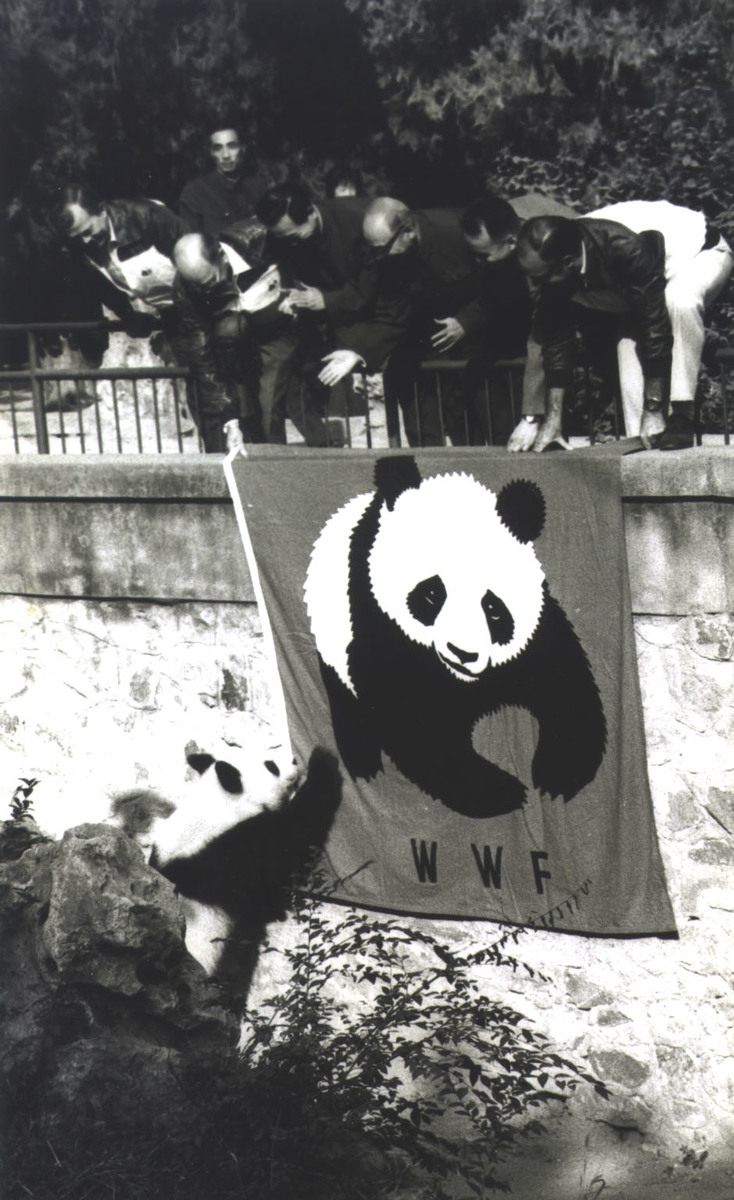 During a WWF international delegation to China in 1978, the Environment Protection Office invited the WWF to visit the Beijing Zoo. A WWF panda flag had been placed inside its giant panda enclosure.
The visit was of monumental importance to the WWF. They were the first private conservation group to receive an official invitation from the Chinese government. New environment laws were passed by the National People's Congress during the visit. It was a historic event for conservation, as this meant environment impact assessment studies were a compulsory component of all future development planning in China.
43 years since that international delegation, our world is significantly different in light of the COVID-19 pandemic. However, what had not changed is the World Wildlife Fund's hard work to address the greatest environmental threats to our planet.
"Love It or Lose It"
2021 is the Year of the Ox, according to the Chinese Lunar New Year. It is also the year for humans to show their love for nature in WWF's new "Love It or Lose It" campaign.
This national public service campaign highlights our deep and vital connection to nature. What do we love? Hikes through the forest, our stunning coral reefs, and the hard-working honeybees that frequent our flower beds.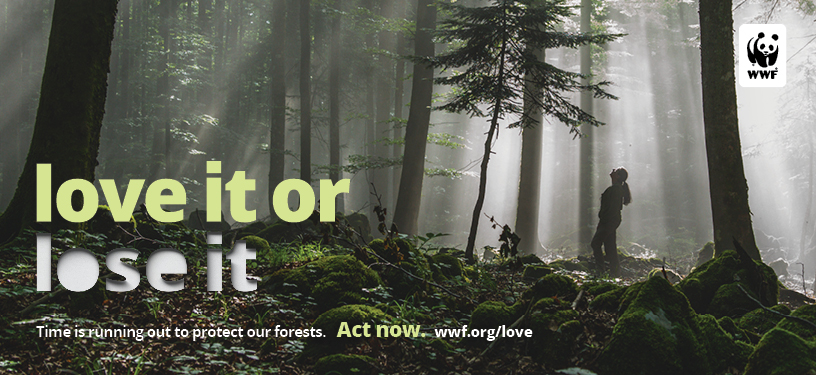 We do not want to lose these aspects of nature or recall a moment in time when it started to cease to exist. Our relationship with nature is interconnected. Love It or Lose It calls for humanity to show their love for nature before it is too late — and we lose it forever.
All throughout 2021, multi-channel public service announcements will run for the campaign. The WWF plans to host virtual events and has recently released a rendition of Elvis Presley's "Love Me Tender" by country star K.C. Rhodes.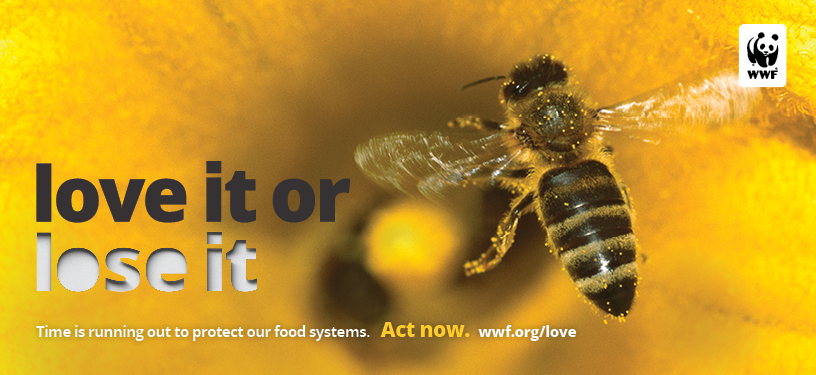 Terry Macko, Chief Marketing Officer of WWF in the United States, knows that the last year was an unprecedented, challenging, and scary one for universally everyone. The answer in healing and unifying together may be simplest, strongest message of all: love.
"As we enter 2021, we want our message to focus on the strength and resilience found in love," Macko says. "The problems facing our natural world can seem overwhelming, and the solutions are often complex, but just maybe, underneath it all, love is the answer. Love is the most precious resource we each possess and without it, we cannot thrive. When we love something, protecting it is the baseline. We honor, cherish, and nurture what we love. By showing nature abiding love, we can help ensure its survival—which we need to sustain us all."
Show your love for nature and the World Wildlife Fund. Follow the organization on Twitter, Facebook, and Instagram for more updates and news.