As a kid, Joel Friedman loved listening to Kellogg's jingles from the 1960s.
"I liked the verses and music. They combined rhythm and meter and music in a way I found appealing." Friedman said.
Little did he know then, those jingles would pave the path for his career in advertising. Friedman has penned copy and jingles for some of the world's biggest brands and their mascots including StarKist's Charlie the Tuna, Hamburger Helper's Helping Hand, and the Empire Today Empire Carpet Man.
Friedman grew up in Chicago and studied Communications at the University of Illinois at Urbana-Champaign. As a post-grad, Friedman interviewed at ad agency Leo Burnett. He knew he wanted to be there, but he didn't get a job offer on the spot. Instead, his interviewer told him to go out and get some writing experience first.
For the next year and a half, Friedman worked at community discount centers where he wrote weekly print ad copy and worked on TV spots. When he returned to interview at Leo Burnett, this time with a creative recruiter named Merv Hiller, he had learned to write tight copy with a particular character count — a skill just as useful then as it would be in today's social media-based world.
Harold "Hal" Weinstein, Burnett's Executive Creative Director, hired Friedman in 1976. He began working on the RCA account where he wrote long copy for ColorTrak, but quickly grew restless. Friedman decided it was time to swim upstream to a new account: StarKist starring the sunglasses 'n beret wearing Charlie the Tuna.
Friedman spent the late 1970s writing Charlie the Tuna spots under the tutelage of Tom Rogers, a Burnett copywriter who created the critter with a penchant for good taste. Rogers' beatnik musician friends inspired Charlie and the character's personality — from his demeanor to his manner of speech — which was fleshed out by Rogers and Herschel Bernardi, Charlie's vocal talent. While Friedman enjoyed the time he spent with Charlie and at Burnett overall, he left in 1979 due to a juvenile diabetes diagnosis. Friedman moved on to J. Walter Thompson as an associate creative director, where he worked on accounts for H&R Block and Ken-L Ration for the next two years. The pursuit of still wanting to do something different would lead him to Needham, Harper & Steers (now part of DDB Worldwide) where he would develop a friendship with Hamburger Helper's Helping Hand character.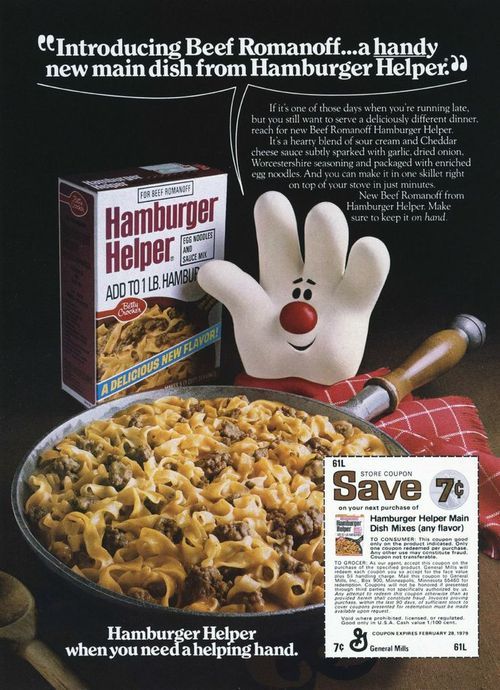 Mike Cafferata created the Helping Hand, who is better known as Lefty today. Friedman began working on writing spots for Hamburger Helper in 1985, describing the character of Helping Hand as "a goofy little guy who has a North Side of Chicago accent." (Voiceover artist Joel Cory, who also provided the vocal talent behind Pop from Rice Krispies and the Raid Bugs, voiced the Helping Hand.)
During this time, Hamburger Helper began introducing new flavors like Chili Macaroni and Stroganoff outside of their signature Cheeseburger Macaroni. Cafferata came up with an idea for Hamburger Helper Lasagna to feature the Helping Hand as a gondola rower, exclaiming how Hamburger Helper "makes a great meal-o."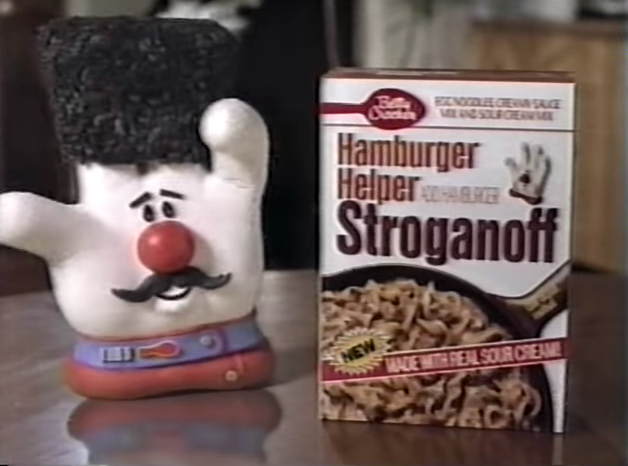 Friedman worked on the Stroganoff spot, where he immediately had the idea to use Russian parody lyrics. "I wrote the songs, but they write themselves." Friedman explains, noting that there was a structure in place for the commercials. "You do one verse, cut away to the family eating, bite and smile, product shot, musical ending and close."
After Cafferata left the agency, Friedman wrote a "boatload" of Helper spots. Most of the commercials were musical 30-second spots that featured parody lyrics of well-known, public domain songs for the new flavors of Hamburger Helper.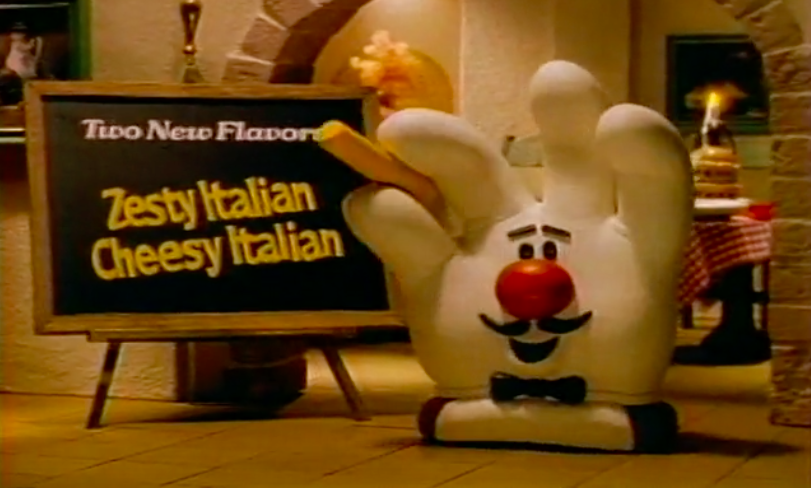 The songs were only part of the fun though. Friedman worked with animator Paul Jessel at his studio where the Helping Hand was brought to life through stop-motion techniques. Unlike other stop-motion characters, like the Pillsbury Doughboy that required separate body parts like different heads for various facial expressions, the Helping Hand was entirely one piece.
"He was an armature and molded around that." Friedman explains, "You could bend him, change his eyes, and add eyebrows, but the body was one body. If he needed to reach for something, a more elongated body was used."
It was a lot of work that required a great deal of attention to every detail, but Friedman and Jessel nailed it in their spots. Moreover, they had fun. "We did a Western spot where there were tumbleweeds around the Helping Hand. You got to be goofy."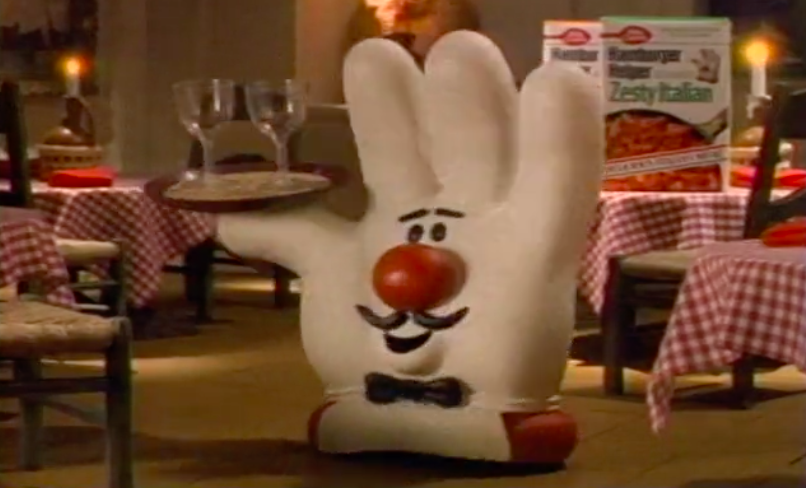 Friedman said goodbye to the Helping Hand in 1991, when he left Needham to freelance. It was around this time that he met Elmer Lynn Hauldren, another "ex-Needhamite" as Friedman describes him, who created and performed as one of Chicago's most famous spokesmen: the Empire Carpet Man for Empire Today.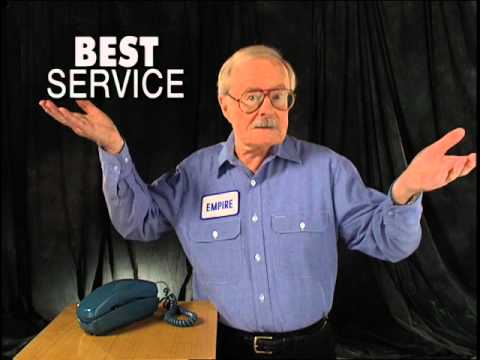 Empire Today, a home improvement and home furnishing company, was in need of a fresh approach for their business. After meeting with their art director, Friedman pitched some ideas and ended up writing a few hundred spots for Empire alongside the art director from 1993 to 1999.
Friedman recalls fervently coming up with all kinds of new spots. "We did one where the dancing carpet installers were all dressed in bunny costumes. They were doing a bunny hop and conga line all at once. We had live turkeys on stage for Thanksgiving, even my dog and daughters were in a few commercials!"
When it came to working with Hauldren himself, Friedman couldn't imagine a better spokesperson for the brand. "Lynn pitched, but he never pushed. He was so soft as a spokesman and people loved it."
If you recall an animated Hauldren spotted in these commercials, you're right. As Hauldren aged, Empire Today paid him for his likeness. An animated version was later used for the ending of Empire Today commercials, after Hauldren passed away in 2011.
Today, Friedman is the owner of Brand X Creative Services where he continues to provide copy services to clients. While he still has a preference for hand drawn and stop-motion animated characters, he loves them nonetheless. "I think critters are great! They all have a place when they are done well.