When you hear the name Louie the Fly, does a spray can of Mortein come to mind? Do you still apply sunscreen whenever you're out in the sun thanks to Sid the Seagull's catchy "Slip! Slop! Slap!" jingle? Is Flo from Progressive Insurance better known as Kitty to you?
Chances are if you answered yes to any (or all!) of the above questions, you're a big fan of Australia's iconic brand mascots. The Land Down Under is full of characters that have become international icons. Let's see how many of these beloved favourites you can recall!
Qantas Koala
Only one spokesbear can describe the Qantas 747 to Australia as "unbearable" in a commercial and get away with it. It's none other than the Qantas Koala, the cuddly, yet cranky, koala bear mascot for Qantas Airways.
In 1969, Qantas debuted a new advertising campaign starring a live koala bear. Created by ad agency Cunningham & Walsh, the Qantas Koala deadpanned "I hate Qantas" to audiences and travellers everywhere. Why did he hate Qantas? Every decade, the airline became more accommodating and provided better service to individuals taking flight. Ergo, an increased amount of foot traffic to Australia that would want to see the Qantas Koala.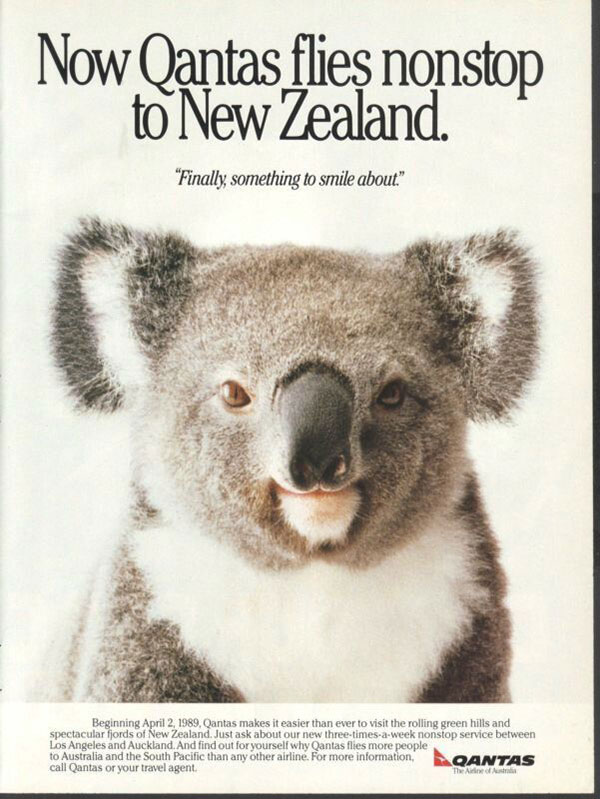 After running for well over a decade, the curmudgeon-in-training's advertising campaign has since been retired. It's impossible to know if he'll make a comeback, especially since Australian tourists now bring along selfie sticks. They'd probably want to tag their photos with a #QantasKoala hashtag, which is clearly this icon's worst nightmare!
But, stranger things have happened. During the 1980s, this icon even expressed happiness. In 1989, the Qantas Koala was overjoyed to learn Qantas started nonstop flights to New Zealand. Nonstop flights equal fewer stopovers to Australia. This can only mean one thing, even if it's temporary, and that's "I love Qantas."
Louie the Fly | Mortein
Make no mistake about it. Ever since his egg hatched in 1957, Louie the Fly has been a brand mascot we love to hate. The icon represents Australian pest control spray company Mortein and isn't particularly charming. Hobbies include spending all day in the rubbish pile and perfecting his eau de stench odor.
Yet, he's not really that gross. How about we say Louie's more of an acquired taste? Mortein describes Louie the Fly as a "loveable rogue." Louie has a few street smarts about him and he sure loves to party down. But, he is genuinely afraid of one thing and that's getting sprayed away by "the man with the can of Mortein!"
At 63, this flying fella is still razor sharp about getting caught by that pesky can of Mortein. That's because we're giving him the tip off before the brand. Beware those new odourless Mortein formulas, Louie!
Kitty | Progressive Insurance
Did you know Flo, the popular spokeswoman for Progressive Insurance in the United States, had an Australian counterpart? Introduced in 2011, Kitty (played by actress Holly Austin) was a lot like Flo. She had a passion for red lipstick and giving customers the best possible car insurance savings.
However, Kitty's debut in the 2010s was brief. Hollard Insurance acquired Progressive's Australian insurance policies in 2017, and the character has since been retired.
Tucker | Tuckerbag Supermarkets
For the best savings around, it's in the bag at Tuckerbag! Blink and you might have missed popular Aussie shop Tuckerbag's mascot in the 1990s: a paper grocery bag named Tucker. He's full of character, nearly bursting at the seams with it sometimes. The only thing Tucker loves more than meeting new customers is big savings at Tuckerbag!
Serious question: how has the world not created more paper bag mascot spin-off characters at their local grocery stores? Just planting the seed of an idea out here for ad agencies hitting a brainstorming wall right about now…
Gobbledok | Smith's Chips
How, exactly, would you describe a Gobbledok to the world? Let's give a shot. This is a brand mascot that represented Australia's Smith's Chips snack brand. The Gobbledok was spotted on TV screens throughout the late 1980s and early 1990s.
Legend has it that Gobbledok's true home is Dok the Potato Planet. According to the Gobbledok's extension knowledge on all things potato-related, not all chips are as fresh and crisp as Smith's Chips. He went on tons of mad dashes to grab a bag for himself!
Sid the Seagull | Cancer Council Victoria
The simplest way to protect your skin, and health, in the sun is by following three verbs: Slip, Slop, Slap!
Sid the Seagull, and his catchy jingle, debuted in 1981 by the Anti-Cancer Council of Victoria. (Now known as Cancer Council Victoria.) "Slip, Slop, Slap!" made it easier than ever to encourage Australians to put on sunscreen and stop melanoma rates from rising. The PSA is considered to be one of the most successful health campaigns in Australia's history.
P.S. — Sid the Seagull is still active today! In addition to putting on sunscreen, he also encourages Aussies to wear T-shirts, hats, and sunnies. You can have fun outside, but don't get fired!
Borobi | Gold Coast 2018 Commonwealth Games
What makes Borobi, the official mascot for the Gold Coast 2018 Commonwealth Games, so special? Some say this animated koala bear, with his bright yellow board shorts and blue fur, was destined for greatness since birth.
The GC2018 Games might be over, but Borobi's beloved legacy lives on. He was born with palms that have indigenous markings. What do the marks mean? The symbol of the stadium is on the bottom of his foot while the dots represent the spectators. The lines within his footprint also represent the journey of the athlete from around the world.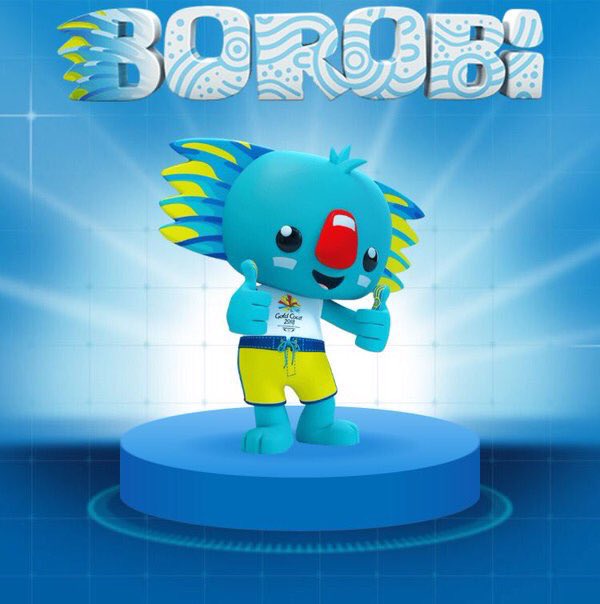 Another remarkable change occurred when Borobi was told he couldn't become a surfer. This koala was stoked to prove everyone wrong. After spending hundreds of hours in the ocean, Borobi has had epic surf sessions. The foam also turned his fur bluer and bluer, making him Australia's first surfing, blue koala bear mascot!
Where is Borobi now? He's too popular to stay retired for long. In 2019, Borobi came out of retirement as an Indigenous language champion. According to the Commonwealth Games Federation, Borobi spent the year supporting the Yugambeh Language Group. He transcended the line from mascot to teacher, assisting at the Gold Coast's Yugambeh Museum to teach southeast Queensland's primary school students about Indigenous languages.