What's the best way to start your day?
Give a little yodel!
Yodel-ay-hee-hoo! Are you a longtime fan of the hot cocoa and hot chocolate company Swiss Miss? If so, you may recall Swiss Miss had an iconic character that represented the brand several decades ago.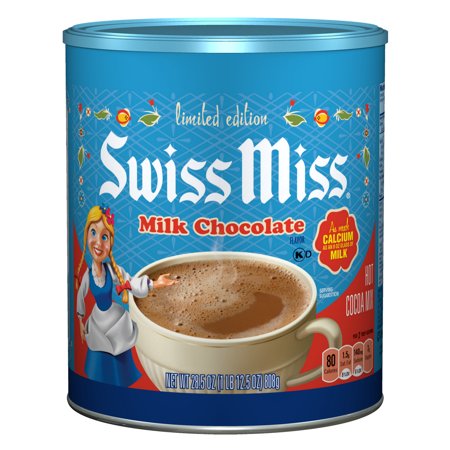 Swiss Miss, with her golden pigtails and blue frock, could always be counted on for a cozy, warm drink. Pour yourself a mug, and join us for a throwback that explores the Swiss Miss origins and its Claymation mascot.
Before "Swiss Miss" There Was "Brown Swiss"
Charles Sanna of Sanna Dairies is credited with inventing Swiss Miss hot cocoa. After the Korean War ended, Charles discovered that the family business had a surplus of dairy creamer. He tinkered with his recipe by adding sugar and chocolate. This created a delicious hot cocoa mix.
Throughout the 1950s, Sanna's cocoa mix was sold on airlines and at restaurants. However, because it was packaged in individual packets, guests often swiped extra packets to take home. "Brown Swiss" was the initial name of the product. "Brown" came from a breed of dairy cow while "Swiss" was a positive association with chocolate.
As it turns out, Holstein cattle were used in production. These cows are not brown, so the name wasn't accurate. Sanna Dairies reworked the recipe again in the early 1960s to make it more suitable for retail sales. Non-fat milk powder replaced the creamer powder. This made for a longer, and less expensive, product shelf life.
Another big change during this time was revamping the brand's name. Charles' brother Anthony is credited with changing "Brown Swiss" to "Swiss Miss."
Swiss Miss Debuts In 1961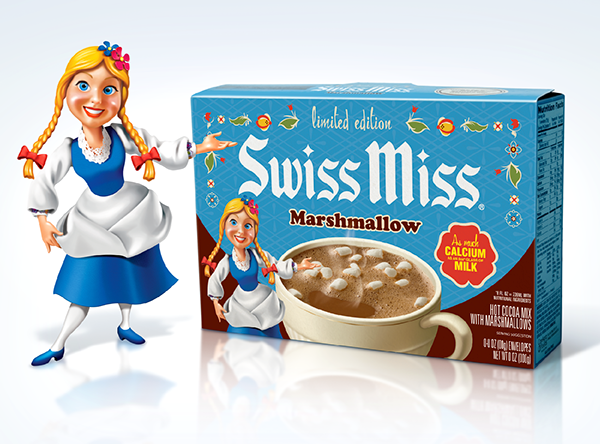 The new brand name, and product recipe, for Swiss Miss arrived in 1961 to purchase in retail storefronts. The key selling point was that you could make a warm cup of hot cocoa using only hot water. No milk was necessary for a piping hot cup of Swiss Miss.
Print ads for Swiss Miss began making their debut in 1962. However, the Swiss Miss character had yet to be introduced to the public. The closest glimpse consumers received was an offer to purchase a doll of her likeness with three dollars and a Swiss Miss box top. In 1967, Sanna Dairies sold the company to Beatrice Foods.
Swiss Miss Gets A Personality In The 1970s
In 1972, Swiss Miss made her official commercial debut. David William Allen, who also provided animation work for the Pillsbury Doughboy and Mrs. Butterworth, animated the stop-motion Swiss Miss character at Cascade Pictures.
Voiced by voiceover actress Sheilah Wells, Swiss Miss was always enthusiastic about demonstrating how a cup of Swiss Miss was made with audiences. She spent the rest of the decade featured in Swiss Miss commercials. By 1977, she was famous for encouraging Swiss Miss fans to "give a little yodel" when indulging in a cup of instant cocoa.
Did Swiss Miss Have A Name?
Last year, I spoke with Ed Griffin, the "Personal Makeover Artist" Cap'n Crunch. Griffin helped create retro packaging for Swiss Miss, which we'll cover more about in a moment. Throughout our conversation together, Swiss Miss was referred by the name "Heidi."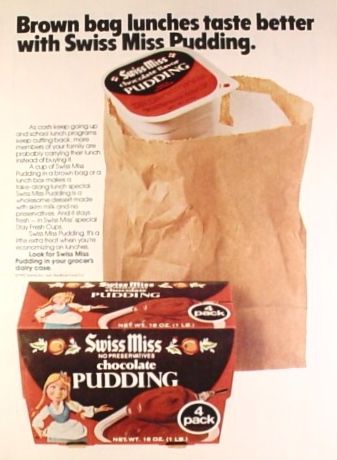 Was Heidi the real name of Swiss Miss? According to Conagra, the company that owns Swiss Miss, "Heidi" is just a nickname for Swiss Miss nickname. It has since been used anecdotally over the years.
Swiss Miss Makes A Retro Return!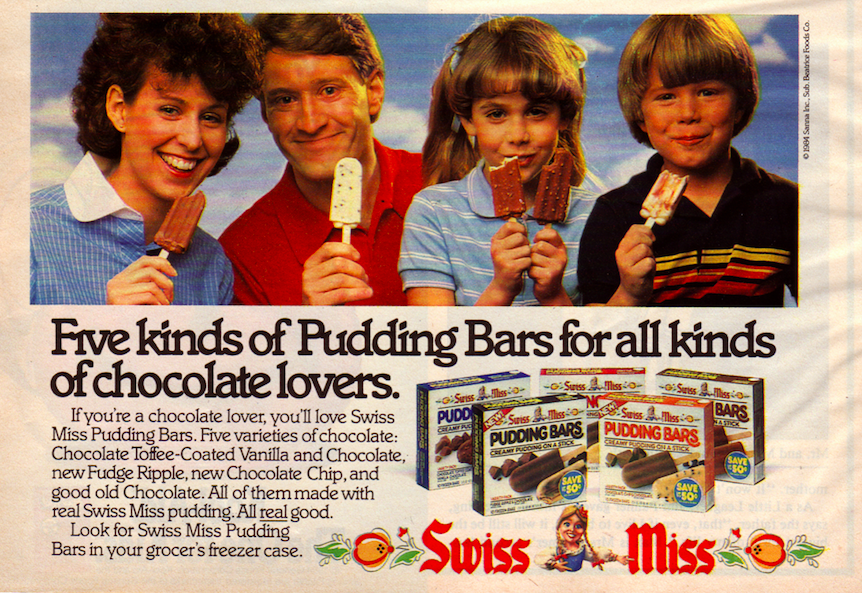 After Swiss Miss wrapped up a short stint advertising pudding bars in the early 1980s, she quietly exited commercial and print advertising. Actor Judd Hirsch stepped in as a TV spokesperson for Swiss Miss. The Swiss Miss packaging design was also switched out to an Alpine aesthetic in the late 1980s.
The Swiss Miss character, however, remained beloved by consumers. In 2012, the icon returned to the Swiss Miss packaging with limited-edition vintage canisters.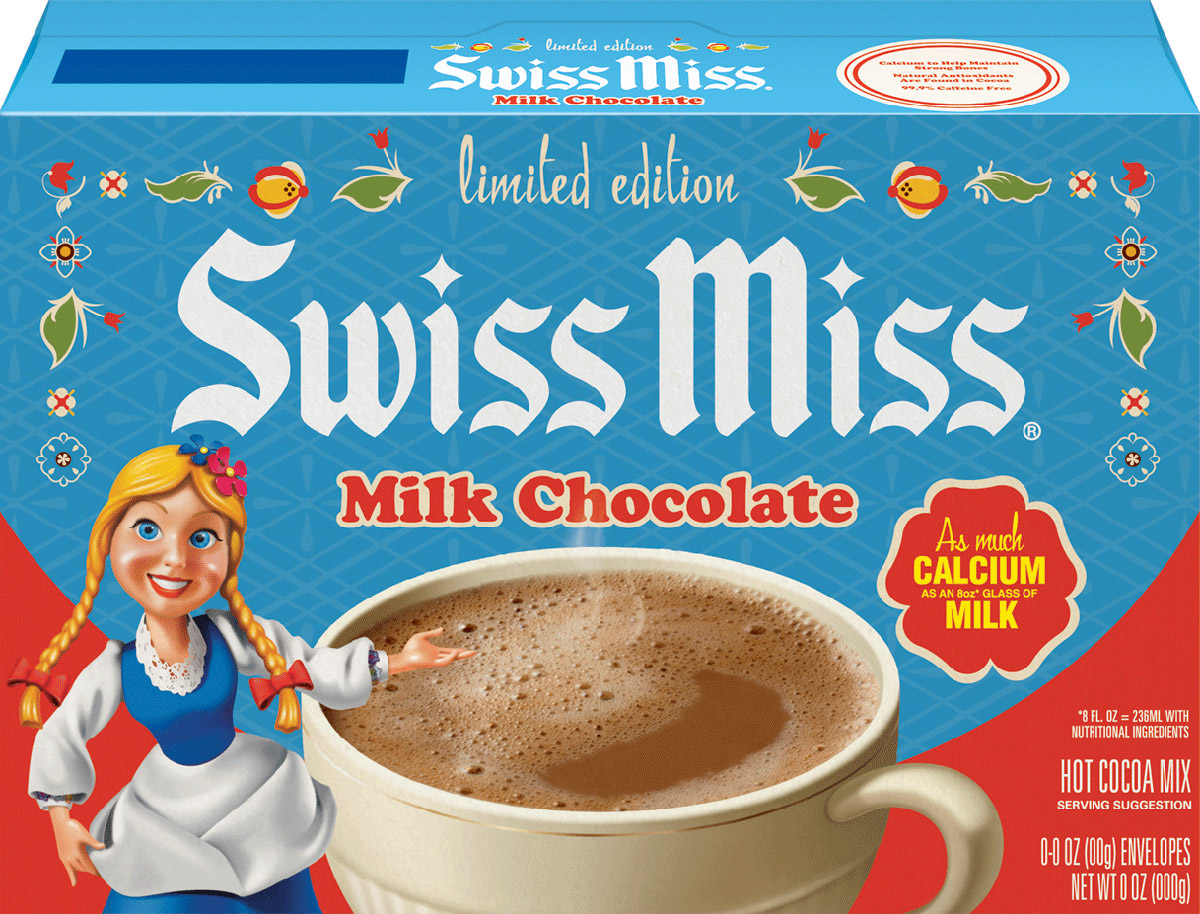 Griffin recalls working on the Swiss Miss retro package designs as one of his favorite projects.
"For Swiss Miss, we redesigned several variations of past packages along with faux-retro concepts," Griffin says. "Everyone who remembers her recalls the animated, wide-eyed version."
The retro Swiss Miss canisters last appeared on shelves in 2017 and 2018. Perhaps, if we all give a little yodel, there's a chance we might see Swiss Miss make a return in 2020 and beyond!