McGruff the Crime Dog, icon for the National Crime Prevention Council (NCPC), is turning 39 in 2019. For nearly four decades, he has encouraged Americans to "take a bite out of crime" through crime prevention take-charge advice provided in his popular public service advertising campaigns. Americans in the early 1970s couldn't tell you how to prevent crime. By the early 1990s, 75% of Americans knew they could take simple steps to stop crime — and McGruff ads provided that call to action.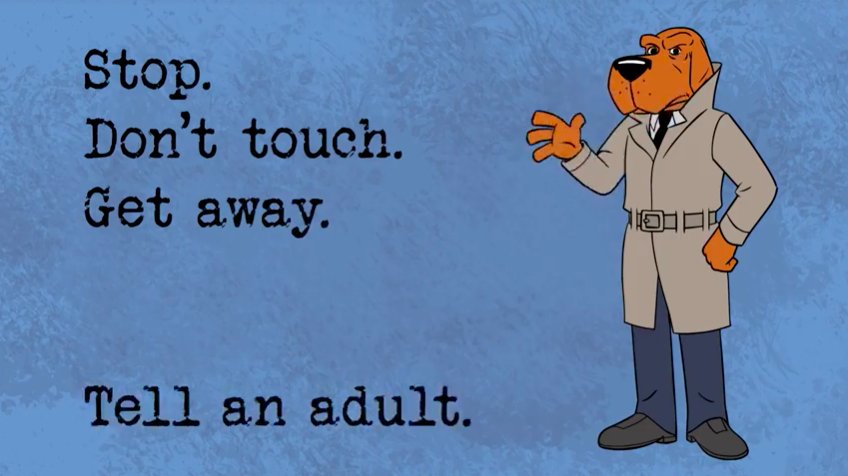 McGruff In 2019
McGruff is still taking bites out of crime in 2019, but since the canine's debut the cultural landscape has evolved significantly. Cyberbullying and intellectual property theft have been identified as emerging crimes. Social media platforms have been created that provide the widespread ability to share public education messages with global audiences. The topic of gun safety also remains a crucial conversation. This year, EverytownResearch.org reported guns kill 100 Americans each day in the United States.
How does McGruff talk about gun safety in 2019 with audiences, especially children and families? The NCPC partnered along with the National Sports Shooting Foundation (NSSF) to produce a series of animated shorts that emphasized the importance of gun safety. These shorts were written and animated by character agency Danger Pigeon Studios. Let's take an inside look at the crime prevention messages found in shorts "Molly's Mischief" and "Not Cool, Kyle."
Molly's Mischief
"Molly's Mischief" stars three animated dogs named Scruff, TJ, and Molly. Scruff and TJ are teenage best buds, and Molly is TJ's little pup sister. McGruff narrates the short, detailing an afternoon Scruff spent at TJ's house where Molly finds a gun in a drawer.
Scruff immediately knows how to address this situation. He takes action by following four simple steps:
Stop
Don't Touch
Get Away
Tell An Adult
What makes Scruff so instinctively aware of what to do next? McGruff is Scruff's uncle. The four steps he taught Scruff are the four steps of gun safety, according to NCPC President and CEO Ann Harkins.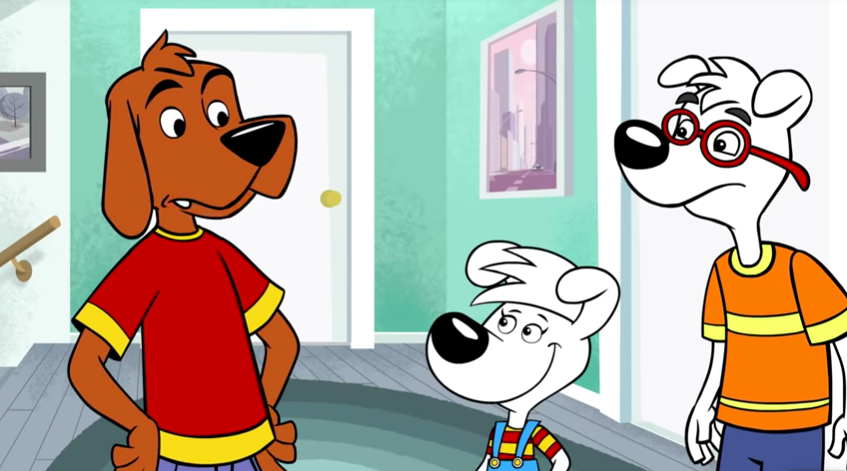 Super Vision And Supervision: The Language Of Gun Safety
When discussing how the shorts would be made with the NSSF and Danger Pigeon Studios, Harkins says that they started by looking at the NCPC's existing body of work. From there, they asked what pieces of work should be emphasized and what has changed that requires the NCPC, and McGruff, to address what is important today. One such change was the language surrounding gun safety and prevention.
"You're never supposed to touch a gun without adult supervision." Scruff tells Molly.
"Supervision?" Molly is confused, "You mean like being able to see through walls?"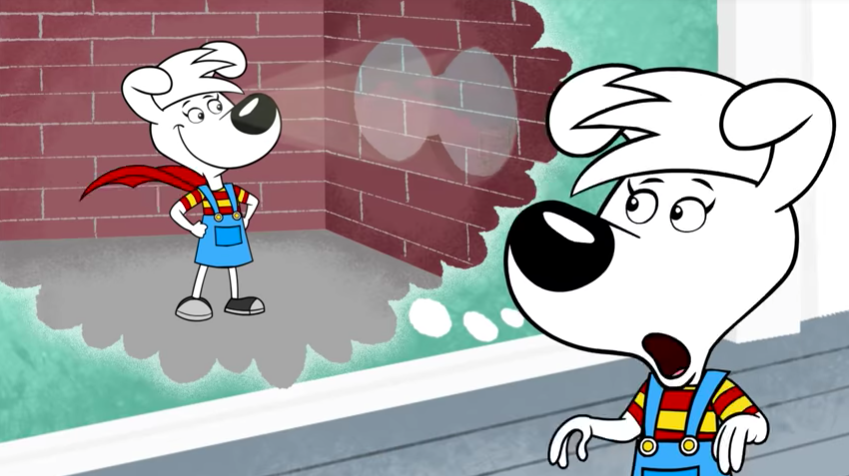 Molly's face brightens and a small bubble forms above her head. She is imagining herself as a superhero with "super vision" and doesn't know what the word actually means.
Scruff laughs, "No!" He gently rolls his eyes, instantly knowing what kind of "supervision" she's thinking of and fine-tuning the definition, "I mean an adult has to be with you."
A word like "supervision" may not be easily confused for adults, but it's less obvious with kids. Children are still at a stage in life where they are quite young and have a lot more to learn.
"We emphasized that the kids think they know more than they really do know," Harkins says, "Children rely on what they see on TV. What you see on TV is not the reality of holding a gun in your hand."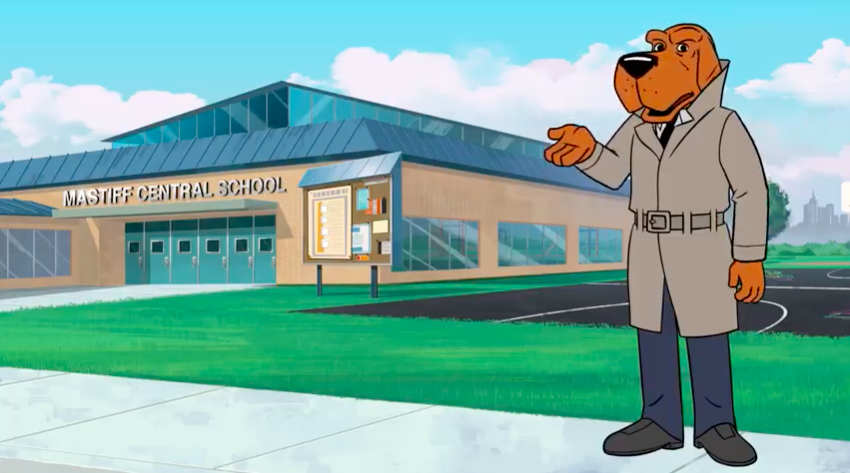 Not Cool, Kyle
The second message about gun safety takes place at Mastiff Central School. Scruff is a student here, along with his friends Mara and Kyle.
Just before they go inside, Kyle shares a secret with Scruff and Mara. He has a gun inside his backpack.
Harkins knows exactly what you're thinking — producing a gun safety short set at a school is a very touchy area. It was also non-negotiable. "Schools are extremely important for this kind of conversation. Kids spend a lot of time in schools. They are the safest places to be and we want to make them the safest spaces to be in.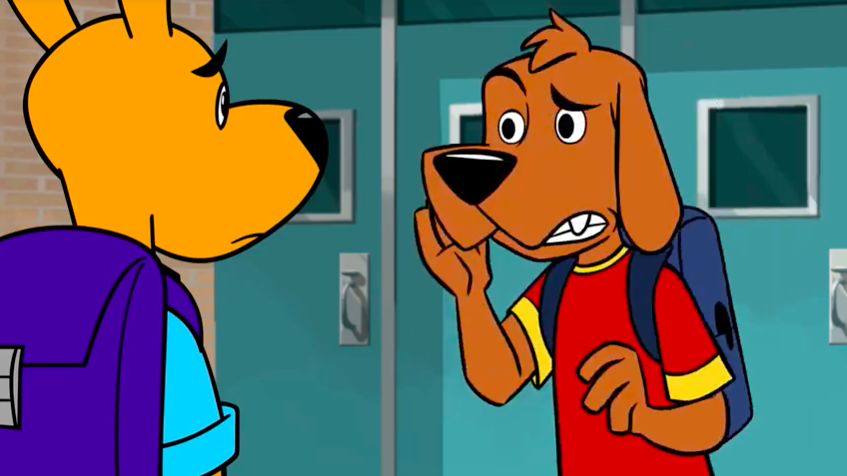 In the short, Mara immediately flips out when she sees the gun. Kyle says he doesn't plan to use it. He thinks it's cool and wants to show it off to his friends.
Even a lack of ill intent does not stop a gun, any gun, from being dangerous on school grounds. "Look at the tragedies that result when kids bring guns to school." Harkins says, "All it takes is for the gun to fall out of the backpack, go off from being loaded, and accidentally shoot someone. We want kids and parents to be aware of that danger."
Drawing Awareness To Details In Gun Safety Discussions
Both shorts make a point out of acknowledging guns beyond vague terms. They talk about gun sizes and bullets.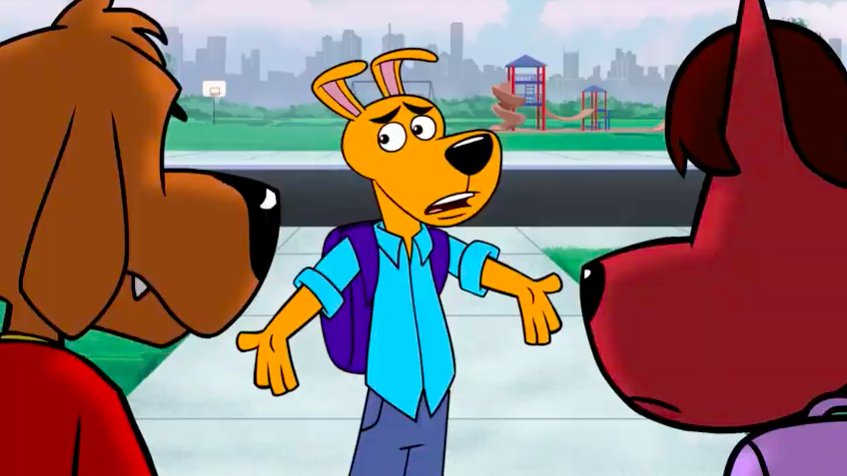 "It's not even loaded!" Kyle defensively says to Scruff and Mara. Scruff asks if he is absolutely sure that the gun is not loaded. Kyle doesn't have an answer. Scruff reviews the four steps of gun safety with Kyle — stop, don't touch, get away, and tell an adult.
Adding gun details to the shorts may seem a bit direct, but that added up to the message and its audience. "We had to be a little more direct in these shorts because they are short in length." Harkins explains, "We also thought about our target audience and how tech savvy kids are today. If we try and reach young people, kindergarten through elementary school kids, with a watered-down message, then the kids will make fun of it and not take it seriously."
Taking Bites Out Of The Ongoing Importance Of Gun Safety Education
When ad man Jack Keil scribbled down the idea for McGruff, and his iconic catchphrase "take a bite out of crime," in an airport lobby, he had no way of knowing the kind of legacy the character would leave behind on the Ad Council and NCPC. McGruff's public service advertising campaign has since been heralded as one of the most successful ad campaigns of all time. We even awarded him with the Icon For Good: Social Impact Award at #AWNewYork's 2018 Icon Awards.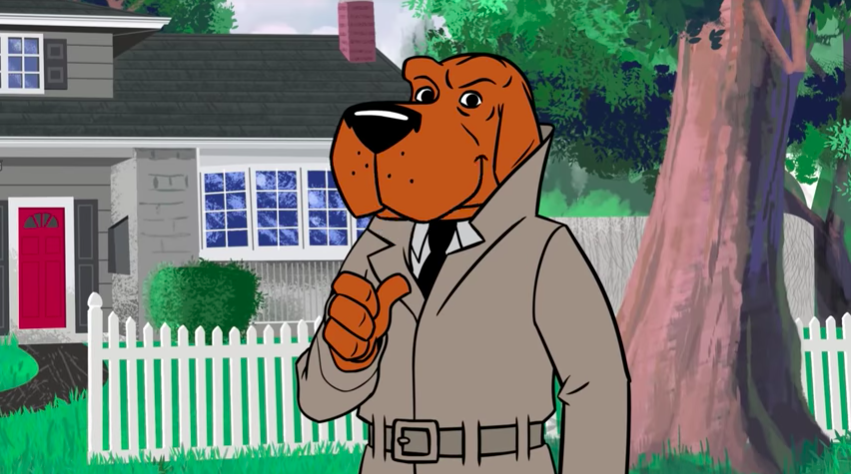 It's because of McGruff that millions of Americans have the education and training to do their part in crime prevention. This kind of civic engagement, and ability to get people working together to prevent crime in their communities, matters very much to the NCPC. The shorts for "Molly's Mischief" and "Not Cool, Kyle" both come with a curriculum. Harkins says that the intent is to reach kids through schools, with the curriculum built around the shorts.
Gun control remains a controversial debate in the United States. There may even be some parents that do not allow their children to watch these shorts due to conflicting views.
Pat Giles, CCO of Danger Pigeon Studios, describes animating and writing these shorts in a "non-partisan" manner. "Our focus is on safety."
Hopefully, all sides can agree on the topic of safety. Now more than ever, we need McGruff. Harkins adds, "These campaigns are all about educating kids and parents on safety. Gun safety and prevention is a bite we can address by effectively educating the public."