In 2021, America's favorite bath-time buddy Mr. Bubble celebrated a milestone birthday and turned 60 years young. The brand mascot famous for turning bath time into quality time for the whole family has been full of soap-prises over the last sixty years.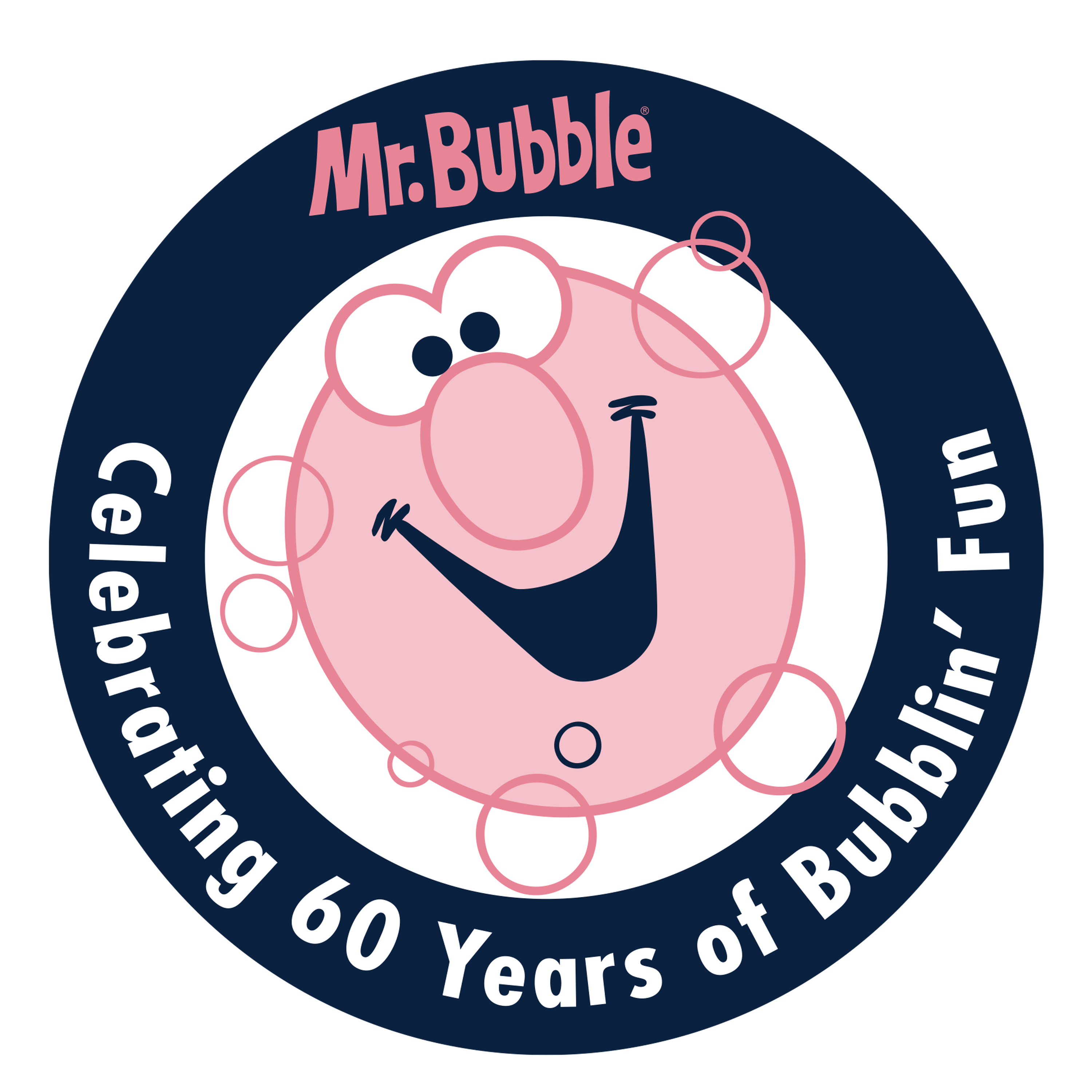 Let's look back at each decade in the life of this bubbly brand mascot!
1960s: Birth of Mr. Bubble
In 1942, entrepreneur Harold Schafer founded the Gold Seal Company. The Gold Seal Company was North Dakota's largest home-owned business, a regional company that would later become known worldwide for its signature products. Some of these products included Glass Wax, Snowy Bleach, and Mr. Bubble.
Mr. Bubble was invented by Schafer in 1961. Schafer wanted to make bubble baths affordable for kids and families. He was also looking for a way to move bubble bath products from department stores to drugstores. Schafer's original Mr. Bubble formula was created using powdered flakes. These flakes even received a mention in the Mr. Bubble slogan: "helps bubble you clean and eliminate bathtub ring."
Alongside the slogan, the brand introduced audiences to its brand mascot: Mr. Bubble. The earliest commercial spots featured a little boy named Hubert taking a bubble bath and his grandmother assisting him. Grandma tells Hubert she has a surprise for him, but he can only see it once he's in the bathtub. After taking a bath full of bubbles from Mr. Bubble, Hubert becomes so clean that he's almost unrecognizable afterwards!
1970s: Liquid Bubble Bath and Dirty Bert
By the 1970s, Mr. Bubble was a bonafide hit with parents and kids of all ages. The formula for Mr. Bubble powdered flakes was reformulated in 1972. A new liquid bubble bath also made its debut that same year. Like the powder flakes, the liquid bath delivered on its promises of no bathtub ring.
Mr. Bubble remained enthusiastic about how he could "bubble" everyone clean in the bathtub. The character spent this decade chasing down The Bathtub Ring, a ragtag group of cronies led by Dirty Bert. Their mission? They wanted to plaster kids with dirt.
Mr. Bubble called them out. He lasso'd everyone and scrubbed The Bathtub Ring clean!
1980s and 1990s: Pop Culture Sensation!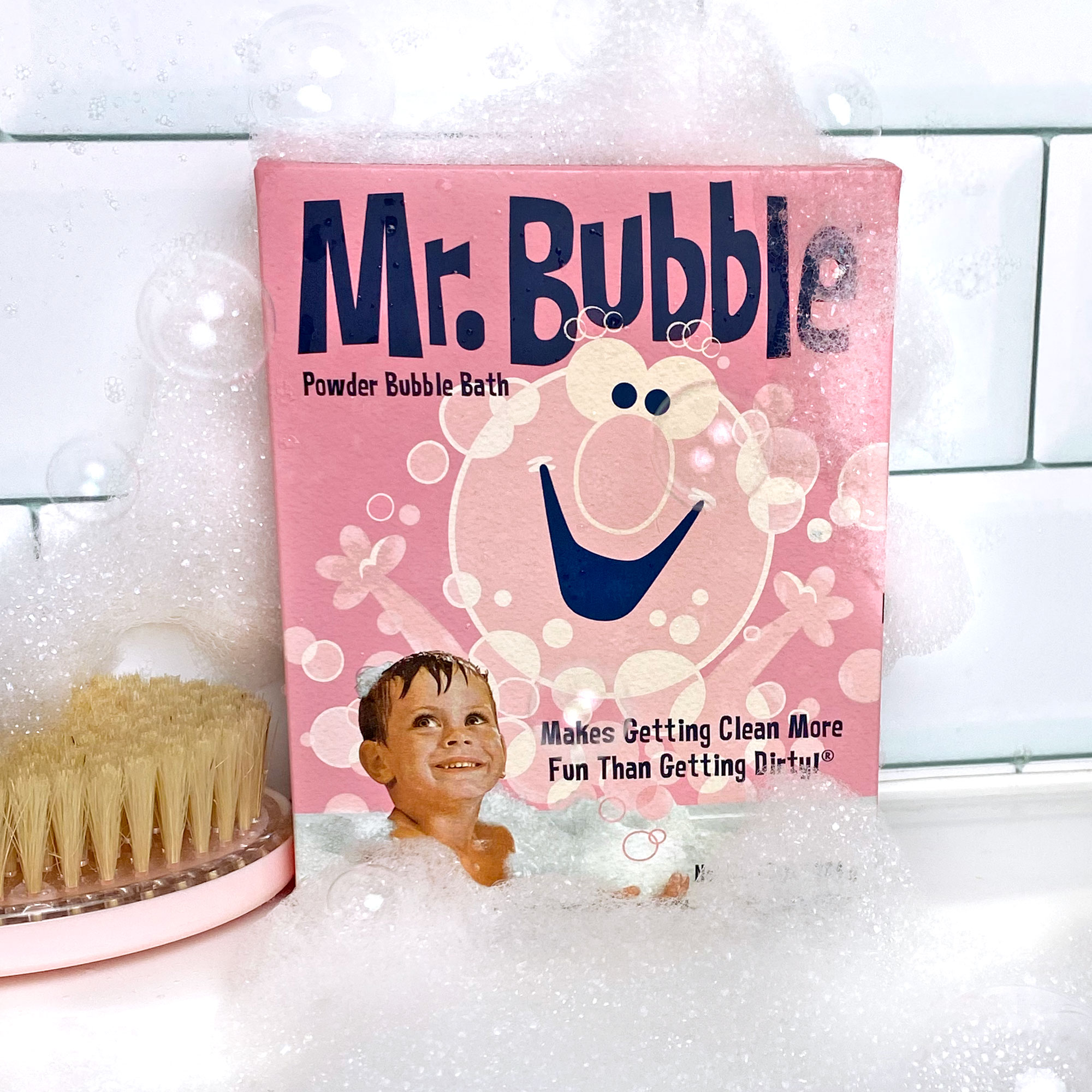 It was impossible to go to drugstores in the 1980s and 1990s and not spot the pink, grinning Mr. Bubble in the soaps and bath aisle. The character reached icon status, receiving his own comic strip ads and a shout-out in an episode of The Simpsons.
2000s: Brand Acquisition and New Products
The Village Company acquired Mr. Bubble in 2008. A gentler formula was introduced to create even more bubbles in the original bathtub product. The Mr. Bubble product line expanded further to include foam soaps, body washes, shampoos, and conditioners.
2010s: Mr. Bubble Turns 50!
Mr. Bubble turned the big 5-0 in 2011! His birthday bash was celebrated at the Waterpark of America in Bloomington, Minnesota. Watch him surf and hang ten and enjoy coasting down the slides in the world's largest bubble bathtub!
2020 and Beyond!
Now in his sixties, Mr. Bubble continues to bring fun to the bathtub. His product line includes a milk bubble bath for adults and bath bombs for extra sudsy enjoyment. Watch out for him every year on his favorite holiday: National Bubble Bath Day.