By now, it's highly likely that you've munched on an Eskimo Pie. We take the creamy milk chocolate 'n vanilla treat for granted as a freezer staple today, but it was actually patented in 1922 as America's first chocolate-covered ice cream bar.
According to the Archives Center at the National Museum of American History, Christian Kent Nelson invented Eskimo Pies. Nelson was a teacher who also owned and worked in a confectionary store in Onawa, Iowa. In 1920, a boy visited the shop with the intention to buy ice cream and a chocolate bar. Unfortunately, he only had enough money for one — but this was Nelson's "Eureka!" moment. He would give children just like the boy, who wanted the chocolate bar and the ice cream, both at the same time!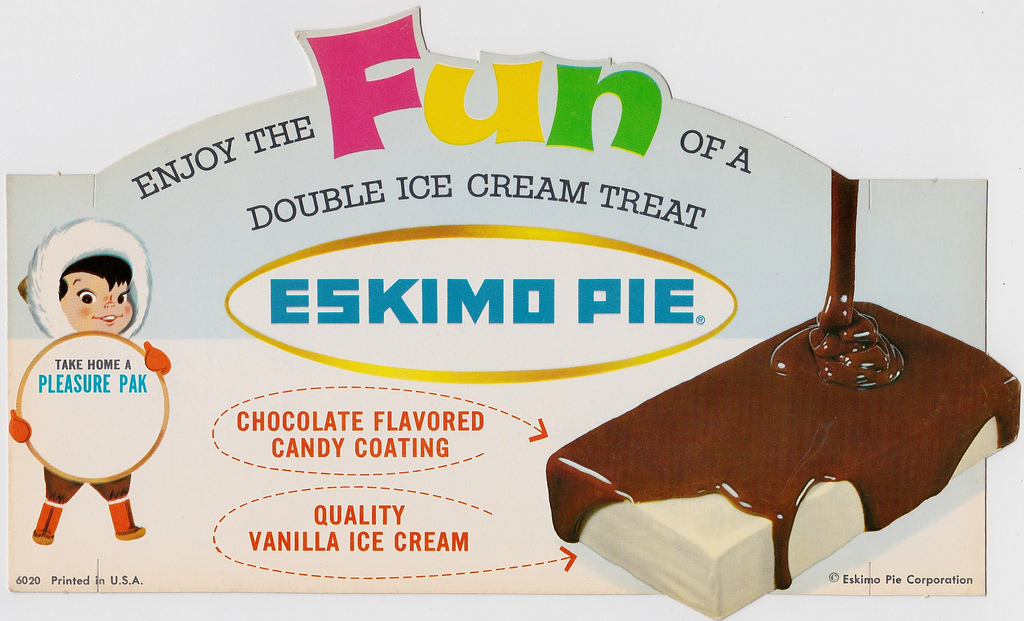 Nelson spent weeks at his home laboratory carefully working on his new invention, producing 500 ice cream bricks with a chocolate coating named I-Scream Bars. He sold these sweets at a local fireman's picnic and they were an instant hit with fans. Before long, Nelson found a business partner to help him manufacture his new product — none other than entrepreneur and enthusiast of all things chocolate, Russell Stover.
One of the first changes out of the starting gate was the brand's name. "I-Scream Bars" were swapped out for "Eskimo Pie." If a mascot had been conceptualized for I-Scream Bars, it would have looked very different than the one created for Eskimo Pie.
The Eskimo Pie Kid wore a heavy fur parka and hung out in the freezer with the cool treats. He sang along with adults and kids of all ages as they bit into their Eskimo Pies, everyone chiming in at the end to say, "taste that cool music!"
While Eskimo Pie Kid has since been phased out from advertising spots, we're happy to share that the ice cream bar is still very much around. Eskimo Pies are now a Nestlé product, with the same great taste and appearance they've had for nearly 100 years!