Over the last 20 years, the Pringles mascot — Mr. Pringle — hasn't deviated from his signature style. Cans of Pringles feature Mr. Pringle with a big mustache, red bow tie, and parted hair atop his familiar oval face.
2020 has been a year of unprecedented changes, so what better time for Mr. Pringle to shake up his appearance with a fresh new look? Now, for the first time in 20 years, the crisp's out of the can. Pringles is introducing a revamped Mr. Pringle brand mascot!
Meet Mr. P!
The refreshed Mr. P can be spotted on the Pringles canisters which feature a new can design. This design is clean and features bold hues, to highlight the crisps' flavors and stackable shape.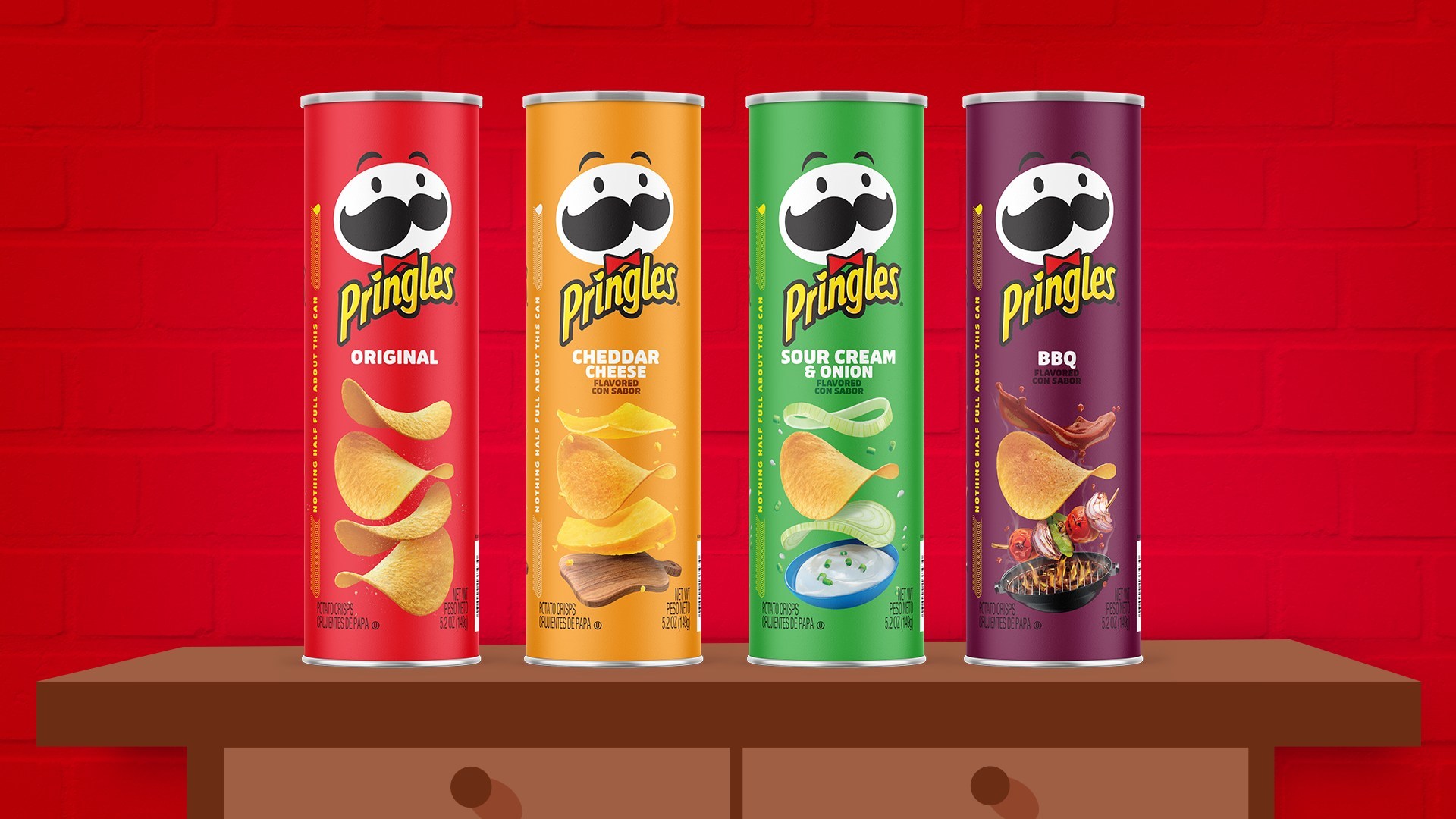 What all can we expect from Mr. P's sleek new look?
A more dynamic mustache, which is now black instead of wavy and brown.
Sparkling eyes.
Expressive eyebrows that pop right off Mr. P's face — literally!
A sharper bow tie.
With a new range of emotions on every can, Mr. P's "glow up" is putting the focus on the delicious taste of Pringles crisps and stacking these crisps together.
Behind the Scenes with Mr. P
Take a look back in time at previous Mr. Pringle designs. In 1995, Mr. Pringle had rosy cheeks, a smile, and eyebrows that sat on his face.
In 1968, Mr. Pringle's eyes were drawn to be mostly shut. His mustache was incredibly curly and he had a collar instead of a bow tie.
Research for Mr. P's 2020 design started as far back as 2018.
"We spent the last two years in research and design to create a modern look for the cans and Mr. P's style that reflects the bold flavor in every Pringles crisp and stack," said Gareth Maguire, senior director of marketing for Pringles.
Mr. Pringle — or Mr. P — may look a little different now, but he's the same beloved brand mascot he has always been.
"While the look may be new on the outside, I'm proud to say that it doesn't change the irresistible taste that's always been on the inside of every Pringles can and celebrates the unique snacking experience that is part of every bite," said Maguire.
Check out the refreshed Mr. P logo and brand design on Pringles' new Scorchin' line arriving in stores and online this December. (It's a line so hot he's literally got steam shooting out of his ears for the crisps!)
Mr. P's new look will also be visible across all brand communication in early 2021 and on his social media accounts including Facebook, Twitter and Instagram.