Mr. Peanut may have had the most remarkable 2020 out of any brand mascot.
The legendary Planters legume started the year with his death and has since come back to life — only to keep growing and growing through every season.
The Death of Mr. Peanut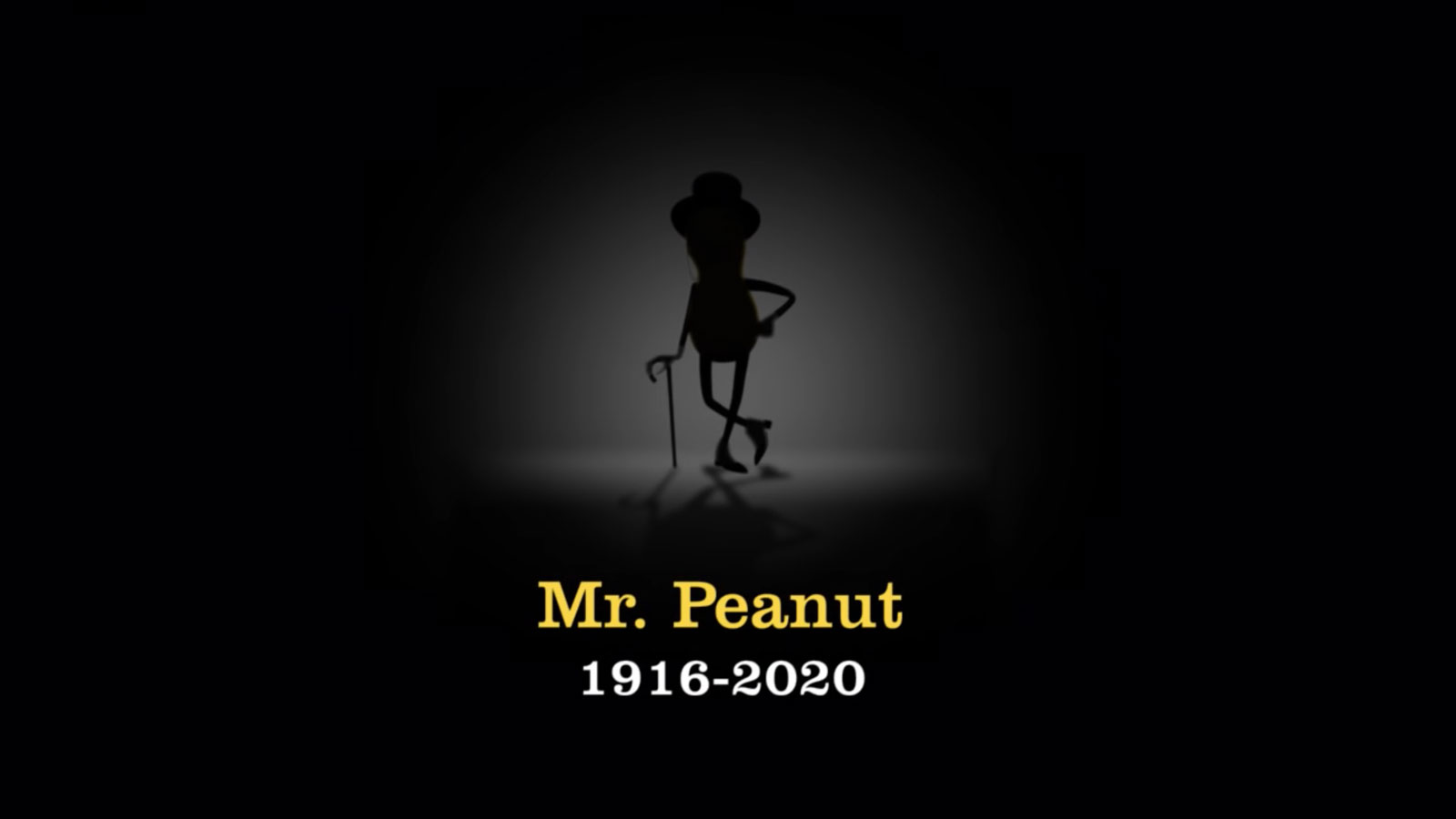 Mr. Peanut tragically passed away in January 2020. Bartholomew Richard Fitzgerald-Smythe was 104 years old.
Members of the brand mascot community paid tribute to Mr. Peanut through tweets using the hashtag #RIPeanut. Icons including Mr. Clean, Quiky the Nesquik Bunny, Cheerios' Buzz the Bee, the Oscar Mayer Wienermobile, and Captain Morgan, among others, celebrated the life and legacy of their dear, dapper friend.
The Birth of #BabyNut
Mr. Peanut's funeral was held during a Super Bowl LIV commercial spot in February 2020. Among those in attendance included Mr. Clean and the Kool-Aid Man. The Oscar Mayer Wienermobile was parked next to the Planters NUTmobile.
Tears shed from the Kool-Aid Man landed on a small plot of dirt. A peanut plant began to sprout and out came… Mr. Peanut? Only this time he's #BabyNut.
Shellebrating Life as Peanut Jr.
In early August, Baby Nut started going through a few changes. His limbs began to hurt which, according to a Google search he tweeted about, was a sign of a growth spurt. On August 11, 2020, Baby Nut fully embraced a glow up as Peanut Jr.
Peanut Jr. is 21 years old. He's officially old enough to enjoy a cold beer with delicious Planters nuts. We'd almost write the year off with Peanut Jr. as a young adult legume, but it is 2020. The year is not yet over and neither is the peanut aging process.
Meet Bart!
Peanut Jr. experienced his next growth spurt whilst walking through a winter wonderland. After taking off a Santa hat from a snowman and putting it on his head, Peanut Jr. developed a slightly fuller shape. He also aged dramatically faster, going from 21 to 50 in the blink of an eye.
He's starting to look and sound, dare I say it, like Mr. Peanut again!
As Peanut Jr. grows back into becoming Bartholomew Richard Fitzgerald-Smythe, he's now known as Bart. Bart wants to shellebrate one of the nuttiest years ever with the gift of giving. Planters fans can enjoy limited-edition seasonal offerings like their festive holiday nut crunch and trio packs of beloved peanut flavors.
Keep up with Bart on Twitter @MrPeanut as he navigates more growth spurts and discovers what the holiday season is all about! By our calculations, it looks like he's right on track to have one or two more growth spurts that allow him to become Mr. Peanut in 2021 again. Perfect way to start a new year — and hopefully the upcoming year won't be nearly as nutty as 2020!