Have you ever wondered what it might be like to meditate with Chuck E. Cheese? You're about to embark on a journey of inner calm in a new commercial that paints our mischievous mouse in a whole new serene light.
"Endless Salad Bar"
Breathe in, breathe out, and contemplate… an endless salad bar. Yep, this is the same restaurant famous for its "where a kid can be a kid" tagline, pizza, and games with prizes. Now, it's an oasis with over 30 delicious salad selections and fresh sides.
Chuck E. Cheese is now a space where you (AKA the parent) can set your mind at ease. Simply breathe deeply to conjure up the scents of fresh romaine lettuce and a medley of croutons and sesame sticks.
Created by ad agency VMLY&R, this spot for Chuck E. Cheese's Endless Salad Bar may signify the return of the long-form mascot commercials. It's 30 minutes in length with cutaways to Chuck E. Cheese in full meditation mode. He's sitting cross-legged with cucumbers covering his eyes and practicing breathing exercises.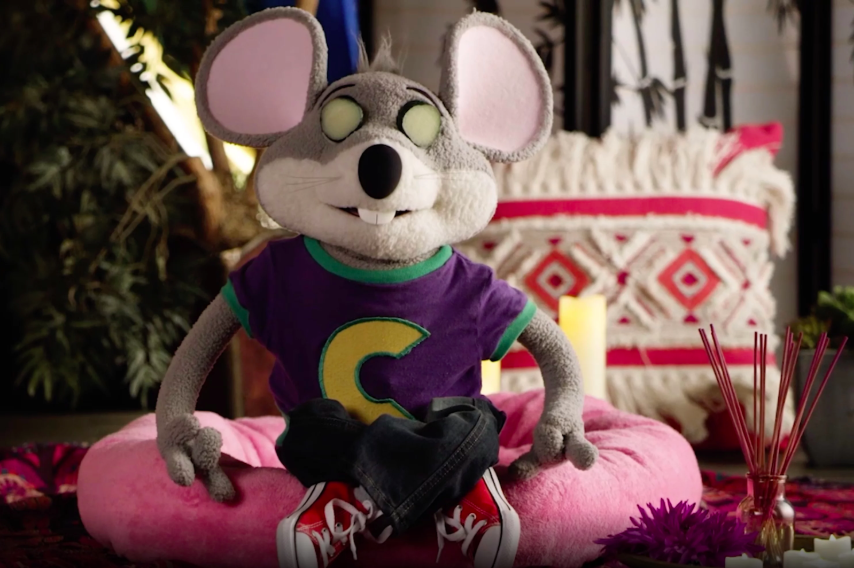 Is The Chuck E. Cheese Salad Bar Overdue For Its Spotlight Moment?
In short, yes. The Chuck E. Cheese salad bar has long been something of an afterthought during visits. It doesn't get the same kind of attention as games and tokens.
As viewers receive a wad of sticky tickets from their kids, the commercial encourages them to center their focus elsewhere. How about on taking a tongful of bacon and hard-boiled eggs for their salads? The commercial's calm narrator gently reminds viewers that trips to the salad bar are unlimited and the bar is open all day.
This time, as your kids play endless games and have the time of their lives, is all yours. As the commercial reminds us, you deserve a break. The Chuck E. Cheese salad bar is now the ultimate form of self-care.
Will Chuck E. Cheese Get A Meditative Pizza Ad Next?
The salad bar commercial cuts away to calming imagery at every turn. There's starry evenings, babbling brooks, rain falling on eucalyptus trees, and early morning sunrises. We can't help but wonder how fantastic it would be to follow up this spot with one focused entirely on pizza.
Imagine, won't you, the ability to savor stretching out the cheese on each slice of pizza.
Inhale and exhale the scent of a freshly baked pizza straight from the oven to your table.
Indulge in a plethora of toppings and pick the perfect crust to complement your dining experience.
And relish in the idea of taking home leftovers for lunches for the kids the next day.