It's not every day a brand mascot holds a press conference and that's exactly what Chuck E. Cheese did on Thursday November 2.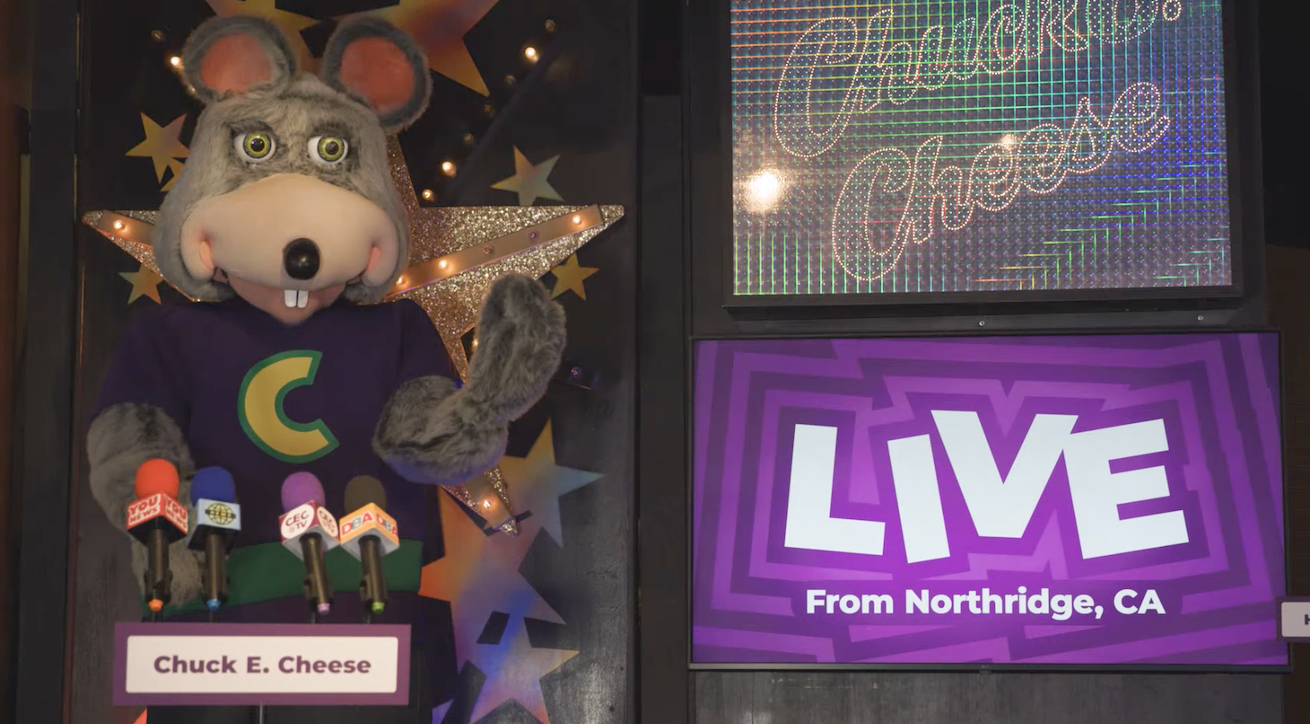 Hosted by leading icon Charles Entertainment Cheese (or Chuck E. Cheese) himself, fellow members of Munch's Make Believe Band were all in attendance. If you need a refresher as to who who's in the band, we've got Mr. Munch on keyboards, Jasper T. Jowls on guitar, Helen Henny as the vocalist and Pasqually on drums. Rather than be shot in CGI, the announcement featured each mascot as an animatronic on a stage.
Can you guess what they've gathered to share with the world? Munch's Make Believe Band is back together and ready to perform again.
The Chuck E. Cheese Reunion and Residency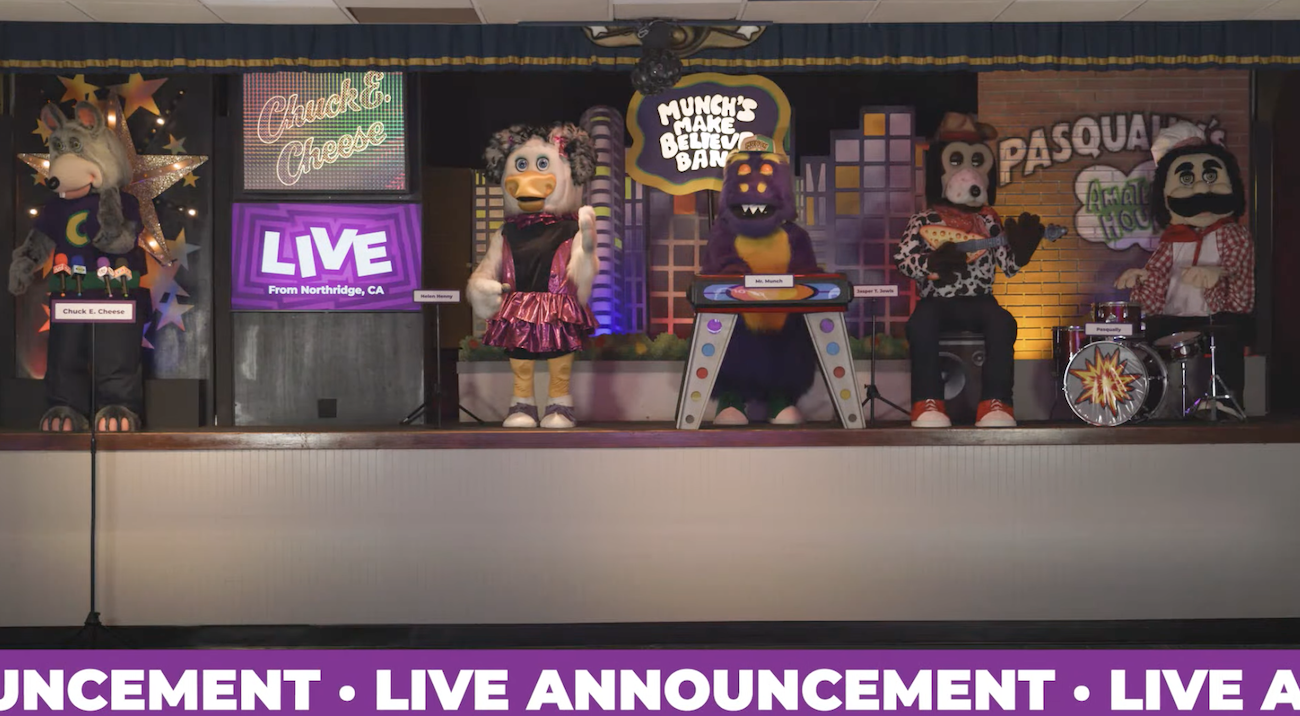 Almost immediately into the press conference, Mr. Munch announces the band is California bound. Chuck E. Cheese then says the band has found a residency in Northridge, California. (Northridge, for any non-SoCal locals reading this, is in the San Fernando Valley outside of Los Angeles.)
Helen Henny then clarifies the band will be jamming in lots of other places, but fans will be able to find them on a regular basis in Northridge.
When asked what inspired this residency and why the band chose Northridge, Jasper Jowls said they wanted to be somewhere the fans could always find them. A press release from Chuck E. Cheese further elaborates Northridge will be home to the nation's only Chuck E. Cheese fun center featuring an original animatronic band. It's a residency for the band and a destination for the fans, past and present.
While it's not explicitly mentioned in the press release, there's speculation online the recent success of horror film "Five Nights at Freddy's" – starring several animatronic mascots associated with a fictional family entertainment center — might have played a role in reviving the band. Mostly though, it feels like a nod to the brand's nostalgic roots.
"As an important part of the legacy of the brand, we know that the animatronic band holds a special place for many fans in their childhood memories," said David McKillips, President and CEO of Chuck E. Cheese parent company, CEC Entertainment. "We want our fans to know that the decision to keep the band here is meant as a gesture of love and gratitude as our legacy continues to evolve in new ways."
When Does The Chuck E. Cheese Residency Start?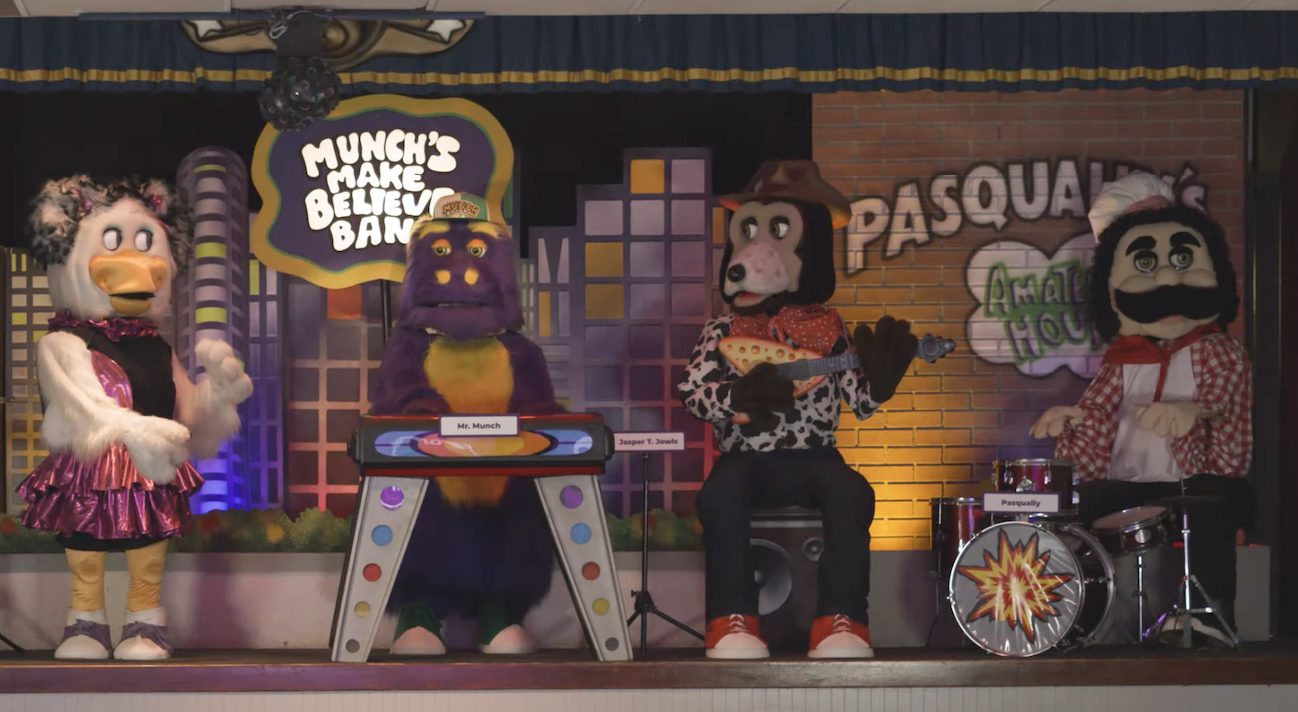 While Chuck E. Cheese and Munch's Make Believe Band are happy to start singing right now, the party doesn't officially kick off until November 10. From 6 to 8 PM PST, the Chuck E. Cheese Northridge location will host a Grand Re-Opening Party.
McKillips and Nolan Bushnell, the founder of Chuck E. Cheese and Atari, Inc., will both be in attendance to talk about the legacy of the entertainment company and its future plans. Chuck E. Cheese animatronics superfan Logan Carreiro — who started a petition in 2021 to keep animatronic stage shows from ending  — will also be in attendance and will be named Chief Entertainment Officer for the day.
Families and guests nationwide are welcome to attend. The first 25 families at 6 PM will receive one free hour of All You Can Play time. Every attendee receives opportunities to win prizes including a free Chuck E. Cheese birthday party. Every attendee will receive free cake, a free collector's poster and enjoy a special performance by Munch's Make Believe Band.
And they're just getting started! Keep your eyes peeled for even more announcements — and possibly more live press conferences! — from Chuck E. Cheese, the band, and the brand leading up to the company's 50th anniversary in 2027.