Look closely at Sir Kensington, the portrait of the condiment B Corporation Sir Kensington's. Is it possible to see nods to other brand mascots in his visage?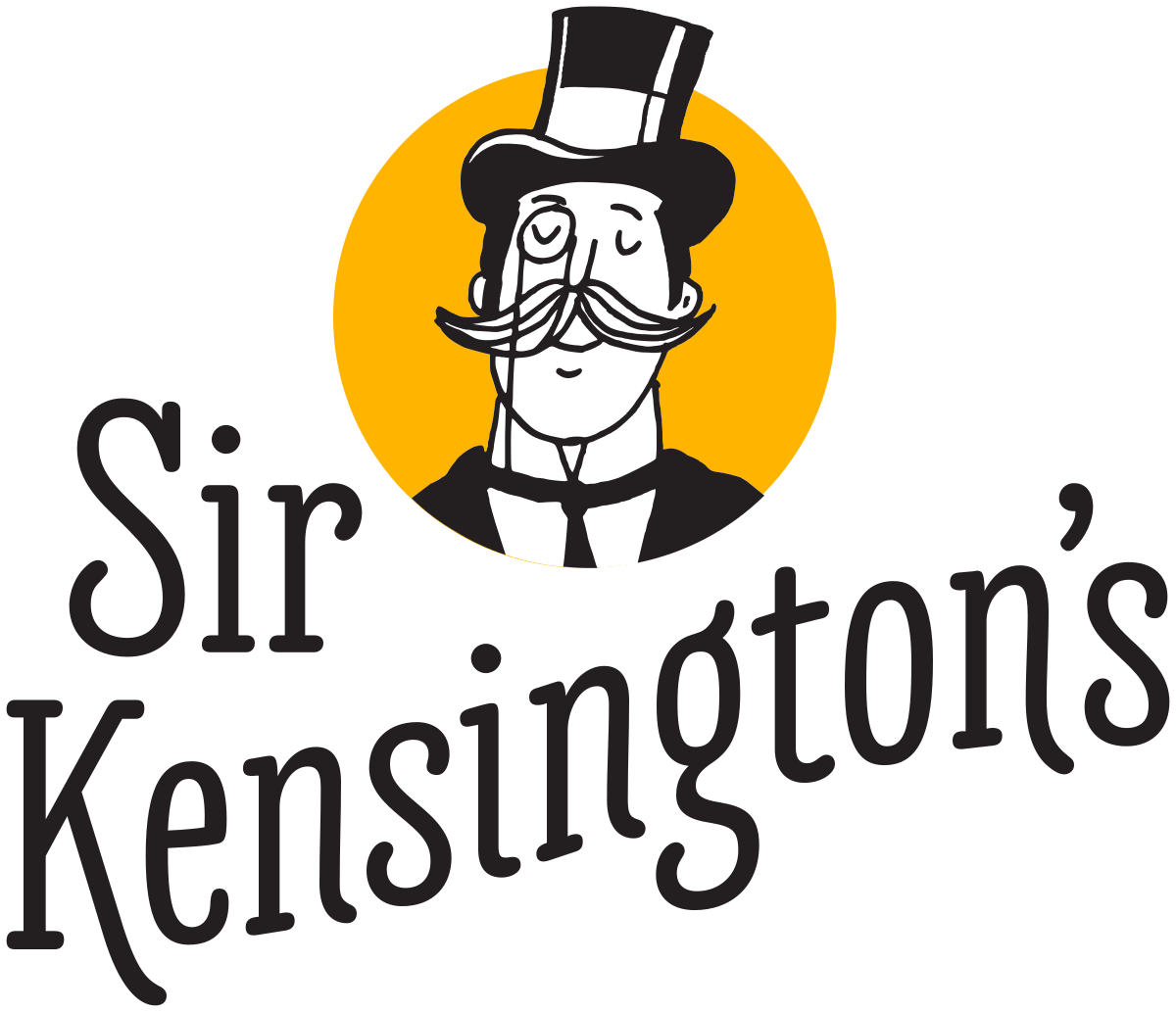 Planters fans might point out that Sir Kensington sports a monocle à la Mr. Peanut. Other observers may notice the character's mustache bears similarities to Mr. Monopoly of Monopoly board game fame. This is intentional, according to Sir Kensington's Co-Founder Scott Norton. Designs for Sir Kensington played upon looks signifying class with a bit of humor and borrowed from iconic characters, including Mr. Peanut and Mr. Monopoly.
Beyond the character's portrait is a condiment company with a history everyone can relish. Founded in 2010 by Co-Founders Scott Norton and Mark Ramadan, Sir Kensington's quickly became the leading provider of premium condiments across retail, eCommerce, and foodservice in the United States. The Sir Kensington's mission is to reimagine ordinary and overlooked foods with fearless integrity and charm. Only high-quality, non-GMO, ingredients are used in making these condiments and every egg is sourced as Certified Humane® Free Range. Seven short years after its founding, the company was acquired by Unilever. In 2018, Sir Kensington's committed to "B The Change" and became a Certified B Corporation.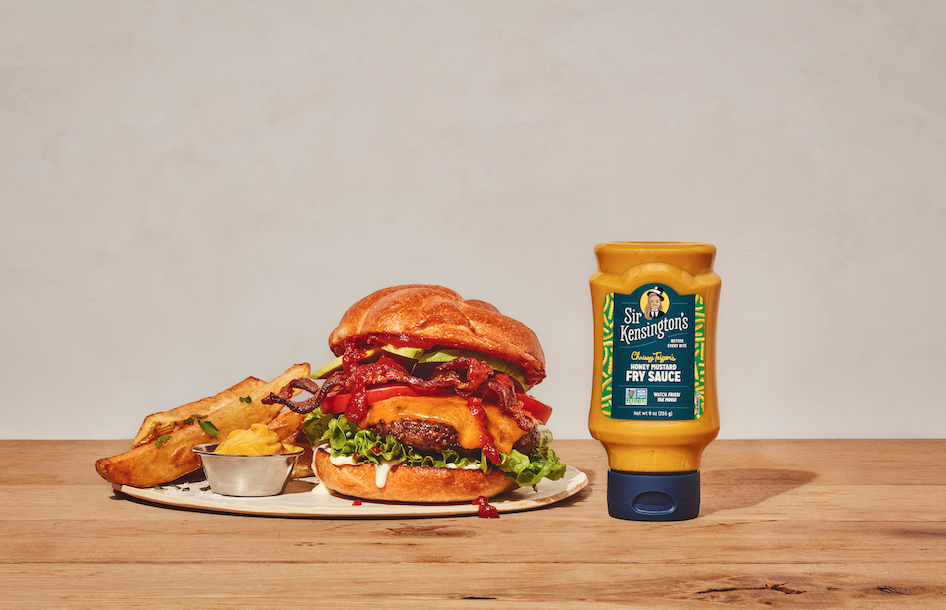 Today, Sir Kensington's boasts an impressive product line that includes classic condiments like mayonnaise, ketchup, and mustard. Creamy dressings, vinaigrettes, and vegan mayo round out their award-winning portfolio. Model and social media influencer Chrissy Teigen has even partnered with the company to whip up a mouthwatering honey mustard fry sauce.
But what of Sir Kensington, the character? Is he inspired by a real-world debonair gent or simply the stuff of excellence in high-born copywriting?
We were thrilled to chat with Norton and Alex Medeiros, General Manager for Sir Kensington's, about committing to the narrative of Sir Kensington, making a "not edible" billboard, collaborating with Teigen for the "summer of fries," and how Sir Kensington's has gone above and beyond its impact dollars during the COVID-19 pandemic.
Our first question: is the character on the logo *the* Sir Kensington?
Alex Medeiros: Yes, the logo is meant to personify "Sir Kensington" himself. In fact, Sir Kensington was created even before the product itself as our Founders had the desire to make the packaging stand out and cause consumers questions around this fancy but friendly character infiltrating the condiment aisle.
The brand is named after a fictitious British character, who was created as a mascot to represent the quirky sensibility and superior expectation that defines the brand. "Sir Kensington" is an older, sophisticated English gentleman because Americans often perceive the British for high-end items and delicacies.
Sir Kensington, the character, is described as having a "storied history" and roots in Victorian England. Can you share more details about his narrative?
Scott Norton: The story of Sir Kensington's begins with the Founder's vision to embody a character that was the opposite of traditional condiment brands on shelves. While other brands were synonymous with traditional American attributes, Sir Kensington would embrace high culture English traditions and lean into the outrageous.
To commit to this narrative, our team adopted a method called "worldbuilding" or creating a fictional universe with detailed backstories. Generally, this is considered an odd practice for consumer brands, but we knew this is why it would work. So, we started boasting about Sir Kensington's Oxbridge credentials, his professional and philanthropic achievements, and academic breakthroughs. Altogether, this created a condiment with intriguing commentary.
How would you describe the character's personality?
Scott Norton: Sir Kensington himself is a curious, generous, fun-loving spirit who's always fixated on how the world can be, rather than how the world is. His watchwords are "integrity" and "charm," which is what we as a company seek to bring to the food we make.
With one foot rooted in nostalgia and the other firmly in novelty, this makes him the ideal muse and mascot for reinventing the classics.
Switching gears slightly, let's talk B Corporation Certification. What are some positives that came from becoming a Certified B Corp?
Alex Medeiros: It was a natural progression of the Founder's original mission which was to not only create the finest natural condiments but also to run a company that aligns with their values and vision. We've always done things differently and at Sir Kensington's, we believe that the future of "good business" balances our economic model with environmental, social and customer transparency.
We hold ourselves accountable to a higher standard and there have been many areas of growth we've outlined as part of "B The Change." For example:
Using Responsible Packaging: Knowing that we have a responsibility to address the materials we use and how we use them, we aspire to achieve 100% recyclable and 100% recycled content in rigid plastic and fibers by 2022.
Fostering a Positive Environmental and Social Impact: Our aim is to connect performance incentives for 100% of team members to sustainability and diversity, equity and inclusion (DEI) indicators by the end of 2020.
In June of 2021, we released our first Integrity Report and outlined progress in three key areas: Growing, Making and Sharing. Within each section of the report, we were able to celebrate our wins and identify areas to strengthen our future efforts.
Notably, we achieved our initial goal around team performance incentives, but still have some work to do on our post-consumer recycled content in our fiber packaging. We also made strides toward values-led sourcing across our portfolio of ingredients, championed sustainable agriculture practices, transformed our company around diversity, equity and inclusion (DEI) values, advanced our B Corp assessment score, and deepened our community partnerships.
In the first few months of the COVID-19 pandemic, particularly as households were encouraged to stay home in 2020, how was Sir Kensington's able to ignite change and help others?
Alex Medeiros: In 2020, Sir Kensington's made a concentrated effort to go above and beyond with our impact dollars to bring our trademark integrity to marginalized groups in New York City's food system and elsewhere. Throughout the year, we looked for various ways to support job creation, drive visibility to the overlooked and advocate for our communities. As a team, we decided to focus on food-insecure groups in our backyard of NYC, our own team members in the field, local restaurant customers and workers, farmworker communities and frontline workers. Some of the many organizations we supported included: West Side Campaign Against Hunger, God's Love We Deliver, Promobile Kitchen, Green Bronx Machine, Rethink Food, Feeding America, The Restaurant Workers' Community Foundation, and Farmworkers' COVID Pandemic Relief Fund.
In 2020, we also focused our impact efforts around DEI practice and learning more about our duty for action. To show our commitment and inspire change, we donated to several organizations that aided the BLM movement such as Black Lives Matter Global Network, Campaign Zero, Color of Change and The Bail Project.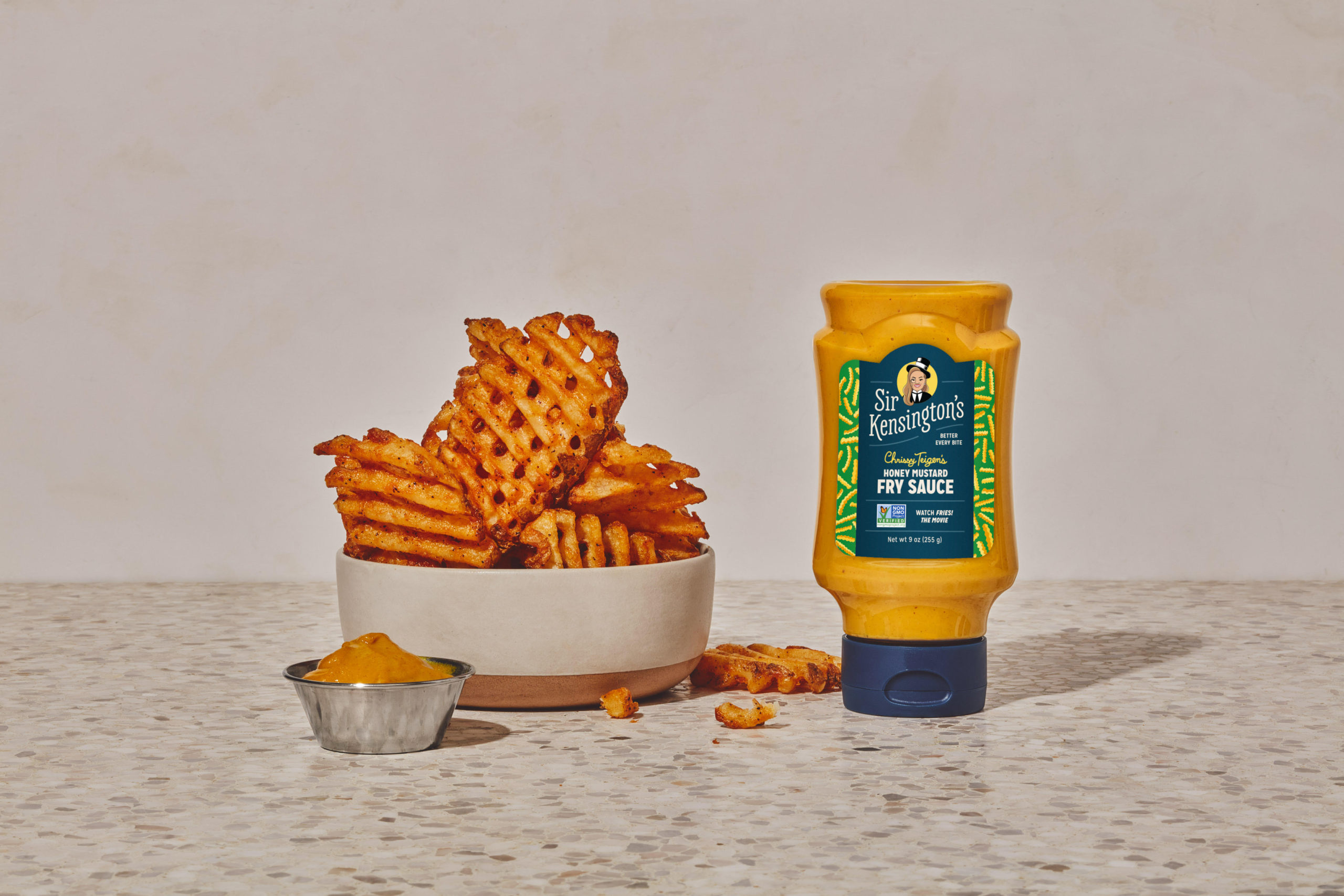 Anecdotally, we also saw diners last year eating at home more than ever before. So, in true Sir Kensington's fashion we created a full campaign for those at home to step-up their 'home restaurant' game. This included home restaurant dish inspiration and witty "restaurant" reviews with a Sir Kensington's condiment twist on every bite.
As we inch closer to 2021's Q4, what has the Sir Kensington's team been up to this year?
Alex Medeiros: In 2021, Sir Kensington's created a "summer of fries." Fries, of course, are one of our favorite dipping companions. Hence, we started the summer with the release of FRIES! The Movie that debuted at Tribeca Film Festival this past June.
FRIES! The Movie takes viewers on a mouth-watering journey to better understand the global obsession with fries, and we had a wonderful array of partners help us bring this production to life. This includes Chrissy Teigen and her production company, Huntley Productions and Zero Point Zero for Sir Kensington's and Unilever.
Inspired by the film and Chrissy Teigen's personal passion for fries, we later launched Honey Mustard Fry Sauce in August. Our limited-edition Fry Sauce strikes a serene balance between sweet and spicy with an initially honey-based flavor followed by a satisfying mustard kick. We always recommend French fry fanatics dip into this sauce while watching FRIES! The Movie.
What's the story behind the Sir Kensington's billboard everyone was literally eating this summer?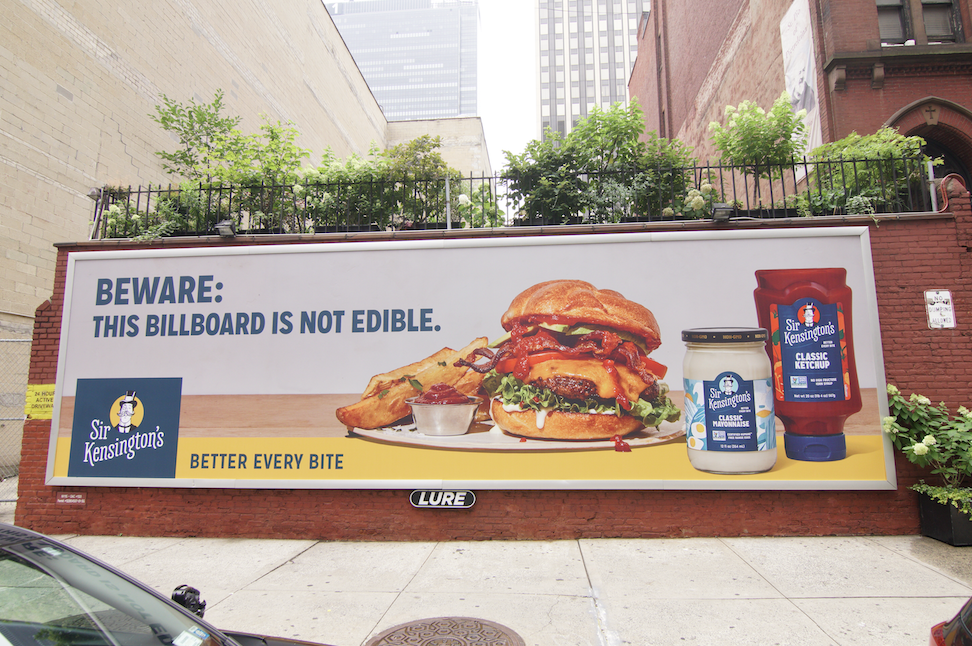 Alex Medeiros: This past July we worked with creative agency, Interesting Development to launch a billboard concept in the heart of Midtown Manhattan. The story all started with the delicious nature of the condiments featured on the board itself… and people started "eating it!"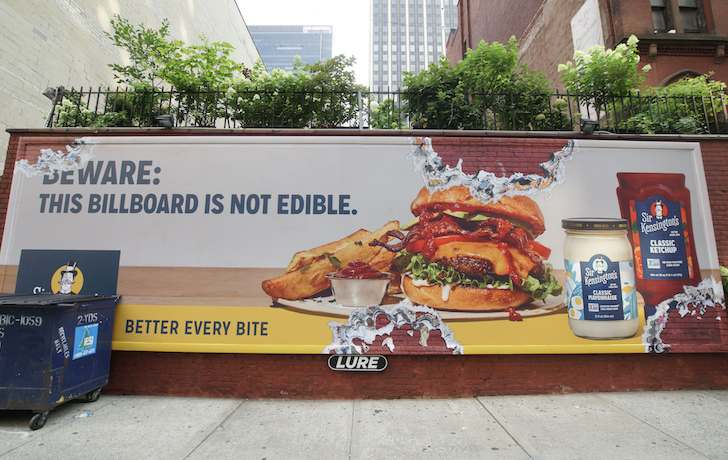 Subsequent iterations of the board warned passersby that the billboard was "not edible" and that 24-hour surveillance had been put in place. Despite our brand efforts, the feeding frenzy just wouldn't stop. So we called in The Sopranos star, Steve Schirripa to stand guard and protect the board from the hungry perpetrators. But, nonetheless people kept eating the board. So, in our final iteration posted, a notice went up saying the board had been moved to the Geneva Free Port for safekeeping (home to countless artworks worth over $100 billion including around 1,000 pieces by Picasso).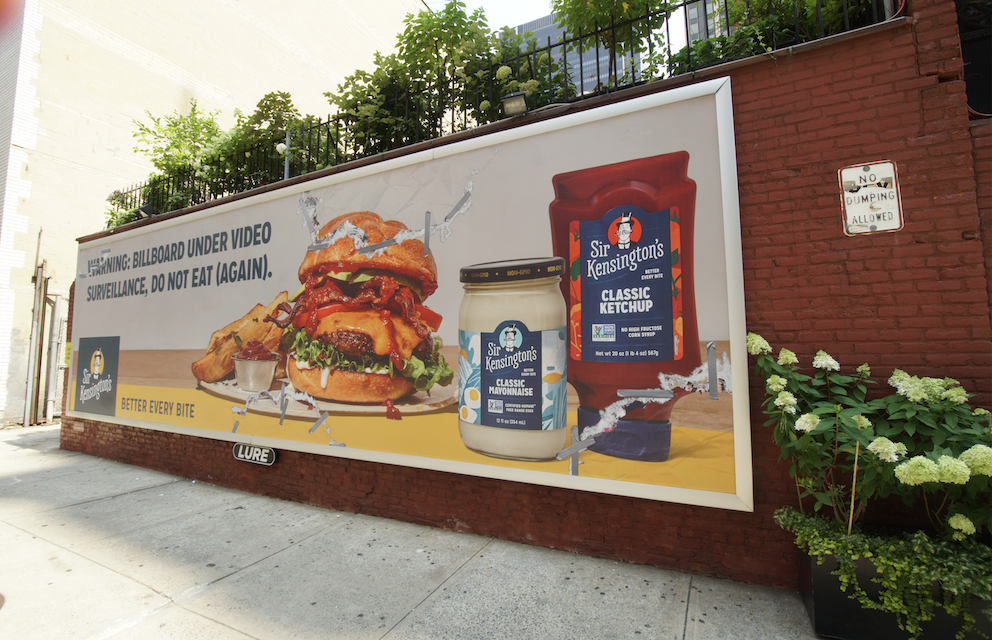 Altogether, the out of home campaign spoke to the unconventional spirit of the brand and offered a playful approach to capture new consumer attention.
The Sir Kensington logo also received a redesign this year.
Alex Medeiros: We redesigned the logo with Geo Law to feature the Chrissy Teigen illustration for our limited edition Fry Sauce. All other elements of the logo, originally designed with Jesse Ragan, remain unchanged.
Now that we know Sir Kensington borrowed elements of his look from certain brand mascots, were there any other aesthetics you wanted for the character's initial design?
Scott Norton: We knew we wanted to signal Sir Kensington's as being over the top, and to have every signifier of a traditional upper crust character to pair with a condiment as mainstream as ketchup. So, we borrowed from a long line of characters that signify class, but with humor: the Monopoly Man, Mr. Peanut, The Mad Hatter, and John Cleese's character from The Monty Python. All of those tropes had been burned into people's collective imagination, so conjuring Sir Kensington's as he looks now allowed us to draft on all of those references.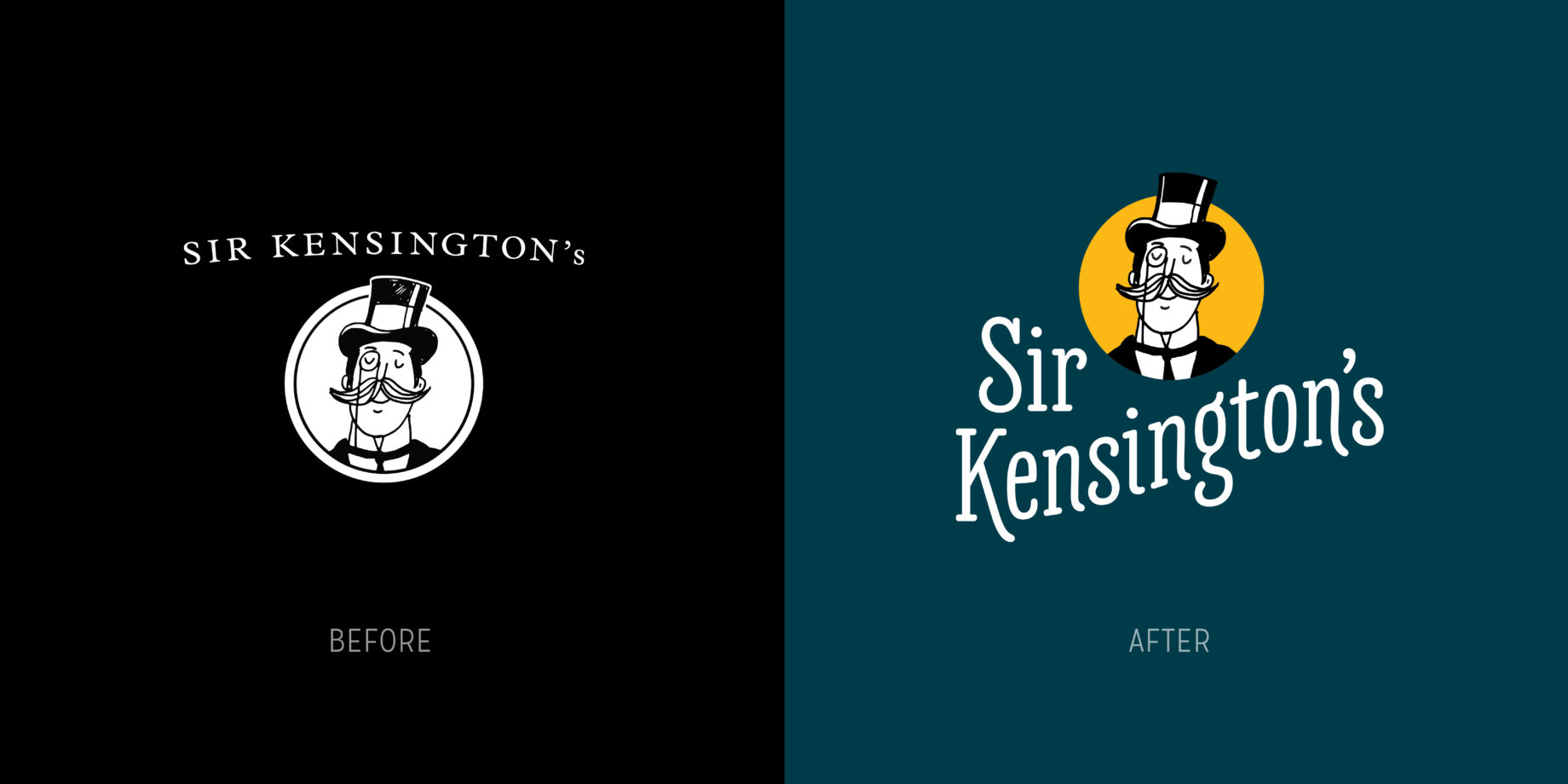 Originally, our approach was to draw Sir Kensington's and design the package in a way that people couldn't tell whether it was real or imagined; fun or serious. So, our first iteration of Sir Kensington's had a thousand mile stare and a stiff upper lip. However, it turned out that this "mean Sir Kensington's" didn't translate to fun and friendly in the condiment aisle, so we had to rethink it. We later landed on a gentler, more lighthearted Sir Kensington which is what you see on the package today. This portrait of Sir Kensington is much more humane and fun, yet sophisticated – just like what's inside the bottle.
What does the future hold for Sir Kensington's?
Alex Medeiros: Looking ahead, Sir Kensington's will continue to innovate, lead with flavor and push boundaries in our sector. We are fearless when it comes to reimaging the impossible in the condiment aisle and will continue to keep our secret ingredient – people – at the forefront of our future.