"The year is 1997. Your Tamagotchi is thriving. You just set a new personal best with your Bop It. Your mom packed Dunkaroos in your lunch. Everyone at school wants to be your friend. Life is good. 
The year is 2020. You just found out Dunkaroos are coming back. Life is good."
On February 3, 2020, the Dunkaroos Twitter account tweeted that one of the most sought-after snacks of the 1990s, Dunkaroos, are set for a comeback. General Mills announced on their company blog that the snacks would return to U.S. grocery stores this summer.
What Are Dunkaroos?
Only '90s kids will remember the thrill that came with seeing Mom packed Dunkaroos in their school lunches.
According to General Mills, Dunkaroos officially hit the market in 1992. The Betty Crocker brand created the snack packs. The original Dunkaroos consisted of graham crackers shaped like kangaroos. They could be dipped into a single-serve tray filled with vanilla or chocolate frosting.
Sydney: The Original Dunkaroos Brand Mascot
The original Dunkaroos brand mascot was a chipper kangaroo named Sydney. The character wore a green hat and vest.
Sydney bounced around in commercials enthusiastically and spoke in an Australian accent. His commercial jingle proclaimed that one doesn't eat these snacks – they "Dunkaroos" them!
In 1994, Sydney's commercials swapped out their jingle to encourage kids to dunk as much frosting as possible onto their cookies. Does Sydney's voice sound familiar to you? That's the voiceover work of actor John Cameron Mitchell!
This 1994 spot is also groundbreaking for marking the debut of a new Dunkaroos frosting. Chocolate chip frosting was now available as the brand started branching out to new frosting flavors. Some of these would later include strawberry frosting and rainbow sprinkle frosting. The cookies would also later receive an upgrade, including flavors like chocolate, vanilla, and chocolate chip.
Meet Duncan: The New Dunkaroos Mascot
As Dunkaroos rose in popularity with kids everywhere, Betty Crocker ran a special promotion in 1996 to find a new spokes-kangaroo. The contest was referred to as the "Dunkaroos Kangaroo Kanga-Who Search." Kids were encouraged to submit designs for the next great Dunkaroos brand mascot.
The winner of the contest was a kangaroo named Duncan. He was referred to as the "Dunkin' Daredevil." Clad in a purple snapback, windbreaker, and sneakers, Duncan was active and a hip fit for the late 1990s.
Even the Dunkaroos cookies changed now that Duncan was their mascot. New shapes were introduced, including basketballs, as the perfect "slam dunk" into the snack's frosting containers.
Dunkaroos Get Discontinued
In 2012, General Mills officially discontinued Dunkaroos in the United States. The announcement hit snack fans hard, especially since the news about the ceased production was fairly vague.
Luckily, only '90s kids know how to take to Twitter and rally hard for the return of their beloved Dunkaroos. After eight years of tweeting for their return, General Mills announced that they would bring back the snacks in the summer of 2020.
How Can I Call Dibs On Dunkaroos?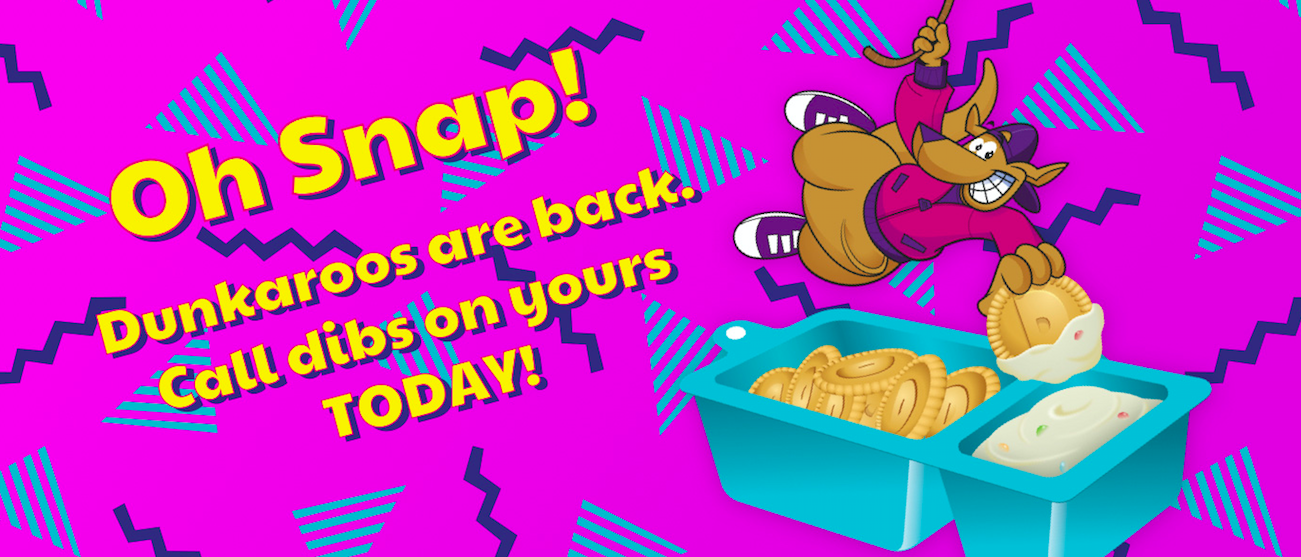 Want to call dibs on these fan favorites first? All of you have to do is visit the Dunkaroos website to pre-order the nostalgic treats!
Don't sweat it if you weren't able to land one of the first 5,000 packs for free. Dunkaroos will be arriving in participating 7-Eleven stores as soon as late May. Their nationwide rollout to grocery retailers and convenience stores is slated for July 2020.
Pro tip: follow Dunkaroos on Twitter for the latest 411 on the return of our fav snack packs.