Have you noticed an uptick of photos and videos featuring sourdough starters, banana bread, and cookies in your Instagram Stories lately? The COVID-19 crisis has inspired people all around the world staying at home to head into the kitchen, grab some flour, eggs, and a Kitchenaid stand mixer, and begin whipping up home baking comfort food.
Some of the world's most beloved brand mascots have a special place in the kitchen. From a pint-sized helper ready to lend a hand (and a giggle) to an iconic kitchen confidante, baking just wouldn't be the same without these familiar characters.
The Pillsbury Doughboy
For more than 50 years, Pillsbury has endeared countless bakers, cooking enthusiasts, and families to its brand with an adorable brand mascot: Poppin' Fresh, the Pillsbury Doughboy.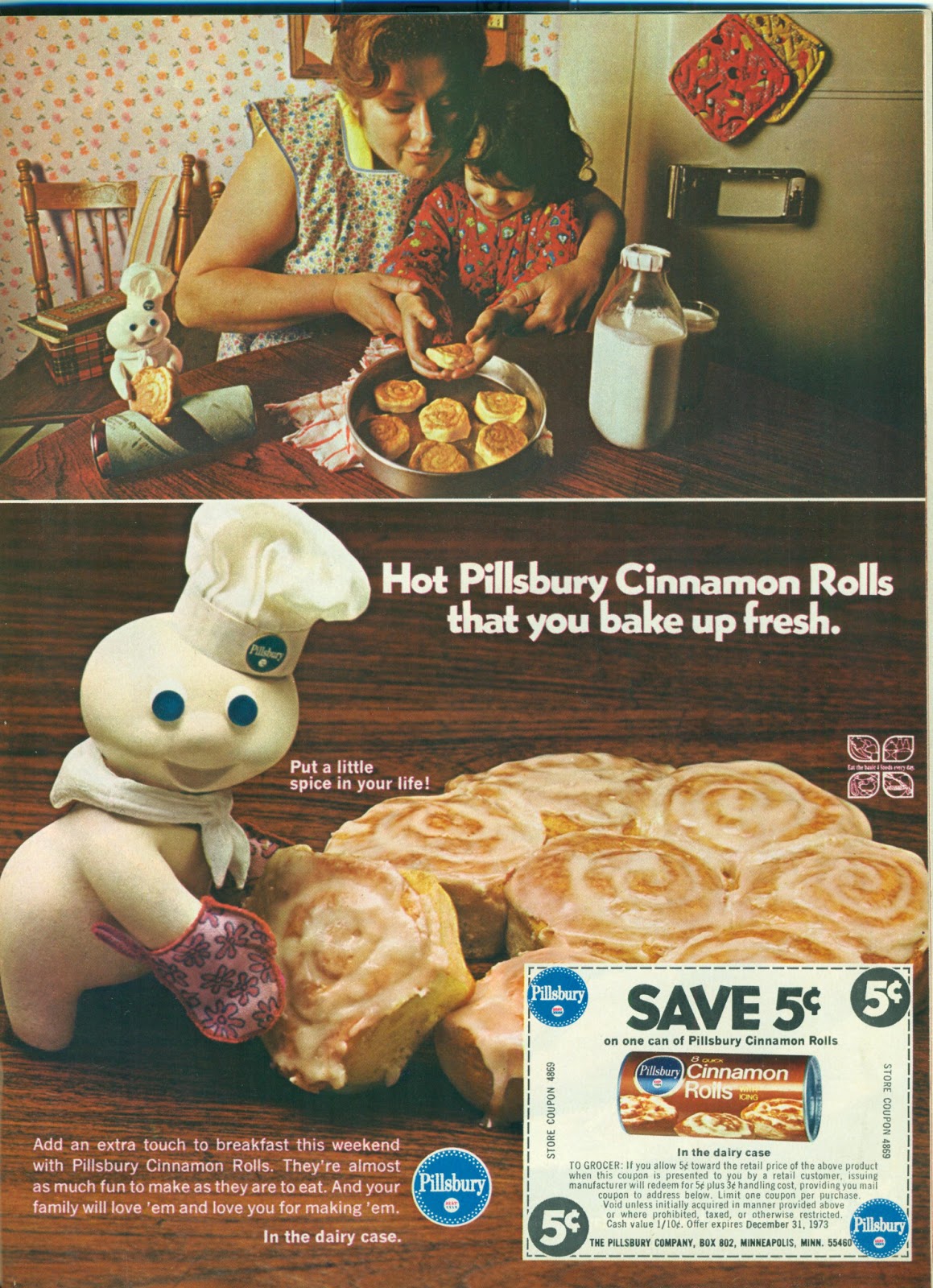 The Pillsbury Doughboy was created at Leo Burnett Chicago in 1965. Drawn by LB creative director Rudy Perz and conceptualized by Milt Schaffer, a Leo Burnett animation expert, Poppin' Fresh stands proudly at 7 1/2 inches. He wears a chef's hat, neckerchief, and easily gets the giggles if you poke his tummy.
Talent Beyond The Kitchen
Over the decades, the Pillsbury Doughboy has enjoyed an active lifestyle in and out of the kitchen. In addition to being an accomplished chef, he's a dancer, painter, and skateboarder.
Poppin' Fresh is also an unsung musical genius. He sings and has played six instruments throughout his commercial career. His lineup includes a harmonica, accordion, bugle, violin, electric guitar, and air guitar – with a butter knife.
Betty Crocker
Affectionately referred to as the "First Lady of Food," Betty Crocker products have been a staple for family food traditions for over 90 years. Betty Crocker enjoys cooking and baking. She is committed to family and friends, involved in her community, and known for being resourceful and creative.
Who Is Betty Crocker?
Betty Crocker's background story is a particularly unique one. Many may think a real woman inspired the creation of Betty Crocker. The truth is she has never been a real person.
In 1921, Gold Medal flour ran a special promotion. Consumers had the chance to win a pincushion that resembled a sack of flour if they were able to complete a jigsaw puzzle of a milling scene. Thousands of entries, and questions about baking, flooded the Washburn Crosby Company, a flour milling company. The company decided to use the name "Betty Crocker" in the signature in order to personalize responses. "Crocker" honored William G. Crocker, the retired director of the Washburn Crosby Company. "Betty" was chosen because it sounded pleasant. Female employees were encouraged to submit hand-written Betty Crocker signatures. The most well known signature may still be seen in the Betty Crocker red spoon logo.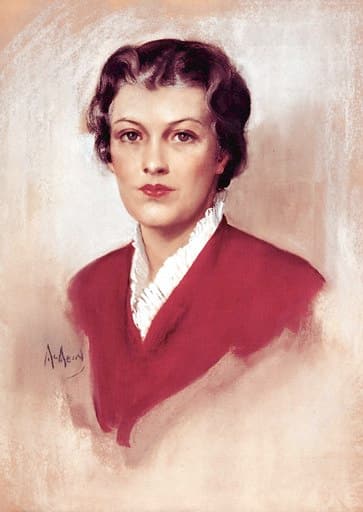 The Betty Crocker name became so popular that a portrait was commissioned of her likeness in 1936. Artist Neysa McMein drew the original Betty Crocker, which blended the features of several Home Service Department members into a motherly image. By 1945, Betty Crocker was the second most recognizable woman in America after First Lady Eleanor Roosevelt.

In 1955, Betty's appearance changed with the help of six artists that painted new interpretations of her likeness. A softer, smiling image drawn by Hilda Taylor was used shortly afterwards. As the decades passed, so did Betty's overall look to better fit into the changing, contemporary times.
Betty Crocker Today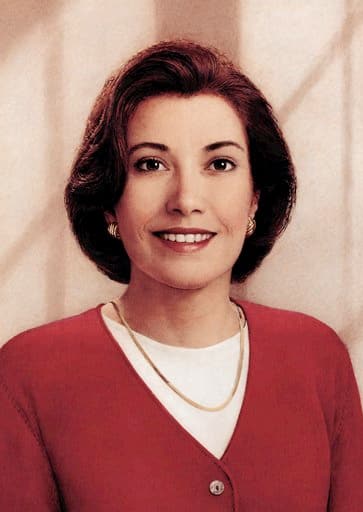 Artist John Stuart Ingle painted the most recent Betty Crocker portrait in 1996. Honoring the icon's 75th anniversary, a nationwide search was conducted across the United States for 75 women of diverse backgrounds and ages. These women also embodied Betty Crocker's characteristics. Stuart Ingle painted the 1996 Betty Crocker using a computerized composite of the 75 women and a 1986 Betty portrait. Her iconic red wardrobe has been reimagined over the years and kept Betty at the peak of class and fashion.
Bob's Red Mill
Betty Crocker may not have an IRL person that inspired her likeness, but the same can't be said for Bob's Red Mill. The employee-owned manufacturer of whole grain products, including flours, oats, and grains was co-founded by Bob Moore and his sweetheart Charlee Moore more than 30 years ago.
Headquartered in Milwaukie, Oregon, Bob's Red Mill is committed to providing people everywhere with the best quality foods available. Bob's personal passion for nutritional whole grains allowed this company to become a leading name in health foods across the United States. Bob first met Charlee on a blind date in 1952. It was love at first sight.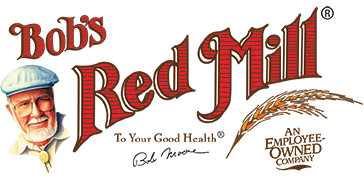 In 1978, they founded Bob's Red Mill together. Charlee was the original inspiration for their whole grain adventures. She helped create a healthier life for their family with natural food in the 1960s. Both Charlee and Bob became fixtures within their store. Charlee originally packaged products by hand. Bob still loves to spend time at the store and you can spot him outside the store, too. Check out the #paperbob challenge on Instagram and take a peek at the Bob's Red Mill logo, too. That's his signature flat cap, glasses, and beard in the company logo design.
King Arthur Flour
Did you know King Arthur Flour was the first flour company in the United States? It's true! In 1790, George Washington was America's first president and a young man named Henry Wood began importing flour from England. He established his business, Henry Wood & Company, at Boston's Long Wharf. It was the first flour company in New England and the United States – the original ancestor of King Arthur Flour.
Hereby: King Arthur Flour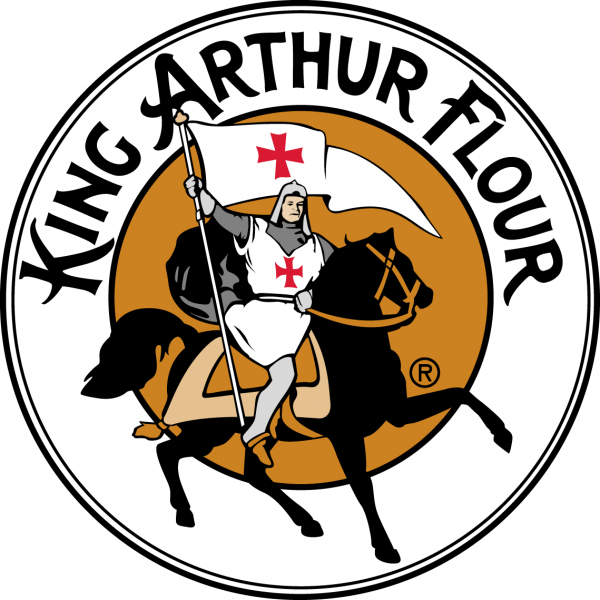 Over a hundred years later in 1896, the Sands, Taylor, & Wood Company arrived to the Boston Food Fair. They brought along their new and improved flour. It was named King Arthur, after the legendary British leader. The attributes of the brand, and its fearless knight mascot, are said to be "purity, loyalty, honesty, superior strength, and a dedication to a higher purpose."
Over the next 100 years, King Arthur Flour was involved in a rise of baking trends that still ring true to us today. Banana bread rose to popularity in 1930. This was quickly followed by the birth of the chocolate chip cookie in 1933 and zucchini bread in 1973.
King Arthur Flour continued to conquer kitchens everywhere, expanding to become New England's largest bakery supply distributor in 1968. After almost 200 years in Boston, King Arthur Flour moved its flagship campus headquarters to Norwich, Vermont in 1984. King Arthur Flour found a home online on Christmas Day 1996 when the company launched their first website — showcasing, at the time, just 13 recipes. Today, the website has more than 2,800 recipes to review featuring King Arthur Flour products!
Robin Hood Flour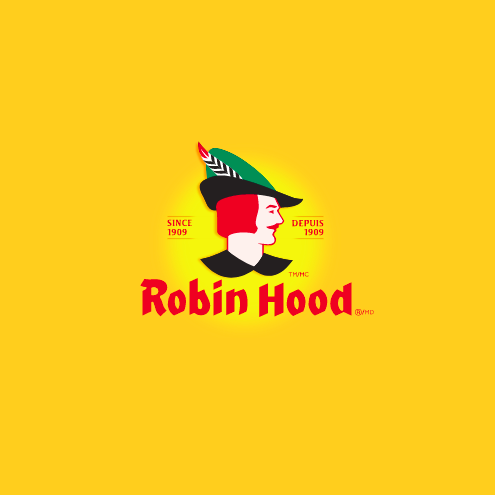 Some say Robin Hood is an outlaw made famous for his good deeds in folklore. Others believe his claim to fame is gracing the packages of Robin Hood Flour.
Sporting a signature green and red archer emblem, the mascot for Canadian Robin Hood Flour brand is none other than Robin Hood himself. This particular Robin Hood story doesn't go back quite as far as the Edwardian era, but does come close enough.
Robin Hood's Beginnings
In 1909, Francis Atherton Bean, President of International Milling in Minneapolis, Minnesota, purchased a mill in Moose Jaw, Canada. The opening of Bean's new mill was incredibly exciting to Moose Jaw residents as it offered employment and encouraged outside investors in the area. Bean quickly hired a staff of 50 workers and 12 field salesmen. During the gala for the new team, a "christening ceremony" was held for a barrel of wheat.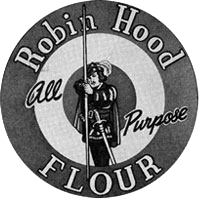 Business was booming less than two years later. Over 1,600 barrels of flour were produced by Bean's mill each day. Charles Ritz became the company's new president in the 1920s and oversaw efforts to include Robin Hood at as many baking fairs as possible. Ritz also encouraged the export of flour and oats to struggling nations outside of Canada.
During the 1930s economic depression, Robin Hood leaned into a great deal of growth. The flour was now famous for its quality and in demand by bakers and families everywhere. Products from the mill travelled to northern outposts. In some cases, district managers travelled to the mill by dog sled for the flour.
Robin Hood Flour In 2020
There has always been a place for Robin Hood throughout history. The company built a new factory to aid to the war effort in the 1940s and milled "G.R. Flour" (George Rex Flour) in the 1950s. Thousands of flour tons were sent overseas as foreign aid to the Europeans.
In our present unprecedented times, Robin Hood Flour remains there for everyone. The company still aligns closely with its philosophy: we're sensitive to changing needs and lifestyles so that we can help you bake better.
Jus-Rol
Longtime PopIcon readers may recall when I first wrote about the United Kingdom's pastry meal company Jus-Rol and their brief, memorable mascot named Janet.
A baker named Tom Forsyth founded the Jus-Rol brand in 1954. The name is said to have come from the female bakers at the bakery. When asked what they did with the pastry cuttings, they said, "We just roll it out!"
Janet, the first brand mascot for Jus-Rol, did not make her debut until 2009. Her first appearance advertised Jus-Rol puff pastry sheets and introduced us to the thoughtful character. She wears an apron with her name on it and sports a coiffed hairdo. Janet uses everyday ingredients, like tomatoes and mozzarella, to help fellow cooks make pizza from scratch.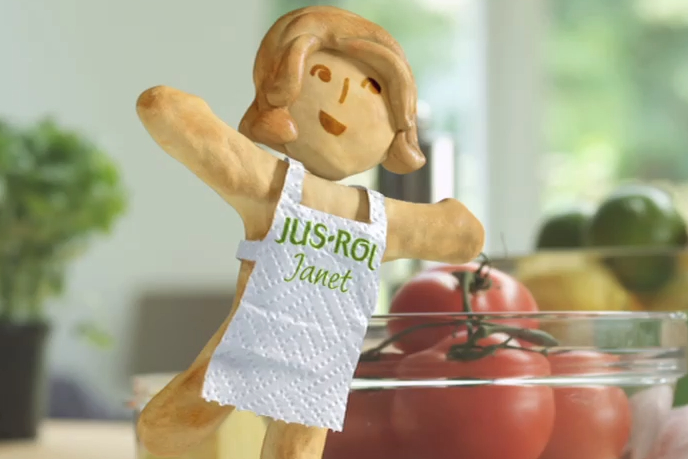 Animated Janet did have a real-life inspiration: an independent home economist named Janet Bishop. Bishop was such a fixture at UK food exhibitions that the sales and marketing teams would refer to her as "Just-Rol Janet."
Does Jus Rol Janet look like she might be related to any other characters on our list? She definitely is! According to the General Mills History Tumblr, Jus-Rol Janet is Poppin' Fresh's UK cousin. These two know how to bake it like they mean it!