Legend — or rather, Drake's Cakes lore — has it that a duck named Webster was born to be the face of the snack brand.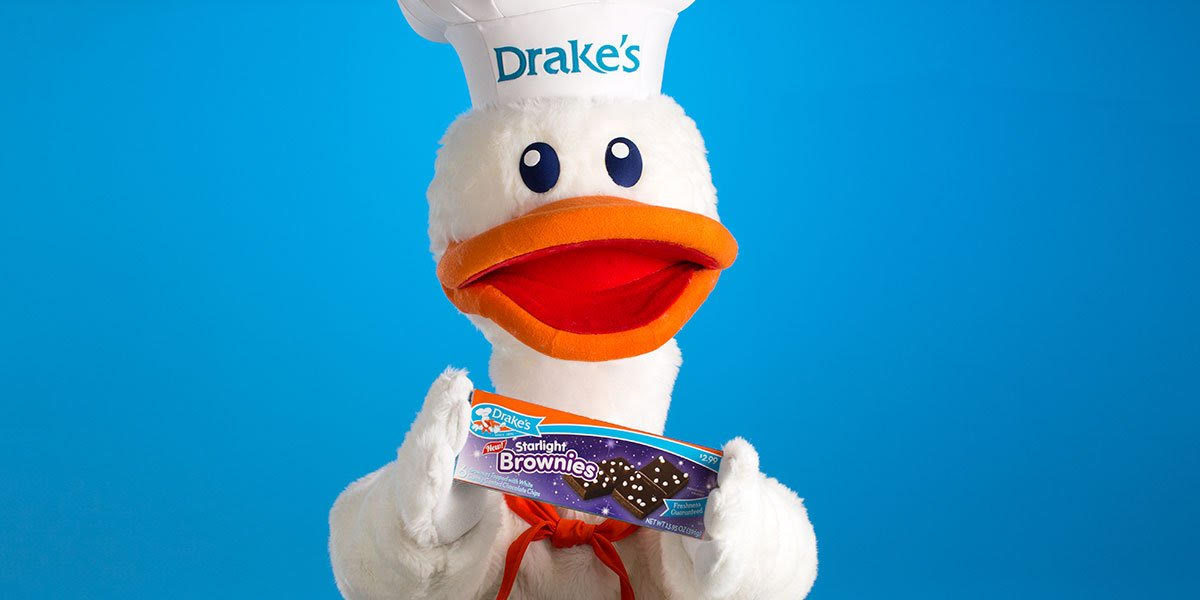 You can't miss him on Drake's Cakes snack packaging. Webster is clad in a chef's hat with an orange neckerchief, bright orange beak, and giant grin across his face. How did such a cute duck get chosen to represent iconic snacks like Starlight Brownies and Ring Dings, and what's the story behind his meme-loving Twitter presence that quacks us up? Let's fly back to the beginning — a little over 120 years ago — for Webster's origin story.
The Baking Legacy Of Newman Drake
In 1879, an American entrepreneur named Newman Drake began working at Vanderveer & Holmes Biscuit Company. Drake had an interest in the baking business and became a foreman in the bakery by 1891. Shortly afterward in 1896, Drake started his own baking business. He opened N.E. Drake Baking Company in New York City, where he baked all sorts of pound cakes. The locals loved his baked goods, and Drake later opened a second bakery with his brother Charles in Brooklyn in 1902.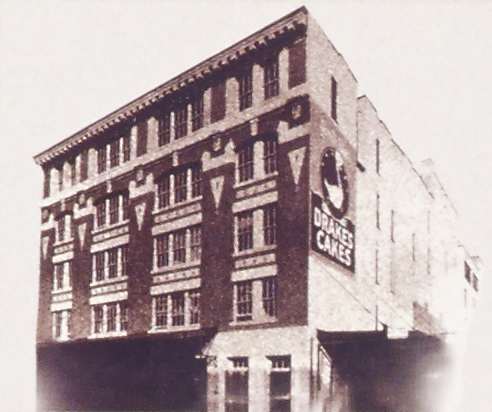 Drake was on a roll. His business expanded, adding another bakery to Boston in 1905. By 1913, Drake's cakes were so beloved that other bakers were baking their own cakes in an attempt to compete with the company. Shoppers were encouraged to look for the Drake name at the bottom of each cake loaf, as the cakes were baked with paper pan liner perforated with the Drake's name. The Drake's brand name was literally baked into every cake.
However, the company couldn't bake their brand into cakes forever. By 1924, Drake had reincorporated the company as Drake Bakeries, Inc. and opened another bakery location in New Jersey.
The Duck Arrives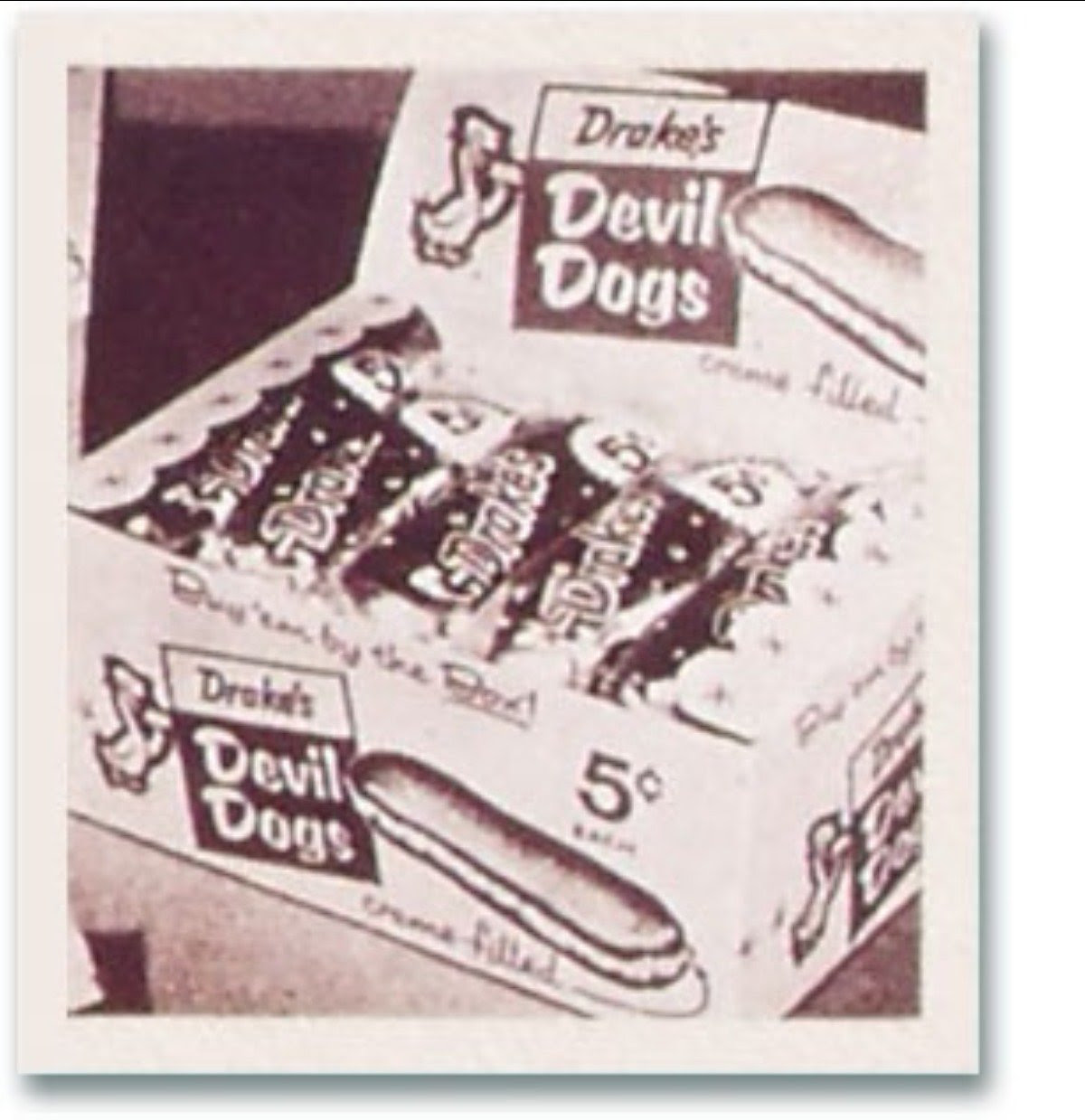 In the mid-1920s, a duck began to appear on packaging for Drake's Devil Dogs and promotional materials. The stars truly aligned with the choice to use a duck as the brand's character representative. Male ducks are also known as "drakes," which was a fitting tie-in with the company name.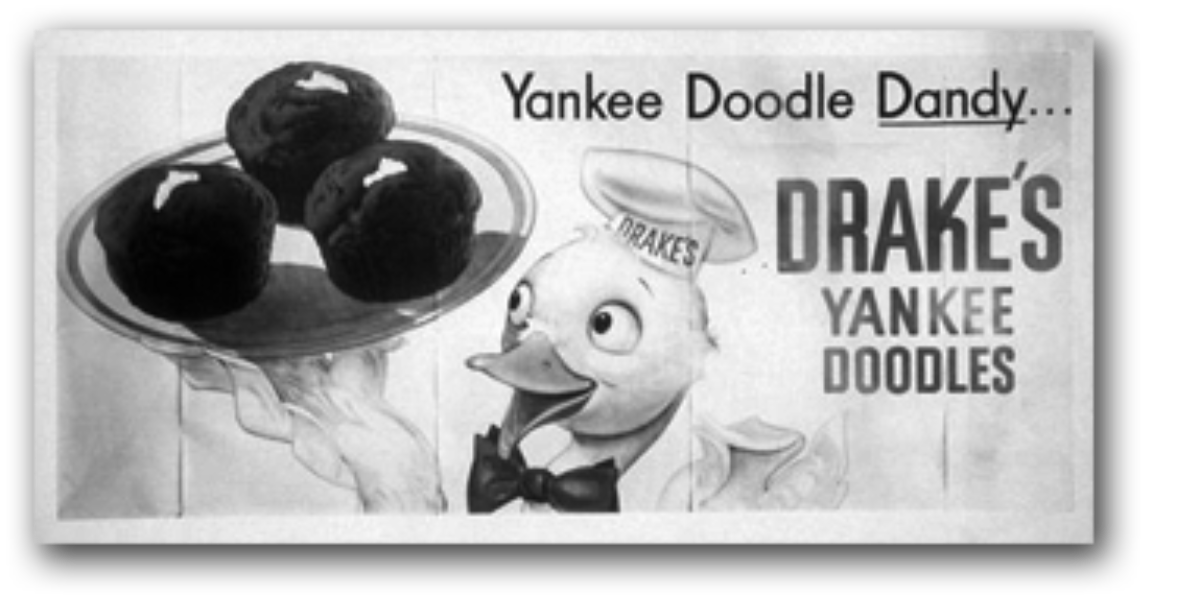 Decades passed, and more treats like Coffee Cakes and Yodels were introduced into the brand's lineup. The duck's overall look and design also evolved with the changing years. The most prominent changes were often found in his mouth (occasionally open and closed) and attention to feather details. The Drake duck, however, remained nameless until the 1980s.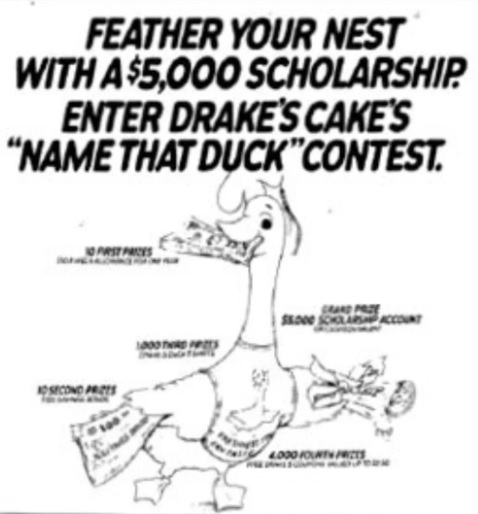 Meet Webster
Consumers were encouraged to join in Drake's Cakes "Name That Duck" contest in 1981. The winning name was "Webster." It was yet another perfect tie-in since ducks have webbed feet, hence Webster!
Webster In 2019 — And Beyond!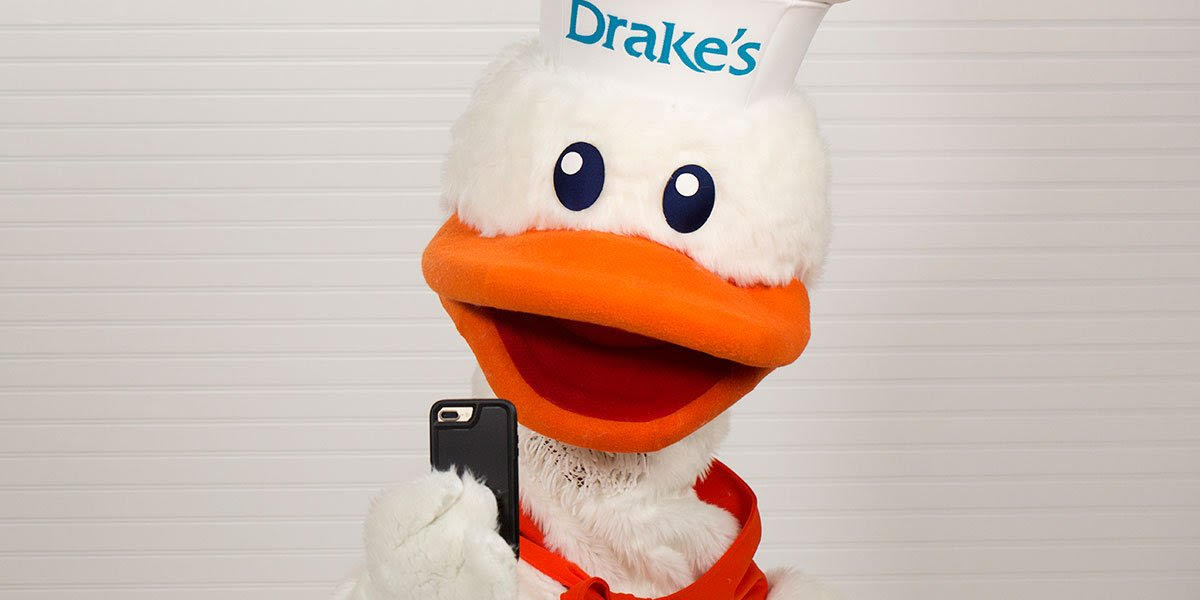 Webster has come a long way from his early days as an illustrated drawing. Now, he's a seven-foot brand ambassador with an equally larger than life social media presence. He tweets, posts on Facebook, and shares photos and stories on Instagram. There's no denying it: Webster has reached influencer status.
Despite how much he spreads his wings online, Webster doesn't let anything go to his head. Behind every tweet and post is plenty of passion for his favorite cakes and pies.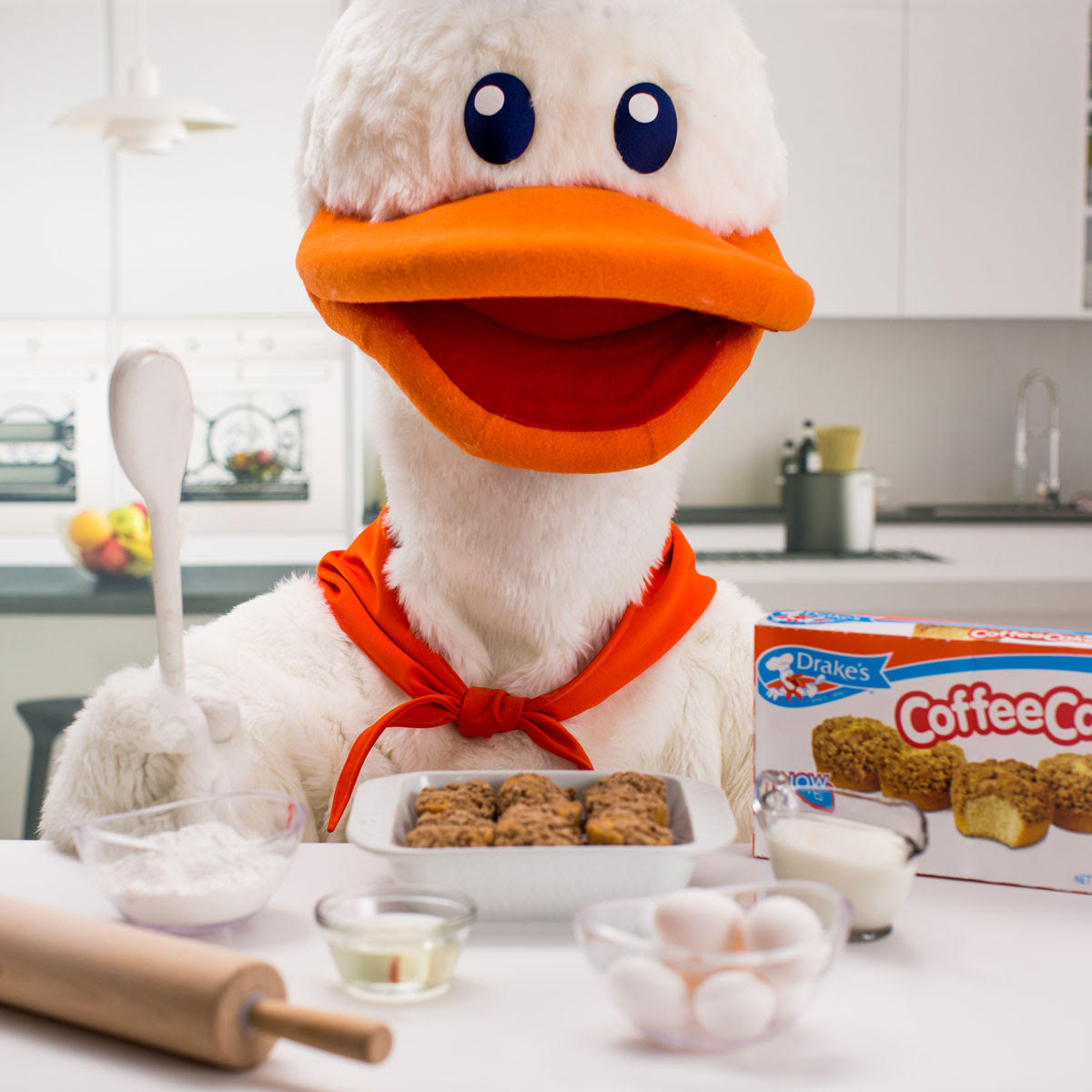 In celebration of the Drake's Cakes 123rd anniversary this year, Webster is baking up a storm in the Drake's Cakes factory. He's also sharing the love on and off social media. Webster has a fun loving personality, so expect his postings to ruffle a few feathers (in a good way!) with his clever puns and an unyielding love for the Drake's Cakes baked into everything he does.