For six decades, the Clio Awards have awarded the crème de la crème in advertising campaigns and celebrated the industry as a whole. With the next awards ceremony slated for September 25th, the Clios are embracing the golden age of advertising.

Illustrator Sam Spratt has captured some of the ad world's most famous creatives, and their respective icons, in a new digital mural.
Who's Who: Creatives
As one scrolls through the Renaissance era-inspired mural, they'll highlight various famous faces scattered throughout the image. Here's a look at the heavy hitters not to miss out on.
Leo Burnett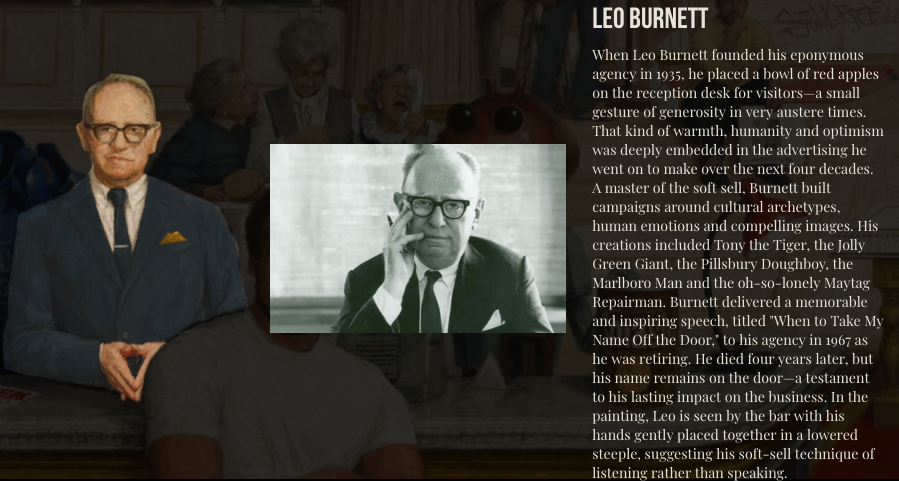 We wouldn't have characters like the Green Giant, Tony the Tiger, or the Pillsbury Doughboy if not for the creatives employed at Leo Burnett's ad agency. Famous for keeping a bowl of apples on his reception desk for visitors, Burnett was a master of the soft sell and reaching human emotion through advertising. His name still remains on the agency's door, long after his famous "When to Take My Name Off the Door" retirement speech delivered in 1967.
Mary Wells Lawrence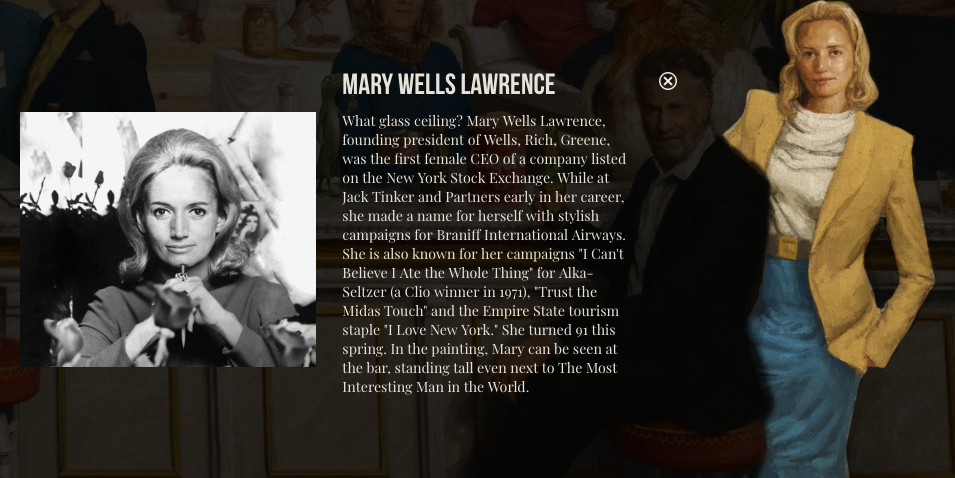 "That's all she said, one word. 'Nifty.' To me, however, it was like fireworks had erupted over Madison Avenue. Mary liked my work."
This quote, pulled from advertising creative Howie Cohen's book "I Can't Believe I Ate Lived The Whole Thing," sums up the first impression of Mary Wells Lawrence, founding president of ad agency Wells, Rich, Greene.
However, contrary to what is printed in the image of Wells, she did not personally coin the Alka-Seltzer tagline "I Can't Believe I Ate The Whole Thing." The credits actually go towards Cohen and his creative associate Bob Pasqualina.
Rich Silverstein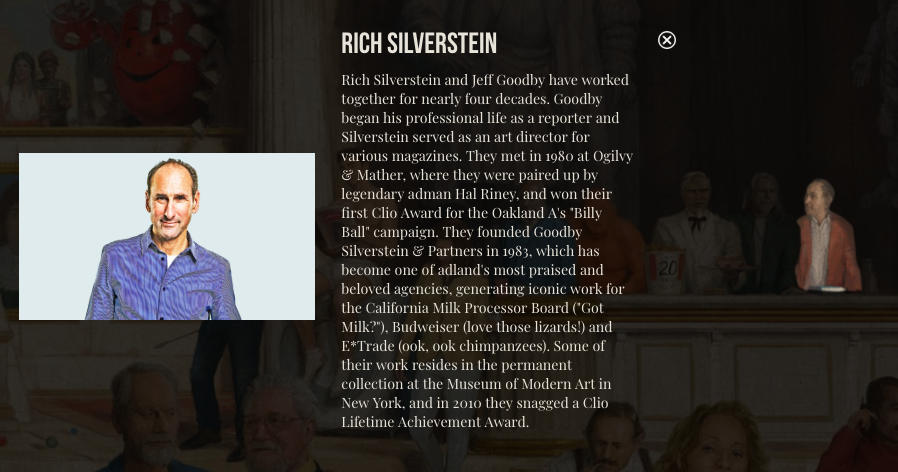 Got Milk? The ad world owes Silverstein, and his Goodby Silverstein & Partners co-founder Jeff Goodby, endless gratitude for creating one of the most iconic catchphrases in decades for the California Milk Processor Board.
Linda Kaplan Thaler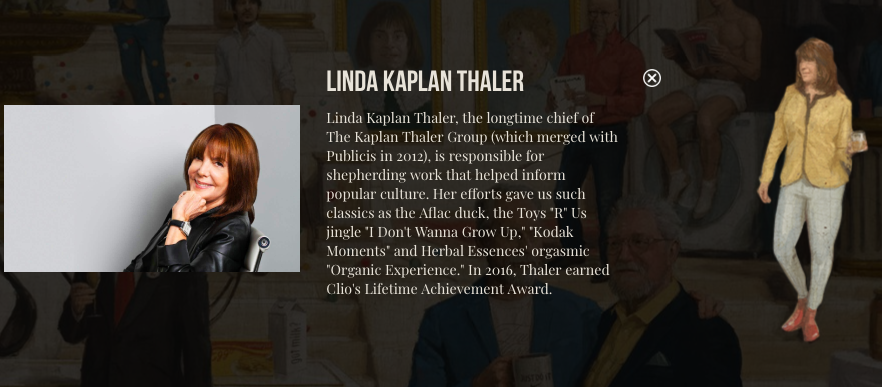 We were lucky to have Linda join us last year at #AWNewYork where we celebrated our 15th anniversary. As President of Kaplan Thaler Productions, Linda has long played a pivotal role in the ad industry. She wrote the "I Don't Wanna Grow Up" Toys "R" Us jingle, created the Aflac Duck, and created a 2018 campaign called Two Chill Eggs for Extend Fertility.
Who's Who: Icons
Much like the creatives, there's an absolute sea of icons featured throughout this mural. Many even take forms different from their usual designs, so let's see how many we can find…
Ronald McDonald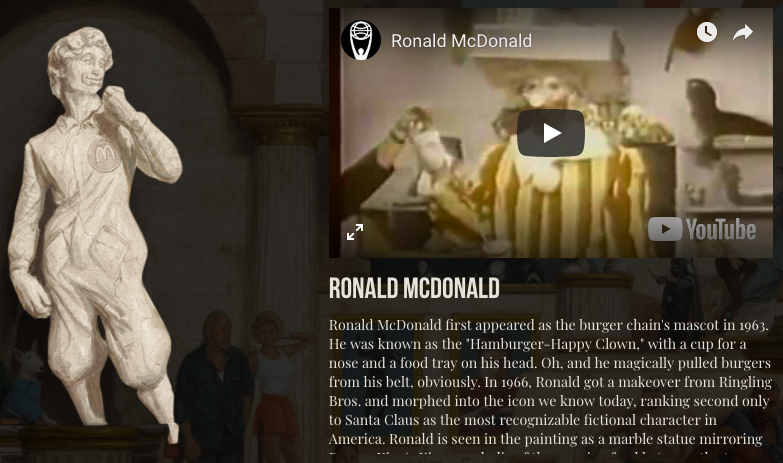 Doing his best impression of Michelangelo's David statue, the McDonald's icon loves to see you smile. We only wish we could see if he's wearing his big red clown shoes!
The Kool-Aid Man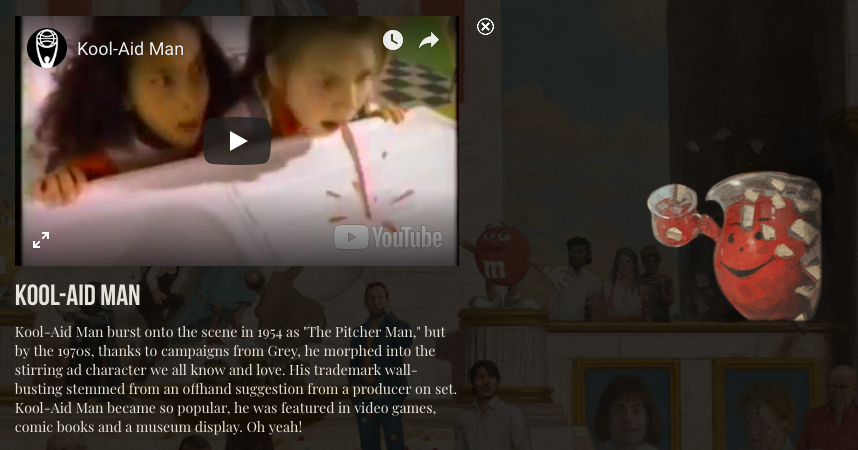 I mean, can you imagine Kool Aid's The Kool-Aid Man making an appearance in a mural that didn't involve busting through a building? Oh yeah!
M&M'S

Friends, Romans, countrymen, ad men, mad men, lend me your ears. That's Red from M&M'S doing his best Julius Caesar impression. Other M&M'S characters, like Yellow, are also included in this mural.
The Burger King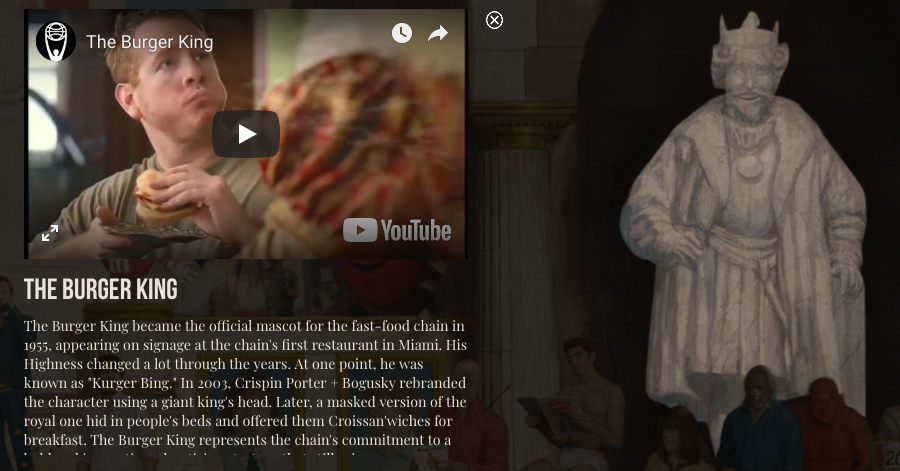 Yet another statue, but the Burger King icon could always use more bling in his look.
The Most Interesting Man In The World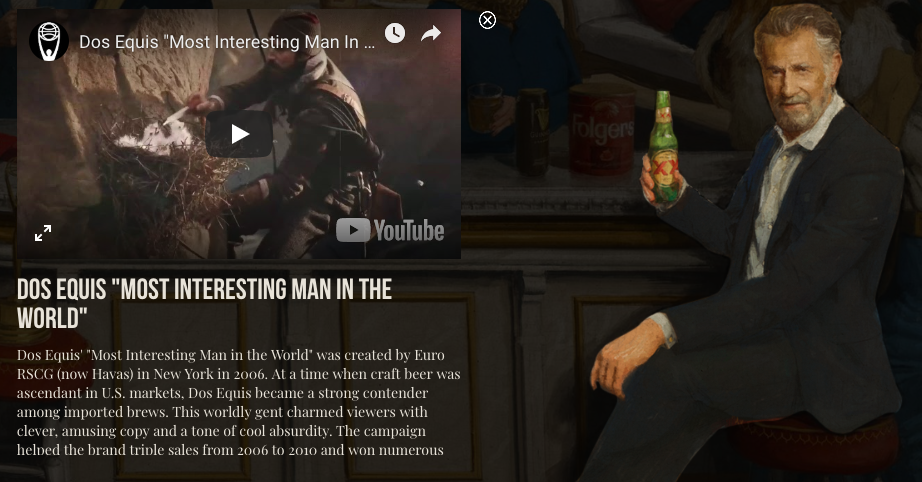 The Dos Equis icon doesn't always pose for murals, but when he does he likes to be at the bar — and right next to Mary Wells Lawrence.
GEICO Gecko
Blink and you might just miss The Most Interesting Man In The World's unlikely barmate, the highly refined, green Gecko for GEICO's insurance company.
Budweiser Frogs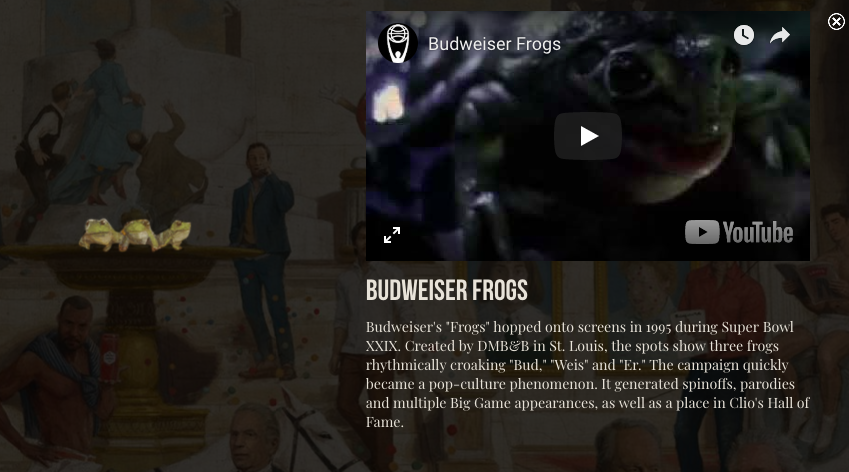 Bud. Weis. Er. The Budweiser frogs made it into the mural, and are appropriately spotted in its fountain.