At first glance, "A Recipe For Seduction" looks like it came straight off the page of Lance Ford's Brand Name Films Instagram account. This account turns brands, and their iconic brand mascots, into original films we'd love to watch.
Colonel Sanders, the iconic face of KFC, has yet to be immortalized into this fake movie studio. When and if he is, however, it will be tough to top the actual mini-movie coming out about the brand mascot: "A Recipe for Seduction."
Secrets. Betrayals. Drama. Original Recipes.
"A Recipe for Seduction" is a Lifetime Original Mini-Movie presentation from Lifetime and KFC. Airing December 13 at 12 PM EST/PST, the Mini-Movie lives up to its pint-size nature at a run time of 15-minutes.
What's it about? Let's cobble together a plot based off this trailer. Jessica seems to have it all: lots of money, a big house, and a preppy dude proposing to her. But there's a catch. She's falling for the resident chef — and his secret recipe.
Love and fried chicken. It's a match made in heaven, isn't it?
Of course, this news does not bode well with the rest of the people in Jessica's life. Everyone from her mother to the J.Crew-clad wannabe fiancé is doing everything in their power to stop the chef. Even if it means… murder.
Whew. Suspense has never felt so finger lickin' good.
Who Will Play Colonel Harland Sanders?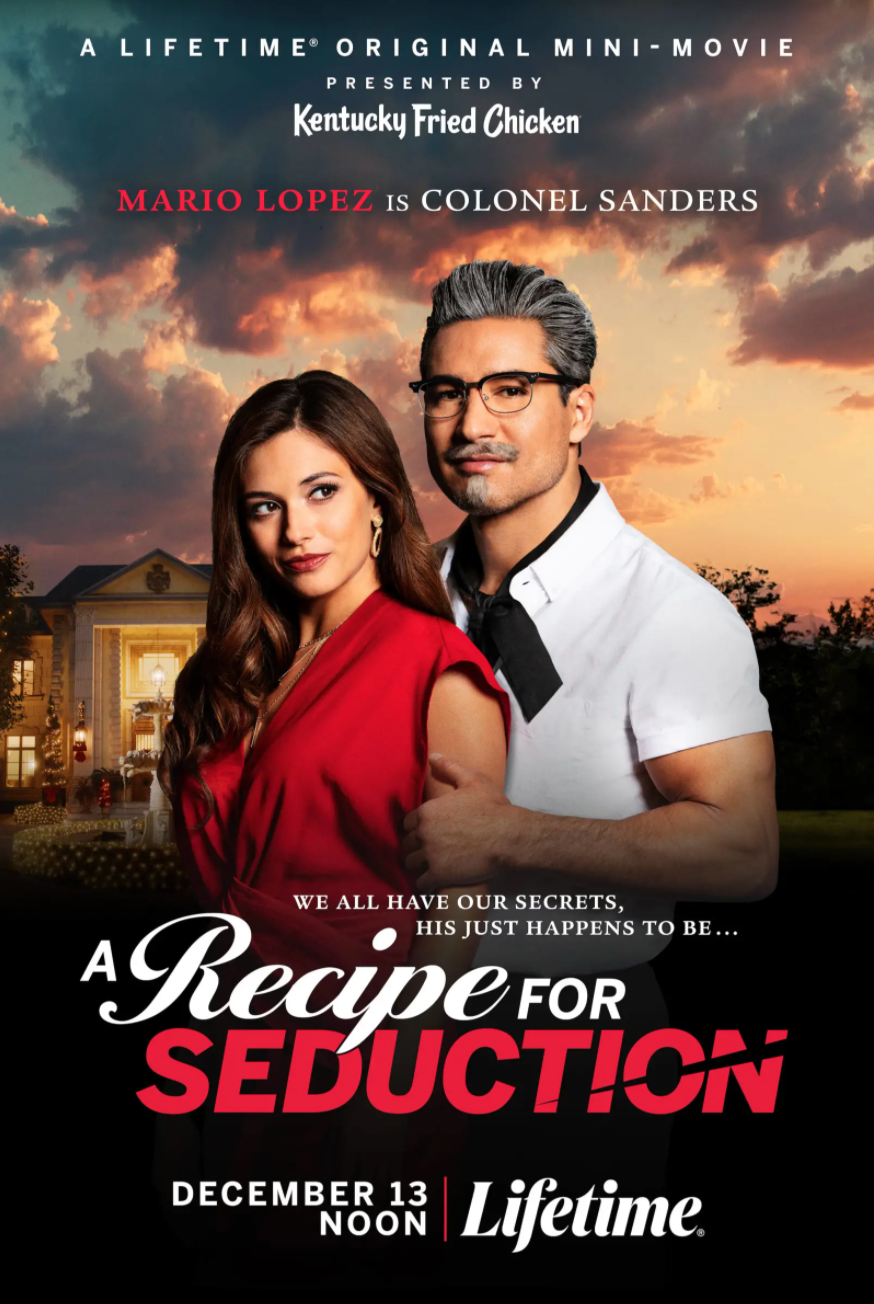 Stepping into the role of Colonel Sanders is none other than actor Mario Lopez. You can call him Harland Sanders, the new chef.
We've seen many iterations of Colonel Sanders over the last decade, but this may be the most buff Colonel yet. Howdy folks, indeed.
Lifetime Original fam, you know what to do! Order a KFC bucket meal for delivery with all your favorite sides through Uber Eats or curbside pickup. Report back with your mini-movie viewing reviews — or better yet, live-tweet 'em out. The world needs to know what happens next with Jessica, the Colonel, and those secret Herbs & Spices.