My first introduction to Philthy was when I was assembling a list of brand mascots creatives wanted to grab a drink with post-quarantine — and ideally, post COVID-19 pandemic. Philthy, who also goes by Phil, is the brand mascot for Yards Brewing Company's latest beer in Philadelphia, Pennsylvania.
Anything goes in the world of brand mascots. The canon is full of vegetable-loving giants residing in valleys, vampires venturing out during Halloween with ghoulishly delicious chocolate cereal, and elves baking cookies inside a magical hollow tree. (Green Giant, Count Chocula, and the Keebler Elves, respectively.) Philthy is equally in a league of his own. The character has crooked teeth, a brown mustache, and a small form with little feet. The closest appearance comparison I can make is Audrey II. You know, the persuasive, ravenous Venus flytrap in Little Shop of Horrors? It's something about all the teeth…
I wound up going the "safe" route with the piece. I wrote about alcohol and spirits mascots with a reputation for their easygoing charm, many of which appear to be loosely imbibing before their arrival to the bar. Exhibit A: Johnnie Walker's The Striding Man. Exhibit B: Dos Equis' The Most Interesting Man in the World. And so forth — this is not a short list of suave and sophisticated libation icons.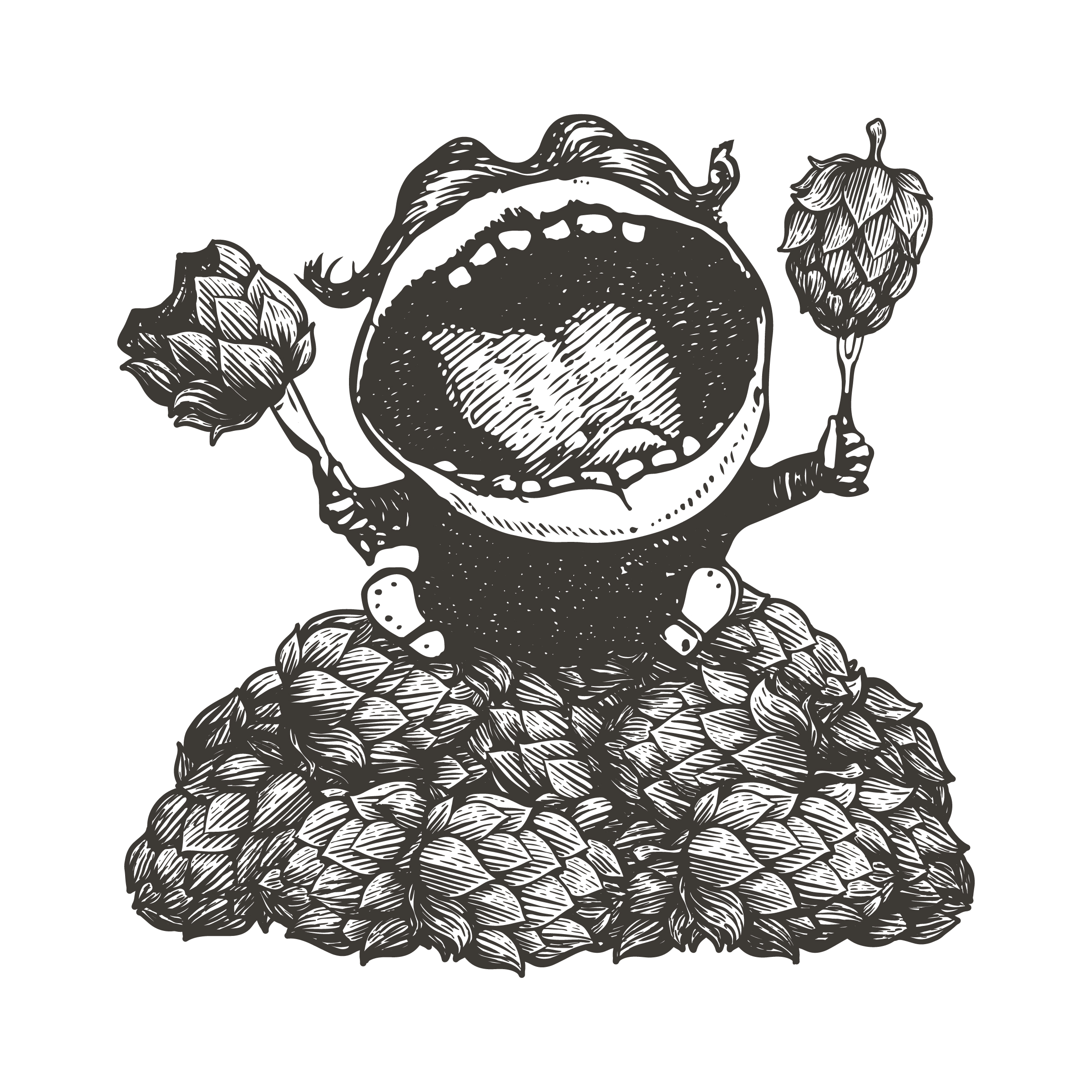 Can't Stop, Won't Stop, Thinking About Philthy
Philthy made an unusual first impression on me. Unlike his refined counterparts, Philthy looks like he has already been to the bar and back. I don't think one can write off Philthy as a one-dimensional IPA party animal. There's more to Philthy than meets the eye.
Whatever Philthy is — be it a monster, hop devil, or another entity altogether — I gravitate toward the character. This is a rare brand mascot, made all the more fascinating since Philthy was born during the COVID-19 pandemic. The creatives at ad agency Brownstein Group brought him to life as part of a new brand identity for Yards Brewing Company.
Where did the inspiration for this kind of beer critter come from? What It's like to introduce a brand mascot to the world during a pandemic? And what is Philthy, again? I spoke with the creative team at Brownstein Group to dig up the unique backstory behind Philthy's memorable entrance into the IPA world.
"Unfiltered Philadelphia"
Philthy started as a name, not a character. Jess Pernick, who handles client service at Brownstein Group, knew that Yards Brewing Company was eager to enter the market for Hazy IPAs. It's a crowded market, so making a bold entrance was necessary to set their craft brewery apart from the competition.
It was also critical that Yards' new beer reflected The City of Brotherly Love. "This new beer needed to embody our city and marry the beer variety's unfiltered, dirty, hoppy attributes with an intrinsically Philadelphian attitude," Pernick explains. "It needed to resonate with our audience."
The creative team was then briefed with the task of coming up with a concept that represented an "Unfiltered Philadelphia."
Ryan Cook, associate creative director, copy, says the beer's name was decided well before discussions of creating a brand mascot.
"We were trying to come up with a name for the beer while connecting this hazy, unfiltered beer to the city of Philadelphia," Cook says. Philly, the team unanimously agreed, was an unfiltered city. Residents have never been afraid to speak their minds. They take pride in Philadelphia, a city with a so-called 'dirty' reputation.
"We came up with the name 'Philthy,'" Cook says. "The client was immediately sold."
Over 100 names were brainstormed and vetted by the team. Notable names left on the cutting room floor, according to Cook, included Hazy Suzan, Rainy Day Haze, Frickin' Hazy, and Colonel Hayze.
None had the unusual gleam that surrounded Philthy. The Philthy IPA was described as living up to its name. An ale with a citrusy hop character that is offset with a lighter body and enough bitterness for a bite. It's a bold and hazy IPA that shows you who it is — just like the city of Philadelphia.
Adrian Castillo, creative director at Brownstein Group, recalls the excitement of that moment. "We landed on Philthy and were really excited to see where it would take us."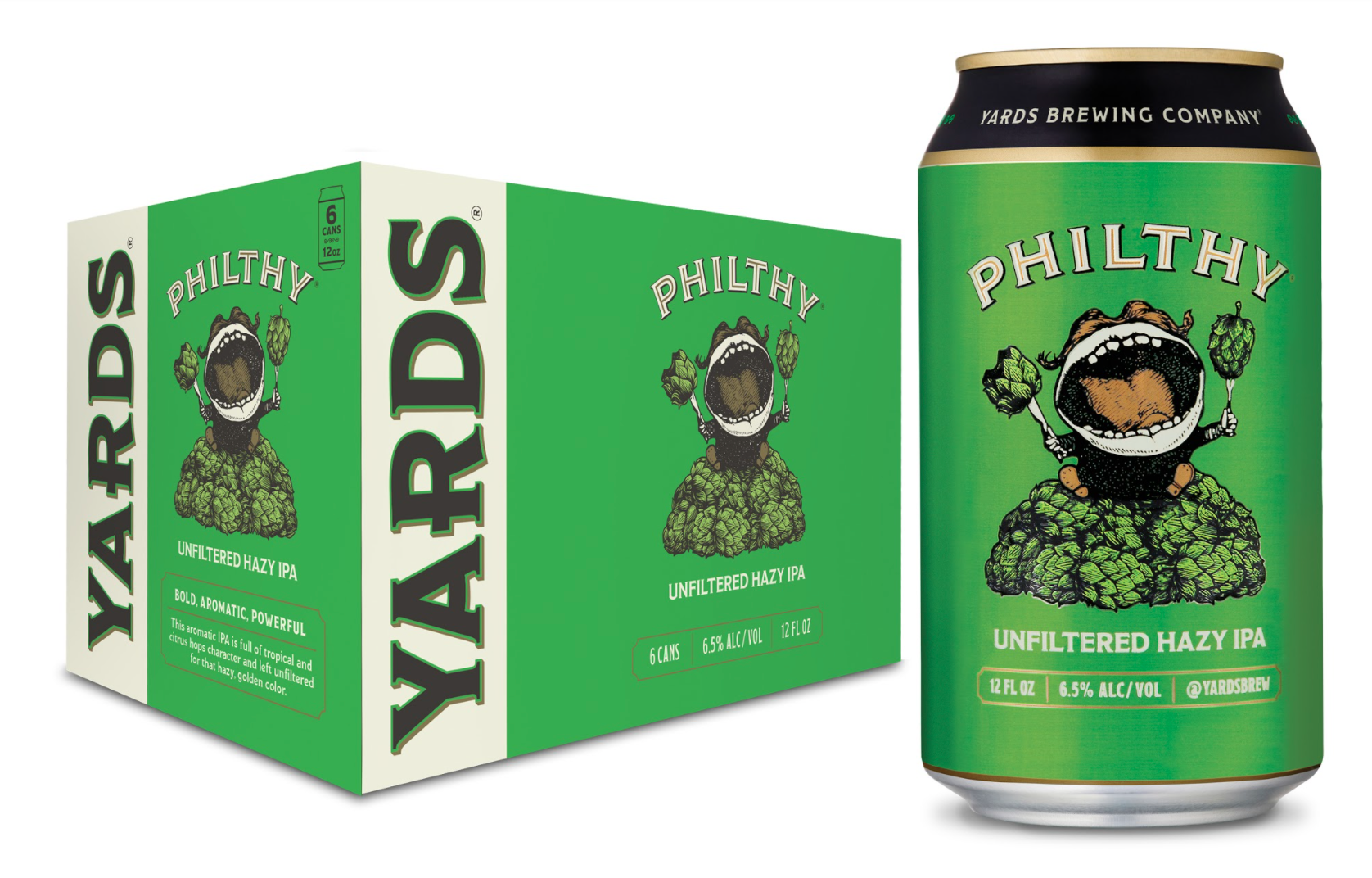 Finding Philthy Illustration Inspiration
Original concepts for Philthy, according to Cook, included a pair of boxing cats. Other potential characters included a fox with a top hat and a fictional revolutionary war hero, the latter of which (almost) harkens back to the typical dashing standard for alcoholic brand mascots.
None of these characters ever felt quite Philthy enough.
It was Brownstein Group designer Matt Rondos who became the mastermind of Philthy's character design.
Rondos found himself going through the Yards Brewing Company archives. He also combed through old Victorian art. Rondos noticed that previous iterations of Yards beers had a vintage aesthetic and he wanted to match it with Philthy.
"I unearthed an illustration of this strange, big-mouthed fantasy character from a book of Swiss nursery rhymes," Rondos says.
The illustration, as Rondos describes it, had a great big mouth. It had the attitude of a trickster, which Rondos thought could be used to inspire Philthy as a brand mascot.
"We thought that this was the philthiest illustration we could find!" Rondos laughs. "Phil was coming to life."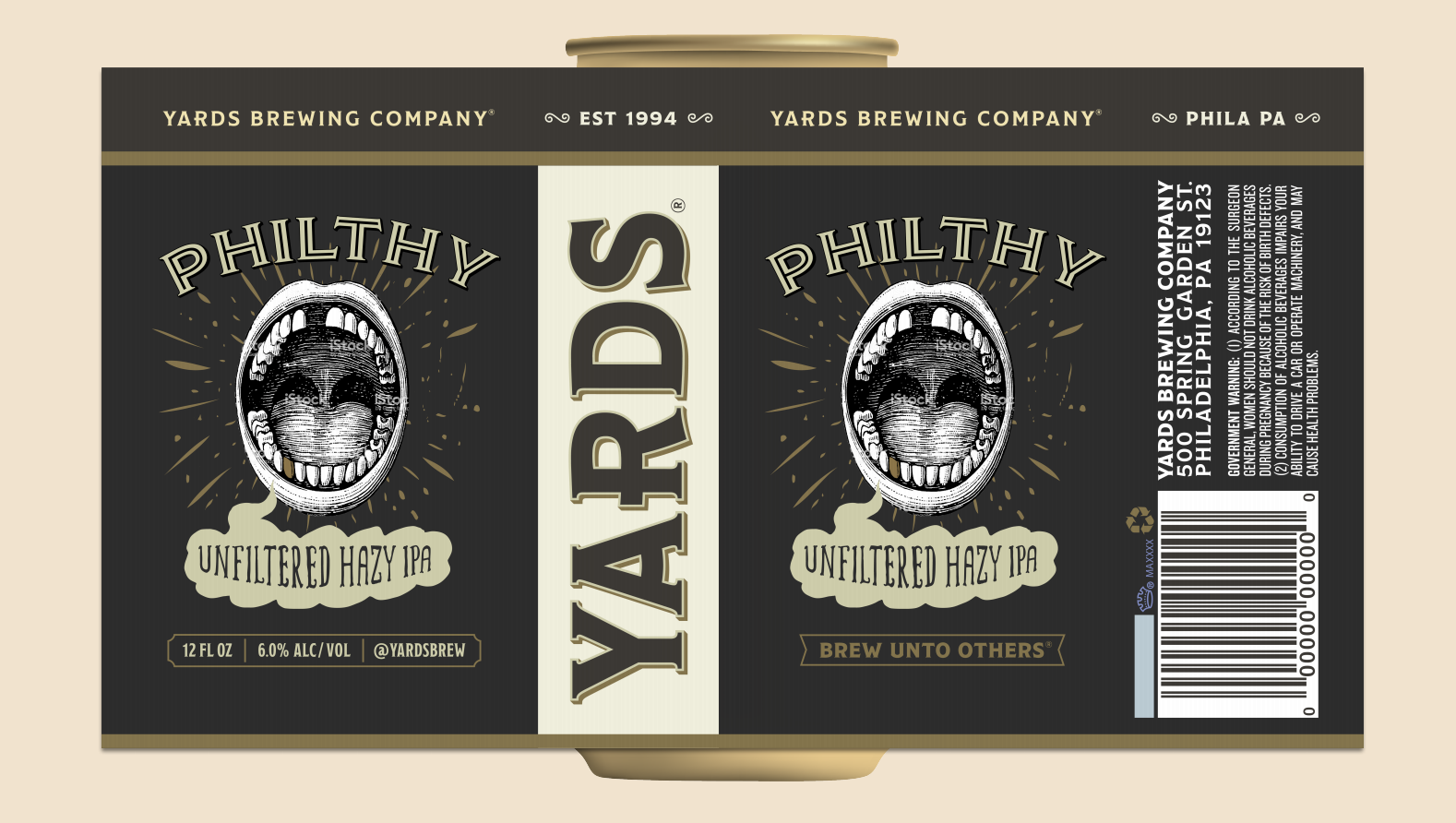 Philthy Stats
Speaking of life, let's share a few quick Philthy character stats.
Name: Philthy, or Phil. Sometimes known by the alias "What the Heck is That?"
Age: Unknown.
Date of Discovery: April 2, 2020.
Height: 1.75" (when he's not slouching)
Weight: 12 fluid ounces.
Eyes: None. N/A to the eye color, too.
Hair: Mustache.
Language: Philthanese. Cook describes Philthanese as 'a bunch of garbling noise.' It's uncensored and may sound like nonsense, but it communicates the attitude of Philly.
"He became popular within our agency, fast," Castillo says. "Yards has other beers under their brand that use illustrations on their labels so we explored that direction as an option. Once the team found that creepy little guy, we wouldn't stop talking about him. Anyone who saw it would say, 'What is that thing?'"
Should a Brand Debut a Brand Mascot in a Pandemic or Not?
The creatives in Brownstein Group were fortunate to finish the design and packaging before quarantine began. Philthy was originally scheduled to launch in March, but then the pandemic hit.
The team had to quickly address whether they would launch Philthy during the pandemic or delay for a later date. Ultimately, Yards moved forward with the launch. The outreach strategy was adapted to reach customers at home. Social media focus was also prioritized. Phil chose to wreak havoc on Yards social media posts via platforms including Facebook, Twitter, and Instagram.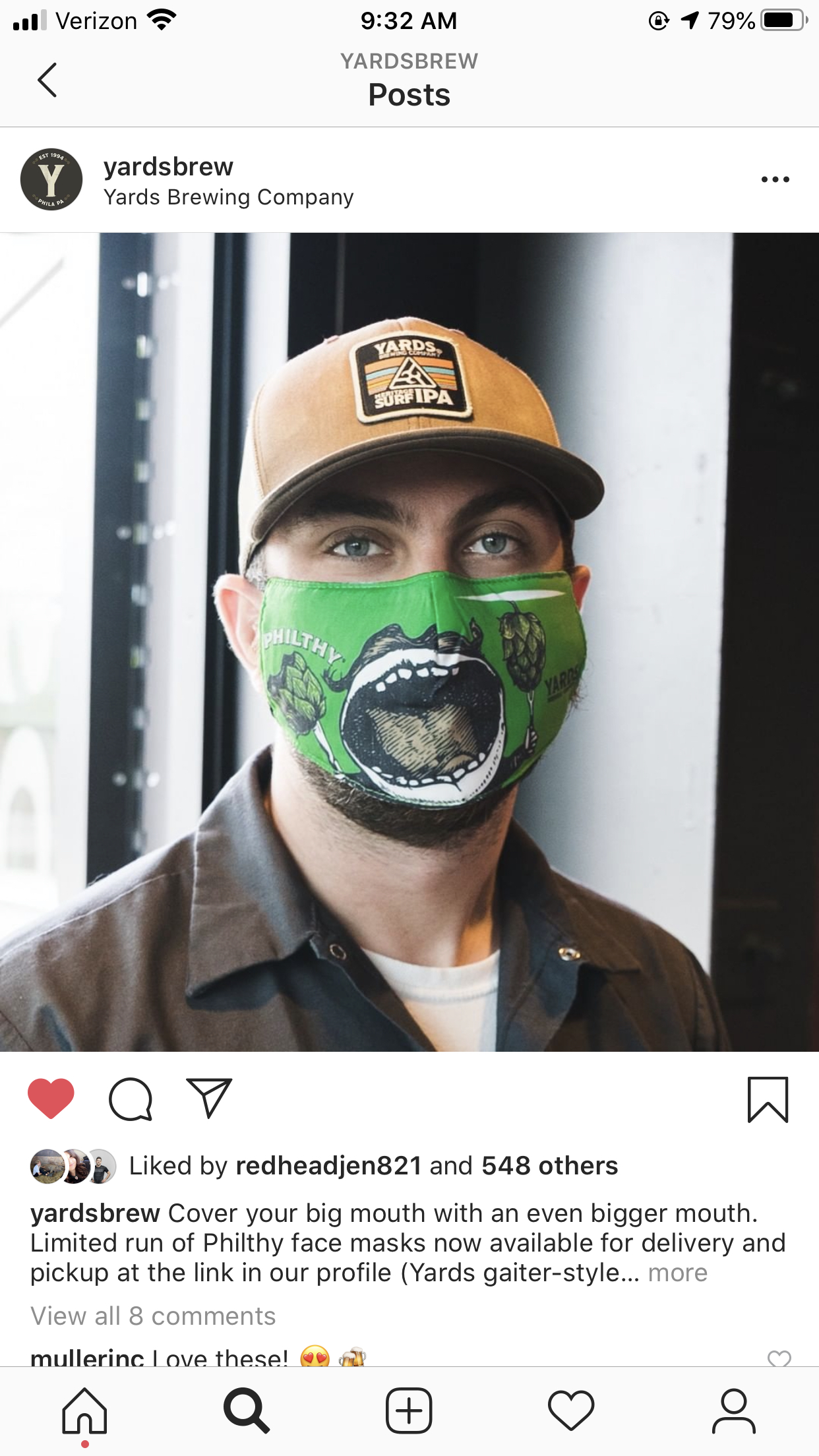 Part of the launch plan also included a line of Philthy merchandise. The efforts for this merch were paused, but by then Yards employees were too enamored with Philthy. In addition to reaching customers at home, they got creative with COVID-19 safety guidelines. Philthy face masks were made, along with social distancing floor decals for the taproom.
Philthy's Origin Story
Cook can sum up Philthy in one word. The dude's a bastard.
"Bastard is the one word I'd use to describe him," Cook says. "Hands down. It describes his mysterious origins and his attitude."
Brownstein Group does have a canon description for Philthy that they were so kind to share with me.
The Thing. The Myth. The Legend.
"Have you ever said something and immediately wondered, 'That doesn't sound like me. Why did I do that? Did I really say those things?' Don't worry. You didn't. But, we know who did…
His friends call him 'Phil.' Since he doesn't have many, you can call him 'That Philthy Little Hop Monster.' He's the foot in your mouth. He's the thing that makes you say before you think. He's the reason Philadelphians have no filter.
Where did such a creature come from? Has he always been here? And if so, why won't he show us his tax returns? This charming little monster has a hazy history. Some say he was around during the American Revolution, whispering inspirational gibberish into the ears of our founding fathers. Others claim that he comes from the Philly sewers, spawned in a primordial ooze of pretzels, scrapple, and beer. 
Whatever his story, one thing is certain:
Wherever he goes, unfiltered mischief and hops are never far behind.
So, shine on you crazy little monster and let your Philthy flag fly.
There's also a fairly distinctive noise that sums up Philthy. It may be even more fitting than referring to him as a bastard.
"Actually, the sound of a belch probably sums him up better," Cook muses.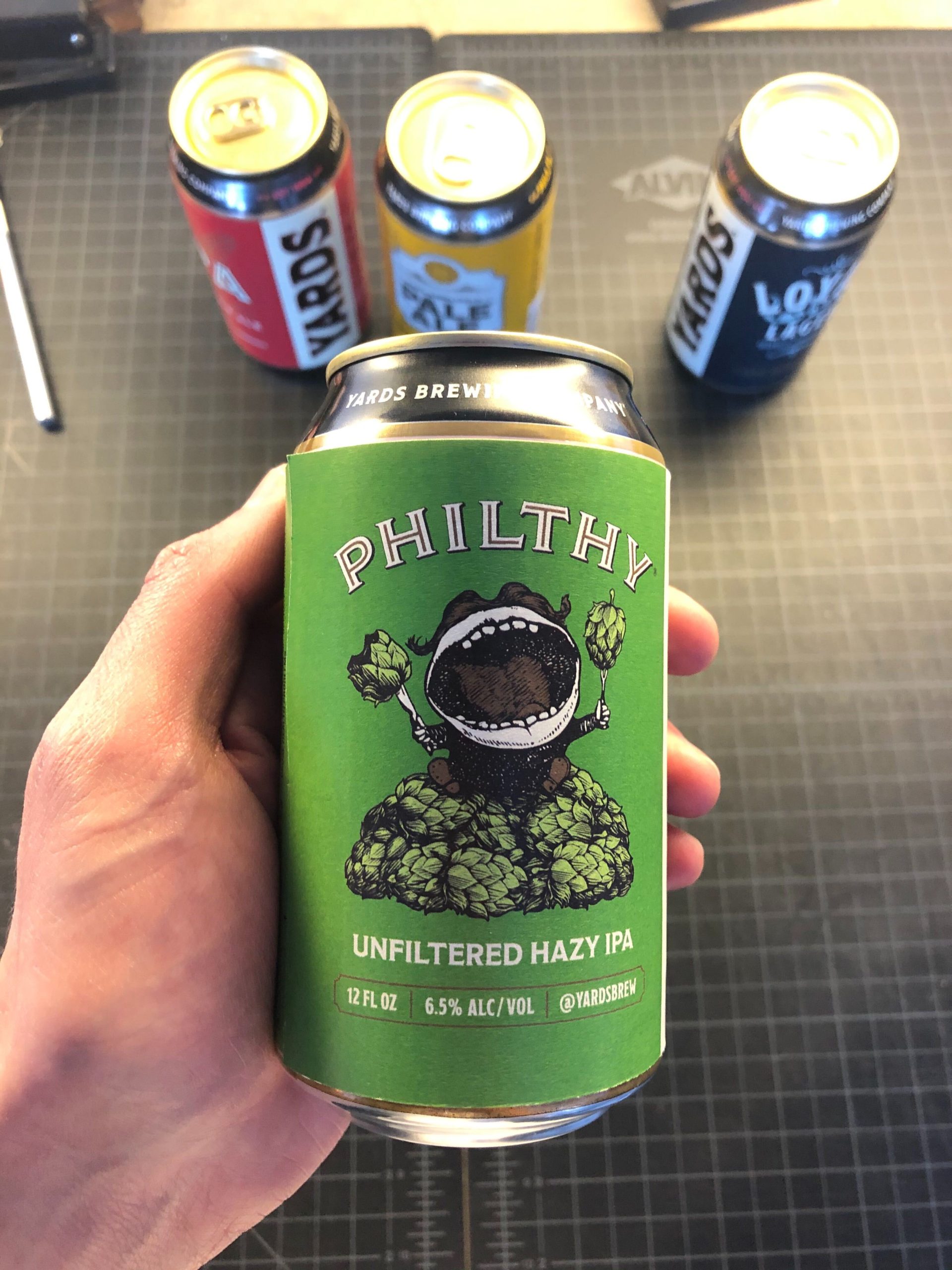 The Future Is Philthy
How do customers, especially the citizens of Philadelphia, feel about Philthy? So far, Yards Brewing Company has seen plenty of positive feedback in response to the character's launch. This is especially true on social media platforms where Yards Brewing enthusiasts tag their Philthy cans and contribute to user-generated content. Even Philadelphia's local ABC affiliate 6abc did a TV segment feature about Yards!
For now, Philthy continues to live on social media and packaging. Anything is possible once shelter-in-place fully lifts. A Philthy commercial? It could happen for the hazy IPA! Just be prepared for plenty of Philthanese to explode out of this energetic loudmouth.