Post-pandemic, have you thought about which brand mascot you would meet at the bar for a celebratory drink? There's only one drinking game rule to follow: the character must represent an alcohol brand. (Sorry to our fellow chaser and mixer nominees!)
Months of quarantine are making us stir crazy to spend time with our favorite libation icons. These are the characters the ad industry most wants to share a toast with once lockdown lifts.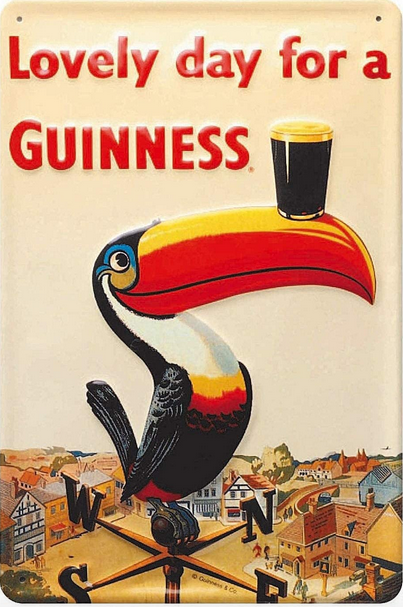 The Guinness Toucan
One of the longest living ad campaigns for Guinness, the iconic beer stout, is "My Goodness, My Guinness." A performing sea lion at a zoo caught the eye of artist John Gilroy. He saw in that sea lion an animal that was smart enough, in his creative interpretation, to balance a glass of Guinness beer on its nose.
Gilroy began working on the "My Goodness, My Guinness" campaigns in 1928. He used a caricature of himself to step in the role of a hapless zookeeper. Try as he might, the zookeeper could not keep up with this animal kingdom. Lions bounded after him and monkeys sipped pints while swinging upside down. Even an ostrich swallowed an entire Guinness glass! The wildly successful ad campaign starring wildlife enthralled audiences well into the 1960s.
The most famous character to emerge from the campaign was a toucan bird. Catina Cricco, Graphic Designer at Haddad & Partners, would love to grab a frothy stout Guinness and have members of the beer brand's character roster, including the infamous trickster toucan, join her at the bar.
"I'd like to sit down with the Guinness gang, crack open a few cold ones, and learn their witty, wild ways." Cricco says.
Hey, who's paying up at the end of happy hour anyway? "When it comes time to pay, we'll put it on the Toucan's bill," says Tim Courchaine, Sales Representative at Local Spark Marketing.
Frank Bartles and Ed Jaymes
Ready to kick back with a few Bartles & Jaymes wine coolers? Fans of the drinks from the 1980s and early '90s will remember this ad campaign created by advertising executive Hal Riney.
In the spots, folksy Frank Bartles (actor David Rufkahr) and Ed Jaymes (actor Dick Maugg) sit porch side and talk about their wine coolers. Throughout the commercials, we learn about the easygoing pair and their refreshing drink. The name for the wine cooler, for example, was inspired by their surnames
Mariana Costa, Executive Creative Director at Blue Sky Agency, longs to grab a spot on the porch with this down to earth duo.
"They're my type: funny, smart, no thrills guys that also happen to be advertising icons of the '80s." Costa says. "Plus, whatever happened to wine coolers anyway?"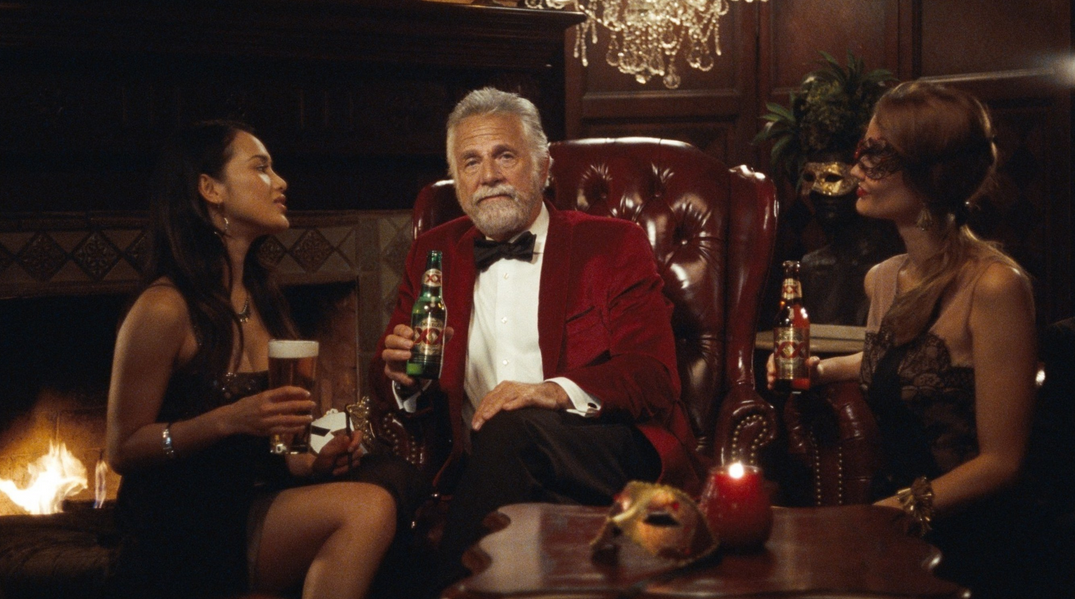 The Most Interesting Man in the World | Dos Equis
If he were to pat you on the back, you would list it on your resume.
When he has a 50/50 shot, the odds are 80/20 in his favor. 
He has won the lifetime achievement award, twice.
There's only one man, myth, and legend that has ticked off all of these boxes. It is none other than the Dos Equis' Most Interesting Man in the World.
Played by actor Jonathan Goldsmith, this is the drinking buddy of choice for Craig Singleton, copywriter and creative at 4K Copywriting. Singleton even nominates the Dos Equis icon as a potential MasterClass instructor.
"Even if it were for only a day, his MasterClass could offer so many valuable life lessons." Singleton says. "He could teach you how to develop a COVID-19 vaccine using nothing by your own sweat. You could learn how to run a marathon on your way to the grocery store. And of course, worldly offerings like how to learn the French language by watching a Russian subtitled silent film."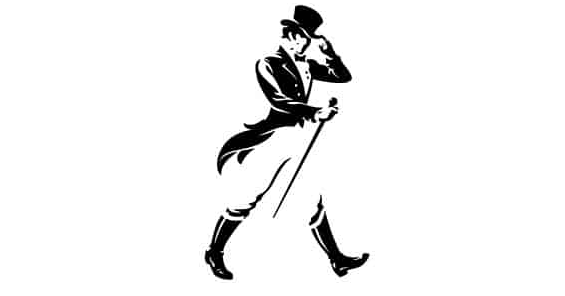 The Striding Man | Johnnie Walker
Quite a few creatives I spoke to could go for a few whisky sours right about now. Specifically, those drinks would be made using Johnnie Walker Black Label with its famous "Striding Man" illustration.
Established by a grocer named John Walker, the Walker whisky company would later be passed down to John's son Alexander. Alexander passed the company to his two sons, Alexander Walker II and George Walker, in 1889.
In 1909, Alexander and George renamed their new whiskies after their distinct label colors: Johnnie Walker Red Label and Johnnie Walker Black Label, respectively. Illustrator Tom Browne created a new logo for these whiskies. Legend has it that Browne drew the Striding Man on the back of a menu during lunch. Clad in boots and a top hat, the Striding Man has a classic look that appeals to every era.
"I could see us becoming best friends," says Sydney Eason, COO of CAD Management. The Striding Man's optimistic attitude would keep friendships strong well past the bar's closing time. After all, his advice, in difficult and prosperous times alike, remains "Keep walking."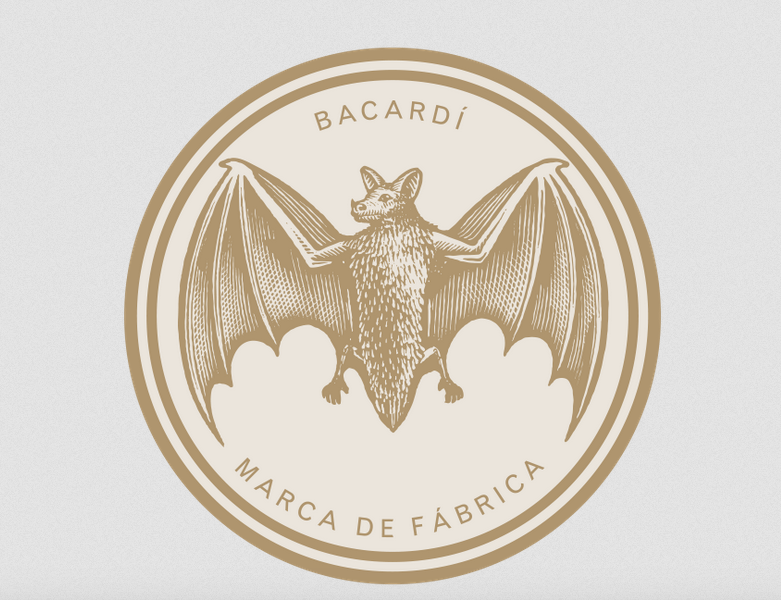 The Bacardí Bat
You know those scenes in movies where the entire bar goes silent for a few seconds? Usually it's because somebody walked in that knows not to make an appearance at that specific bar. Enter the Bacardí Bat. In these unprecedented times, the iconic rum mascot is associated with an unfortunate new identity.
Kimberly Panagis, account executive at Nelson Schmidt, would absolutely pull up a stool next to the Bacardí Bat. "I want to check in and make sure you're doing okay," Panagis emphasizes. "Your species is getting a bad rap, but it's not your fault."
The Bacardí Bat — and bats — are considered lucky in Cuba. Part of the Bacardí heritage highlights Doña Amalia Bacardí insisting that a bat logo be placed on every bottle of Bacardí after she spotted fruit bats in their distillery. Generations of the Bacardí family have shared their musings about bats, believing that the mascot has allowed their company to thrive as well as survive the odds. Don't dismiss pouring a drink for this icon. We think you need to hear the Bacardí Bat's story.
The Budweiser Clydesdales
At the end of prohibition, the Clydesdale horses were born out of celebration for Budweiser beer. Matthew Johnson, Chief Marketing Officer at Two by Four, considers COVID-19 and its sheltering in place and social distancing guidelines to be akin to a different kind of prohibition. We have alcohol on the shelf, but no family and friends to enjoy it with.
Once we have a vaccine, it's time to open up the stables and celebrate alongside everyone in the world. One city in particular deserves an especially decadent toast.
"I'd like to celebrate the end of the quarantine by replicating the Clydesdales' original mission — a stroll through New York City." Johnson says.
"We'll pull a wagon full of Budweiser and raise a toast to the city hit hardest by this mess."