Happy 74th birthday, Smokey Bear! Administered by the United States Forest Service (USFS), the National Association of State Foresters (NASF), and the Ad Council, Smokey Bear is at the heart of the longest-running public service campaign in American history. As our world continues to face rapid climate change, Smokey's message of protecting all public lands continues to be as relevant today as it was when he made his 1944 debut. Let's take a look back at some of his most iconic print ads and get a sneak peak at how he plans to celebrate his 75th birthday in 2019.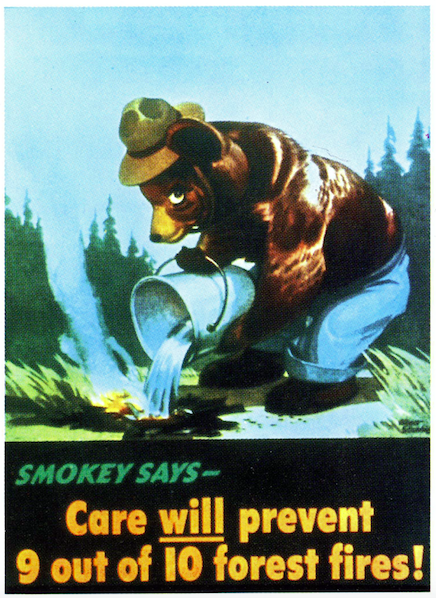 When the initial Wildfire Prevention campaign launched in 1942, Smokey wasn't its first star. That honor went to the animated characters from the Disney movie "Bambi," infamous for its wildfire forest scene involving animals. Disney only loaned out usage of the characters for one year, leaving the USFS and Ad Council to begin a search for a new animal symbol.
They settled on a bear named Smokey with artwork designed by USFS employee Rudolph Wendelin. Smokey was dressed in a ranger's hat, belted blue jeans, and carried a shovel. His famous slogan — "Only YOU Can Prevent Forest Fires" — was introduced in 1947 (and is now known as "Only You Can Prevent Wildfires").
Ad agency FCB has been behind Smokey Bear's PSA ad campaigns from the very beginning, making it the longest pro bono advertising relationship in history. Little did the world know then that Smokey was about to establish an incredible legacy as a wildfire prevention symbol for decades to come!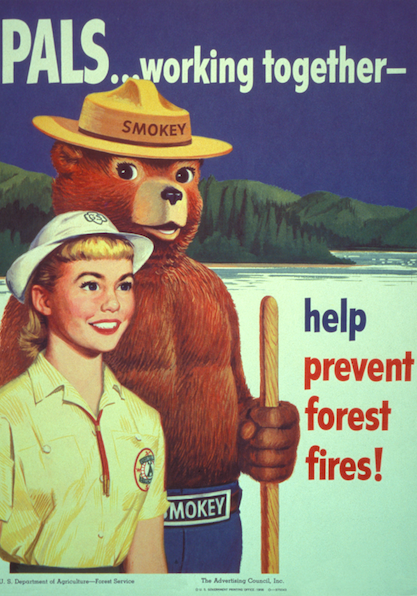 Smokey paved the way forward with PSAs that educated the public on wildfire prevention. To this day, he rewards, celebrates, and encourages those individuals that take it upon themselves to prevent wildfires. The icon's actions were so revolutionary back then that Congress passed the Smokey Bear Act in 1952 as a means of preserving his legacy.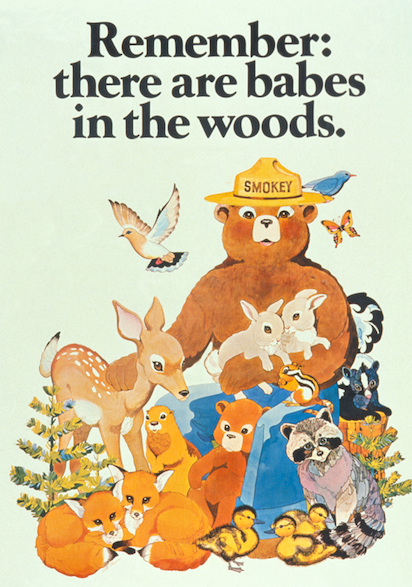 By the 1970s and 1980s, Smokey Bear had become a force of nature as a pop culture icon. He has his own merchandise and toys, has been featured on multiple game shows, and even travelled to outer space! He is also the only "person," aside from the President of the United States, to have his own private zip code — 20252.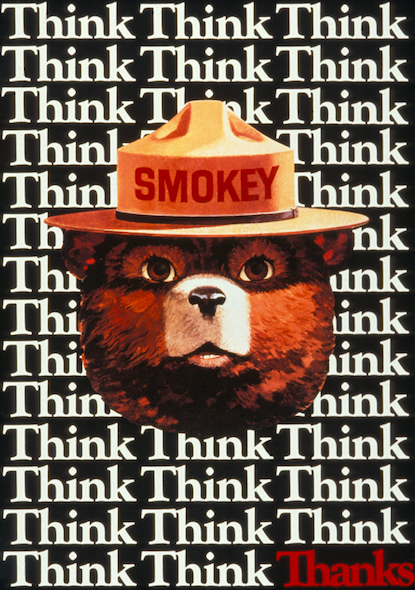 Smokey Bear's messages have also received more than $1.5 billion in donated media support. In 1984, he was immortalized with his own postage stamp from the U.S. Postal Service. Smokey joined our very own Madison Avenue Walk of Fame in 2014, voted as one of America's favorite advertising icons.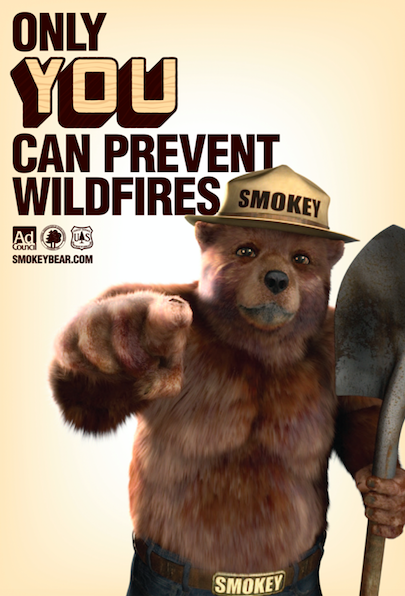 What does Smokey Bear have planned for his 75th birthday? Here's a sneak peek at the logo artwork you can expect to see from the big guy.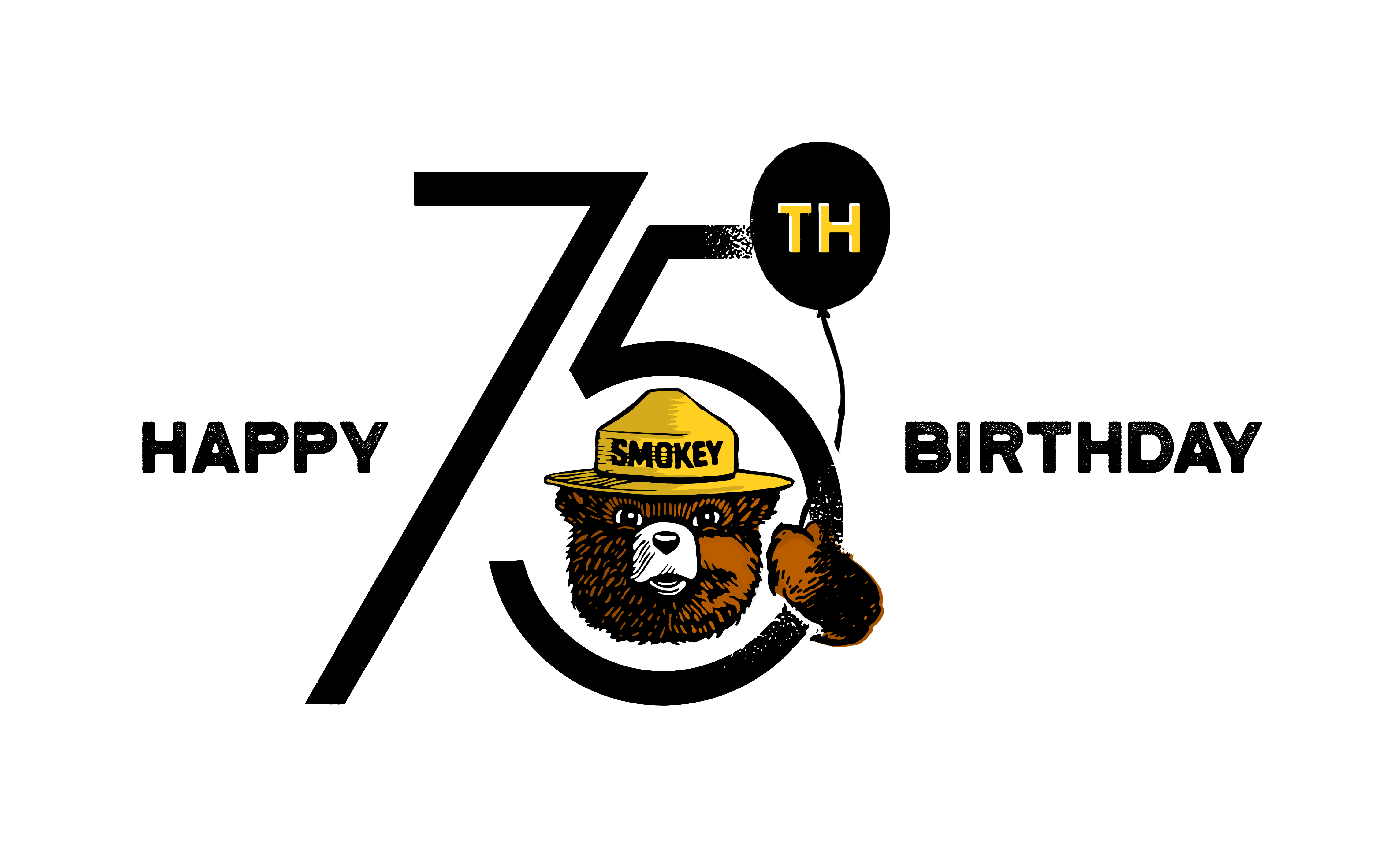 FCB has plans to roll out a nationwide, fully integrated ad campaign that will help the whole country celebrate Smokey's birthday. Additionally, media companies and outlets have pledged their support in creating content for audiences about the importance of wildfire prevention to protect our public lands.
Don't forget to send him a HBD tweet! Smokey is all about social media, with hundreds of thousands of followers on his accounts and special photo filters and frames on Snapchat. Only you… can follow him on Facebook, Twitter, and Instagram and wish him happy birthday!