The newest face for KFC's Colonel Sanders is not an easily recognizable celebrity like Jim Gaffigan or Reba McEntire. His name is Colonel Bear, and he's a small, bear-shaped honey bottle. Just like his namesake, Colonel Bear is all dressed up and pretty darn enthusiastic about fried chicken — particularly KFC's Hot Honey flavor.
In this commercial spot, two parents tell their hesitant child "honey… you can tell us anything" to start up a conversation. Maybe they didn't realize that the word "honey" is all Colonel Bear needs to speak up. "Howdy folks! Is now a good time to talk about KFC's new Hot Honey Chicken?"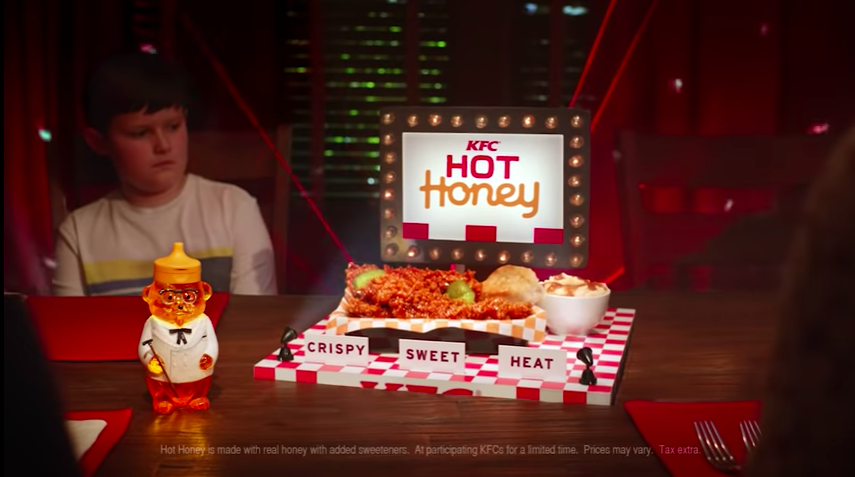 "Not really." The mom admits, but Colonel Bear is already on a chatterbox tear as he dives into the new flavor. Hot Honey adds a hot honey sauce glaze to KFC's original recipe chicken. The result is a "crispy, sweet heat that sneaks up on you!"
This flavor is so bold; Colonel Bear is able to burst flames out from his honey bottle. (It is a crispy, sweet heat after all.) Mom looks a little concerned. As for Dad, he's already eating, and loving, the chicken and its new flavor.
If you've fallen for this adorable spokescharacter, good news! Fans can enter to "adopt" their very own Colonel Bear figurine. You might be eligible to give Colonel Bear a good home you love long walks, swimming, and a mostly well-behaved honey bear who will definitely not let bees into your house. Fill out KFC's form for a chance to be selected to adopt a Colonel Bear and see if you get selected to be his next parent! (Obviously, we here at PopIcon have already signed up!)