He shell never be forgotten.
The untimely demise of iconic brand mascot Mr. Peanut on January 22nd shell-shocked the advertising community and Planters enthusiasts everywhere. Mr. Peanut, and his NUTmobile, perished during a road trip commercial ahead of Super Bowl LIV. Mr. P made the decision to sacrifice his life over fellow road trip pals and actors Matt Walsh and Wesley Snipes.
Brands and their beloved brand mascots immediately took to Twitter to mourn the loss of the legendary legume. Walmart announced the closure of their peanut aisle and Toyota hoped the NUTmobile was burning rubber on the great racetrack in the sky. Beer brands, including Budweiser and Heineken, poured one out for their favorite bar nut companion.
Using the hashtag #RIPeanut, they paid their respects to Mr. P and tagged Mr. Peanut's estate Twitter account. We rounded up some of our favorite tweets that salute the life and times of the class act (and one of the first inductees into our Advertising Week Madison Avenue Walk of Fame in 2004).
Mr. Clean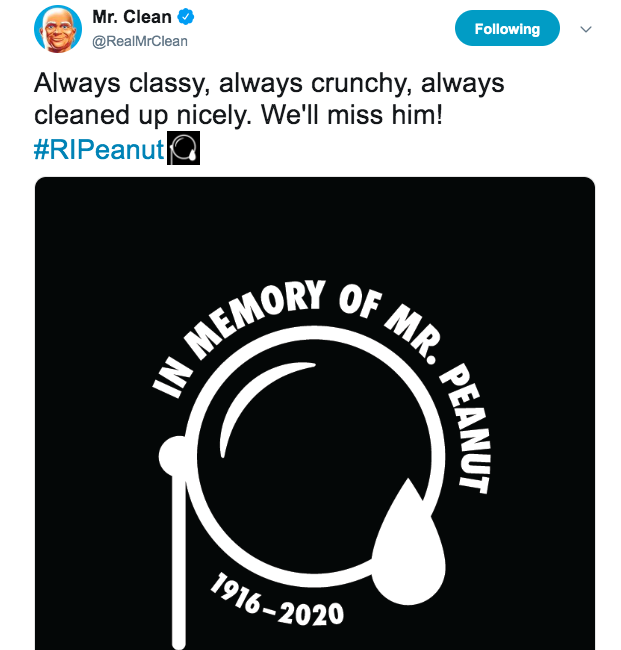 Mr. Clean had nothing but kind words to say about Mr. Peanut's legacy as a class act. He'll miss the mascot that always cleaned up nice.
Nesquik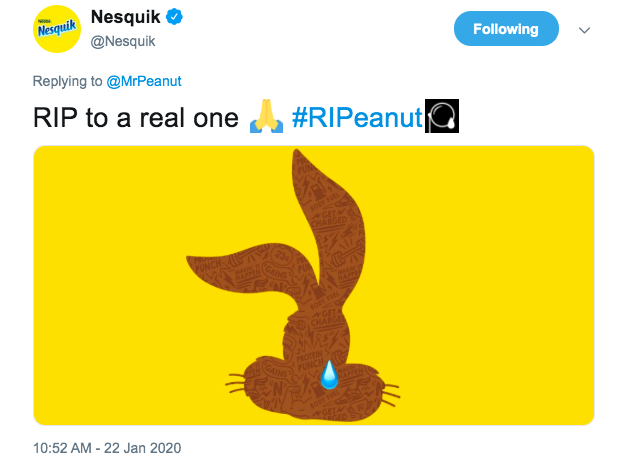 It's rare to see a character tear up, but that's exactly what Quiky, the Nesquik Bunny, did to pay tribute to Mr. Peanut. "RIP to a real one."
Buzz The Bee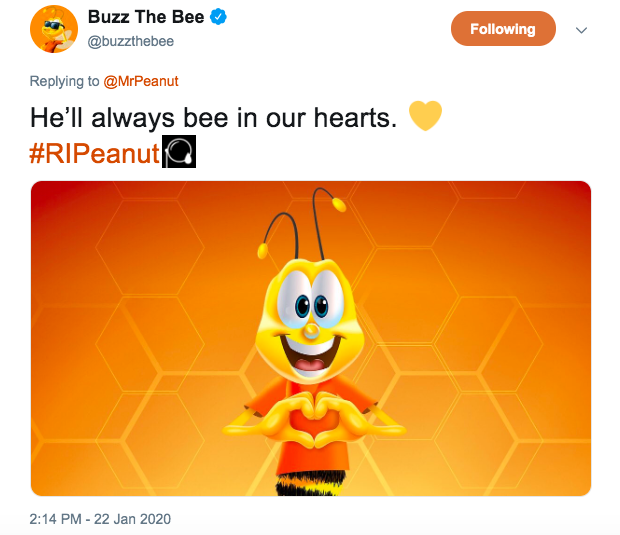 The Cheerios mascot tweeted pure positivity in sharing how Mr. Peanut will always "bee" in our hearts.
Oscar Mayer Wienermobile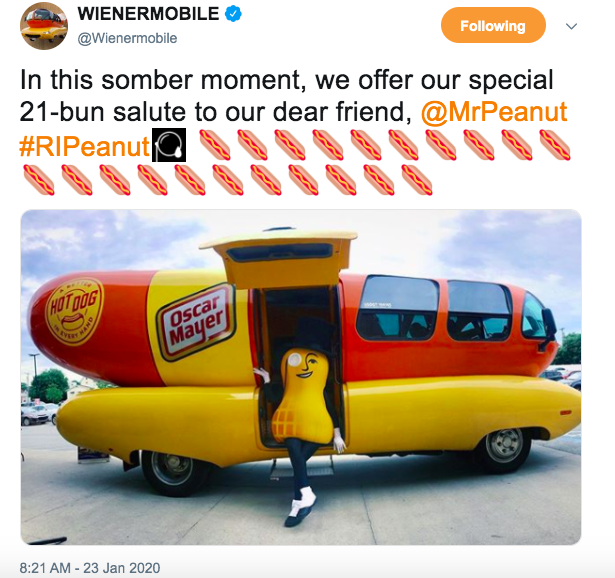 From one iconic vehicle to another, the Oscar Mayer Wienermobile gave their dear nutty pal a 21-bun salute.
Captain Morgan

Just in case you need a stronger drink to cope with the loss, Captain Morgan tweeted pouring one out in honor of Mr. Peanut.
Tony the Tiger

The Frosted Flakes spokestiger shares how he "gr-r-eatly" admired Mr. Peanut and his dapper personality.
Klondike

"It's what's under the shell that counts." Kind condolences from the Klondike Polar Bear.
Chuck E. Cheese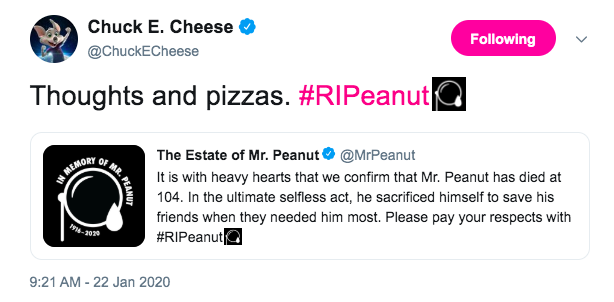 Sending kind thoughts — and pizzas — for those grieving the icon's loss.
Kool-Aid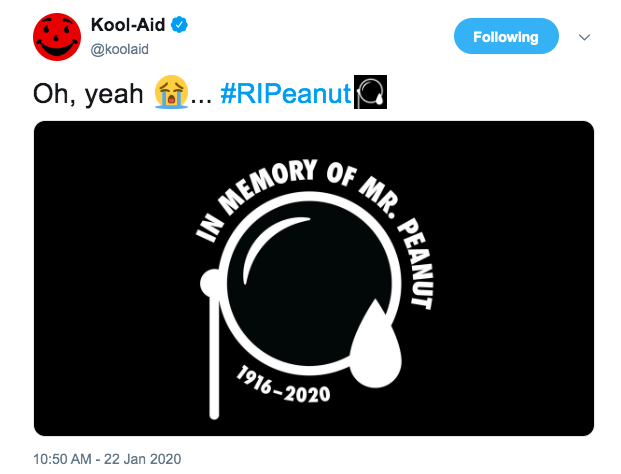 The normally jovial Kool-Aid Man shared a tearful "Oh yeah…" tweet as the realization sunk in that Mr. Peanut was truly gone.
StarKist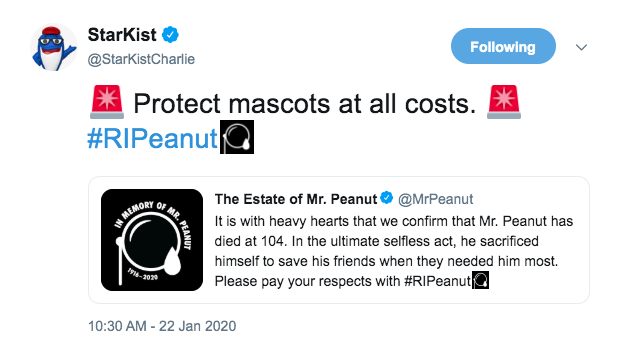 Charlie the Tuna came through with one of the most important tweets of the day: a plea to all in advertising to protect brand mascot lives at all costs.