A few years ago, the world went through a collective emotional whirlwind when Mr. Peanut died during Super Bowl LIV. Flash forward to 2023 where Planters is keeping it light and funny on Game Day. The iconic legume is fully regrown from Baby Nut status and ready for his first-ever comedy roast.
"The Roast of Mr. Peanut" will air during Super Bowl LVII on Sunday February 12.
"The Roast of Mr. Peanut"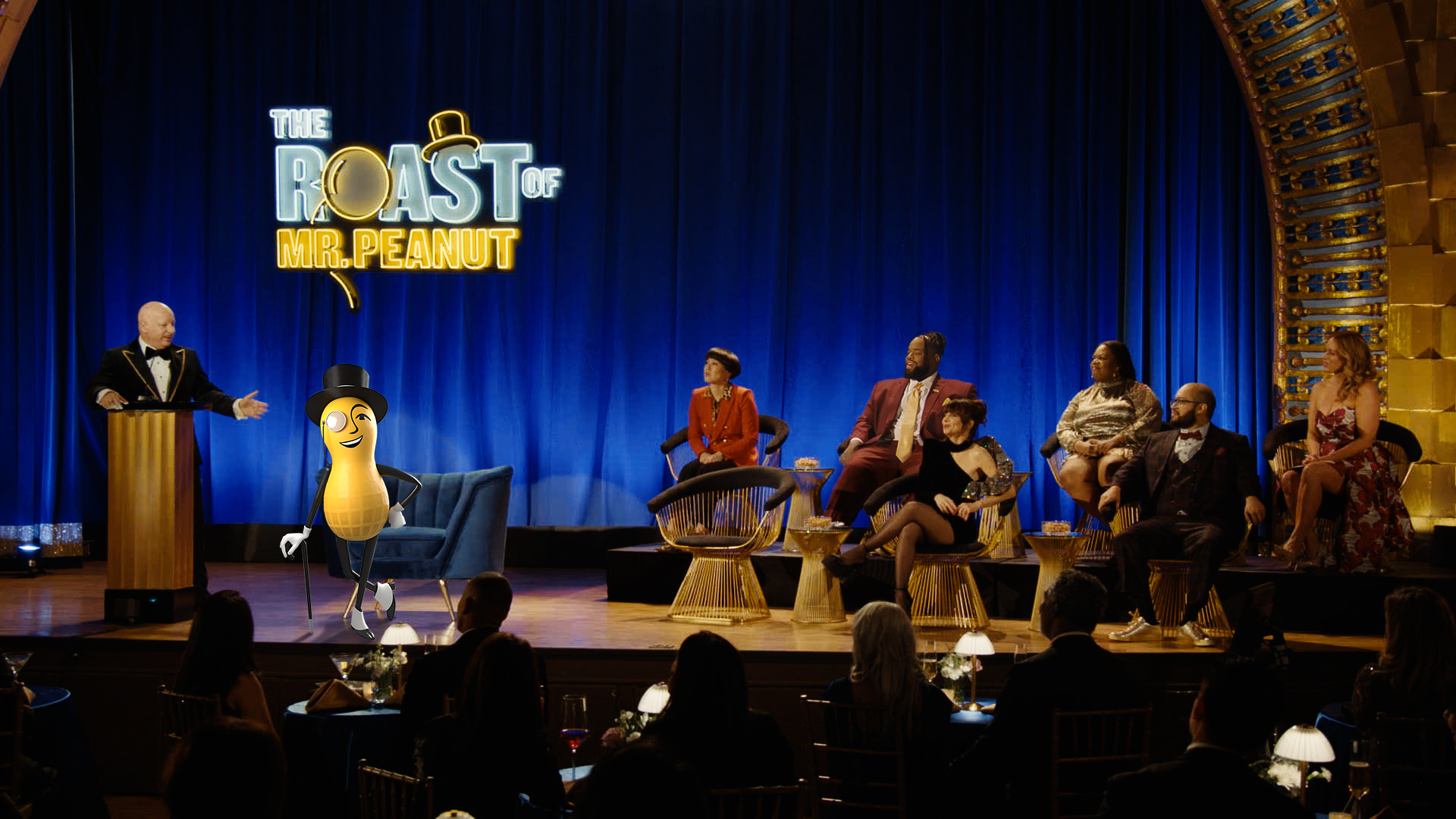 Only an all-star comedy crew can roast Mr. Peanut! Jeff Ross kicks off the VaynerMedia spot as Roastmaster General. Ross is joined on stage by Natasha Leggero, Frank Castillo, Atsuko Okatsuka, Yamaneika Saunders, David Lucas, and Sarah Tiana, each cracking their very best jokes about Mr. Peanut and his lengthy legume ancestry.
"There are moments in a career where you get to work with your heroes," said Natasha Leggero. "I was so honored to dig into his 106-year history of Mr. Peanut and get under his shell."
Nothing is off limits to kid Mr. P about, from his ability to ruin a batch of brownies to being so rich he hasn't worn pants in over a hundred years. While some of the subjects get everyone heated, the roastee of the hour always laughs along with the jokes. Matter of fact, he looks like he's having a pretty good time! He's also dressed for the occasion — of course — in full spats and the signature monocle with every guest's ensemble rivaling his own fashionable look.
"To roast Mr. Peanut, we knew it required the scale and excitement of a proper roast, complete with a live band, hungry crowd, and laugh-out-loud talent," said Rafik Lawendy, head of marketing at Planters. "While you entertain with delicious peanuts at your at-home viewing party, we'll provide the nutty entertainment."
Mr. Peanut, who will be turning 107 this year, even gets his chance to take the podium at the end and delivers a devastatingly good zinger which brings most of his Super Bowl commercials full circle. Watch the commercial to hear it for yourself.
Share Your Own Roast!
PS: There's still time to post your own roast of Mr. Peanut! Head to PlantersMadeToBeRoasted.com and share your best roast of Mr. Peanut there.
PPS: Anyone else wondering what Mr. Peanut will do at 2024's Super Bowl? This character is setting the bar for high stakes and humor on Game Day!