Amid the COVID-19 pandemic, couples throughout the United States are putting their wedding day on pause. Perhaps they will marry later this year, bump their RSVP to 2021, or opt for a TBD save the date when it's safe to celebrate the big day.
Luckily, Hotels.com has a brilliant solution for engaged couples that would rather not put off their special day. One might even say it's a pretty obvious solution! The hotel booking website has announced their brand spokesperson, Captain Obvious, is ordained and performing virtual ceremonies for couples with wedding woes.
What Makes Chaplain Obvious The Perfect Officiant For Virtual Weddings
Considering asking Chaplain Obvious to officiate your Zoom wedding? Here are a few reasons why he's the perfect choice.1. Captain Obvious is practicing social distancing.
1. Captain Obvious is practicing social distancing.
On March 23, 2020, Hotels.com released a commercial featuring Captain Obvious following social distancing guidelines. The company accompanied the spot with the tagline "Just Stay Home."2.
Captain Obvious has been social distancing for months. He uses hand sanitizer in the commercial while enjoying a popcorn snack. The takeaway? Captain Obvious hasn't gone anywhere. He's also been productive during quarantine, taking the necessary steps to become ordained to provide virtual nuptials for happy couples.
2. Chaplain Obvious wants to marry you — and hopes you want him to help you tie the knot.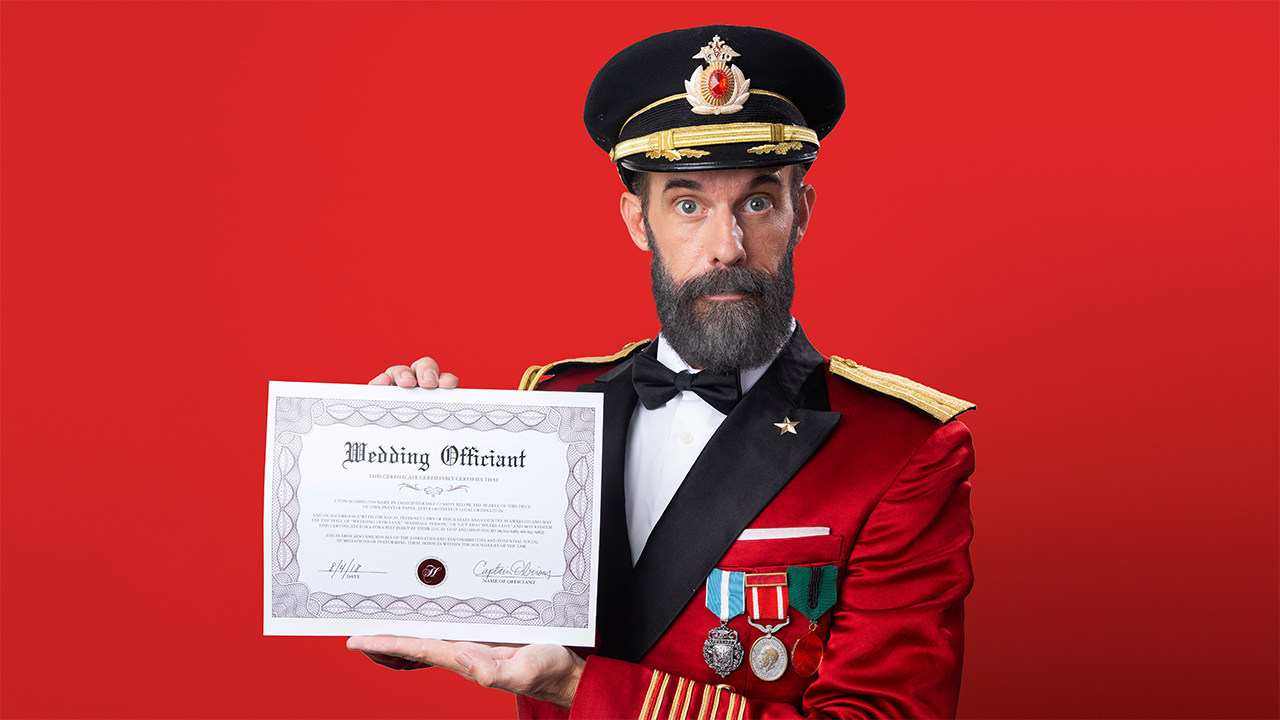 Chaplain Obvious wants couples to do their part as much as he's doing his.
In order to properly say "I do," couples must fill out a form first. Items requested on this form include the following:
A valid ID that proves your state of residence.
Proof of a valid marriage license in your state of residence.
Information that details if the state you wish to marry in does allow for virtual wedding ceremonies.
The preferred marriage ceremony date and time. Currently, all openings are Saturdays in June.
A mandatory virtual meeting link.
The ability to answer the question as to why you'd like Chaplain Obvious to help you tie the knot.
A fun fact or story about the couple that Chaplain Obvious may incorporate in your wedding vows.
3. Chosen couples receive an added bonus gift!
Couples that complete this form and are selected to be married by Chaplain Obvious will also receive $5,000. The perfect registry present! This money may be put towards the future honeymoon of their dreams once it is safe to return to romantic getaways and hotel stays.
Speaking of hotel stays; you'll be able to book your dream honeymoon in just a few swipes with Hotels.com!
If you're ready to say your vows in a once-in-a-lifetime ceremony, fill out the form for the chance to do so with Chaplain Obvious. Submissions are open through May 17, 2020 by 5 PM CST, so apply today!