As we head into the summer months, Americans everywhere are putting together their vacation and travel plans. Whether you're hitting the road or flying to your destination, the last thing anyone wants is to think about having motion sickness or feeling nauseous at the worst possible moment.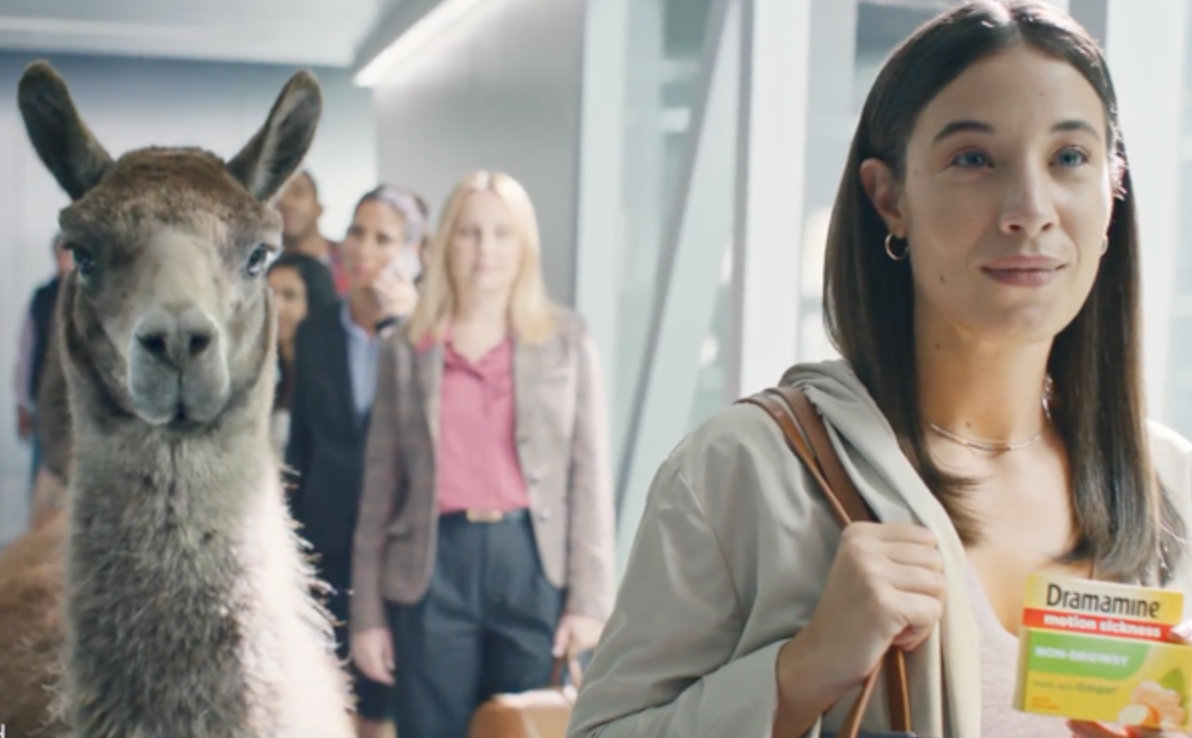 Enter the Drama Llama: Dramamine's first spokescharacter.  You don't want to have these feelings, but this llama lives for your nausea drama. (Luckily, there's one foolproof way you can get rid of him and motion sickness!)
"Ditch The Drama"
In the new national "Ditch The Drama" Dramamine campaign, the Drama Llama reminds nervous people about how icky their situations could get. A passenger boarding a flight is followed by the Drama Llama. The Llama wonders aloud if there will be turbulence from all the clouds in the sky or if this flight will be as bumpy as last time.
Sounds like somebody wants you to take a trip down queasy memory lane.
Fortunately, Dramamine is the Drama Llama's Kryptonite. Taking Dramamine not only keeps motion sickness at bay, but it ditches the Drama Llama of nausea once and for all. (All for the Drama Llama, he's gonna hang out at the airport until you get back from your vacay.)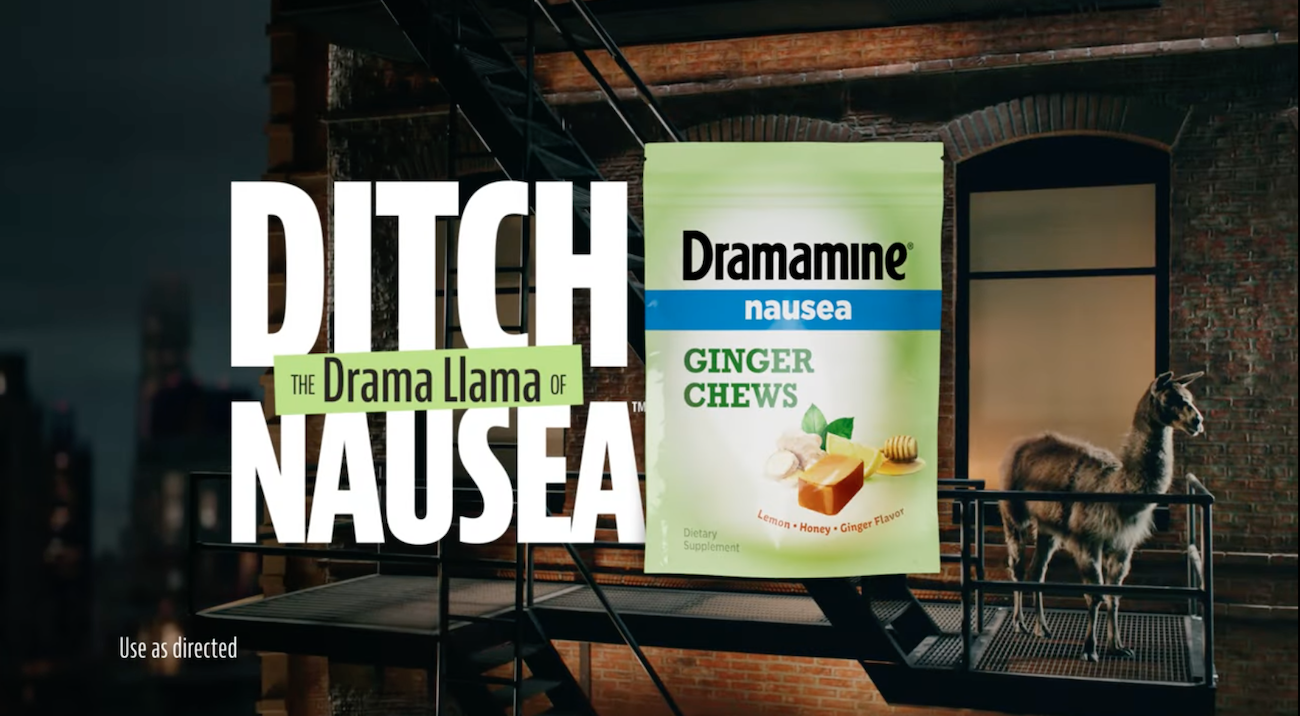 "We are thrilled to launch our brand-new Drama Llama campaign just in time for our peak Dramamine season," said Randi Jachino, Vice President of Marketing at Prestige Consumer Health.
"The spot is inspired by the llama's inherently dramatic — and annoying! — presence and the idea that nausea always tends to invite itself into your life at the most inconvenient times. With Dramamine, you can take back control and ditch the drama, and the llama."
Jachino adds that this won't be the last we see of the Dramamine Drama Llama in 2023.
"This new campaign is Dramamine's first campaign that is addressing the overarching burden of nausea and is planned for year-round activation versus our peak-only campaigns of the past," said Jachino.
Enter the Ditch the Drama Sweepstakes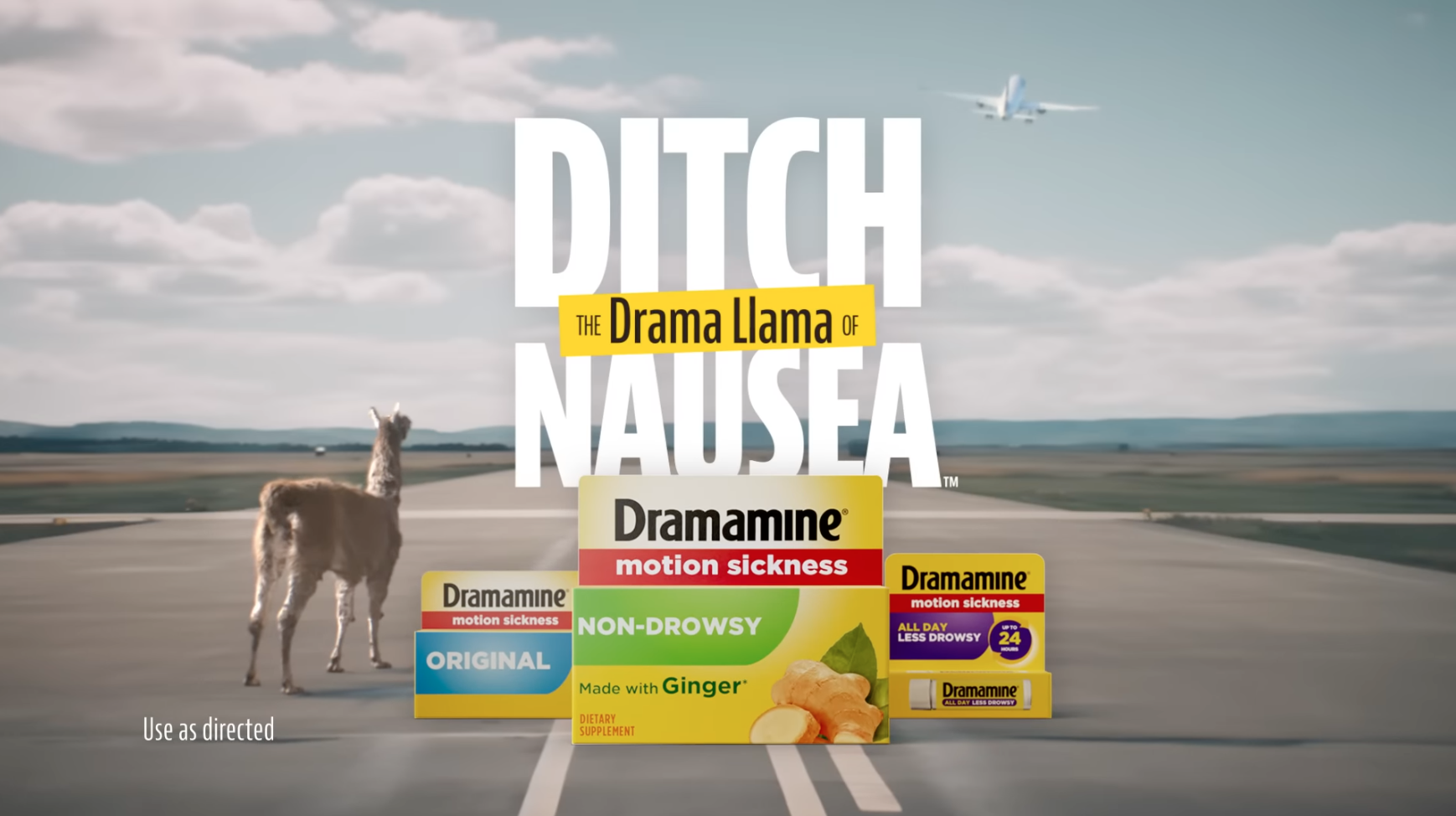 You could win a dream vacation without any drama (or the Drama Llama)!
Dramamine's The Ditch the Drama Sweepstakes is giving three grand prize winners the chance to experience their dream vacation anywhere in the world, courtesy of Dramamine. Dramamine even teamed up with Travelocity's travel experts to assist in coordinating everything from airfare to accommodations and activities for the winners so they can officially ditch the drama of traveling.
Enter for a chance to win by visiting DramamineDitchtheDrama.com and fill out a short entry form. Entries must be submitted by U.S. residents ages 18 or older. For extra chances to win, fans can upload a recent receipt of their Dramamine purchase. The sweepstakes will be open now through September 4, 2023. Good luck!