Who is considered the greatest cereal brand mascot of all time? When PopIcon headed to the advertising community for their take, almost everyone we spoke to agreed it's a universally GR-R-REAT character: Frosted Flakes' Tony the Tiger.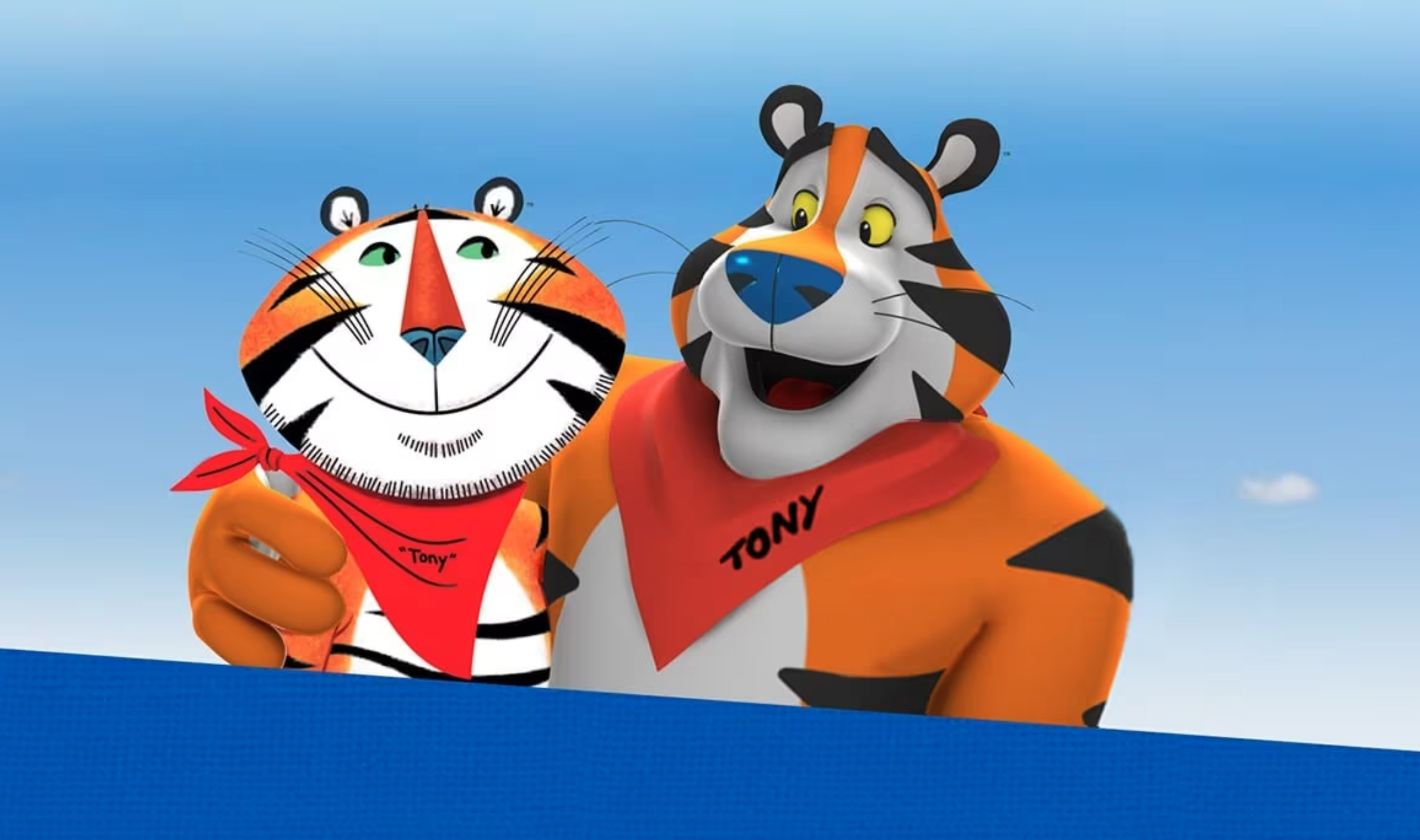 In 1952, Tony the Tiger was created by Don Tennant at ad agency Leo Burnett. Tony, along with three other characters including Katy the Kangaroo, Elmo the Elephant, and Newt the Gnu, was put on packages of Kellogg's Sugar Frosted Flakes of Corn. This was part of a contest from Kellogg's where fans picked their favorite mascot. Tony the Tiger, then walking on all fours and with a football-shaped head, emerged as the fan favorite. He received further design refreshes by Leo Burnett in 1953. Since then, Tony has become instantly recognizable as a friendly champion of breakfast and for encouraging everyone to achieve their full potential.
What makes Tony beloved in the advertising industry? 71 years after his debut, everything about Tony, from his catchphrase to the way he's positioned on Frosted Flakes cereal boxes, makes this tiger GR-R-REAT. 
Tony Is All About Breakfast
"Tony the Tiger embodies the spirit of perseverance and determination. Just like the cereal he represents; he exudes energy and a zest for life. His muscular physique and confident grin remind us that a great breakfast sets the stage for greatness throughout the day." — Justin Kerby, Founder, Something Great Marketing
"His message of determination, positivity, and the importance of starting the day with breakfast has resonated with both adults and children over many years." — Christena Garduno, CEO, Media Culture
Tony's Got the Look
"It is almost impossible to imagine a box of Frosted Flakes cereal without a large orange tiger wearing a brightly colored red bandana.
Through the years, Tony's eye color has changed, and he looks like he has incorporated more strength training into his fitness routine. However, the changes have not eroded the core visual elements of Tony. The iconic bold orange and black stripes and red bandana have remained consistent. He is an integral part of the brand identity." — Debika Sihi, Associate Professor of Business, Southwestern University
That GR-R-REAT Catchphrase
"Tony's iconic catchphrase, 'They're GR-R-REAT!' has become ingrained in the collective consciousness, transcending mere advertising slogans to become a cultural phenomenon.
With a voice that rumbles with enthusiasm and excitement, Tony beckons breakfast lovers to experience the sheer joy of a bowl filled with crispy, sugar-kissed flakes. Whether you're a young kid, excited for the day's adventures, or a grown-up, seeking a nostalgic morning ritual, Tony knows how to speak directly to your soul." — Justin Kerby
Standout Cereal Box Branding
"Tony is always largely displayed on the Frosted Flakes cereal box, both for eye-catching appeal and to capture his big personality. This allows Tony to reach new audiences while maintaining the nostalgic connection for others." — Debika Sihi
I Wanna Be Tony!
"For me, Tony the Tiger appealed to the better angels of my nature. He advocated for a bountiful, active lifestyle, powered by Frosted Flakes. He had 'big brother who's a good athlete but probably not a good student' energy.
Did I listen to Tony? No, of course not. I stayed on the sofa with my real friends, the Power Rangers. But I appreciated that Tony cared enough to try." — Nicholas Carter, Co-Founder and Creative Director, Saint Friend
"Tony the Tiger's bold look, positive, energetic, and authoritative point of view resonates with both children and adults alike. Who doesn't want to be like Tony the Tiger?" — David Neff, Founder and CEO, Neff