Here's an assignment for creatives of present-day advertising. Let's say you're working with a client (let's call them Procter & Gamble) that has a popular household cleaning liquid. Their brand mascot is tall, bald, and muscular. He goes by the name Mr. Clean, the namesake of the brand. How would you create a jingle for this character and the brand's offerings?
Would you try to rhyme words with "clean" such as "machine" and "tambourine?"
Could the jingle work if it was basically one big riff off a well-known TikTok dance?
Or, do you think you could put together a ditty quite like this one?
Mr. Clean gets rid of dirt and grime and grease in just a minute!
Mr. Clean will clean your whole house and everything that's in it!
Mr. Clean! Mr. Clean! Mr. Clean!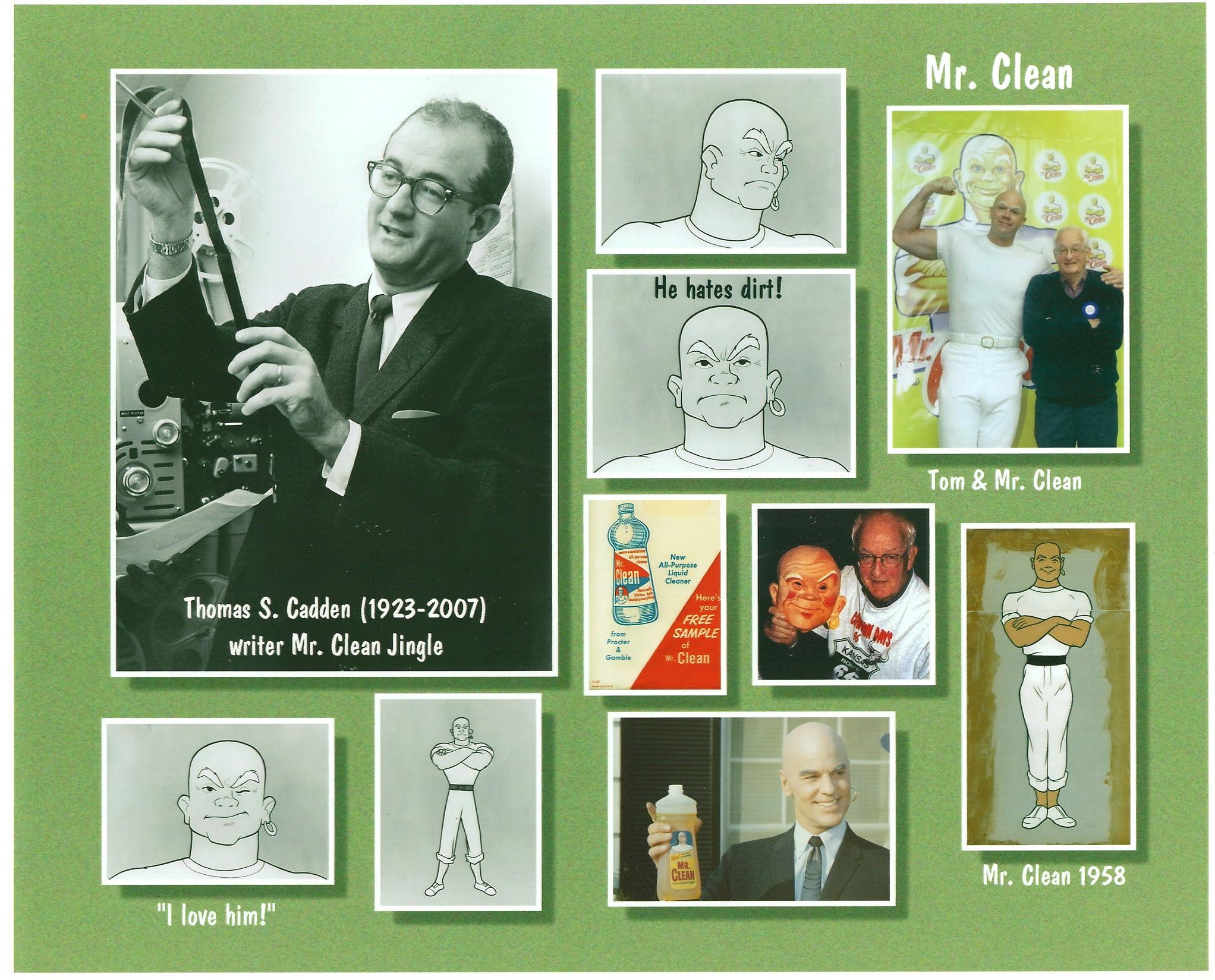 Only one creative has ever fine-tuned the perfect jingle for Mr. Clean and his name is Thomas Scott Cadden.
Creating Mr. Clean's Jingle
Thomas Scott Cadden created the iconic Mr. Clean jingle in 1958. Then, Cadden was the Vice President, Director of TV-Radio Commercial Production at Chicago ad agency Tatham-Laird & Kudner. Cadden had a penchant for writing music and lyrics that accompanied jingles in a variety of commercials including Pringles, Alka-Seltzer, and Head & Shoulders.
In addition to being an advertising executive, Cadden was a longtime musician. Cadden's son Tim Cadden shared with us that his father had a piano and a perch. Cadden would string together songs from the perch, then play around with melodies on the piano. He also kept recordings of his music on tapes including hundreds of reel-to-reel numbers and cassettes.
Mr. Clean was drawn by commercial artist Richard Black in 1957. By then, the original Mr. Clean illustration had cleaned up a bit to make his debut with audiences. Initially, Mr. Clean was drawn to resemble a genie. He was bald and dressed all in white with a nose ring. Black drew a second illustration of a similarly built man that had an earring. It was a hit with Black's wife, P&G, and consumers as Mr. Clean became the best-selling household cleaner in the United States within just six months of the brand's introduction.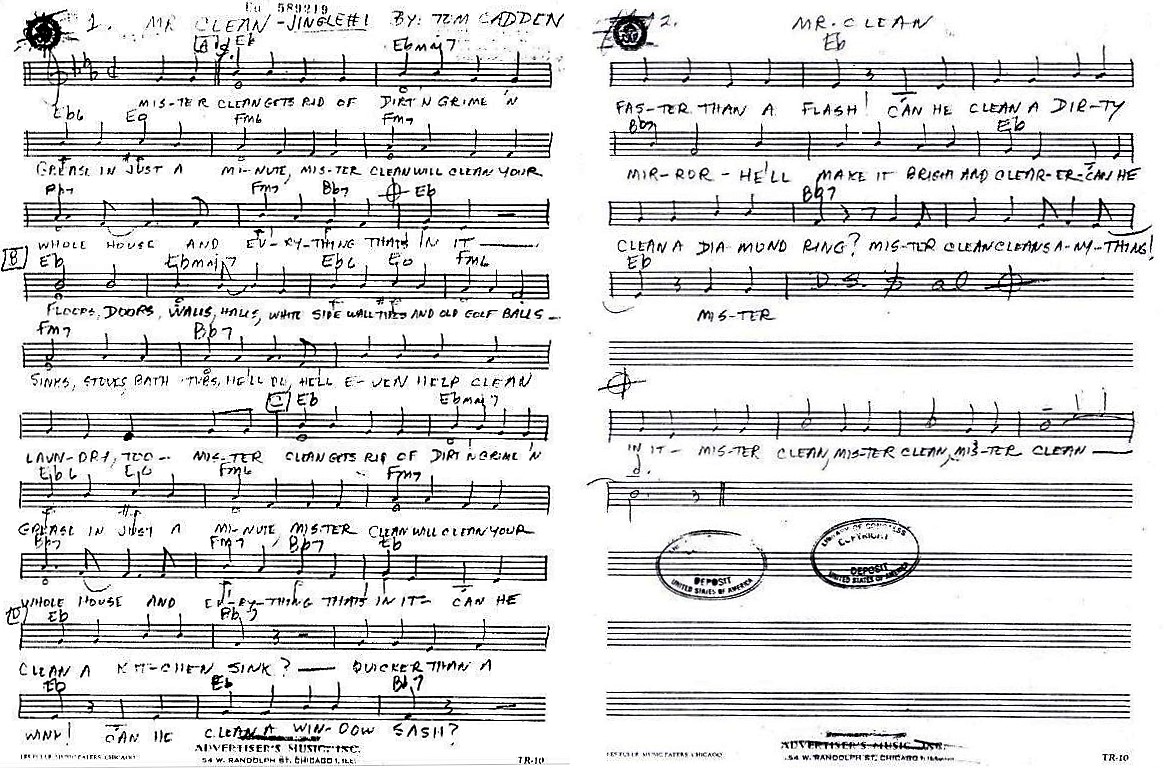 The iconic jingle debuted the following year in 1958. Cadden wrote the music and lyrics for the jingle.
The ditty did more than simply build brand recognition in repeatedly saying the name "Mr. Clean." An entire story of what the product did can be found in the jingle's lyrics.
Living Up to His Jingle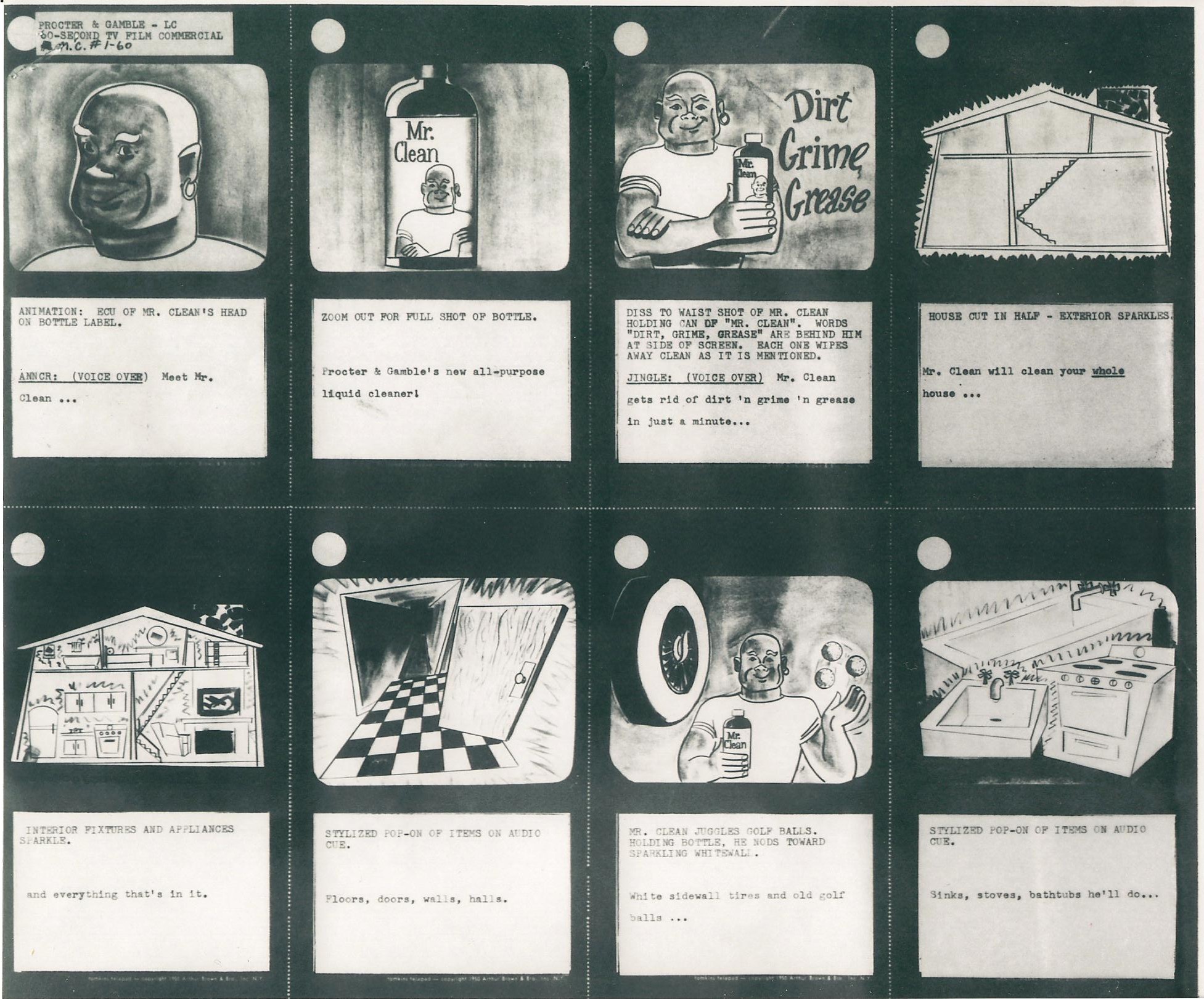 Mr. Clean never met a dirty spot in the house that he couldn't clean! From bathtubs to refrigerators, he could clean it all top to bottom.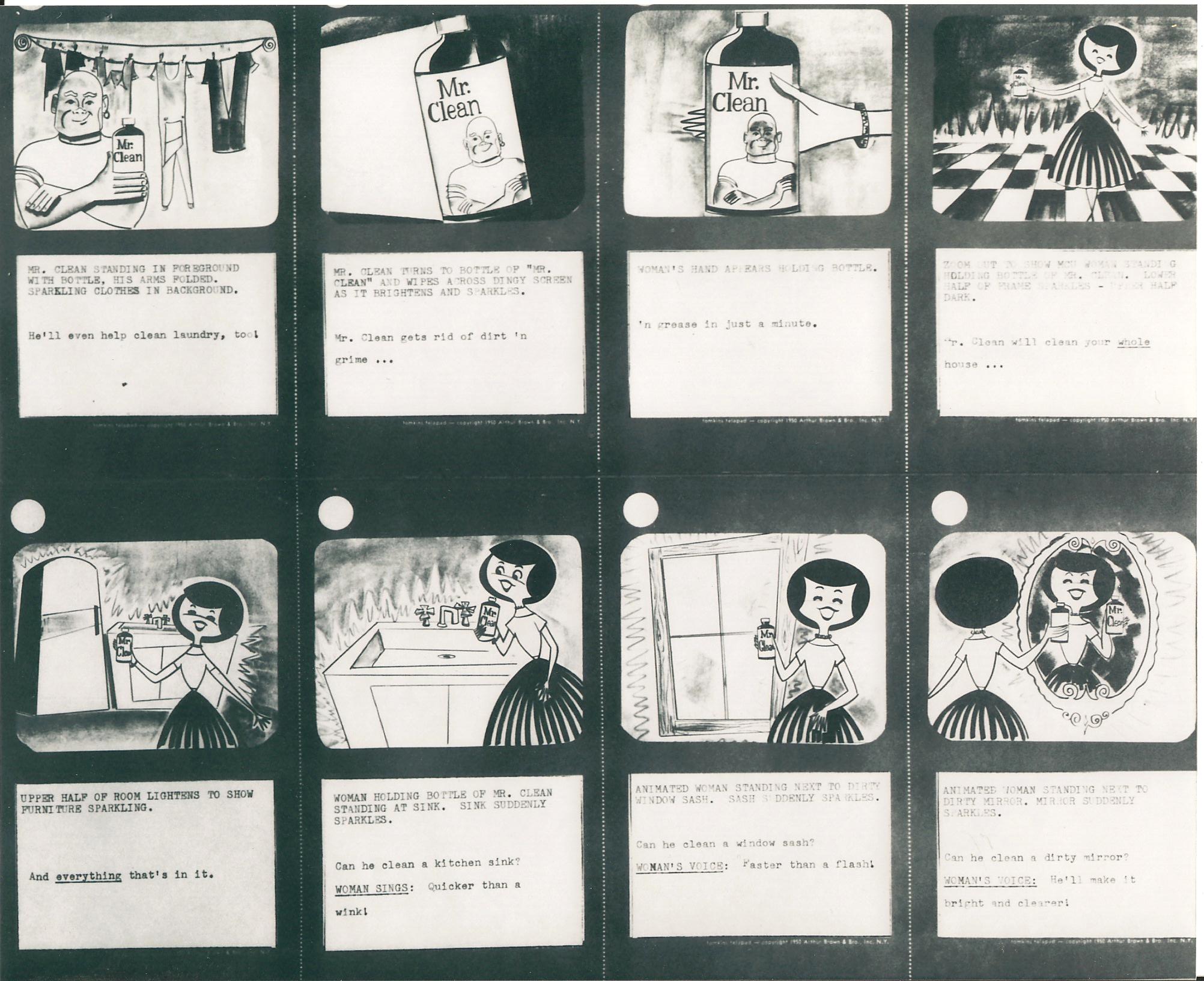 Can he clean a pipe up high?
In a twinkling of an eye!
Can he clean an old storm door?
It's a mighty easy chore.
Can he clean a sticky freezer?
Why, no one does it easier.
Can he help clean laundry too?
Why, there's nothing he can't do!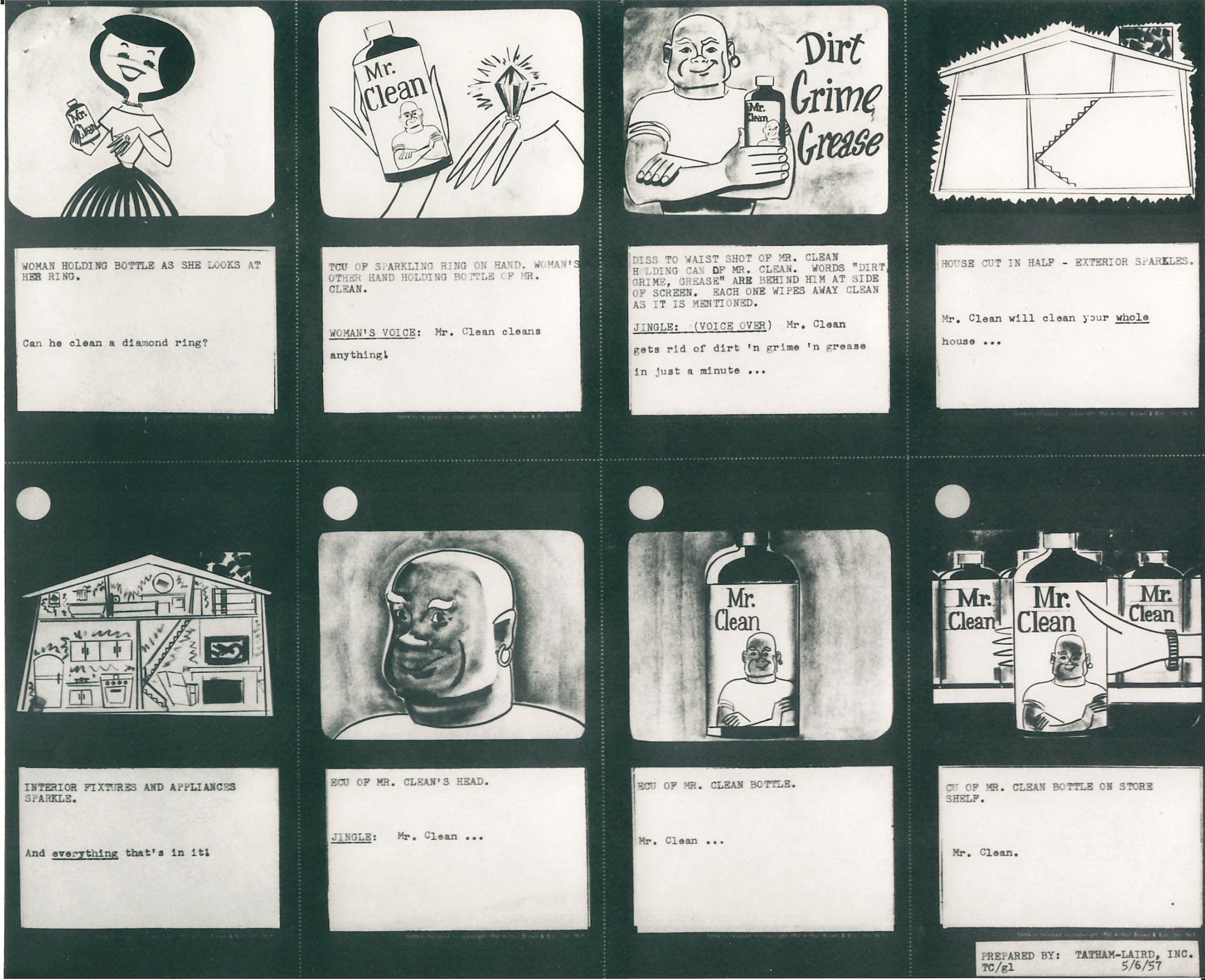 Mr. Clean's natural ability to clean — seemingly with a wave of his hand and using the liquid cleanser — caused several animated housewives in commercials to declare how much they loved the brand mascot.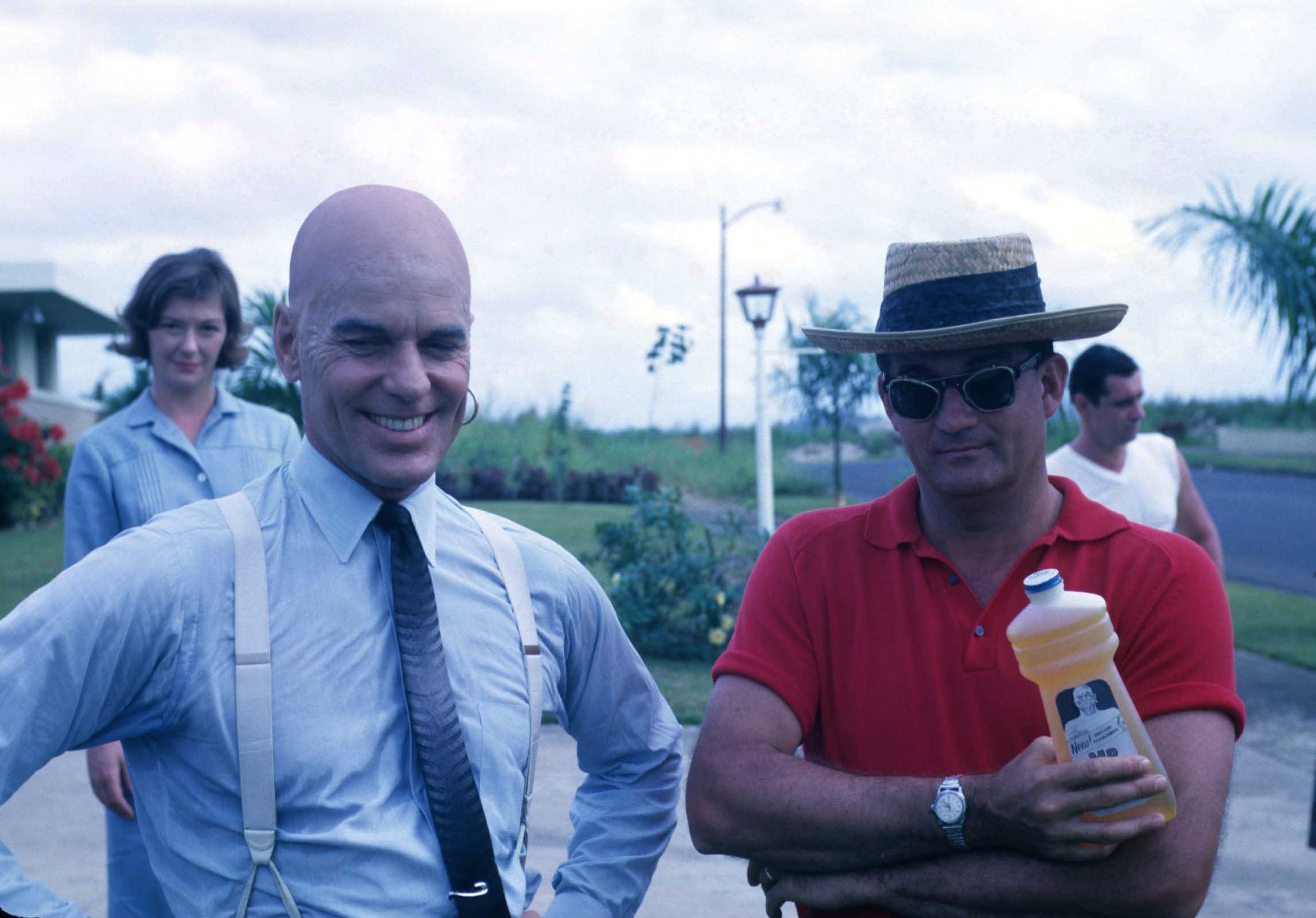 In addition to writing the jingles, Cadden also produced and directed Mr. Clean commercials. Some commercials even featured actor Mark Dana as a real-life Mr. Clean.
Mean Mr. Clean and Two Fisted Mr. Clean
Aside from the iconic Mr. Clean jingle, two other prominent jingles were used for the brand mascot: "Mean Mr. Clean" and "Two Fisted Mr. Clean."
"Mean Mr. Clean" introduces audiences to a changed man — and a jazzy new jingle. Mr. Clean, formerly a nice guy, was mean. All thanks to dirt. He hates dirt!
New!
Mean!
Mr. Clean!
What made Mr. Clean so mean?
Dirt!
He hates dirt!
In 1965, P&G released a new formula for Mr. Clean's line of cleaning products. These products were able to fully wipe out dirt and grime on the spot. No other liquids, powders, detergents, soaps, or cleansers could match up!
"Two Fisted Mr. Clean" debuted in 1976. Mr. Clean is back to his friendly self in this commercial with more muscle than ever before! This time he's got not one, but two of his cleaning products on hand. This spot played around with the original Mr. Clean jingle, switching out some of the lyrics to reflect the two fisted nature of Mr. Clean.
On the one hand…
Mr. Clean is tough on dirt and grime and grease.
He's great at cleaning!
On the other hand…
He hates the dull and streaky floor…
He leaves what's shiny gleaming!
"Mr. Clean is great for so many cleaning jobs," a housewife gushes to the camera. She shows how the cleaner is great for cleaning jobs, like mopping and scrubbing out bathtubs, and is able to get rid of dirt without spoiling a shine.
"I love him!" She says at the end of the spot, grinning up at the always reliable, flexing Mr. Clean.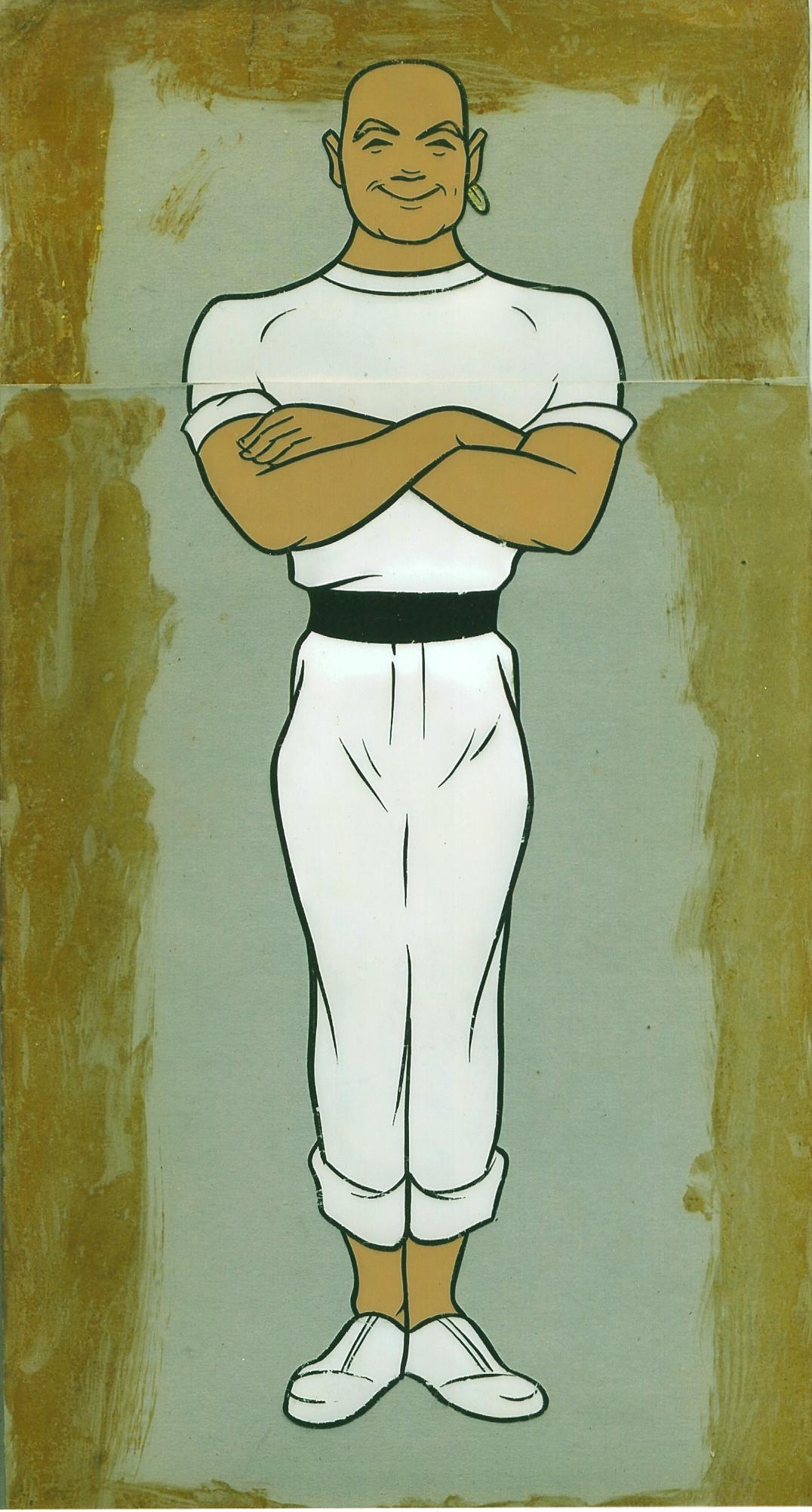 Mr. Clean's Versatile Jingle Legacy
Cadden passed away in 2007, but the legacy of his iconic jingle — and the man behind it — has never been forgotten.
In an obituary with The Kansas City Star, Tim recalls that his father was very proud to hear the jingle on TV. His ears would perk up at the familiar sound.
Occasionally, Cadden played the jingle at home with his family. His three children all shared an affinity for music and musical abilities of their own, ranging from playing guitar to drumming to playing the piano just like dad.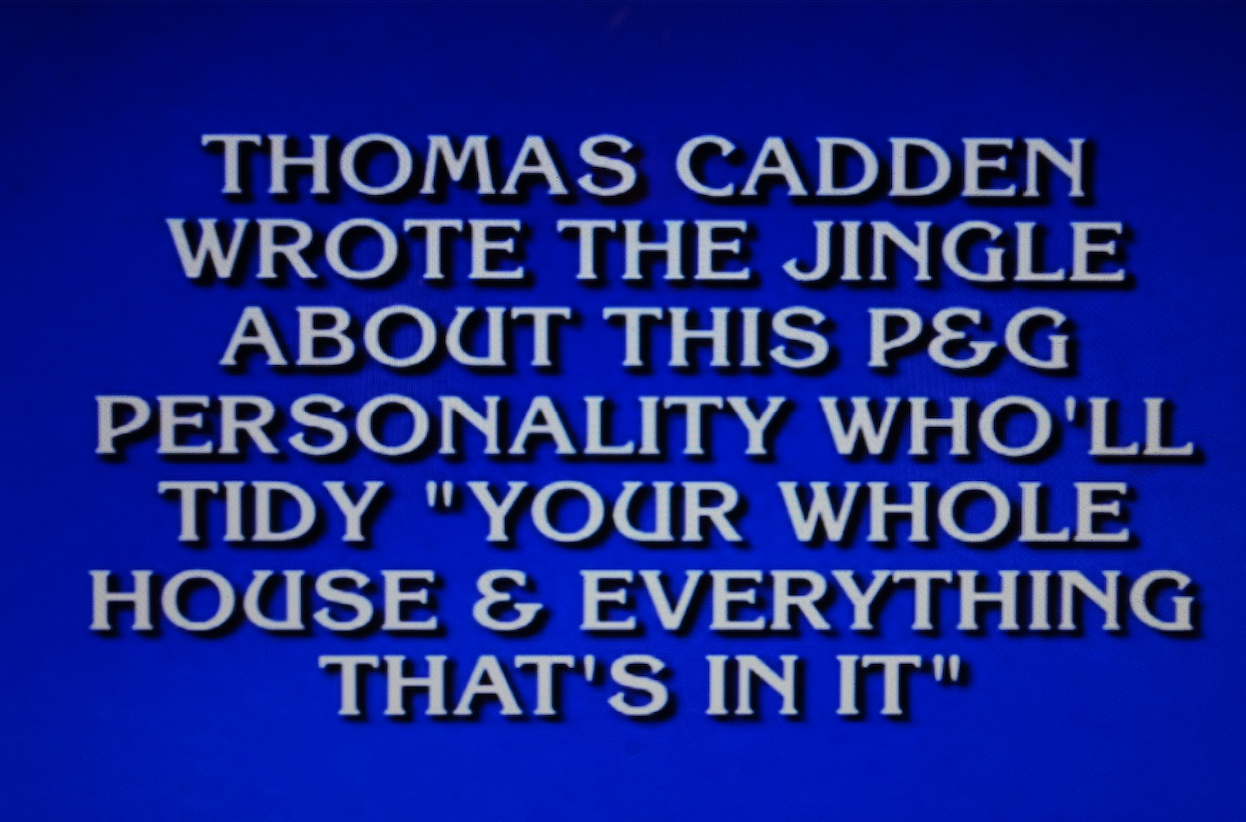 The popularity of the jingle even landed Thomas Cadden a mention on the game show Jeopardy!. See if you can guess the answer to this question in the "Tidy" category.