Recently, it appeared that Aldi UK's chipper Kevin the Carrot may have retired for the 2021 holiday season. In his place was Ebanana Scrooge, a disgruntled banana determined to begin a new holiday tradition where carrots are replaced with bananas.
How can we possibly have Christmas with Kevin? In a play on the timeless classic "A Christmas Carol," Aldi UK debuts a new Christmas chapter with Kevin in the "A Christmas Carrot" advert. (Written by none other than Charles Chickens, of course.)
"A Christmas Carrot"
"A Christmas Carrot" brings audiences back to Dickensian days. Ebanana Scrooge is described as "a banana stuck in his ways." He scowls at the young tomatoes, including Tiny Tom, building snowmen. He even uses his cane to knock down their snowmen! As Ebanana approaches his home, he continues to mutters his distain for the season.
Suddenly, Ebanana's door handle magically transforms into the visage of a small carrot. It's Kevin! He gently, but firmly, reminds Ebanana that this is not the spirit.
Panicked, Ebanana darts inside his home. A restless night's sleep reminds audiences the reason why Ebanana hates Christmas so much. Many years ago, he stayed up all night to meet Santa Claus. But Ebanana was paired with a tart on the same plate meant for Santa. Kris Kringle chose the sweet treat, forgetting all about Ebanana.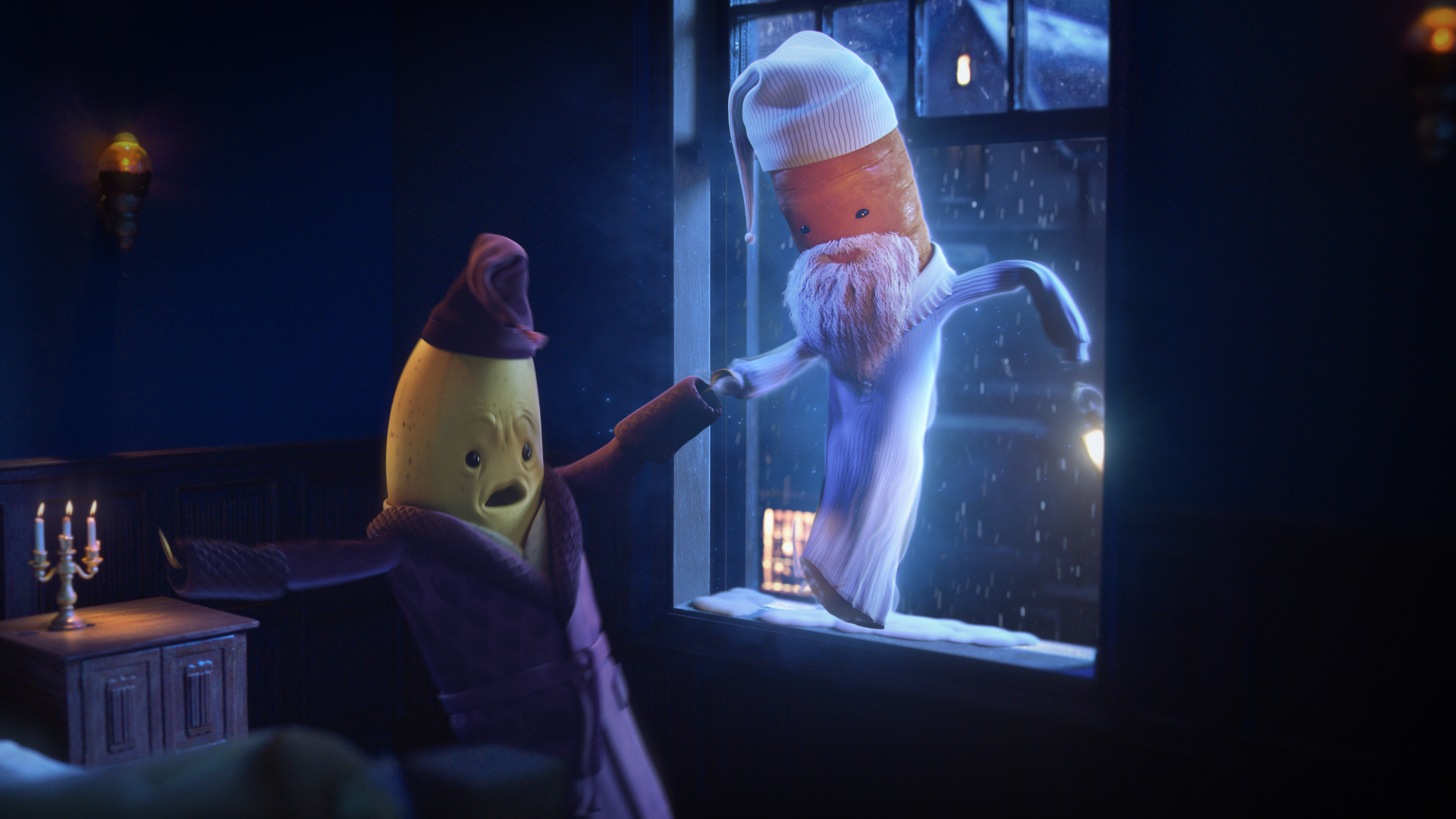 Ebanana is startled awake by the Spirit of Christmas — it's Kevin the Carrot! He appears before Ebanana in a nightgown, nightcap, and full beard. Kevin immediately whisks Ebanana out the window and back into the town to learn about the magic of Christmas.
As the pair fly through the air, Kevin reminds Ebanana that Christmas is a time of "peas and goodwill." Kevin points out members of their community, like Marcus Radishford (voiced by England footballer Marcus Rashford), who have always helped those in need.
The more Ebanana soars through the skies, the more he is able to see Christmas through Kevin's eyes. He glimpses a delicious holiday feast and learns it's okay not to make every meal exclusively about bananas. Ebanana also sees all the snowmen he destroyed and realizes his behavior has brought so much sadness to the town.
Upon waking up the next morning, Ebanana has a change of heart. He arrives to Kevin's home with a freshly baked cake for the whole family. (It's for "pudding up with me.")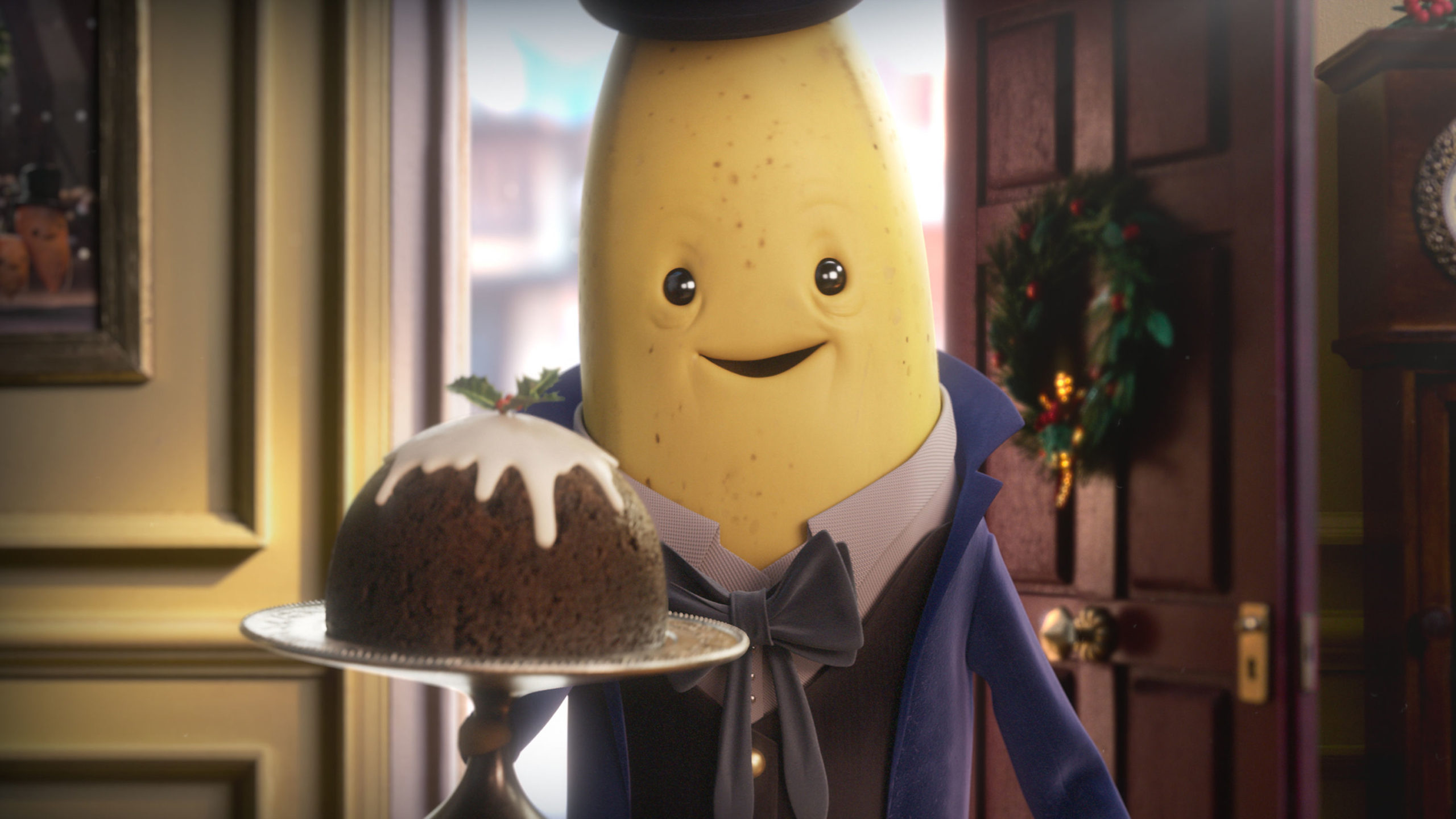 Ebanana rebuilds the snowmen he knocked down, much to the delight of Tiny Tom, and brings Yuletide joy back to the town again. The advert closes with a narrator saying that the moral of the story is for you to be happy, you need to be kind.
Aldi UK's Partnership with Neighbourly
Watch closely at the end of the spot. You'll notice a short blurb from Aldi UK stating that the grocery chain is donating 1.8 million meals to families in need this Christmas. Neighbourly links businesses to charitable organizations in local UK communities. Aldi UK will be donating its surplus food to support these local causes.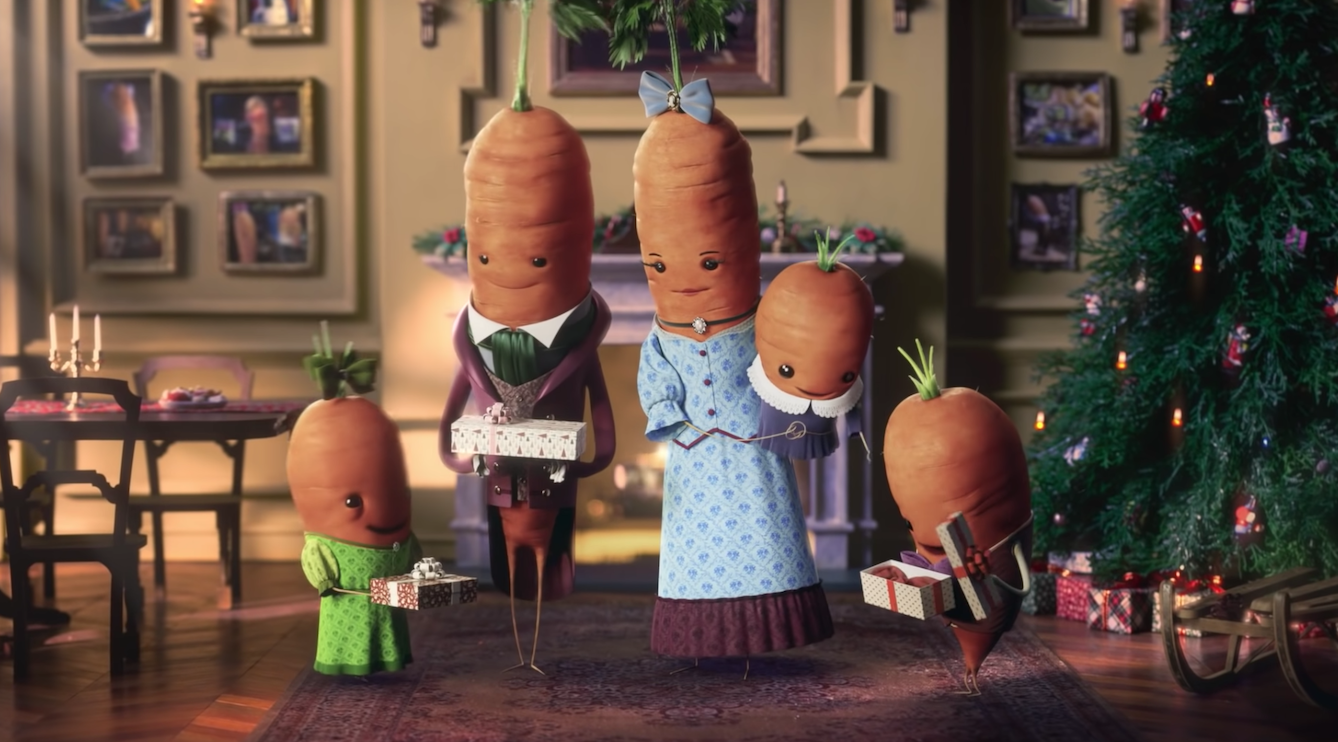 "We're delighted to be supporting Aldi in their year-round food redistribution program and in their commitment to donate 1.8 million meals this Christmas," says Steve Butterworth, CEO of Neighbourly. "These donations will help a record number of families across the UK during what is expected to be the busiest year on record for local charities and causes."
Marcus Rashford has also spent the past 18 months waging a high-profile campaign to increase the support made available to vulnerable children. Rashford has gone on record to share his own story of an impoverished childhood and relying on local food banks for Christmas dinner with his family.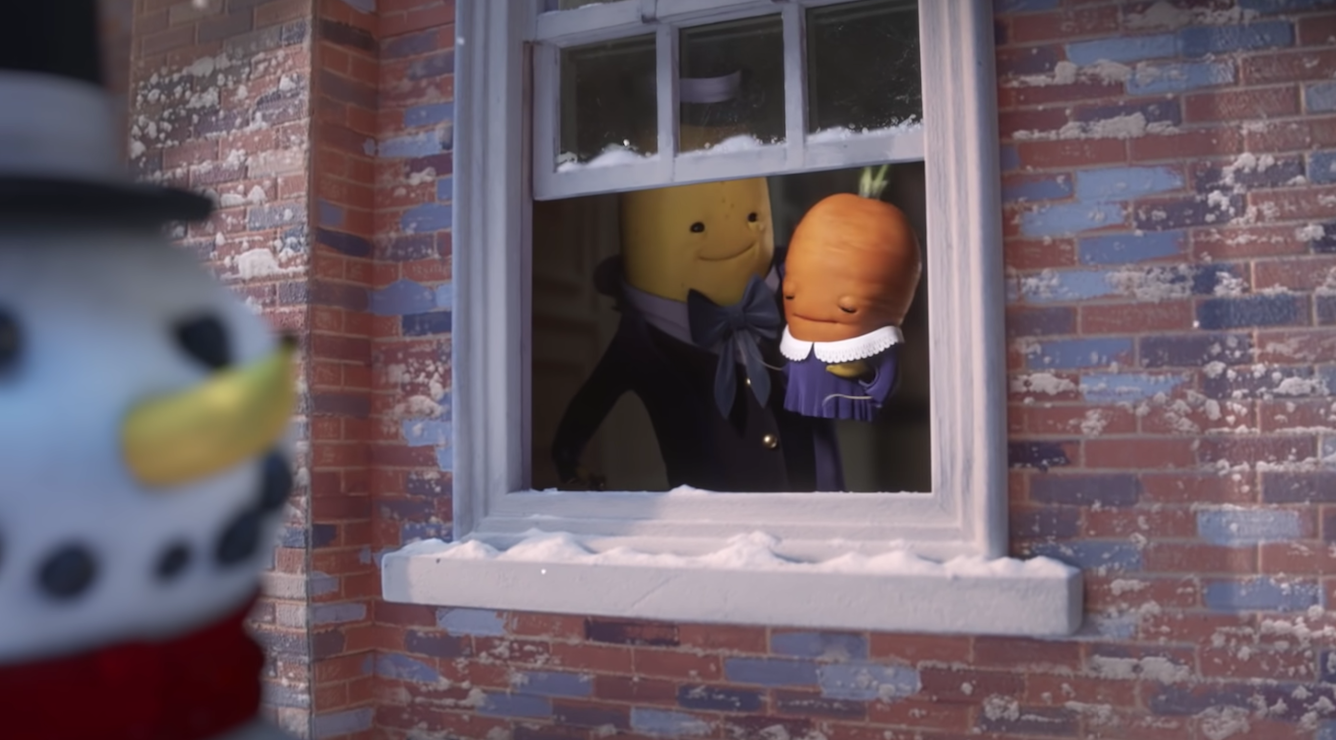 "For many children in situations like mine growing up, there is very little expectation around this time of year; add the impact of the pandemic and the very least they deserve is a Christmas dinner," Rashford says. "It is with that in mind that I'm delighted to lend my support to the Aldi campaign."
Six Years of Kevin the Carrot!
2021 marks the sixth year Kevin the Carrot has been featured in Aldi UK holiday adverts. According to Sean McGinty, Marketing Director at Aldi UK, the fan favorite is likely here to stay for many holidays ahead.

"It wouldn't be a festive season without Kevin the Carrot on our TV screens," McGinty says. "We're thrilled to be bringing him back for the sixth year for his many fans, in what we think is his best Yuletide performance yet. We hope our campaign will remind everyone of the true meaning of Christmas."