The 95th Macy's Thanksgiving Day Parade is almost here! Airing on NBC from 9 AM to noon across all time zones on Thursday November 25th, the parade route making its way across New York City includes larger-than-life balloon attractions, balloonicles, and floats.

Many of our favorite brand mascots will be returning to the parade along with some new faces. Keep your eyes peeled for this year's lineup of characters!
Ronald McDonald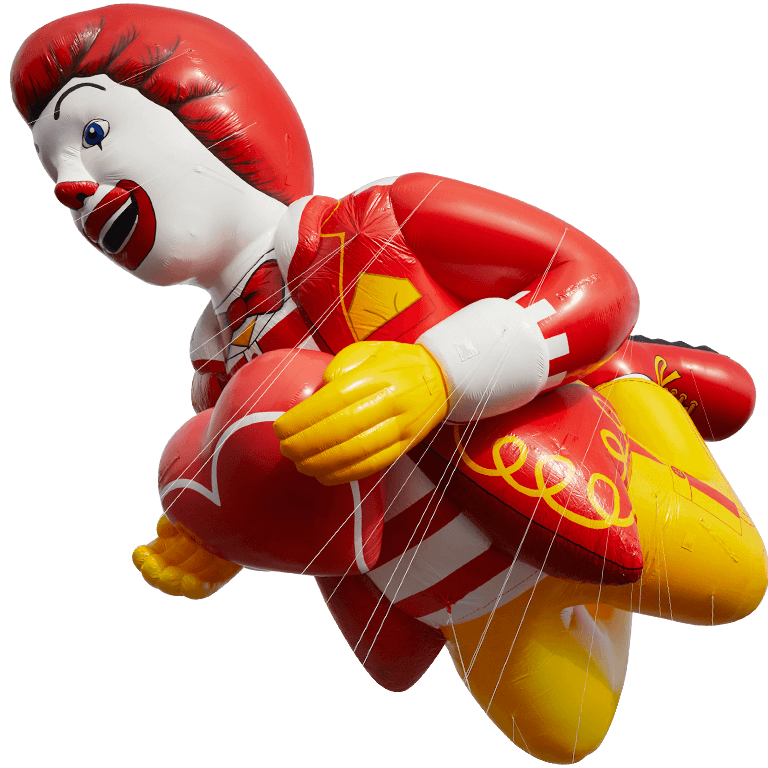 The beloved McDonald's brand mascot is returning to the Macy's Thanksgiving Day Parade with a new look! Ronald McDonald's balloon will be entering its fifth design since he first joined the parade lineup in 1987. Look for the big red heart in Ronald's hands. According to Macy's, Ronald is sharing his heart with everyone during a time when we all need some extra love and smiles. Seeing the heart is sure to inspire spectators to "see a smile, share a smile" amongst one another.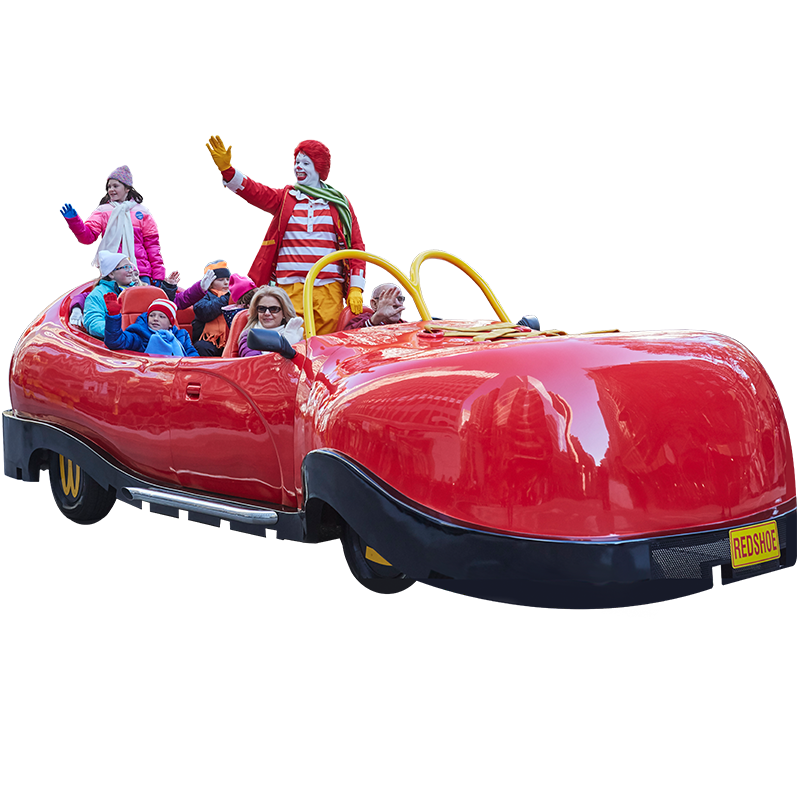 Ronald's Big Red Shoe Car will also be returning this year. Ronald McDonald himself will ride in this unique vehicle — approximately the size of a man's size 266 shoe — with his McDonaldland pals, Grimace and the Hamburglar!
Sinclair Dino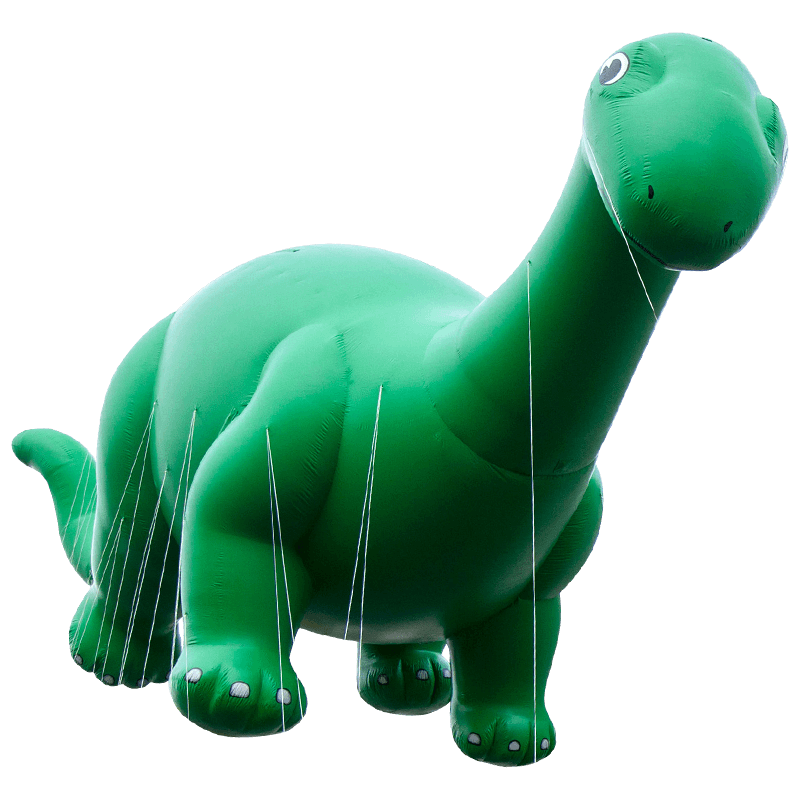 Pronounced DYE-NO, the bright green Sinclair Dino is back in the Macy's march to represent Sinclair Oil Corporation.
Dino first made his balloon debut in 1963. Decades later, he made a roaring comeback in 2015 with a newly refreshed balloon. After spending the summer travelling cross-country to visit with fans at Sinclair gas stations, the Apatosaurus is thrilled to be back in the Big Apple and on the Macy's Parade route as a giant balloon.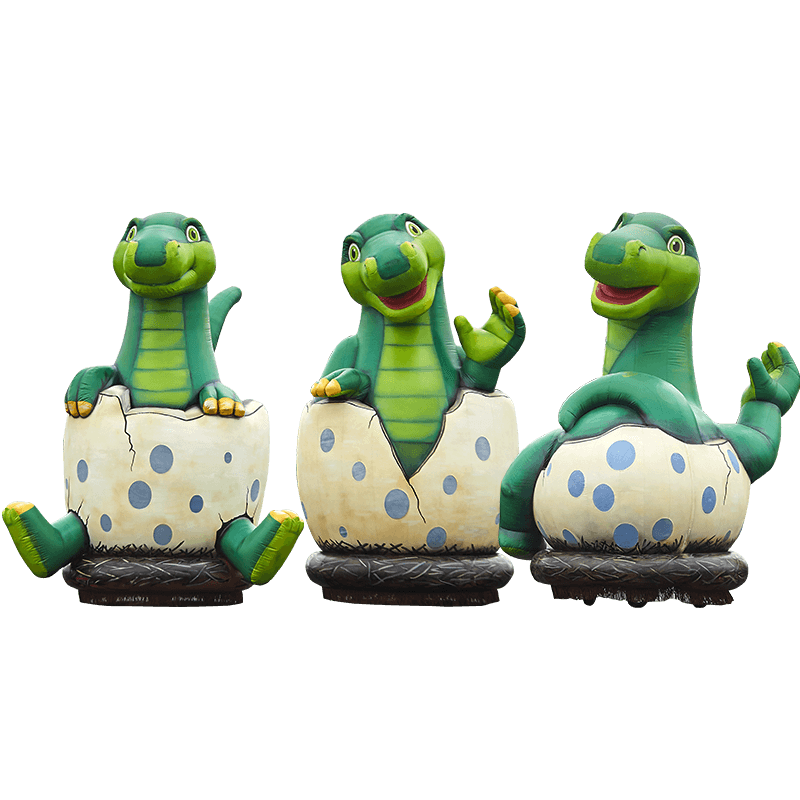 Dino isn't coming alone! Watch for the newly hatched Baby DINO balloonicles on the ground level. Like the Sinclair DINO balloon, these Baby DINO balloonicles will also be appearing in life-size form.
Tiptoe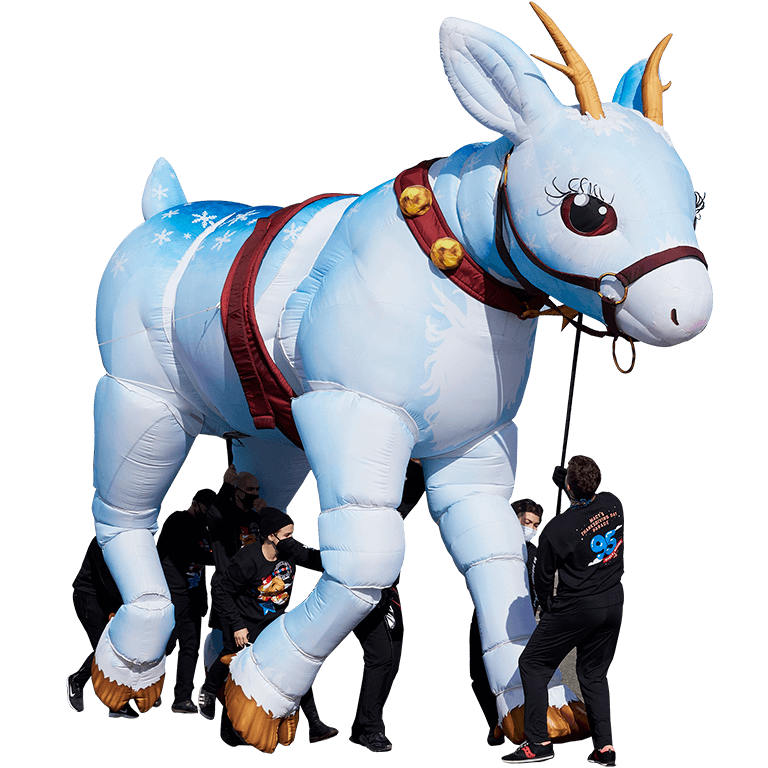 Tiptoe, a special blue reindeer that was first introduced in Macy's 2021 holiday ad campaign, will be making her balloon debut in this year's parade.
However, her balloon is extra special. Tiptoe is the first-ever balloon puppet that will march down the parade route with the help of puppeteers. This allows her balloon to prance through the streets of NYC and encourage spectators to believe in themselves.
Pillsbury Doughboy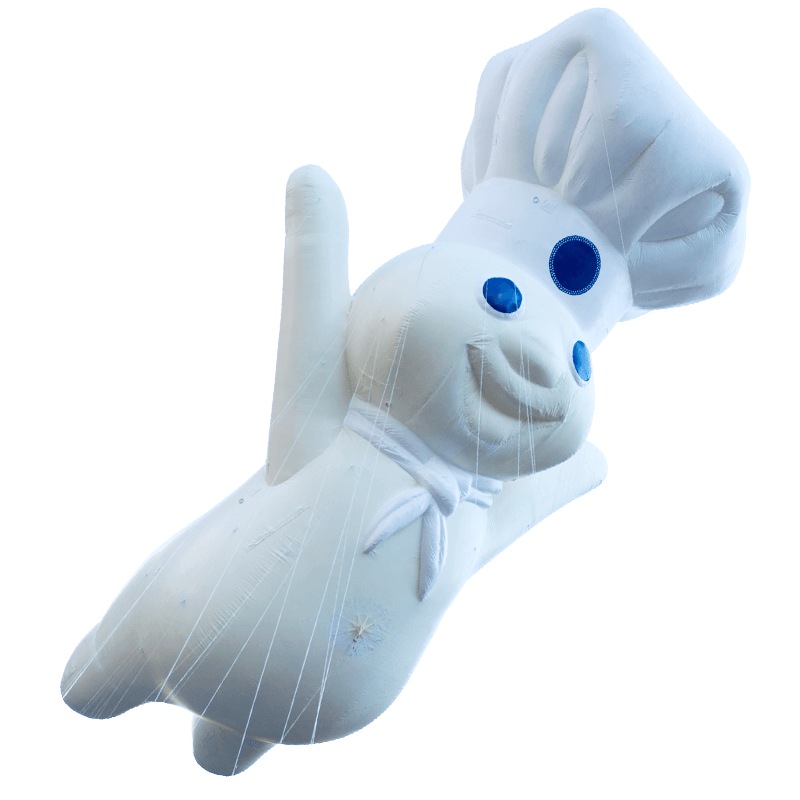 Hoo-hoo! Poppin' Fresh (AKA the Pillsbury Doughboy) is back in the Macy's Thanksgiving Day Parade as a giant balloon. Millions of Americans will delight in his signature giggle. Meanwhile, countless Thanksgiving bakers will be inspired by his home-baked holiday treats
Rexy in the City
Who is Rexy? This T-Rex is the official brand mascot for luxury leather goods label COACH.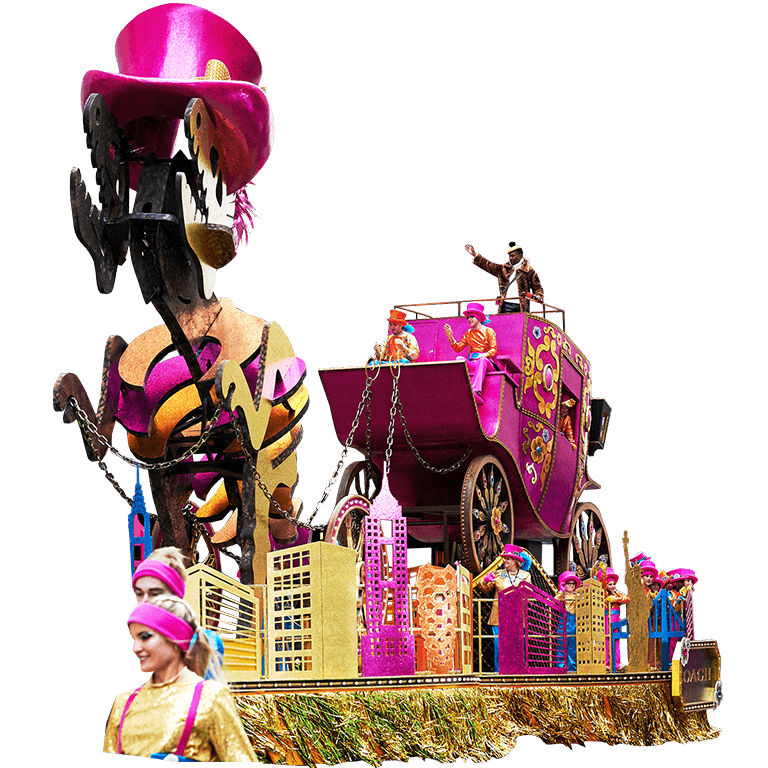 Coach debuted its first float in the 2019 Macy's Thanksgiving Day Parade. This marked the first time a luxury fashion brand received its own float. This year's float promises to be a glittering spectacle with Rexy, a fearlessly fashionable dino, inspiring fashionistas everywhere to be true to who they really are.
Smokey Bear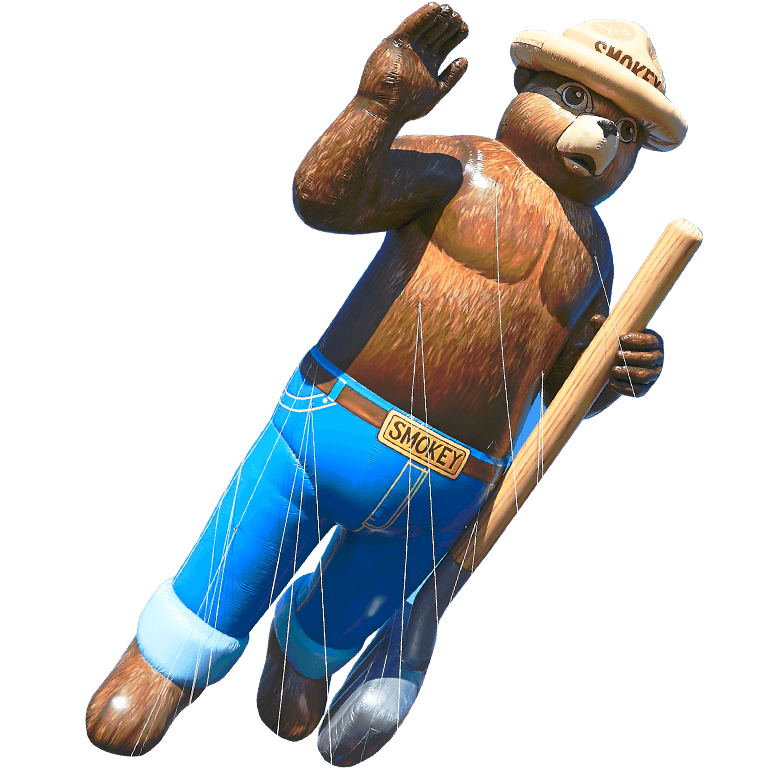 Only you can prevent wildfires with the good advice and guidance of Smokey Bear, the official spokesbear for the U.S. Department of Agriculture — Forest Service.
Smokey Bear, incidentally, is the star of the longest-running PSA ad campaign in American history. Smokey first made his parade debut in 1966. Today, his giant character balloon acts as a reminder to encourage good practices in wildfire safety.
Harvest in the Valley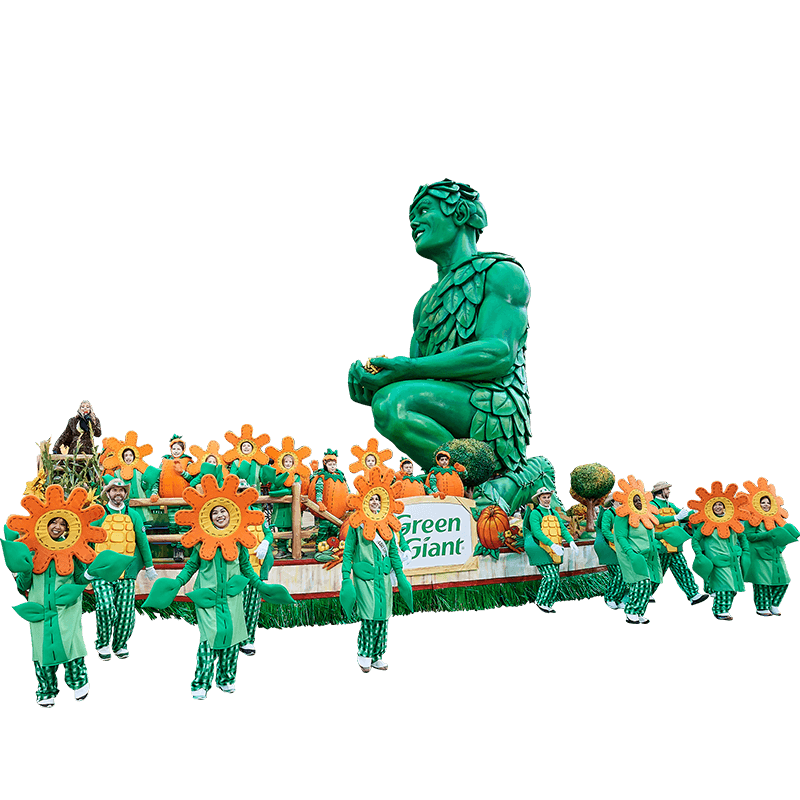 Ho, ho, ho! The Green Giant's "Harvest in the Valley" float is making its triumphant return to the parade lineup. This float depicts the harvest of fall delights with the Green Giant kneeling to harvest the perfect ear of corn.
Will the Green Giant's apprentice the Little Green Sprout be on the float? Yes! Sprout will be gathering green beans. Watch for new float trimmings and a newly added windmill to this year's Thanksgiving float.