Kevin the Carrot, the adventurous brand mascot for Aldi UK, has a penchant for getting into mishaps during the holidays. Ad agency McCann UK gets a kick out of creating teaser spots of blockbuster proportions leading up to Aldi UK's final holiday commercial.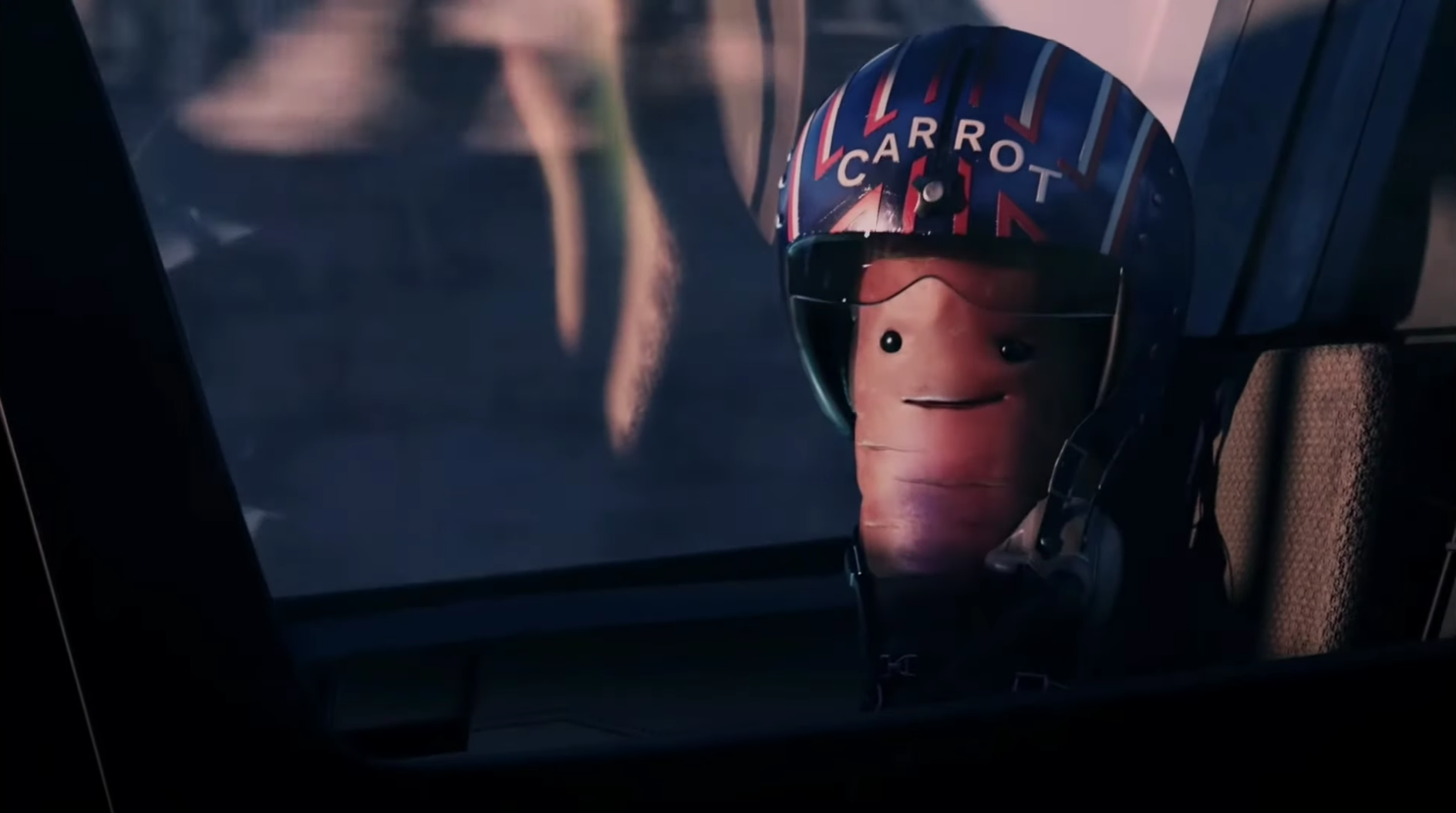 Kevin the Carrot, much like 2020 itself, is struggling to navigate a year full of changes. He even gets an encounter with the big guy himself: Santa Claus! But let's not jump ahead of ourselves just yet. Let's take a look back at where Kevin has been and where he's going in 2020.
The Many Adventures of Kevin the Carrot
When did we last see Kevin?
In 2018, Kevin drove an enormous Coca-Cola esque truck through a snowy landscape on his way to find his family. The truck was so big — and Kevin is a particularly tiny driver — that it nearly drove off a cliff!
Fans were encouraged to tweet #SaveKevin, but one Twitter account came through for the brand mascot. Coca-Cola's Great Britain Twitter handle offered to #SaveKevin with towing services. Back on his feet again, Kevin headed to a castle to rescue his family from the villainous Pascal, a rotten old parsnip. The veggie crew all received a ride home, courtesy of a sleigh ride from Kris Kringle.
The Leafy Blinders
Kevin was back in a new jam in 2019's "The Leafy Blinders." An angry mob of Brussels sprouts, led by Russell Sprout, tied Kevin up against a kitchen grater in the town's square. They want to grate Kevin to pieces — chilling! Luckily, a tomato named Tiny Tom helps Kevin chew through his rope ties. The pair escape the sprouts and head to a circus big top.
In a nod to the film The Greatest Showman, Kevin hosts "The Amazing Aldi Christmas Show." The show is full of dancing, flying trapeze artists (or rather, flying tra-peas since all the performers are vegetables!), and cannon blasts. Specifically, to blast a one Mr. Russell Sprout out of Kevin's big top event of the season!
#PeelTheNeed
Kevin's journey home for Christmas is full of throwbacks to nostalgic blockbuster holiday films. In McCann UK's teaser spot, Kevin the Carrot pays homage to Top Gun.
Do you #PeelTheNeed for speed? Kevin is decked out in a helmet and flying a jet alongside his Turkey companion. They are on their way home for Christmas. Their jets even fly over Santa and his sleigh with reindeer!
"I'm roasting! I'll open a window!" Turkey declares. Kevin cries out not to do it, but it's too late. The open window sends its tiny pilot flying out. With little more than a parachute on his back, Kevin dizzily spins in the air to a destination unknown. Viewers are encouraged to use the hashtag #WhereIsKevin to discover where Kevin the Carrot lands next!
Kevin's Home For Christmas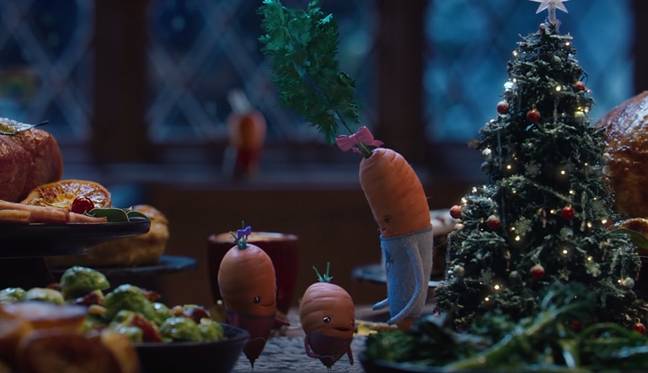 Look, a shooting star! Watching from the windows of their home, Kevin's carrot kids eagerly anticipate the arrival of Christmas. It's not quite Christmas until there's a shooting star, nor until dad comes home.
Kevin, in the sequel to #PeelTheNeed, manages to make a safe landing in a thick pile of snow. However, his landing is still very much far from home. Wandering along in the freezing cold, Kevin (and our narrator) muse aloud if Kevin will spend Christmas cold and alone.
Suddenly, a hedgehog named Harry pops out from under the snowfall. He will help Kevin get home! Kevin hops on top of Harry. Together, they dash through the snow to the tune of the theme from Pirates of the Caribbean until an accident strikes. They fly off a dead end and land into the freezing cold water. Harry and Kevin manage to get out of the water and move out to dry, but still cold, land.
Meanwhile, Kevin the Carrot's family grows concerned at home. Where is Kevin?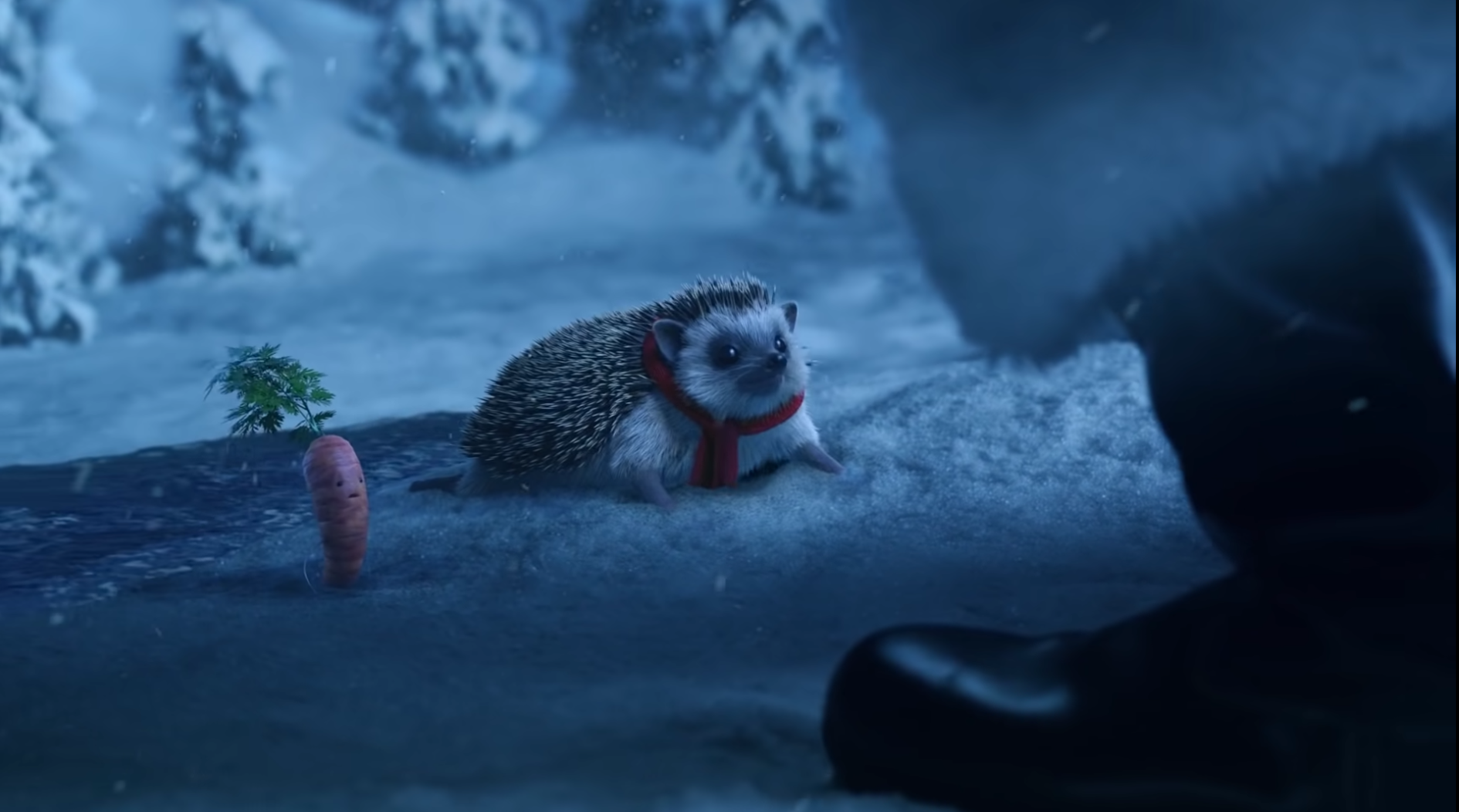 "Kevin the Carrot? What are you doing here?"
Why, it's none other than Father Christmas himself coming to rescue Kevin! Santa is played by actor Jim Broadbent, whom you may recognize as the narrator of previous Kevin the Carrot commercials with Aldi. (As a side note, Broadbent plays Santa in the UK version while actor Colm Meaney plays Santa in Aldi Ireland.)
It turns out Kevin has crash-landed in front of Santa's Workshop. Santa has a clever spin on how to get Kevin home. Santa rides a bicycle through the air, in homage to E.T. the Extra-Terrestrial, with Kevin and Harry wrapped up in a blanket.
Kevin makes it home for Christmas! And listen! You can hear the opening score from Home Alone playing throughout the reunion. (A nice callback to the original Kevin [McCallister] who also wanted to be home with his family for Christmas.)
Happy holidays to one and all!