We've shared oral history articles on PopIcon before, but this oral history on toothpaste mascots takes it to the next level.
Brace yourselves. From Bucky Beaver's beloved "brusha brusha brusha!" 1950s jingle to Japan's runaway fan favorite Mr. T Stain, we're showcasing five of our favorite toothpaste icons over the decades.
Tuffy Tooth | Colgate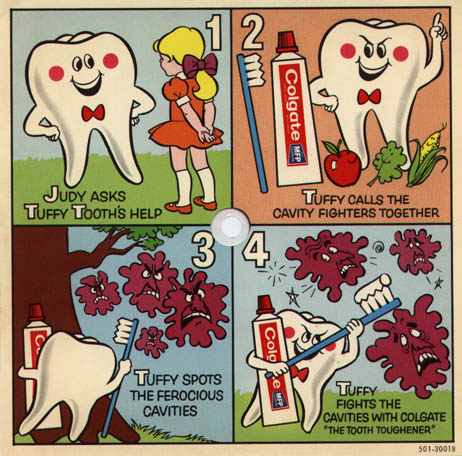 Tuffy Tooth meets the ferocious cavities! Colgate's Tuffy Tooth was no ordinary toothpaste mascot. Debuting in the late 1960s, print ads for Tuffy Tooth began with a little girl named Judy seeking help. The ferocious cavities are after her teeth!
Tuffy Tooth, a bright white tooth wearing a red bow tie, was on his way to save the day. He could help toughen teeth against cavities with cavity fighters like Colgate Toothpaste and a toothbrush.
Some cartoon ads didn't reveal whether or not Tuffy Tooth would be able to save Judy. Therefore, fans had to send for a free Tuffy Tooth record to find out. Listen to this to find out what happens next to Tuffy Tooth and Judy!
Bucky Beaver | Ipana Toothpaste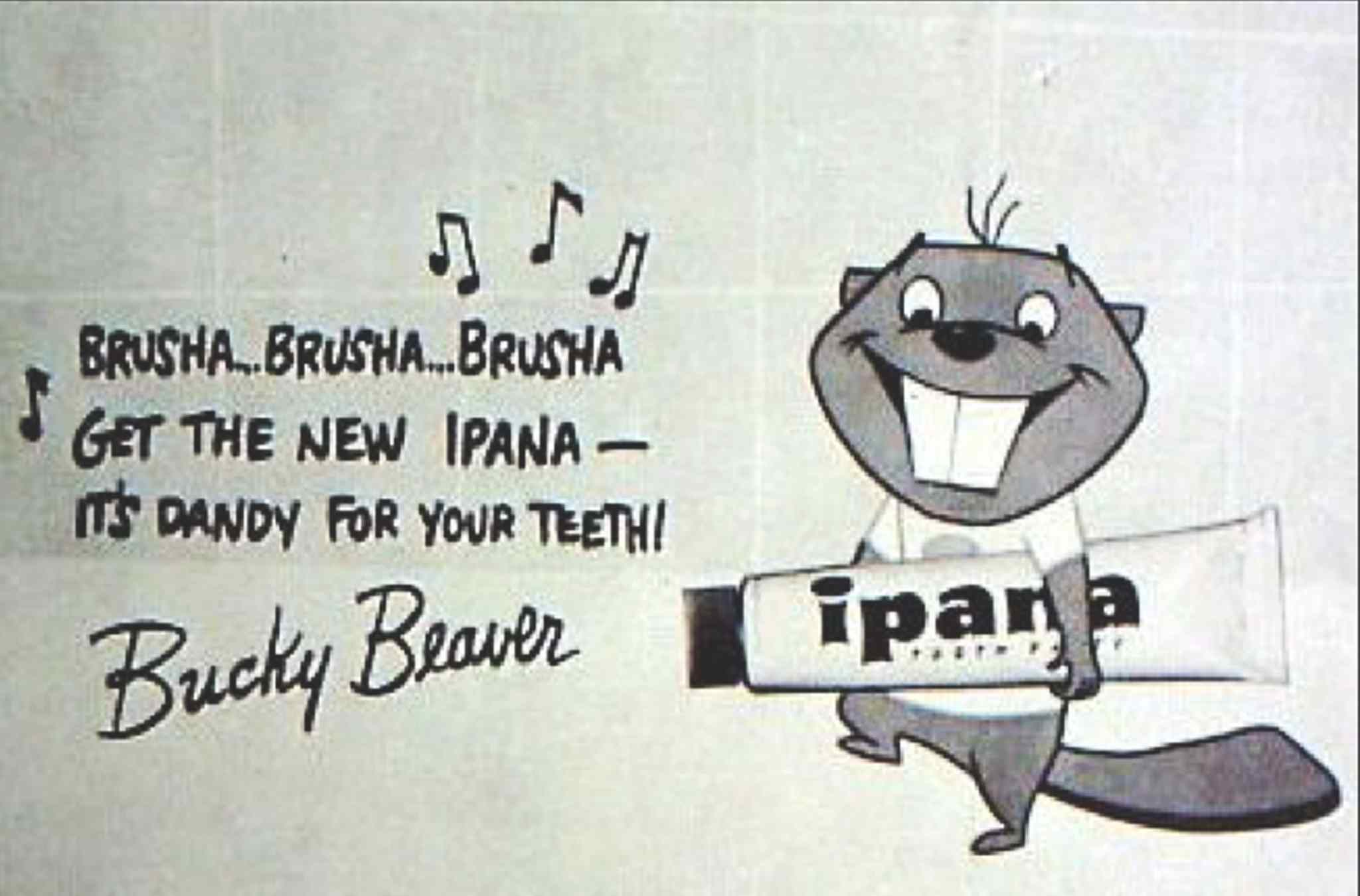 Brusha, brusha, brusha! Diehard Grease fans remember Jan singing along to this jingle in the movie. However, what about those unfamiliar with the Ipana Toothpaste brand and its mascot Bucky Beaver?
The Bristol-Myers Company first introduced Ipana Toothpaste in 1901. Ipana's toothpaste formula included disinfectant, which helped curbed bleeding gums. It was the first toothpaste on the market to include disinfectant in its formula and sales took off because of it.
The Bristol-Myers Company wanted a mascot for Ipana Toothpaste. In the 1950s, they worked with Disney Commercial Studios to create Bucky Beaver. Bucky was animated by Disney animator David Hilberman and voiced by Mouseketeer Jimmie Dodd, the latter of which would write and compose Bucky's famous jingle.
Bucky, a smiling beaver with buck teeth, was depicted as an adventurer in commercials. He traveled to outer space and performed at the circus. However, the nefarious DK Germ derailed Bucky's adventures with plans to put cavities in people's teeth. Luckily, Bucky kept DK's plans at bay with the help of Ipana. He always encouraged viewers to keep on "brusha, brusha, brusha!" using Ipana Toothpaste.
The Crest Team | Crest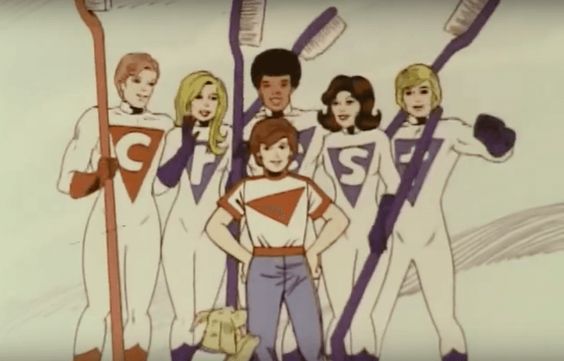 Upon first hearing the name "The Crest Team," you might be left wondering "Huh? Who are they again?"
Let's try again. Does the name of the city "Toothopolis" which stands behind a beautiful wall of teeth ring any bells? How about the massive "Cavity Creeps" that threatened to make holes in Toothopolis' molars? Now you're talking!
The Crest Team was made up of five members that acted as dental superheroes. Each one had a different letter on their outfit — C, R, E, S, T – that spelled out "Crest." They rode in the CrestMobile when called upon, fought their battles with fluoride, and provided tips at the end of the commercial for how kids could avoid cavities.
Jack Zander, founder of animation studio Zander's Animation Parlour, worked on animating The Crest Team commercials for Crest throughout the 1970s. Does the look of these commercials remind you of a comic book, too? Herb Trimpe, famous for his work on Hulk and G.I. Joe comics, designed The Crest Team and Cavity Creeps.
The Sparklers | Sparkle Crest For Kids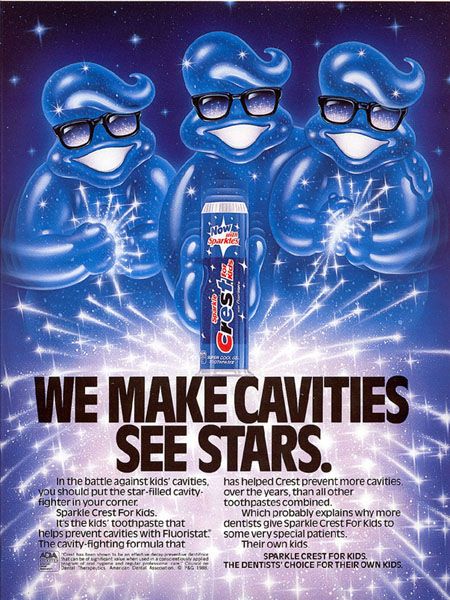 In 1988, Procter & Gamble released a new kind of toothpaste made with sparkles. Meet Sparkle Crest For Kids! The only catch was that, as the name implies, this toothpaste was made for tackling kids' cavities. Sparkle Crest For Kids was made with Fluoristat, the special cavity-fighting formula used by Crest to prevent cavities.
Growing up, I had several tubes of Sparkle Crest For Kids. I always loved the sleek blue coloring of the toothpaste with the tiny sparkles mixed in for dramatic effect. Above all, Sparkle Crest For Kids made me anticipate brushing my teeth at the start and end of the day.
This was likely what the new product set out to accomplish, as advertised by their mascots "The Sparklers." This trio wore sunglasses and sang about the cool things that happened when you caught sparkle mania throughout the late 1980s and early 1990s. They also had mega watt grins and hairstyles that looked awfully similar to toothpaste perfectly applied on a toothbrush.
Mr. T Stain | Ora2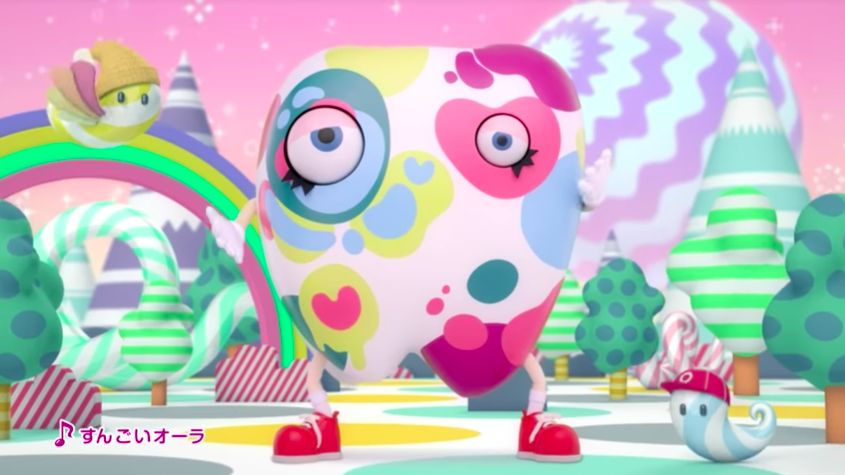 If you live in Japan, you're certainly familiar with the brightly colored, life-sized tooth Mr. T Stain. The official toothpaste mascot for Ora2 from Sunstar Global reached new heights in name recognition with the release of a wildly popular 2013 commercial.
Ora2's commercial gives us a look at the before and after of what it's like to brush Mr. T Stain. Pop singer Kyary Pamyu Pamyu preps a toothbrush with toothpaste to scrub down Mr. T Stain.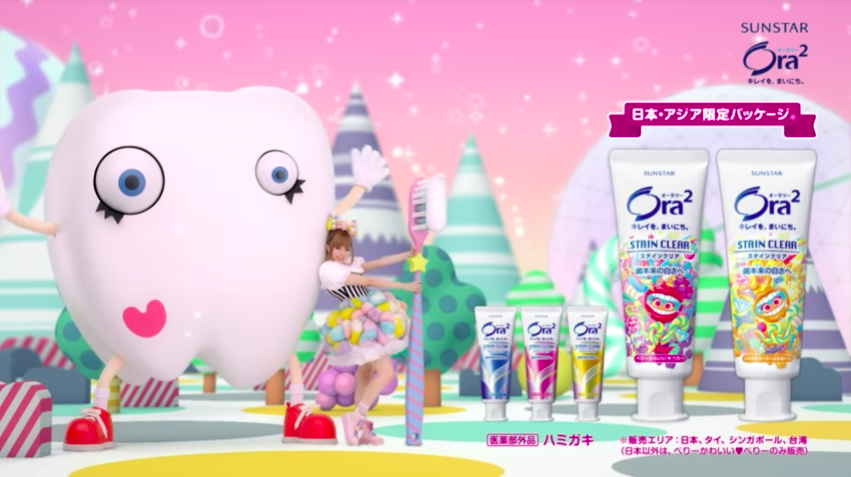 Before brushing, Mr. T Stain is covered in colorful plaque and germs. After that, the character is pearly white. His stains have all disappeared with the exception of a small pink heart at the bottom of his tooth. Above all, we're pretty sure that's meant to represent just how much you'll love your sparkling smile after using Ora2's dental products.