We're big fans of brand mascots at PopIcon, but how does our love for characters measure up to the rest of the United States? Crestline, a custom promotional products company, recently conducted a survey to uncover advertising's most memorable mascots. The survey consisted of responses from 1,630 participants covering 82 different characters in high school yearbook-esque superlatives. But, you know, in a fitting manner to the advertising community. Let's see how our favorite icons stack up in recognition across generations!
Most Memorable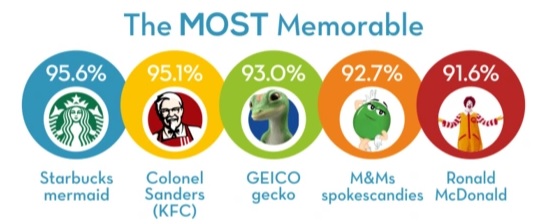 The five faces that make up the most memorable icons have been, in many ways, all things to everyone. We grab lattes with the Starbucks Siren on every cup at Starbucks. Colonel Sanders has long sold us buckets of finger lickin' good chicken at KFC. The refined GEICO Gecko is always there in a pinch for your insurance needs, while M&M'S Green boldly declares she will "melt for no one." And, of course, we couldn't be lovin' it at McDonald's without our dear clown pal in the big red shoes Ronald McDonald.
More Familiar to… Baby Boomers

Would you think the winner would be the face of a butter and margarine brand? Blue Bonnet took the lead at a stunning 63.9%, while Ernie Keebler, and the Keebler Elves, trailed in at 57.7%. If you need the Keebler Elves, they'll be baking away in their Hollow Tree!
More Familiar to… Generation Z

Who does Gen Z, the generation most likely to do their grocery shopping through Amazon and get dinner delivered from DoorDash, see as the mascot most familiar to them? Chuck E. Cheese took the top spot at 52.6%. BuzzBee from Honey Nut Cheerios flew in closely behind at 48.7% with Gen Z. Do we all just want to hang out in spaces where our (inner) kid can be a kid? Seems like it!
Most Likeable
Hats off to Poppin' Fresh! The Pillsbury Doughboy, with a ranking of 8.66, is America's most likeable brand mascot. Not a surprise to anyone, if you think about it. He's always ready to help out in the kitchen, and giggles nonstop.
Most Persuasive  
We have mixed feelings about Red from M&M'S ranking the highest as most persuasive mascot. On the one hand, he's pretty smooth at selling candy. However, Red may or may not have been the ringleader for eating M&M'S new flavor Hazelnut so…
Most Trustworthy
Snuggle Bear, a longtime friend to laundry baskets everywhere, took the honors as most trustworthy mascot. Ranking at 7.77, Snuggle Bear is the cuddly face of Snuggle Fabric Softener and has spent decades cleaning clothes and cuddling up to consumers.
Most Annoying and Most Creepy
Poor Mr. Mucus from Mucinex. He ranked at 5.74 in most annoying and 7.03 as the most creepy character. A booger can't catch a break with consumers, even when he's just being himself.
Battle of the Bowl: Cereal Mascots Face Off!
Tony the Tiger remains GR-R-REAT! The Frosted Flakes icon took on the cereal bowl brackets to beat out his fellow breakfast icons. Tony took home the highest rankings in most likeable, most persuasive, and most trustworthy. Try as you might, you can't keep this beloved tiger down.
See the full list of mascots and their rankings here.