Comedians, Reba McEntire, and a bear-shaped honey bottle called 'Colonel Bear' have all played the role of Colonel Sanders.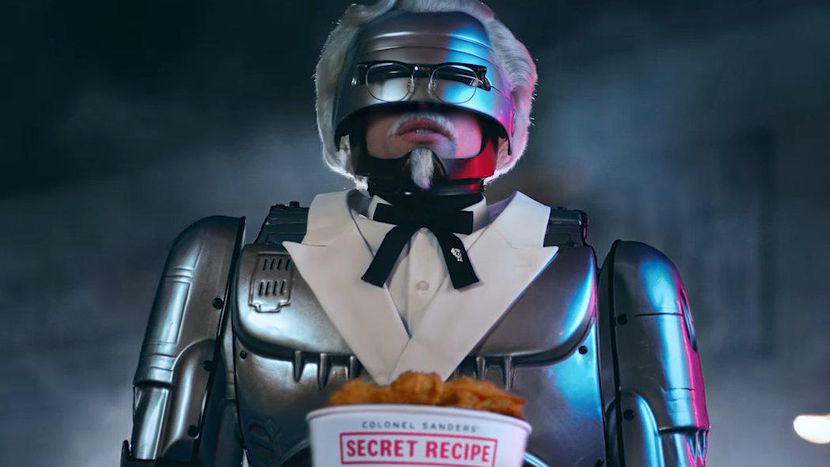 Now, KFC's icon is getting the silver screen treatment. Colonel Sanders has transformed into Colonel RoboCop. (Pro tip for all of our younger readers: that's a reference to the hero in the 1987 action cult classic RoboCop.)
'Countdown'
Two new commercials have debuted from ad agency Wieden + Kennedy featuring Colonel RoboCop behaving like, well, a RoboCop. Dressed in a robotic bodysuit with stiff movements, there are hints of the Colonel underneath the costume. He still has his white hair and goatee. His glasses are (somehow) attached outside of his headgear. Oh, and he's holding buckets of KFC chicken.
In 'Countdown,' Colonel RoboCop interrupts family movie night with a KFC $20 fill-up. They have 10 seconds to try the bucket out.
The family ignores Colonel RoboCop to watch the actual RoboCop film on their TV. Colonel RoboCop then raises the stakes from 10 seconds to five seconds to comply with his orders. The family instantly leaps to attention and dives for the chicken.
'Secret Recipe'
This minute-long spot starts off with a fried chicken dinner party. Colonel Sanders — er, Colonel RoboCop — sits at the head of the table. When an inquisitive guest asks him for his secret recipe, Colonel RoboCop deadpans that he would have to kill the guest first before telling him.
Upon hearing this, the guests become (understandably) visibly rattled. Colonel RoboCop then begins laughing, and shifting around in his chair, robotically. This causes the entire table to laugh along with him. We think it's all still a joke until the very end. This is when Colonel Sanders looks directly, and quite seriously, at the camera.
Would he actually kill to protect the chicken's recipe? The commercial's end tagline kind of answers that question. Kind of. Real loosely. "You can eat it, but you can't know it."
The Ultimate Colonel RoboCop Easter Egg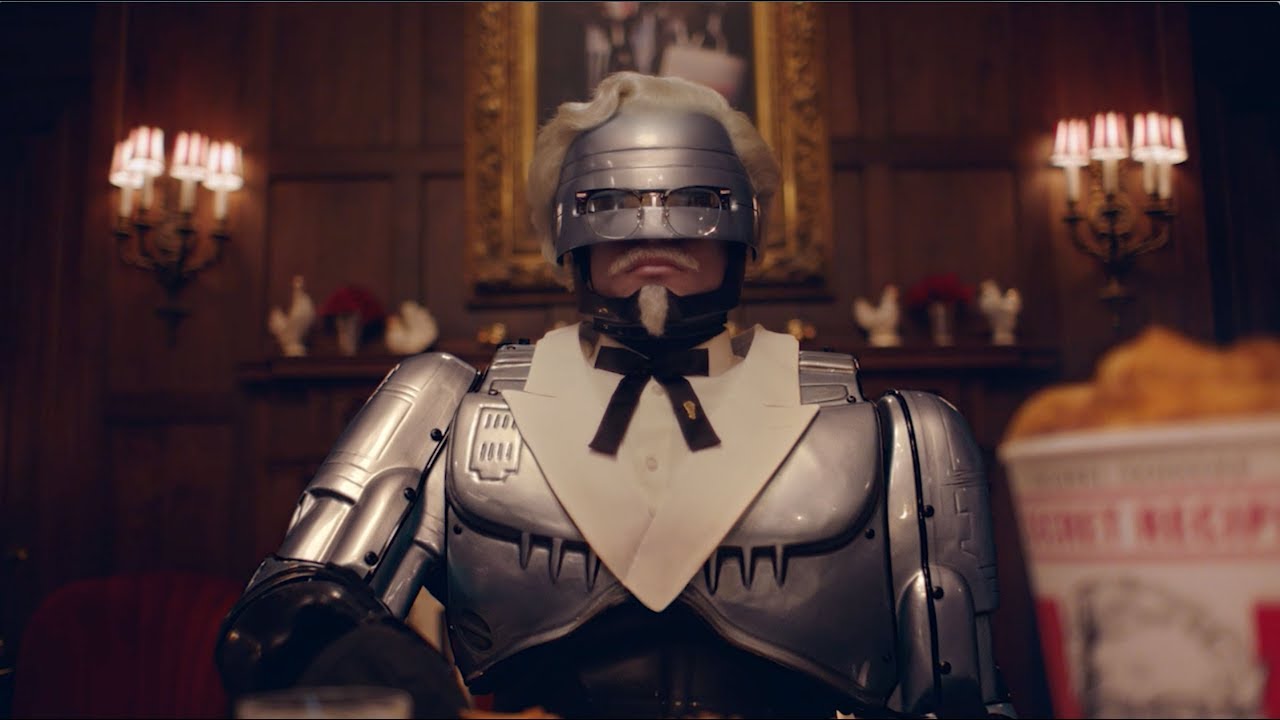 Does Colonel RoboCop sound familiar to anyone else? Actor Peter Weller, AKA the original RoboCop, reprises his role via voiceover in the commercials.