What do you know about Sunny, the friendly face of Kellogg's Raisin Bran? Maybe you have a vague memory he used to go by Sunny the Smilin Sun. Or chances are pretty good you might not have known this mascot had a name at all but were familiar with his grinning face pictured on boxes of Raisin Bran cereal.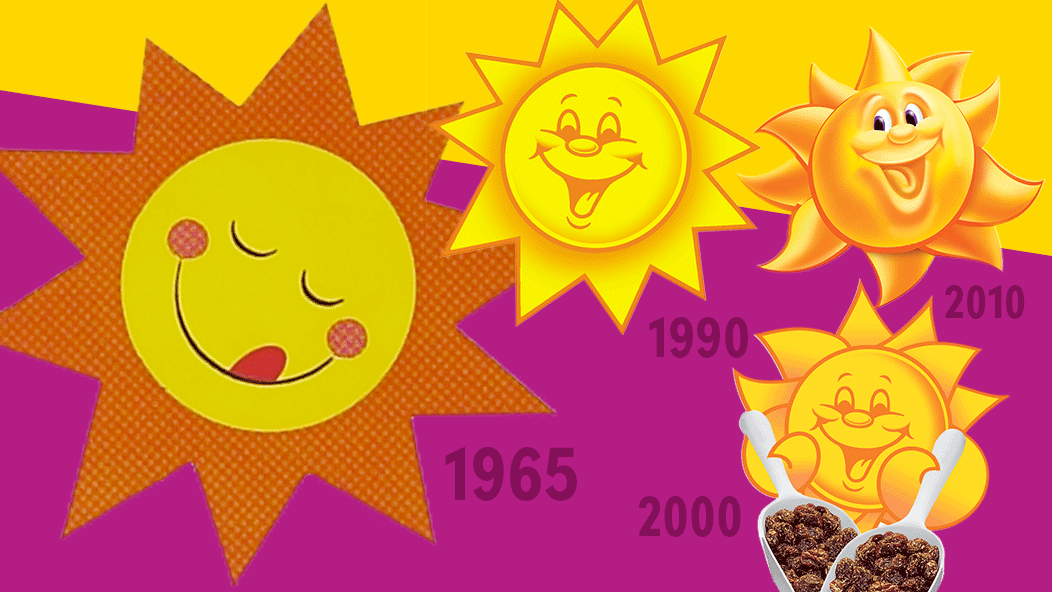 2023 marks the debut of a brand-new Sunny design featured on Raisin Bran. To celebrate, we thought we would take readers on a trip down memory lane of Sunny's many iterations. From the appearance of his rosy cheeks to the moment he went from 2D to 3D, here's a look back at the design evolution of Sunny, Raisin Bran's mascot.
1960s: Introduction of Sunny the Smilin Sun
Sunny the Smilin Sun first made his appearance in commercials and on packages of Raisin Bran cereal in 1965. However, this appearance came well after the creation of Raisin Bran. Kellogg's Raisin Bran was created in 1942 and became known as Kellogg's first product with fruit in the box.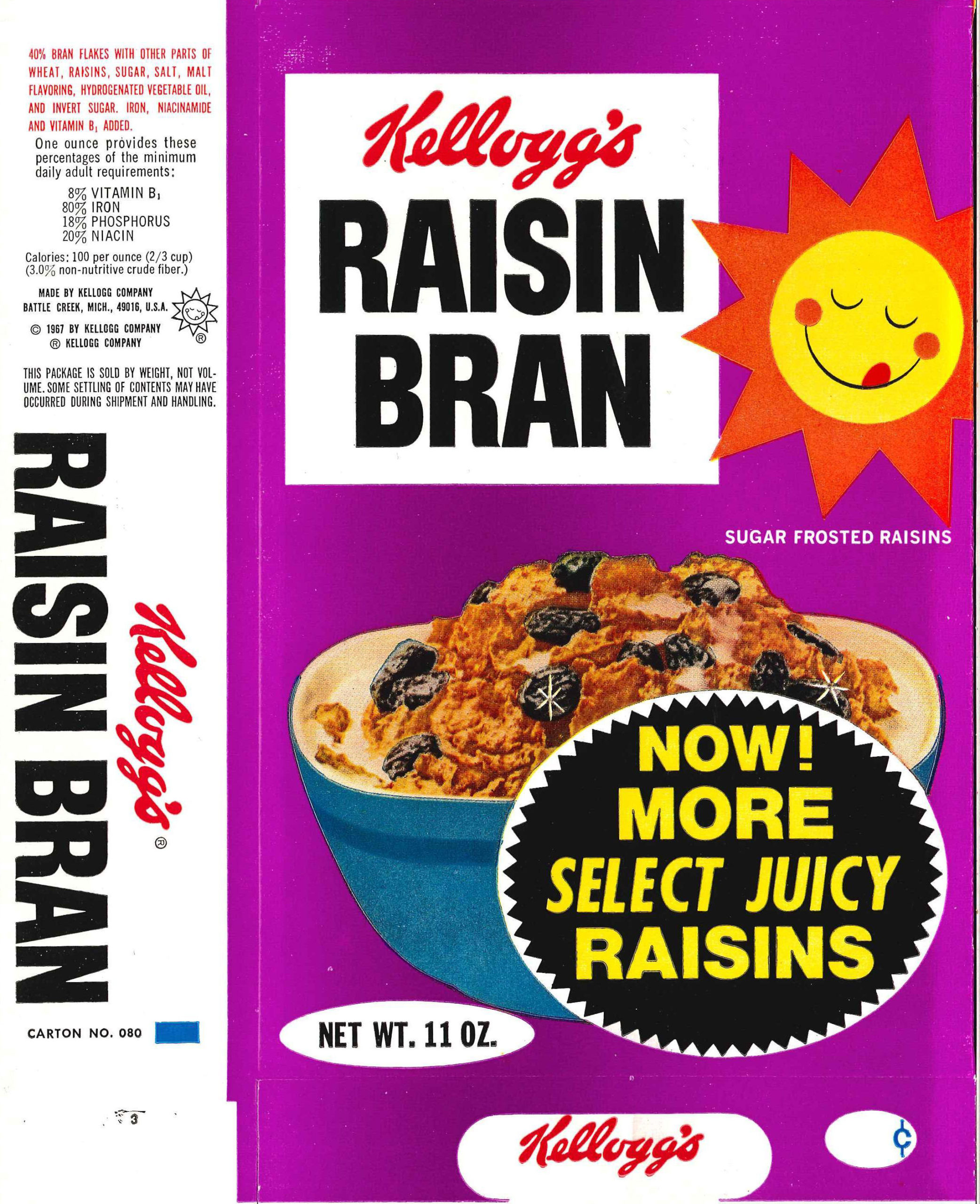 Sunny was created as part of a campaign to effectively use humor in TV commercials and print ads and distinguish Kellogg's product from other raisin brands. 1967 marked the first appearance of Sunny's "rosy" cheeks. In the decades to come, he would also receive many different names. Sometimes you'd see him advertised as Sunny the Smilin Sun. Other times he went by Raisin Bran Sun, Sun, and now, Sunny.
1970s: Sunny Sings About TWO SCOOPS of Raisins
The arrival of the 1970s marked some subtle changes in Sunny. Most noticeable was Sunny showing off his wonderful voice through song.
Throughout the 1970s and 1980s, Sunny often acted as a newscaster in Raisin Bran commercials. You could count on Sunny for "the scoop" on the amount of raisins in every package of Raisin Bran.
In the 1970s, these songs started off as folk tunes. Sunny was shown in December 1971 with two scoops and his best-known advertising slogan "there's TWO SCOOPS of raisins in a package of Kellogg's Raisin Bran." By the 1980s, the songs into more pop and rock 'n roll jingles.
Sunny also began wearing sunglasses during this time, so if you remember Raisin Bran's Sunny in shades you're not part of some sort of mascot-based Mandela Effect. The mascot did indeed rock a pair of sunnies!
1980s: Sunny Goes 3D!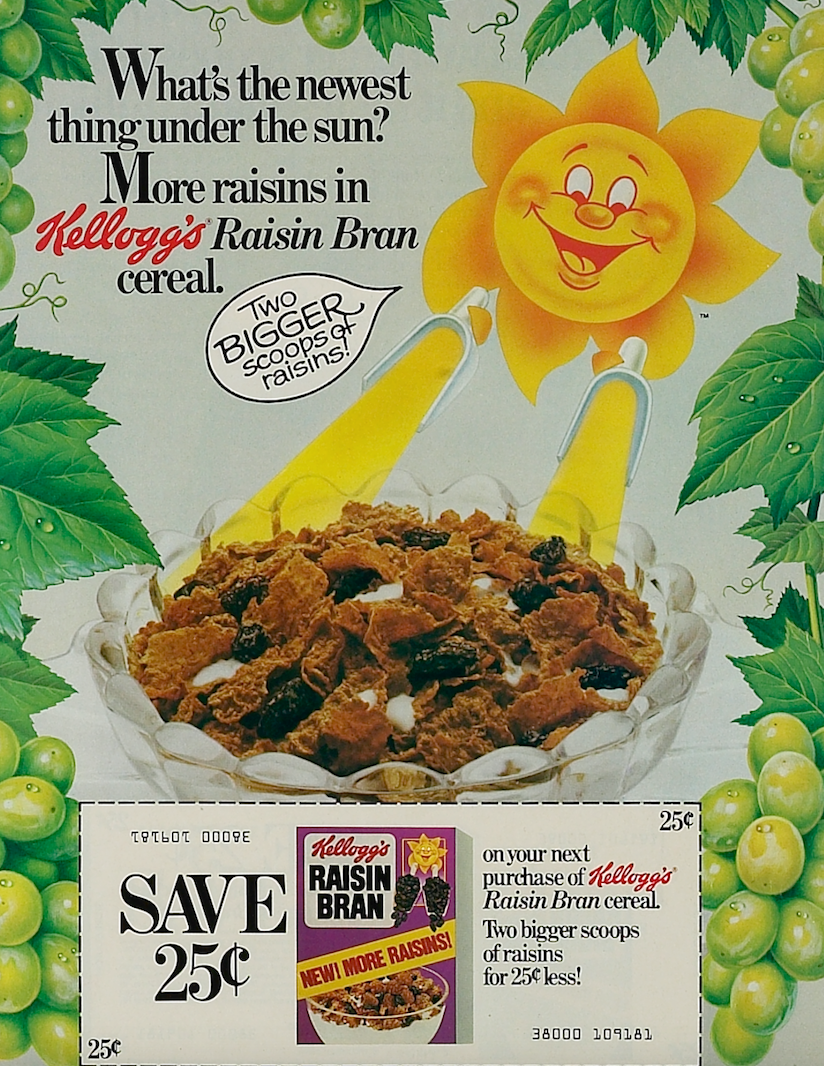 In 1981, Sunny experienced one of his greatest style refreshes since his rosy cheek days. The mascot's appearance went from 2D to 3D.
Sunny had a more expressive face which allowed him to show off his happy, friendly, and sunny (how can we not say it?) personality! He also used his rays to grab onto those two famous scoops of raisins. In 1982, it was revealed that all the raisins inside Kellogg's Raisin Bran come from "Raisin Land." This was a special land where Sunny himself comes down from the sky to interact with grapes and turn them into raisins which are found in Raisin Bran.
While Raisin Land is obviously not a real place, its charm resonated with Raisin Bran enthusiasts. In 1983, Kellogg's created an Adventures in Kellogg's Raisin Land game book thanks to its commercial popularity.
2023 and Beyond: Meet the New Sunny!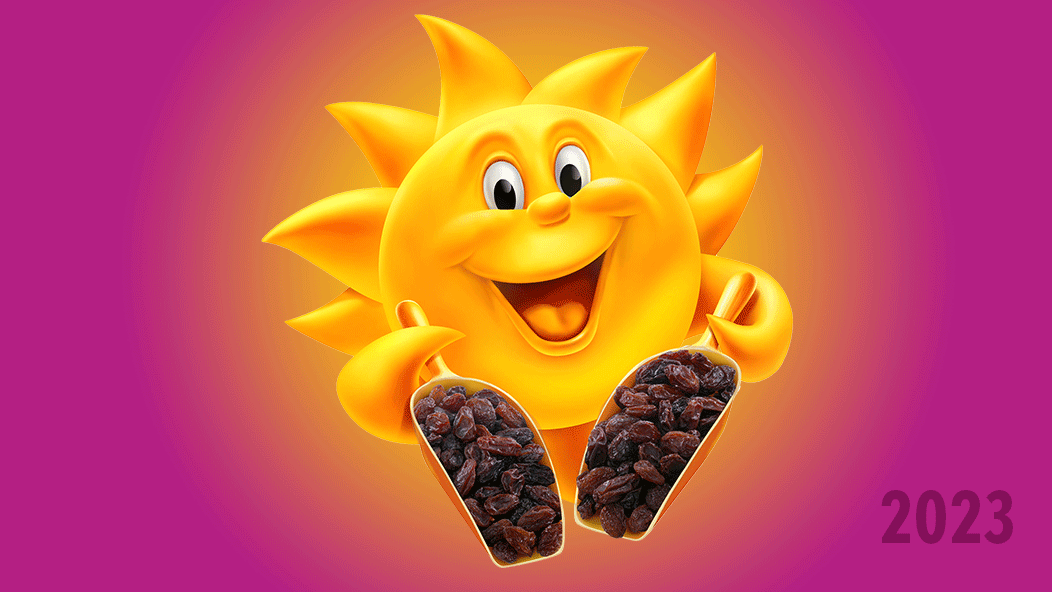 2023 marks the debut of the new Sunny. He's the same beloved Raisin Bran mascot everyone remembers and is ready to shine on with the next generation.
"Sunny has consistently been the perfect representation of the optimism and energy of Kellogg's Raisin Bran," said Lauren Schook, Brand Manager, Kellogg's Raisin Bran.
"His look has changed only a few times since his introduction in 1965 and we're excited to evolve his design to be a more modern reflection of what his radiant energy and unbridled optimism represents for the consumer and the brand today."
Image credit: Kellogg's Raisin Bran.