What has no snow, but can conjure up a winter wonderland with the help of a snowflake and a catchy singalong? Why, it's Ronald McDonald! The beloved clown used a pinch of magic to get the McDonaldland crew to sleigh ride down to McDonald's for the 1983 holiday season. Let's sleigh ride down memory lane with former Leo Burnett creative Rich Seidelman for an exclusive look behind the scenes filming this commercial.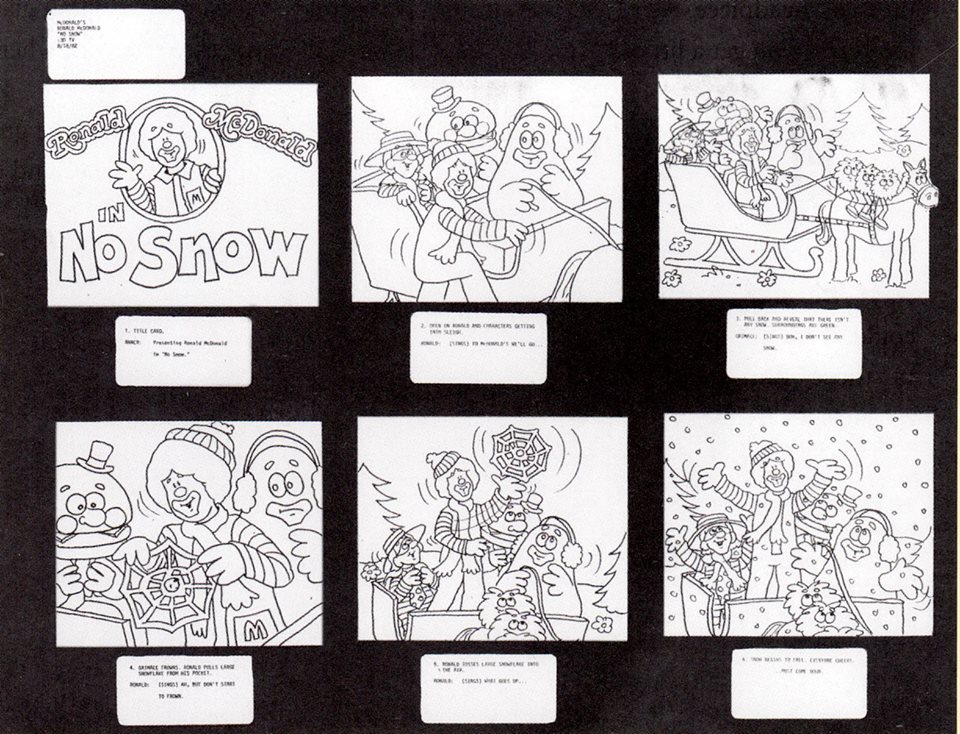 The Storyboard Behind "No Snow"
Seidelman and his writing partner Barbara Fallon created the premise for the spot in the late summer to early autumn of 1983. "No Snow" featured Ronald and his McDonaldland friends hopping into a horse-drawn sleigh to grab a bite to eat at McDonald's.
However, everyone is bundled up in what looks like unseasonably warm weather. Grimace immediately points out that their commuting plan lacks snow. Thinking quickly, Ronald whips out a snowflake. It lights up and poof! It's snowing! Ronald takes the horse reins and they're off. The gang merrily sings their way down to McDonald's in the original :30 spot.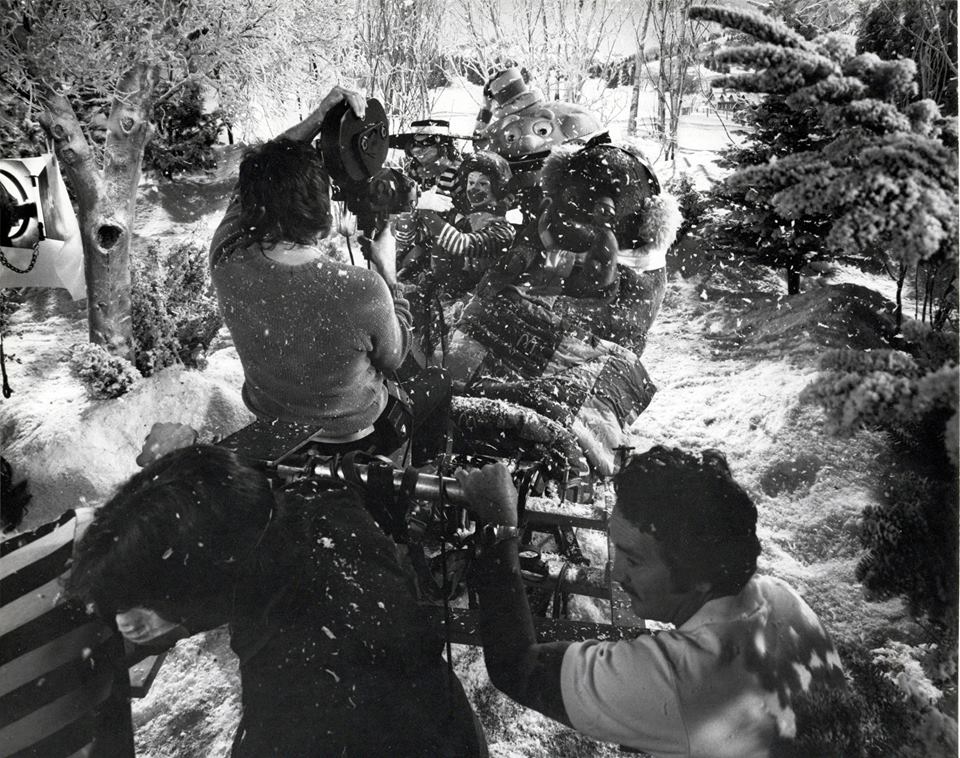 Bringing "No Snow" To Life
Now it was time to take the magic off the storyboard and into real life. Director Vern Gillum was brought on to direct the commercial alongside cinematographer Joel King. Rich Manners created the music. Seidelman recalls that all of the sets for the commercial were built on a stage. Fallon wanted dappled horses to pull the sleigh, so the horses used for the spot were painted.
Why dappled grey, specifically? The existing horses were brown, and Fallon insisted that they would look better against the snow in dappled grey. It's a minor detail many would overlook today, but it added to the commercial's overall aesthetic and wonder.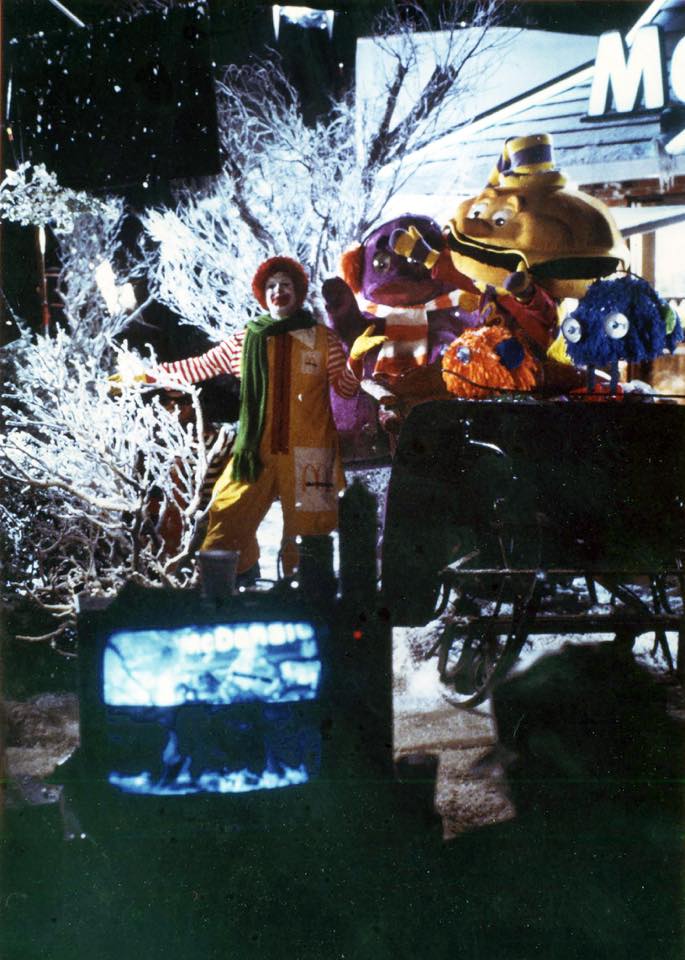 McDonald's Magical Decision
I mentioned earlier that this particular commercial is iconic, but didn't elaborate on the reason why. McDonald's thought the rough cut for "No Snow" was beautiful. They also did something highly unusual. The brand asked if there would be enough footage to expand the spot from :30 to :60.
Seidelman told me that back then, it was quite common to create one :60 long commercial and include shorter :30 spots made from the original. McDonald's had reversed the decision with "No Snow." They ordered a :30 commercial and wanted to expand it to :60 — which was unheard of at the time.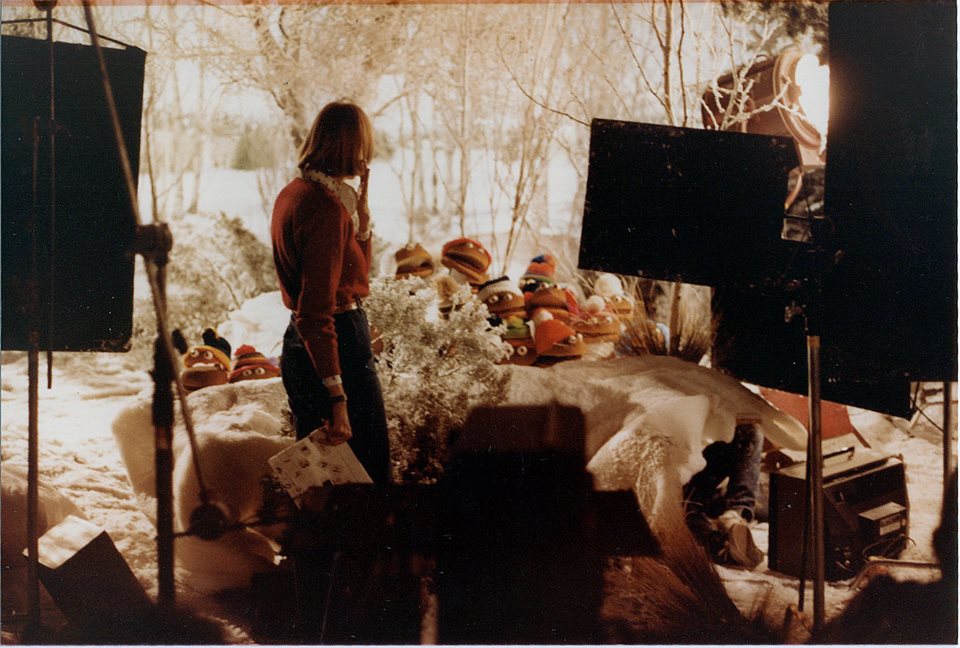 Expanding The "No Snow" Universe
Seidelman and Fallon went back to their storyboard to expand the "No Snow" holiday universe. They didn't have enough film for a :60 spot, so the pair added some sights Ronald and his friends would see during their sleigh ride.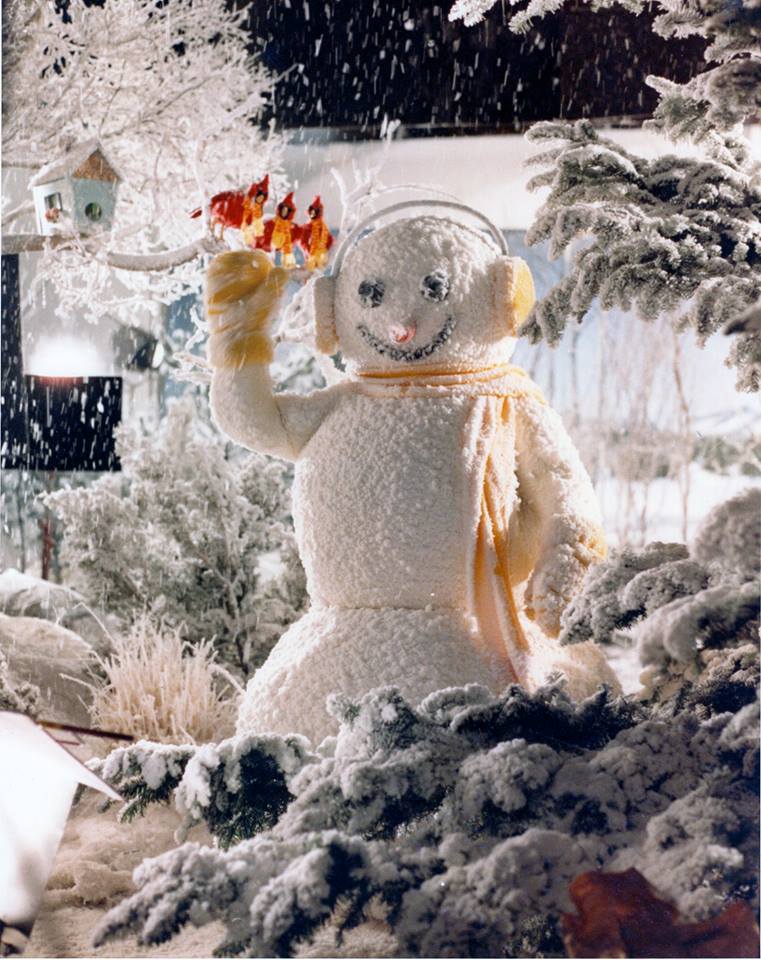 There were bright red cardinals, singing from a tree branch. A snowman brought to holly jolly life by Ronald's magic snowflake. Musical icicles and (probably) a dozen Hamburger puppets rounded out the new additions.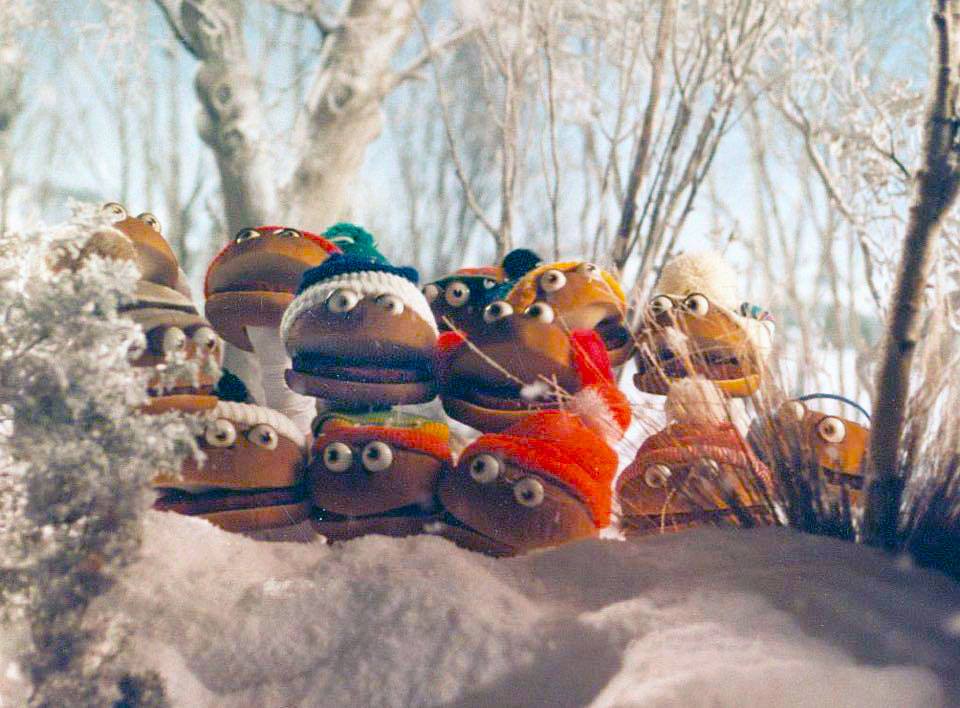 The revised storyboard was then presented to McDonald's. The company liked it and asked the Leo Burnett team to film the additional scenes. Everyone — including Seidelman, Gillum, Fallon, King, and Leo Burnett producer Glant Cohen — returned to Los Angeles and to the stage for the set. Gillum and his crew reconstructed parts of the original set and used lush backdrops for its winter feel. Puppeteers made the snowman and cardinal puppets.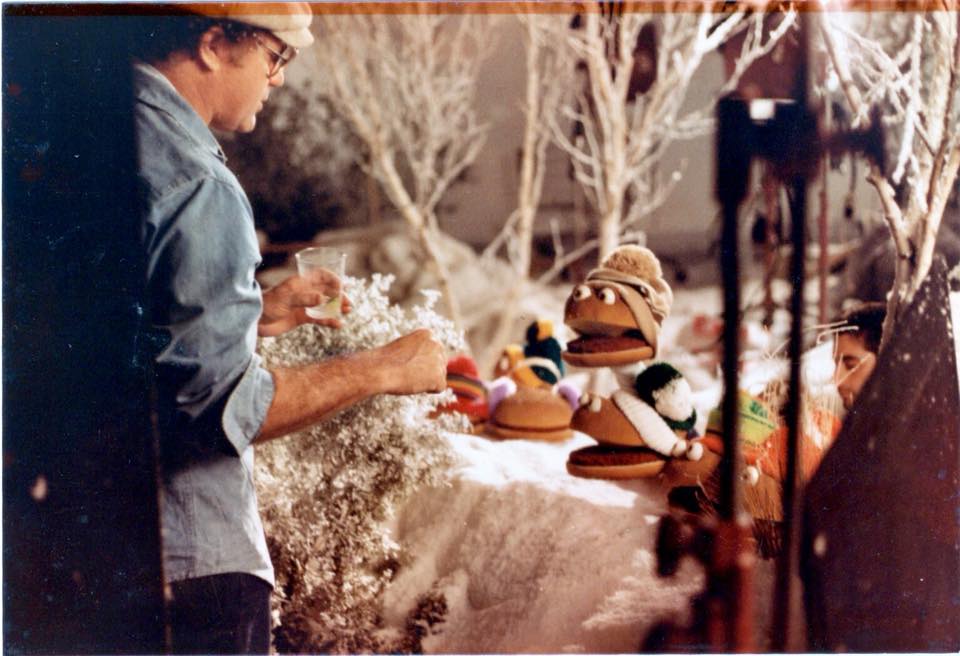 Here, Gillum chats with the Hamburger puppets moments before their big scene in "No Snow." It's a moment that never fails to make Seidelman smile.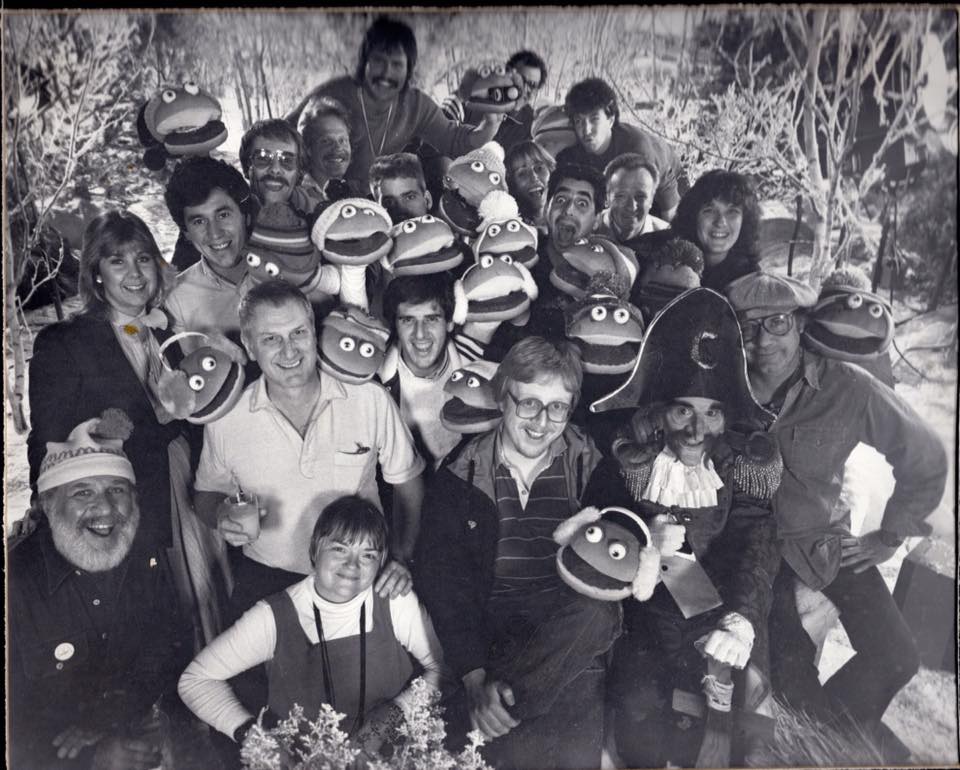 Remembering "No Snow" Today
Seidelman still can't believe that the commercial went from :30 to :60. "As far as Barbara and I knew, they had never asked for anything like that before. It was unprecedented and a very unusual request, especially for film that had already been shot."
Perhaps Ronald's magic snowflake convinced McDonald's 'tis the season to expand the fun-filled spot and add even more magic to it. After all, the Hamburger Puppets needed a chance to shine and rock fuzzy beanies. Happy holidays!
Image credits: Filming in McDonaldland.