Chances are you might have already seen the Belgian Boys brand before. Perhaps you received one of their complimentary Choc 'O Chip mini cookie stash bags on a recent JetBlue flight. Or, you spotted their Mini Stroopwafels or Waffle Chips for sale in the snack aisle at Target.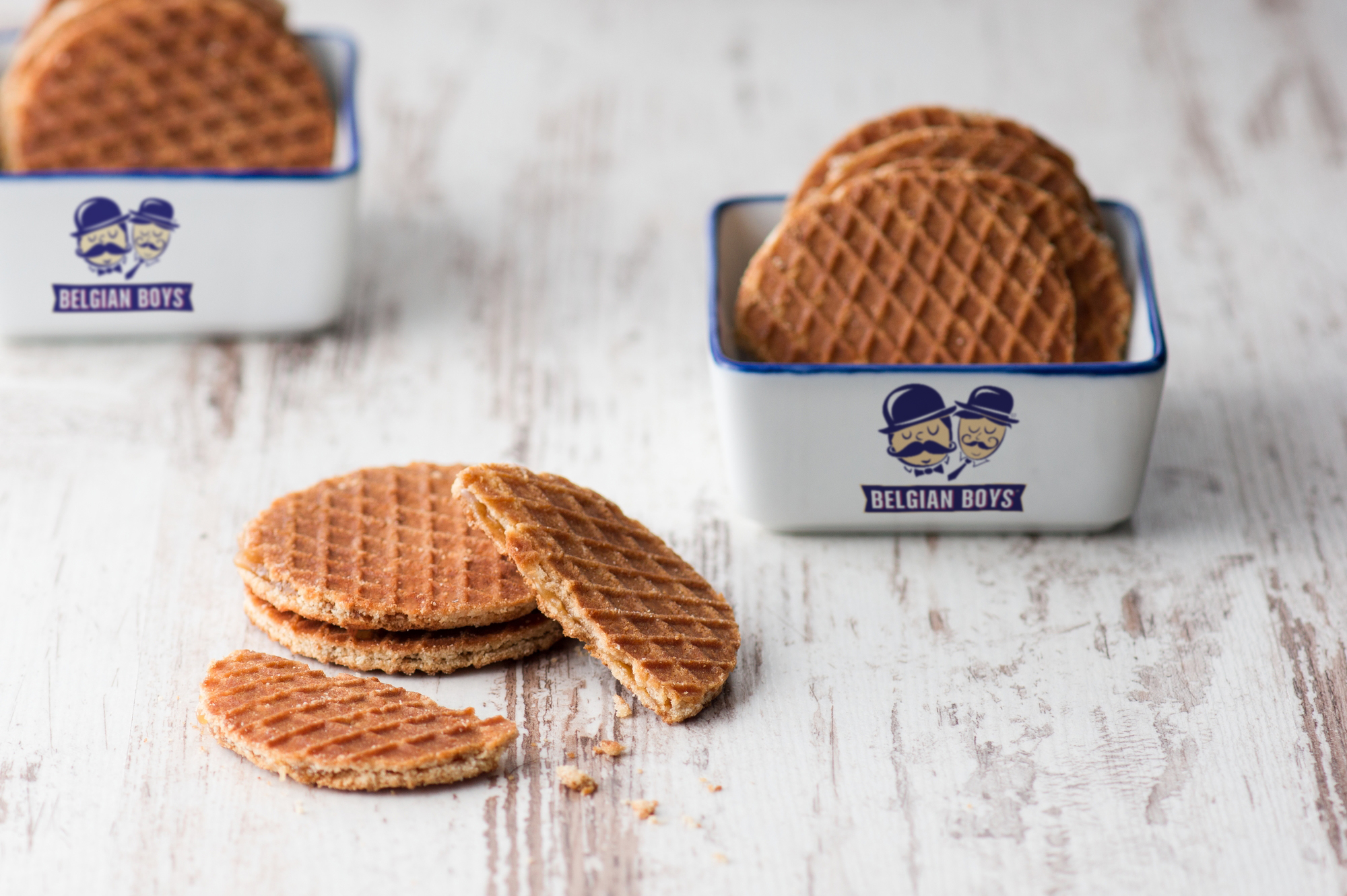 No doubt you would have immediately spotted the duo's illustrated faces on the packaging. Chubby and Skinny are more than brand mascots for Belgian Boys. They're best friends — and they love food!

Humble beginnings in Antwerp, Belgium.
Chubby and Skinny have a unique character backstory. Clad in suits, hats, and mustaches, the pair were born and raised in the Flemish city of Antwerp in Belgium. Antwerp has a highly fashionable reputation, with a famous diamond district that attracts tourists from around the world.

It's the foodie culture, however, that Chubby and Skinny crave the most. Antwerp is 30 minutes away from Brussels, an hour from Amsterdam, and just a bit further to Paris, France and Aachen, Germany. If they wanted fresh crepes from Paris or stroopwafels in Amsterdam, Chubby and Skinny would hop into their car and go on a comfort food road trip. They grew up feasting on some of the best food that Europe had to offer and were constantly inspired by these neighboring cultures.
Chubby and Skinny head to the United States!
When the pair turned 18, they decided to move to the United States. Skinny lived in New York while Chubby studied in Boston. They were 10 years into their American journey when the hunger pangs began to strike. It could not be denied: Chubby and Skinny missed their European goodies. The tasty treats were missed so much that they worried they could not go another day without them.

The lightbulb moment hit Chubby first. "Skinny… What if we made our own treats?" he asked.
Skinny was immediately all in with the plan. "Yay! Let's bake!"
From that moment forward, nothing was the same for Chubby and Skinny. The spokescharacters launched Belgian Boys together as a means to share their favorite European treats with the world. Each premium quality product, from the Choco Waffle Chips to the Cookie Butter, is loaded with whimsical designs and incredible flavors.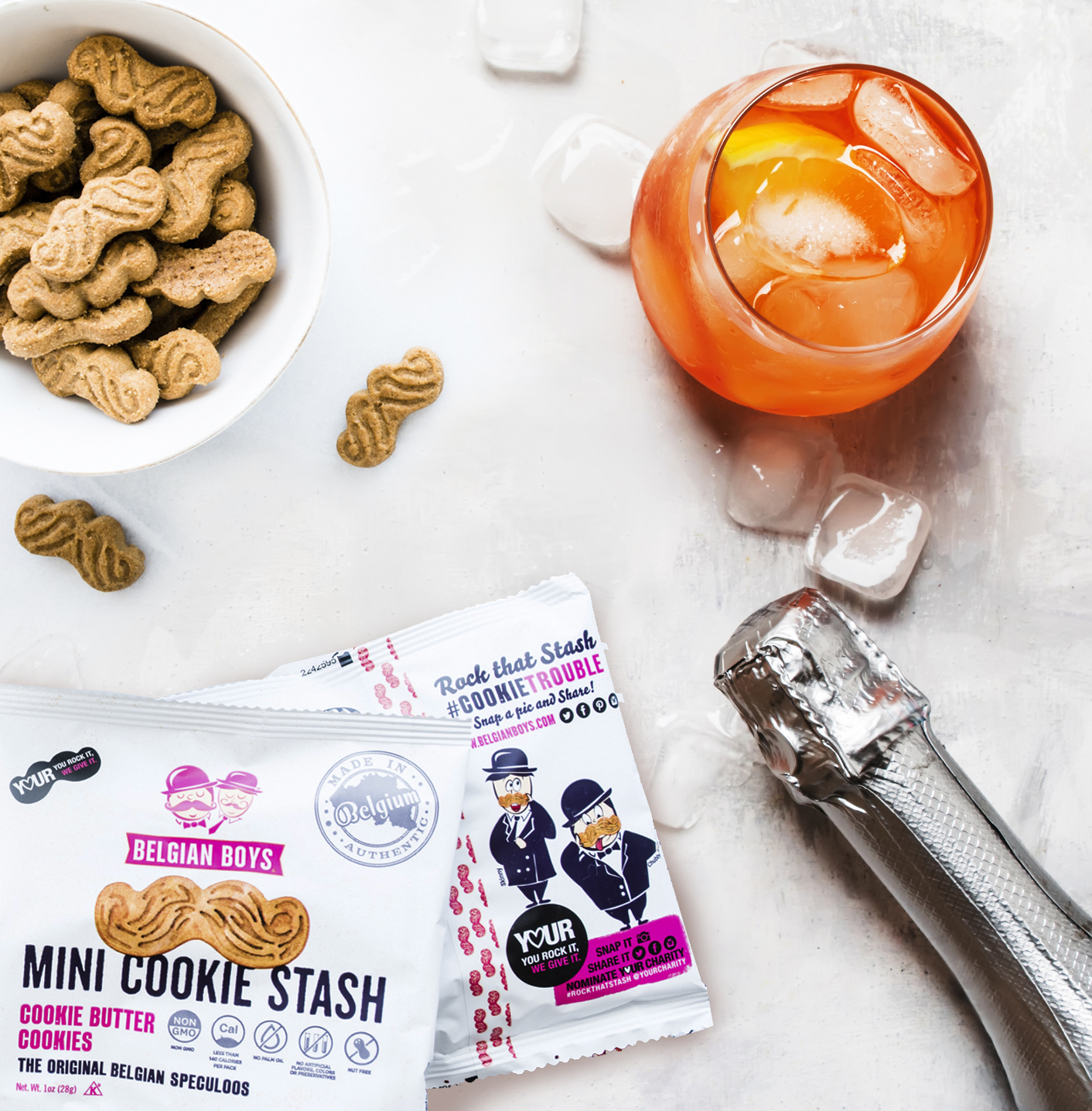 You Rock It, We Give It!
At the heart of the Belgian Boys brand is an unparalleled passion for their delectable eats. Chubby and Skinny love social media so much that they have a "You Rock It, We Give It!" social campaign.
Fans can enter to win by snapping a photo of themselves rocking the signature Chubby and Skinny "stash" (AKA those little mustache cookies!). Add the hashtag #ROCKTHATSTASH@[Your Charity] and nominate the charity of your choice. Belgian Boys chooses a winner every month. The winner gets their picture shared on their social media accounts, and Belgian Boys will donate that month's proceeds to the winner's chosen charity.
Follow them on Facebook, Twitter, and Instagram to get a glimpse into Chubby and Skinny's lighthearted world. Do good and snack good — nothing could be sweeter!