Halloween may look a bit different this year, but the spooktacular Monster Cereals characters — Count Chocula, Boo Berry, and Franken Berry — are back! Boils and ghouls will simply scream for this news: one of these icons, reimagined as a bust mold, could be yours!
General Mills is launching a Monster Cereal Sweepstakes featuring the iconic Monster Cereal mascots. Keep reading until the end for more details about how you can enter in to win… if you dare.
Making the Monsters with Karlee Morse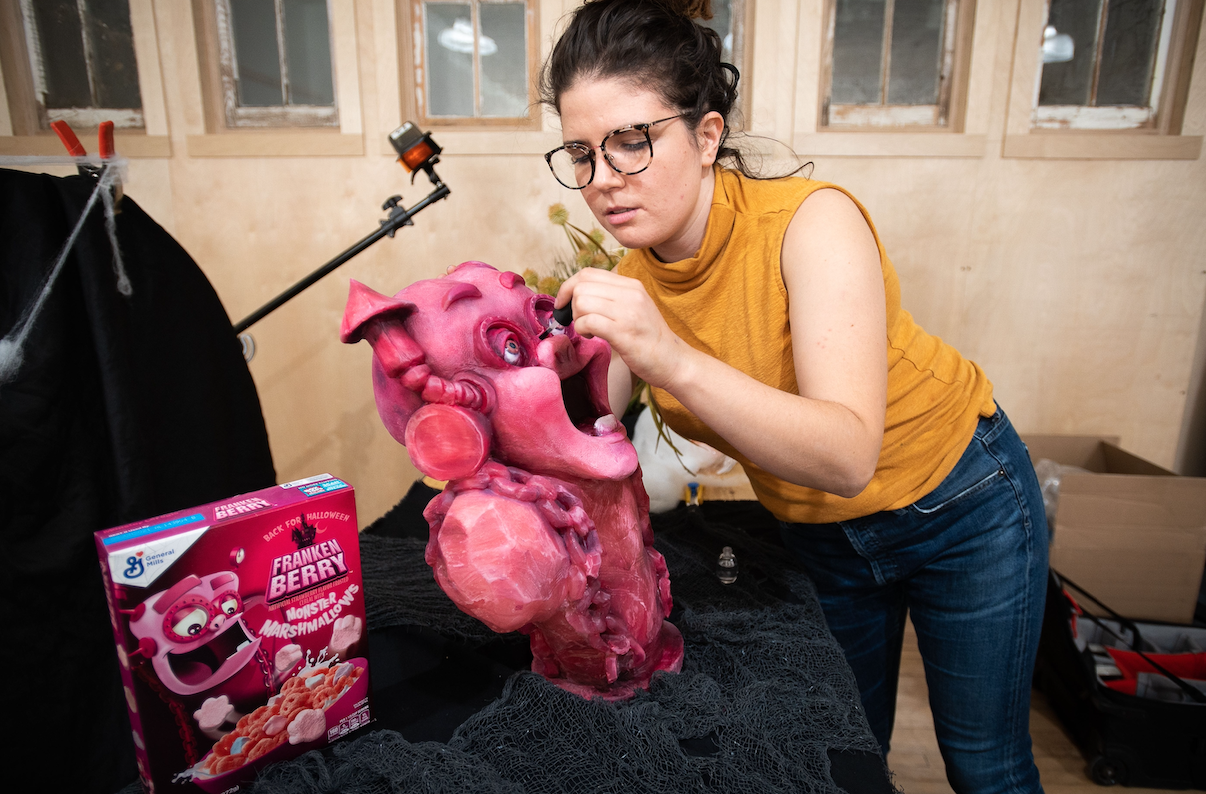 Toronto-based special effects artist Karlee Morse is the creative genius behind these ghoulish busts. Morse has been an FX artist for the last seven years, primarily in the film, television, and live performance industries. We chatted with Morse about her spooky background in designing prosthetics, what it's like to take a brand mascot from the 2D cereal box into 3D, and which Monster Cereals icon is her favorite.
Karlee, it's so exciting to chat with you for this General Mills Halloween campaign! Can you share a bit with us about your special effects background and the spooky movie monsters you've worked on over the years?
I've been working as an FX artist for the last 7 years. I work in film, television, live performances, and even video games. I love what I do because every project and day is vastly different — I get to meet and work with amazing people, go to cool places, and creatively problem-solve to build various creatures, make-up FX, and props.
Some spooky projects that I really loved were designing prosthetics for include the film 'Becky,' which has gained a bit of a cult following — very gory film! I've designed creatures and FX for the 'Baroness von Sketch Show.' Some of the creature make-ups I've designed have been for children's shows including 'Odd Squad,' 'Dino Dana' — the latter of which I just won a Daytime Emmy for! — as well as ghosts and creatures for 'My Paranormal Nightmare.' Another favourite was assisting on the TV series 'What We Do in the Shadows.'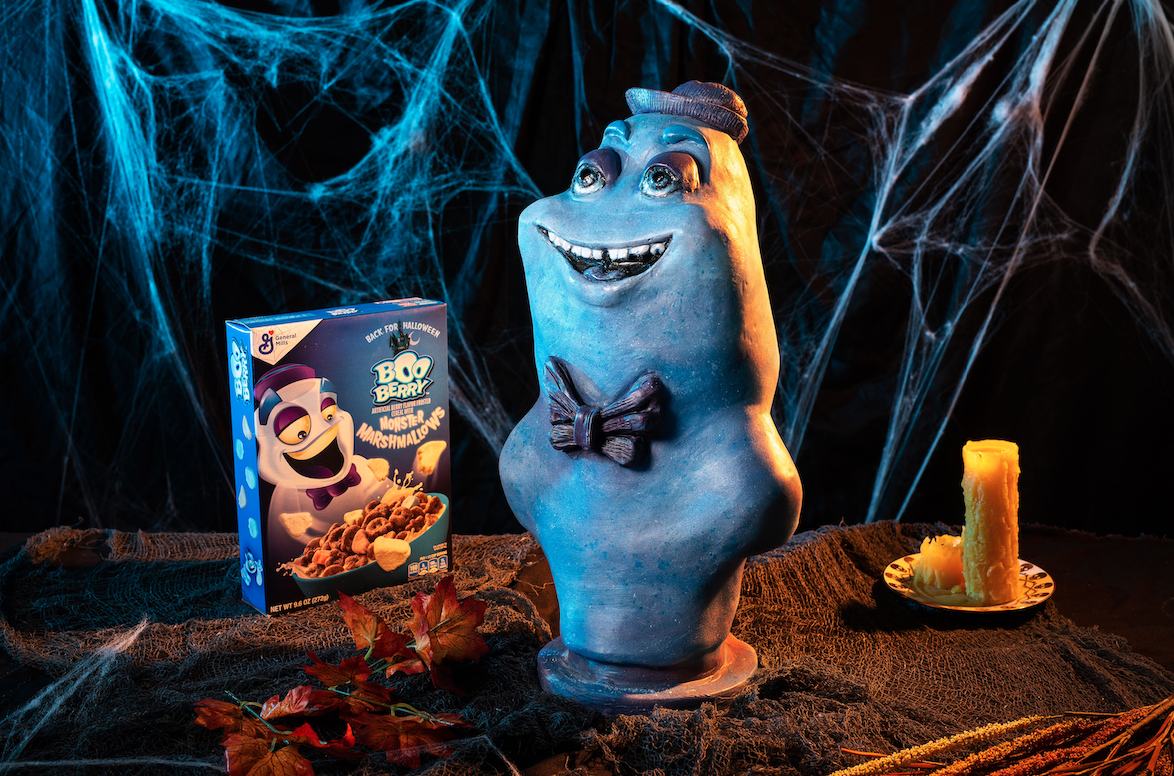 Growing up, were you a fan of Monster Cereals?
I've always loved the look of the Monster Cereal characters (I think they're so darn cute), and I knew that when they were released in stores, Halloween was just around the corner. They're obviously the coolest of any cereal mascots, as they're representatives of Halloween! Boo Berry is my favourite character (though the Frankenberry bust is my favourite one).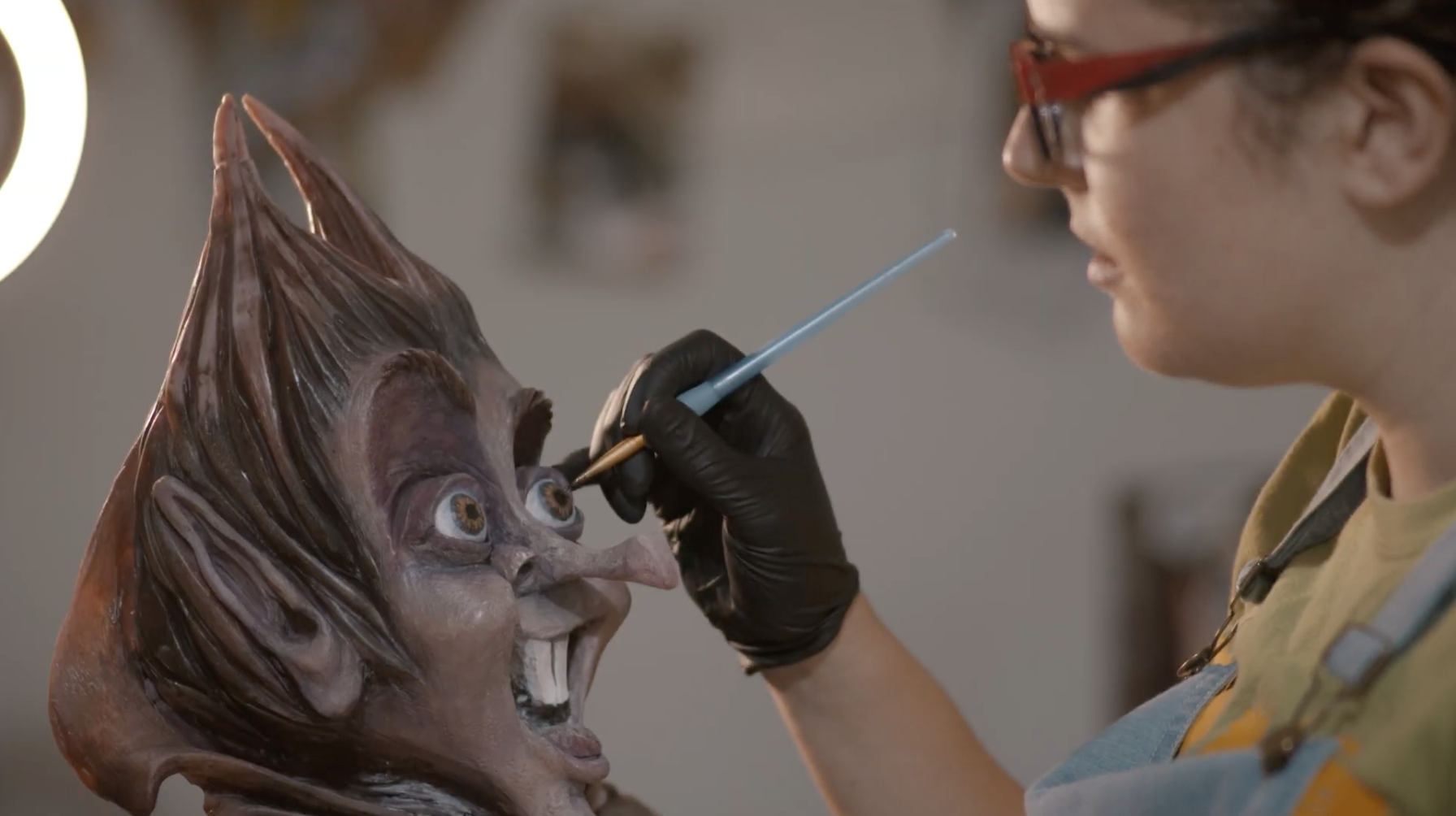 How did General Mills approach you about this project — and what was your reaction?
General Mills reached out in the hopes of doing a SPFX (Special Effects) make-up project. However, due to the current climate, and with Halloween looking a little different this year, we had to come up with something unique. We brainstormed to think of another way we could do something really cool for the fans, something for them to get super excited about this Halloween, but could be executed safely.
I was shocked, incredibly excited, honoured and humbled (in that order!!). Halloween is my favourite holiday, and these are such iconic characters. It was a huge honour to be able to work on this project, I was overwhelmingly excited, I almost had TOO MANY ideas.
In creating these busts, it looks like you were able to add your own spin to these characters. (Like giving Boo Berry a gap between his teeth, for example.) Did you look to anything for inspiration or direction, like reviewing older images from the GM archives of the Monsters?
Yes! I was so excited to put a bit of a unique spin on them. I was reminded by the GM team to not make them *scary* (as I'm often brought onto projects to make some really scary stuff!), but beyond that I was able to create.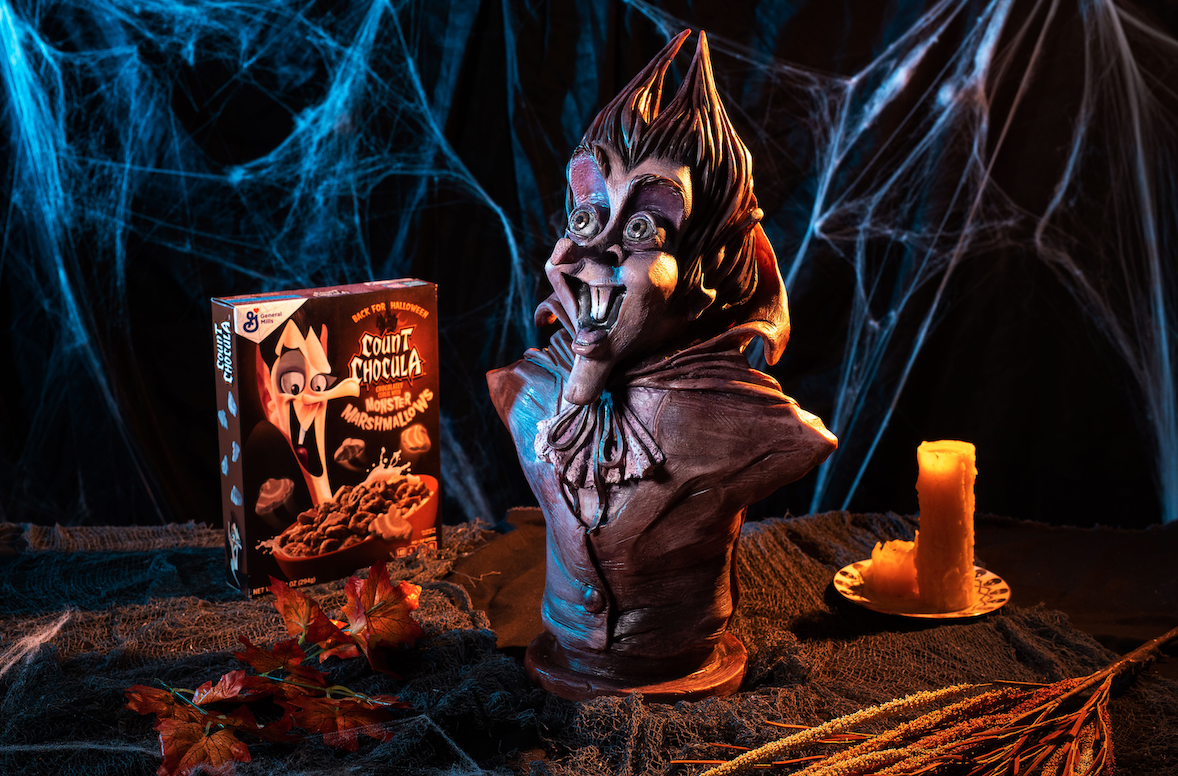 Inspiration came from what I thought I would want to see as a kid. There's definitely a nostalgic factor when it comes to the love of these characters, so I tried to create something that I, myself, would be stoked to see. I wanted them to have the appearance of proper display pieces, or trophies (a play on the idea of 'monster hunters').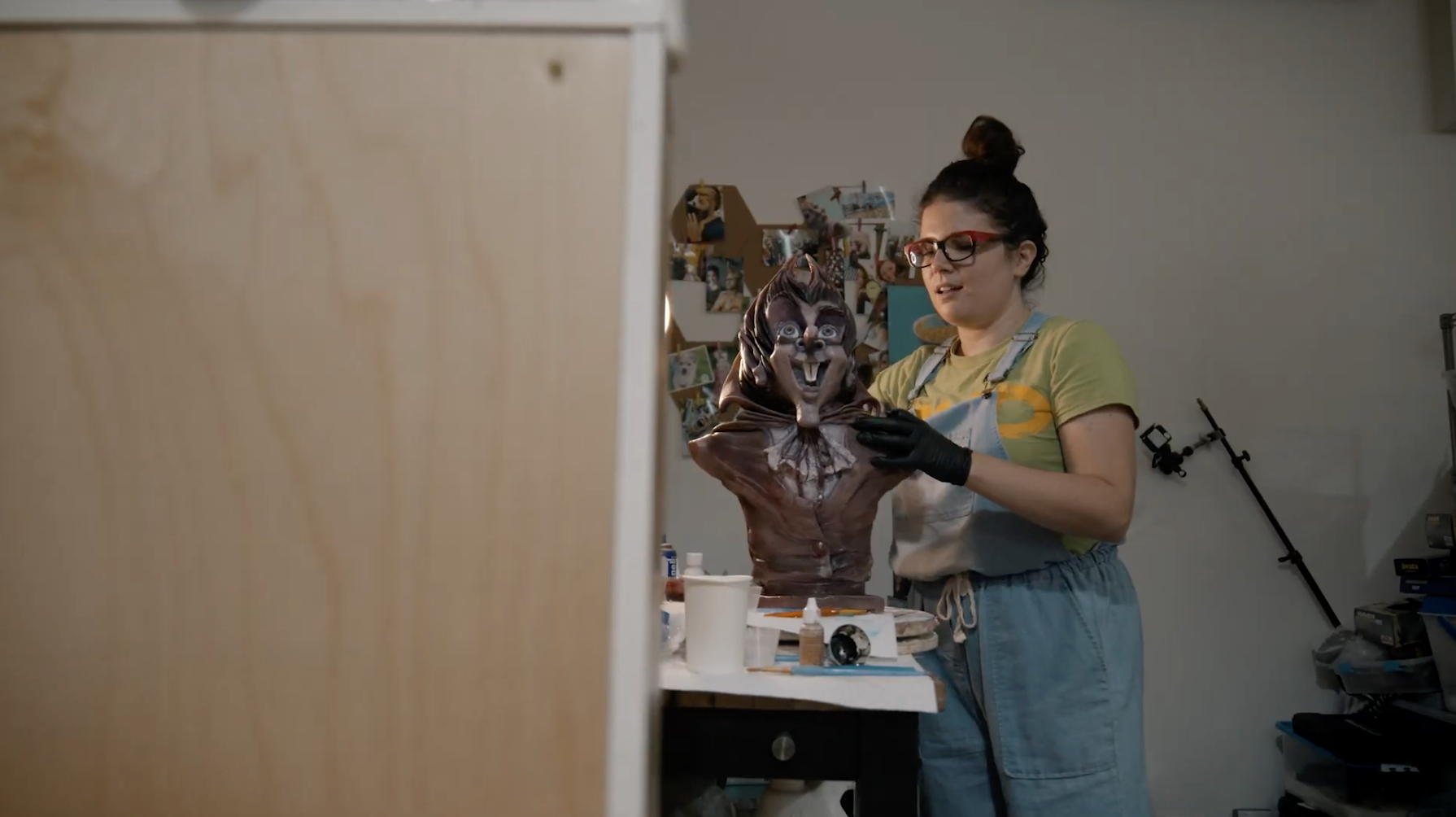 Generally, special effects art is done on people or creatures — not brand mascots! Were there any challenges in working on this trio of icons and bringing them from the cereal box into real life?
Yes! I think the challenge came in taking these 2D icons and thinking of how they might exist tangibly. Chocula's cape is easy to picture, but what about a ghostly form like Boo Berry? I tried to keep a fun cartoony style to them, while maintaining a little bit of realism.
The other challenge came in the sense that a lot of the work I create is used on screen briefly, or it's a make-up on an actor — these are display pieces that someone will have forever! I have to examine how the piece works from all angles, and make sure they're refined and finished well.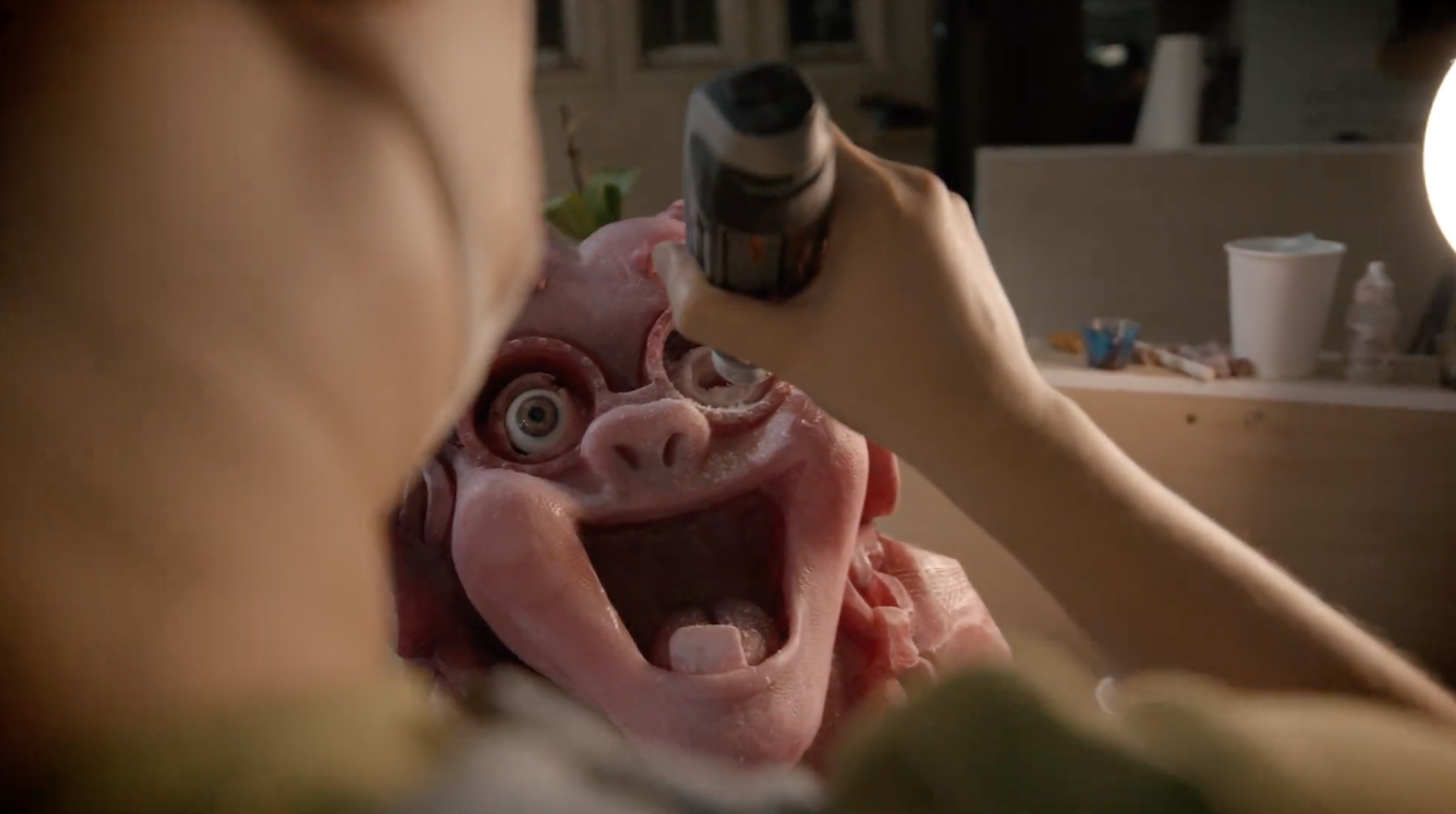 How long did it take to make these busts and what kinds of materials are they made of?
Besides the concepting stages, the actual builds of the busts took about six weeks for the three of them.
They're cast in a translucent resin. Each weighs around 12 lbs (as much as my dog, so they have a nice weight to them). They're around 20 inches in height and various widths.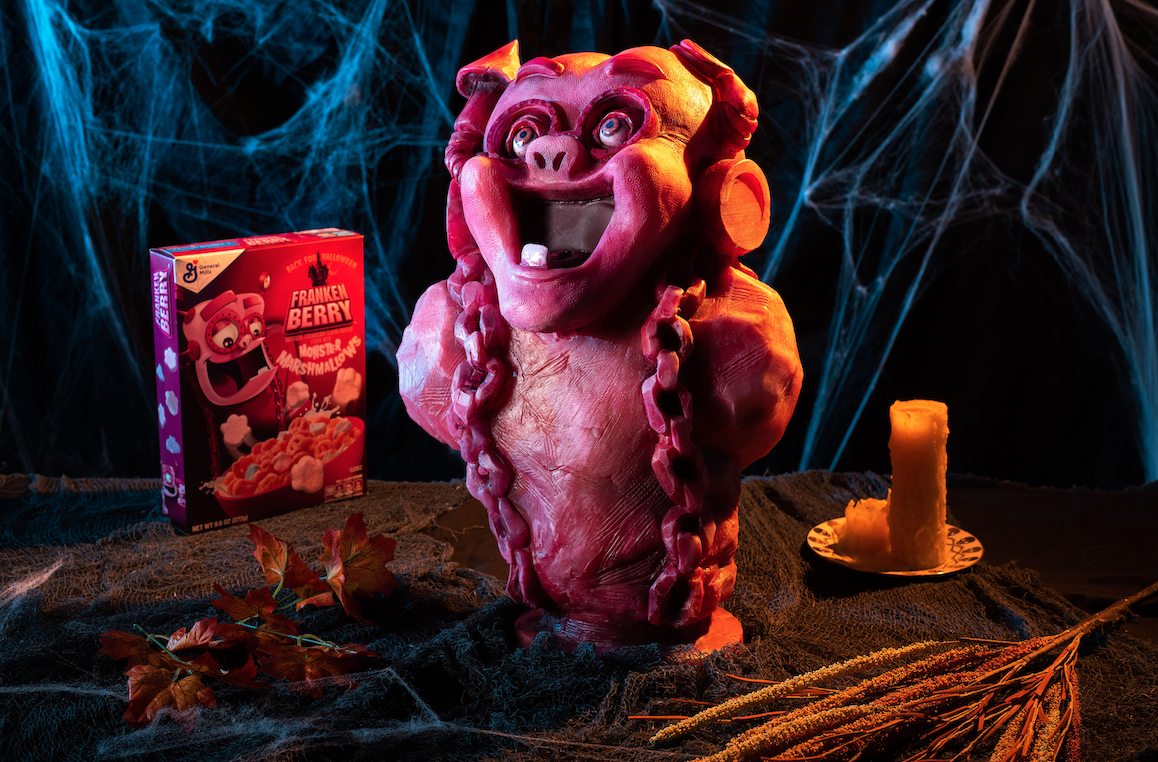 In this unprecedented year, we're excited to see these iconic Monsters joining us for Halloween! What about these brand mascots personally resonates with you and why do you think audiences love them so much?
Seeing these mascots signifies that Halloween is right around the corner and it reminds me of Halloween as a kid. I think that specific nostalgia factor is what fans really love about them! I think it's especially cool that the brand has been around for so long that new generations of kids can have their own memories of enjoying the cereal during the Halloween season!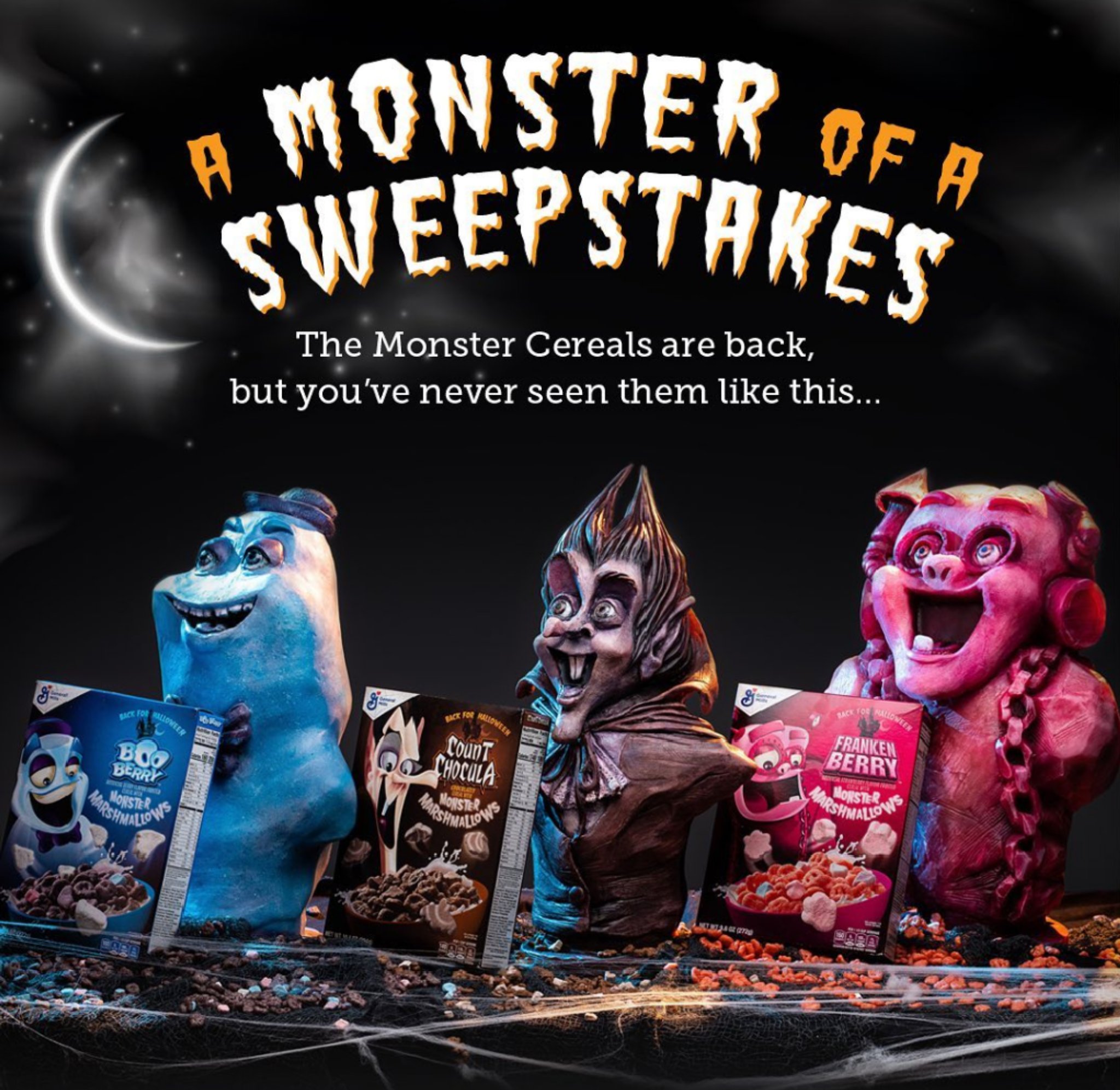 How Can You Win a Monster Cereals Bust?
Ready to enter to win a Monster Cereals bust this Halloween? Here's how to enter the #MonsterCerealSweepstakes.
1) Follow General Mills on Instagram and "like" the Monster Cereals Sweepstakes official post.
2) Leave a comment telling us which Monster is your favorite.
3) Use the hashtag #MonsterCerealSweepstakes for a chance to win one of these Spooktacular icons!
The Monster Cereal Sweepstakes ends on October 22, 2020 at 11:59 PM EST. Good luck to the totally ghoul entries!