You've never seen the Monster Cereals icons quite like this!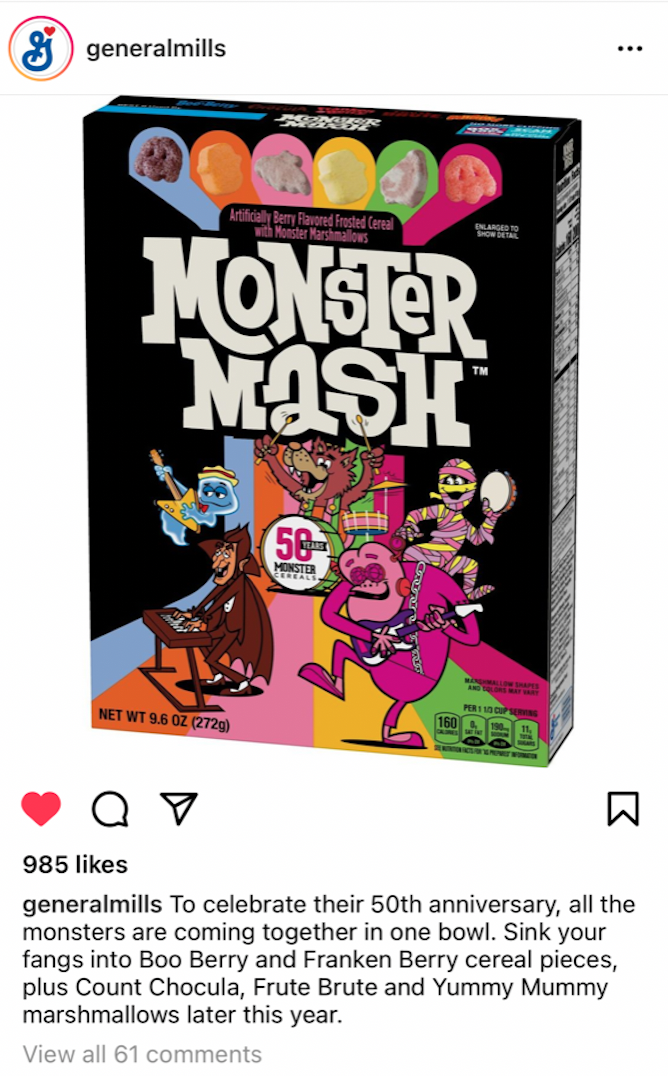 In an Instagram post, General Mills revealed that the Monster Cereals will be celebrating their 50th anniversary as part of the new Monster Mash cereal.
Cereal shapes include longtime frightfully fun favorites, like Franken Berry, Count Chocula, and Boo Berry, alongside retired characters like Frute Brute and Yummy Mummy.
What Else Do We Know About Monster Mash?
Only a handful of details have been shared by General Mills regarding their plans for the 50th anniversary of the Monster Cereals. The Monster Mash cereal will be available later this year, likely in the fall months before the Halloween season.
And then there's the stunning box art.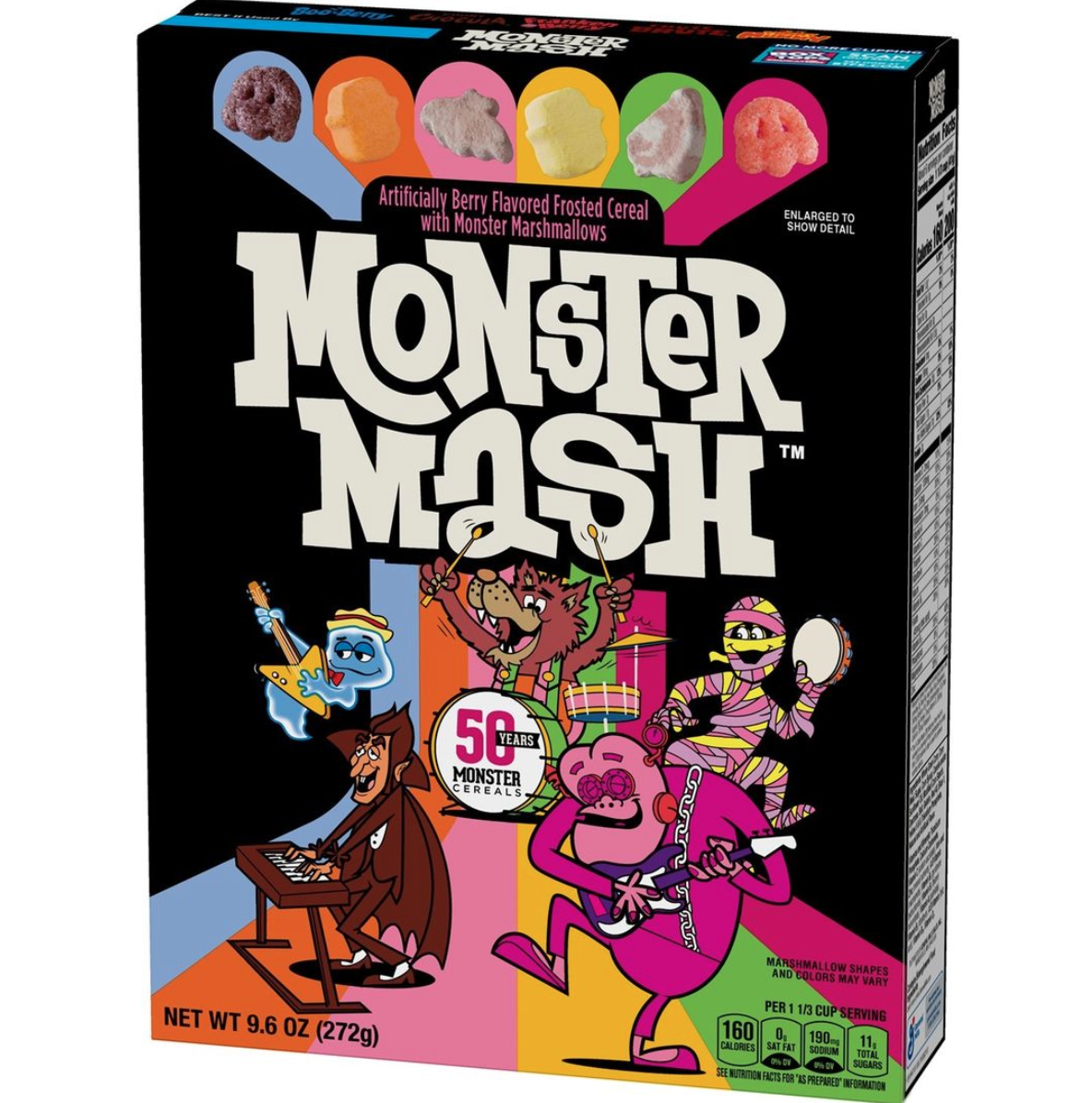 Count Chocula is on keyboards. Franken Berry and Boo Berry each have their own guitar. Frute Brute is on the drums and Yummy Mummy has a tambourine. This box art hints that it's possible we may see the Monster Cereals icons rock it out as a band!
Remember "The Monsters Go Disco?"
While bands are definitely trending in the brand mascot space. (Rice Krispies' Snap, Crackle, and Pop debuted a single called "Vibin'" in 2020), a potential Monster Cereals band is actually be a wink back to its musical roots.
In 1979, boxes of Monster Cereals included 45rpm "flexi-disc" records. One audio track was called "The Monsters Go Disco." With no Saturday plans in sight, Franken Berry, Boo Berry, and Count Chocula decide to go disco dancing, and boogie, all night.
This track was later animated by Manny Galán and Pat Giles, two advertising creatives that serviced General Mills and Monster Cereals at their ad agency Pat-Man Studios. Galán and Giles decided to animate the first minute of the track and then turn it into an animatic alongside their art director and animator, Justin Roth. New Monsters style guide assets were used as well, also created by Galán and Giles.
Hey, what about Frute Brute and Yummy Mummy? Savvy fans will spot them in the animatic. Yummy Mummy is the disco's narrator while Frute Brute takes on the role as Disco DJ for the Disco King contest.
Will the Monsters Strike Up a Band?
For now, it appears all will be revealed in the fullness of time. Cerealously has noted that fans can listen to the Monster Mash hit at MonsterMashCereal.com. The site isn't live yet, so check in regularly throughout 2021 to see when it's up and for a glimpse at what to expect from the characters.
We also think the 50th anniversary is the perfect opportunity to bring Galán and Giles back and release a commercial starring the fab five playing a spooktacular new single.
Print ads would also be gourd, I mean good. And more signage, like billboards and window clings. Maybe even a major motion picture? Why not? The more Monsters, the merrier! We never get tired of seeing these characters, especially in rare moments when all five are together. See you this Halloween…