In the "before times" prior to COVID-19, one man dared to attempt the stunt of a lifetime. He would risk it all for pizza's most beloved appetizer pairing: Crazy Bread stuffed with melted cheese.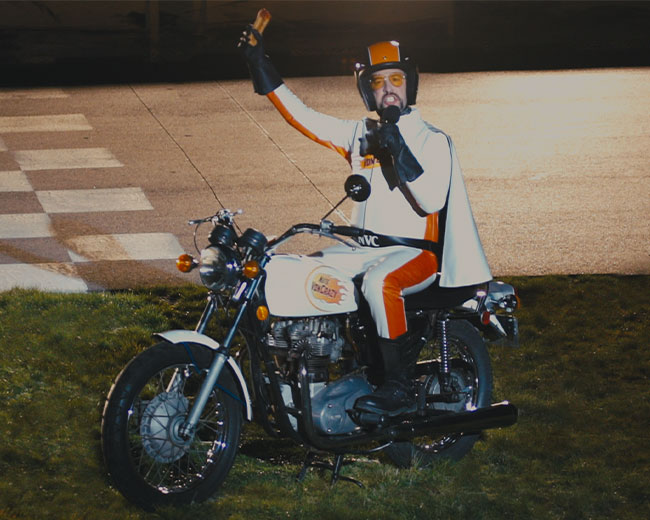 He's Nuts Von Crazy. The man, the myth, the legendary pizza spokesperson that loves Little Caesars Stuffed Crazy Bread.
Meeting Nuts Von Crazy Through "Nutsumentary"
Who is Nuts Von Crazy? Creative agency McKinney is behind the ad campaign's documentary "Nutsumentary." This behind the scenes video takes a closer look at Nuts Von Crazy's daredevil origins and rise to fame in the piping hot pizza landscape.
Shot through a retro lens, Nuts Von Crazy may be of this time, but he made his initial debut during a nostalgic era. (Seemingly somewhere between the late 1970s to early 1980s.) He's described as a beloved daredevil to young and old fans alike.
Nuts Von Crazy: Completely Fearless
Where did it come from, his desire to live life on the edge?
"I guess I've always had danger in my blood," Von Crazy muses, as he autographs photos of himself in his signature white suit.
"Fear isn't something I believe in," Von Crazy further states in the doc. He's sitting in front of his vintage tour bus. A mechanic preps his motorcycle for his next big stunt.
"[Fear] is my life force," Von Crazy confidently proclaims.
A quick cutaway takes us on a tour inside Von Crazy's tour bus. The camera pans to some of his biggest achievements, including a framed newspaper clipping from a moment where he lost his eyebrows during a fire stunt.
"That was fun, that was a fun time," Von Crazy recalls.
The fanbase for Nuts Von Crazy also gets a shout out in the documentary. Fans declare how excited they are to watch Von Crazy's next stunt go down at the Detroit Metrodome. Don't worry too much as to why these fans aren't wearing masks or social distancing. The Nutsumentary doc and Little Caesars commercial spots for the ad campaign were filmed and wrapped prior to the COVID-19 pandemic.
Nuts Von Crazy Rides Again
Just how crazy is Von Crazy's next stunt? The Little Caesar's spokesperson has broken nearly every bone in his body, but the upside are the "sweet" brand endorsement deals. Check out the official Nuts Von Crazy neck brace, which can be yours for only $7.99. (Act now as supplies are limited)
Von Crazy keeps a single Stuffed Crazy Bread in a glass box inside his tour bus. While Von Crazy has done many crazy things in his lifetime, he prides Little Caesars Stuffed Crazy Bread as his biggest stunt to date.
Now, Von Crazy rides again in a brand-new stunt. This 15 second Little Caesars spot has fans screaming about how he shouldn't do it. The stunt is too crazy!
"Crazy is the second half of my last name," Von Crazy calmly says.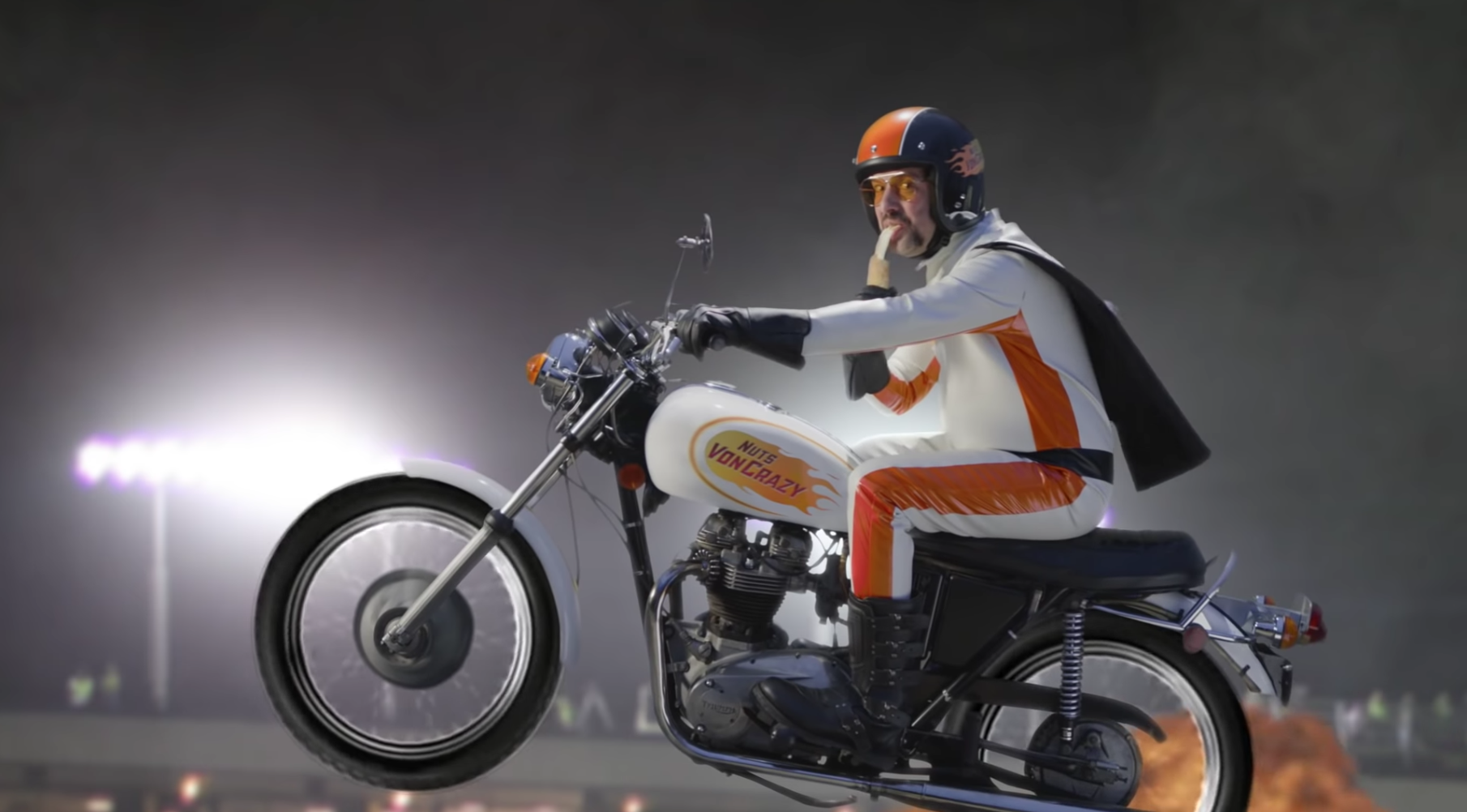 The adoring crowd cheers on and the spot ends with Von Crazy revving up his motorcycle. Keep your eyes peeled in July for the next spot in the series — and witness Nuts Von Crazy pull off the Stuffed Crazy Bread stunt of a lifetime.