Christina Applegate has had it with the passengers in the backseat of her car. They can't stop kicking or bickering.
Her initial warning "Do I have to break you guys apart?" falls on deaf ears to the unseen mischief makers. They just keep acting up. Applegate's patience wears thin and she stops the car, turning around to snarl, "If you don't stop, I will eat all of you alive right now!"
Cut to the faces of M&M'S spokescandies Red, Yellow, and Orange. Each one has gone silent — except for Red, of course. He pipes up, "Uh, I prefer the break us apart option."
M&M'S | "Bad Passengers"
Slated to air during Super Bowl LIII on February 3rd, "Bad Passengers" is the manic brainchild from BBDO New York for client M&M'S. Actress Christina Applegate takes on the role of the mom while the M&M's spokescandies play her "kids."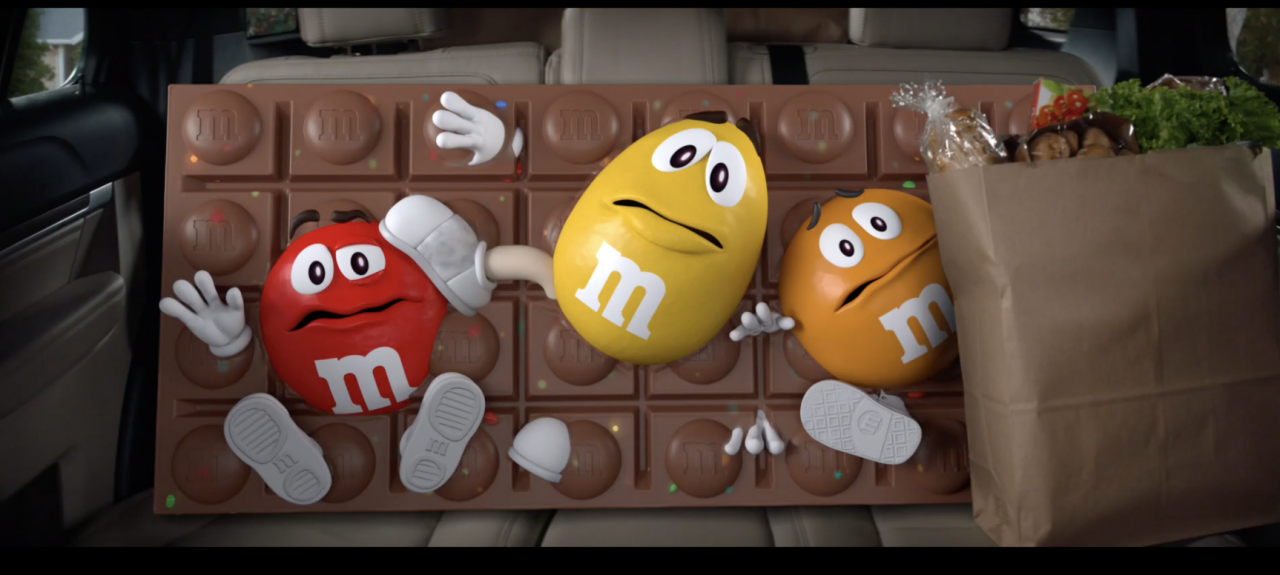 How did Red, Yellow, and Orange get stuck inside a piece of chocolate anyway? They're debuting a new M&M'S Chocolate Bar. Chocolate on the outside and loaded with M&M'S on the inside. Said M&M'S may be crispy, peanut, almond, or milk chocolate depending on which bar you buy.
Weren't The M&M'S Just At The Super Bowl?
Good eye! Red and Ms. Brown dropped by the 2018 Super Bowl in the spot "Human" from BBDO New York.
This was the iconic commercial where Red finds a lucky penny and makes a wish to be human to avoid being eaten by people. He transforms into actor Danny DeVito. Now, Red is human and therefore inedible. Red gleefully dashes around New York City in his newfound human form until a dump truck hits him and sends flying into a nearby bodega.
Oh, and Ms. Brown is there to reality check Red back into place by deadpanning he's still "short and bald" as a person.