Tiny feet. No pants. Old, underlined. Cheap, written twice. These are just a handful of the Post-it Notes inside comedian Jeff Ross' trailer for the upcoming Roast of Mr. Peanut.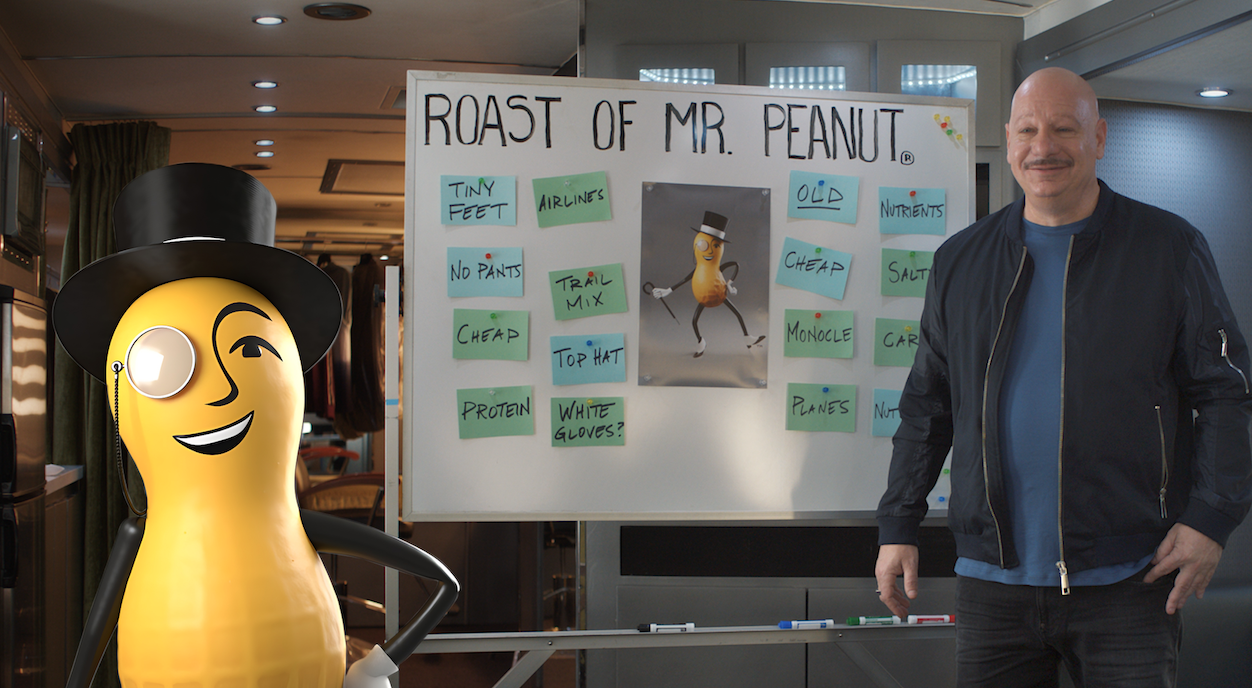 As mentioned earlier in January 2023, Mr. Peanut is returning to the Super Bowl for a Game Day spot. For Super Bowl LVII, Mr. Peanut is getting the comedy roast treatment.
Coming Soon: The Roast Of Mr. Peanut!
Remember when Comedy Central would roast famous celebrities and influential figures? It's officially Mr. Peanut's turn to receive the roast treatment and comedian Jeff Ross is ready to be the icon's roast master.
"When Mr. Peanut called and told me he wanted to be roasted, I almost dropped the phone because I thought he died two years ago," said Ross in a press release.
"Not only is Mr. Peanut an American legend but he's got me through some tough times personally, like when I was lonely at the bar or stuck in traffic… so honoring him the only way I know how seemed like a fun idea. You'll have to tune in to see if Mr. Peanut can take the jokes or if he finally cracks."
In a teaser spot from VaynerMedia, Ross preps for the roast but gets regularly interrupted by Mr. Peanut who wants to hear some of the jokes. The legendary legume reminds Ross about some of the incredible moments spanning his lifecycle. Turning 107 this year, Mr. P doesn't want Ross to forget he helped feed people during the Great Depression or that he's the only celebrity with a monocle.
"You're not gonna eat me after the show, are you?" Mr. Peanut asks Ross.
"I'm gonna eat your whole family!" Ross declares.
The saltier you can make a comedy roast — and a game day snack like Planters Dry Roasted Peanuts — the better.

Tune in on Sunday February 12, 2023, to Super Bowl LVII to watch Mr. Peanut's big game day roast. Will Ross be joined by other comedy heavyweights? Will Mr. Peanut's brand mascot buddies, like the Kool-Aid Man and Mr. Clean, attend the roast? Keeping our fingers crossed for a potential mascot crossover from another Super Bowl commercial or a few funny cameos.
PS: fans can also get in on the Game Day roast action too! Join the fun at PlantersMadeToBeRoasted.com to post your own roast of Mr. Peanut. A peanut with a monocle walks into a bar…